---
The Weekly Grapevine
---
This week's Grapevine brings you
information fresh from the paddock on:

It's time for a break
Silly Season Update

It's time for a break
With August deemed "break time," and an enforced period away from test tracks and competition, the general idea was that the teams would finally have some sort of holiday period during the season. Naturally, this idea is shown to be significantly out of kilter in comparison to reality for most of those involved.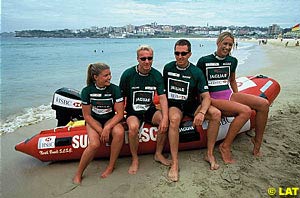 At the front, Ferrari are relatively comfortable, but far from complacent. Even as they consolidate their claims to this year's Championships, effort is being diverted into next year's car, in order to defend against the rapidly improving BMW-Williams-Michelin combination. The powers that be at Ferrari consider it better to give up ground to Williams now, in order to keep new ideas under wraps for the new season, when their return to the track can be accompanied by a big step forward. Make no mistake: any ground Ferrari appear to lose over the remaining races is no indicator of their form for 2002.
With a handful of races remaining, the fight for fourth place is very hot indeed, as BAR have finally passed Jordan in the standings. Sauber have done very well to get into fourth place, let alone defend that position all season, but they are now struggling to find the budget and resources required to keep developing this car, whilst working on the details of their 2002 model. Three points advantage over BAR, and four over Jordan, is no cushion at all: a single podium finish can change everything. The Honda-powered outfits, of course, are flat out trying to beat each other, and nothing, short of dissolution of the sport, is going to slow their efforts to find advantages.
Even at the back of the field, things are busy. Benetton have a whole new aero package due for Hungary, whilst Arrows are intent on staying ahead of Minardi – there is a lot of Concorde agreement money involved in finishing off the bottom. Prost, however, are strapped for cash, and it appears many workers have taken the chance at holidays.
The test and race teams are getting the best of this deal. Many play a significant role in the factory, but the modern sport requires these mechanics and engineers to spend increasing amounts of time around GP weekends working away from base. Accordingly, they are largely benefiting from this chance to take time at home with families...
Some of the drivers are getting to take time off; Villeneuve, as usual, is making the most of his time, and Irvine is always game for a holiday. Michael Schumacher, forced away from the track, is hoping to spend time with his family ahead of what should be the Championship decider. Most, however, are only getting a short break, with a concentration of sponsor commitments eating a huge chunk out of the three week period. Indeed, without the concept of making sponsors happier by freeing up the drivers for promotional work, the August break idea would have died a death when Eddie Jordan first voiced it.

Silly Season Update
Jean Alesi's seat fitting at Jordan, as broken by AtlasF1, comes as little surprise, following the rumours of his pending move at the German Grand Prix. Ironically, Alesi's friendship with his current team boss, Alain Prost, whilst strained, is not necessarily over. The Professor is certainly put out by the change in heart of his driver, but he fully understands Alesi's racing motivation, and commitment to driving the best car available.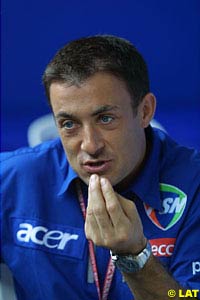 Despite protestations that they would do everything possible to keep Alesi with the team, the bottom line is well understood to be one of cash flow. Prost need to find $16 million if they want to use Ferrari engines in 2002. And they are determined that parting with Alesi should require a significant cash payment in order to help fund their budget for next year. Jordan, of course, are intent on minimising the costs, which are going to come on top of paying Alesi's salary, and compensating Frentzen, or their own 2002 budget is going to be compromised. As things stand, Jordan are getting pretty desperate: they need a racer of Alesi's calibre in order to take on BAR and Sauber; Zonta is a useful stand-in, but is not really the man for this job. Alesi is fantastically quick, if not the hottest technical property, and probably one of the very few who could be expected to jump into the Jordan and be quicker than Trulli after a test and race weekend...
Mika Hakkinen is starting to look uncertain for 2002, at least in the eyes of Jacques Villeneuve, after McLaren failed to confirm his position at the German Grand Prix. Coulthard's early re-signing makes it seem possible that Formula One's longest driver partnership is coming to a close – though noises from within the team seem to indicate that it is pretty much business as usual, at least at the moment.
Alex Yoong continues to impress at Minardi, and is set to make his debut later this year, pending a monitored test, and FIA certification. As much to the point, the financial side of his deal has been agreed, and the terms are pleasing to all. Yoong's status as the first Malaysian to make it to the top echelon of the sport has brought substantial backing. Just making the last three races of this year will give Minardi the funding to afford Ferrari or Ford engines next year, should they come available. Paul Stoddart is not yet out of the woods regarding his hopes for the team to fund itself next year, but signing Yoong makes it a realistic concept.
Antonio Pizzonia has been rewarded for his first F3000 win by getting a shot at driving for Williams. He has been seen testing in F1 before, for Benetton, but this is a real chance for Amazonian to make a mark: rumours around the pitlane imply he was tied to Briatore, but could see a free transfer to Williams for testing purposes. The truth, of course, will never be known, unless Jungle Boy becomes famous enough to write a biography!
Takuma Sato is still looking for a ride, but now seems unlikely to be placed with either Honda powered team. Should Prost and Jordan fail to come to terms, he still has a chance at the 2002 race seat, but now a testing role with BAR or Jordan seems most likely.
---
© 2007 autosport.com . This service is provided under the Atlas F1
terms and conditions
.
Please
Contact Us
for permission to republish this or any other material from Atlas F1.