Most car executives sweat a little when they release a new model, but Ove Andersson seems unusually tense as he discusses the prospects for his latest Toyota design. "I just hope everyone is kind enough to understand that it takes some time to get up to speed," says Andersson, speaking figuratively and literally.
You see, this is no workaday family Corolla. Andersson's Toyota has room for the driver, and pretty much nothing else but a steering wheel and a three-litre V10 engine. It will accelerate with an ear-piercing howl from 0 to 200 kilometres per hour and brake back to a standstill in just over six seconds. At least, it will have to if it's to succeed in its particular market: Formula One Grand Prix racing.
"There's nothing like Formula One. It's incredibly competitive, and it's incredibly popular," says Andersson. "And there's incredible pressure to win," adds the Swede, who runs Toyota Motorsport GmbH, or TMG, from the German city of Cologne.
And there's the rub. Toyota will join the glamourous F1 circus from March next year in a bid to invigorate its staid image by association with some of the biggest names in performance cars - Ferrari, BMW, Jaguar and Mercedes - and to give a boost to sales of its road vehicles. But Andersson realises the marketing ploy could backfire if the Japanese team fails to find winning ways.
Why the push for a marque makeover now? Values like reliability, safety and value for money may have built Toyota into a global motor-industry powerhouse, but while it still does well in the United States, those tried-and-trusted approaches are not helping sales in some of the company's biggest markets, principally in Europe, where Grand Prix racing is particularly popular.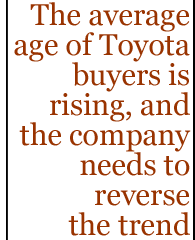 The average age of Toyota buyers is rising and the company needs to reverse the trend. "In Europe, the research shows that there are plenty of practical reasons to buy a Toyota, but not so many emotional ones," says Peter Ball, TMG's general manager for marketing and communications.
"Toyota has a huge need to boost its image in Europe," says Graeme Maxton, managing director of the British-based Autopolis motor industry consultancy. "They desperately need to light some sort of fire there." The company is doing reasonably well in Britain and Germany, but is regarded in France and Italy as a "fairly quirky builder of staid Japanese cars." Maxton says that with a weak yen and an economic slowdown in Europe, Toyota eyes opportunity for a change in the market dynamics.
Toyota's decision to get into F1 was top-down, say company officials. At a July 3 press conference welcoming Matsushita Electric as the main sponsor for the team, Panasonic Toyota Racing, leading Toyota and Matsushita executives stressed the impact F1 has in Europe, where both firms would like to see business boosted.
Toyota is already unveiling new lines of cars it hopes will set pulses racing in Europe, such as the 2.5 litre turbocharged Verossa saloon. Formula One participation will back up the hot new production wheels with an elite racing pedigree. "Toyota's looking to inject some glitz and glamour. You need a fairly huge budget for F1, but which other sport gives you such global coverage?" says Ball.
TMG has substantial motor-racing experience, notably in rallying, but it is short of a top-flight racing pedigree. And unlike other manufacturers that have eased into F1 by sponsoring an existing team or supplying engine support, Toyota is developing a brand new car and engine.
"It's a very courageous decision to start from scratch. We need all the luck we can get," says Andersson. His observation that it will take time to get up to speed reflects the fact that developing a competitive F1 team takes at least two years and costs at least $100 million a year.
Toyota will be one of 12 teams vying for the drivers' and constructors' championships in hi-tech single-seat cars at purpose-built and street circuits. Most races are held in Europe but some take place in North and South America, Australia and Asia.
The first year for most teams is miserable. "If your marketing platform is based solely on winning, that's a pretty weak story," says Ball. "The real value comes from the association with such a demanding sport, and the long-term story of development, competition and excitement."
Once the domain of racing and sports-car specialists, F1 has become a magnet for major manufacturers, and the stakes get higher every year. At its peak, TV viewership is around 350 million per race, but the cameras tend to focus on the leading cars. "Sure, we have to get to the front of the pack, but it will take a season or two. Nobody comes into this sport winning straight off," says Ball.
In that respect, Toyota can learn from rival Honda's F1 experience. "F1's done quite a lot for Honda," says Maxton. "Its reputation for developing spectacularly good engines has really boosted its sporty image. Almost all of its European advertising refers to its F1 efforts."
Unlike Toyota, Honda has long seen racing as a part of its corporate outlook. Honda has been in F1 on and off since the early 1960s and has had lean spells, but in the 1980s it powered one of the sport's most successful cars, the MP4/4, which won 15 of 16 races in 1988. It now supplies engines to two teams.
"In the early days, performance was everything in the car business," says Yasuhiro Wada, general manager of Motor Sports Division Honda. "Now, we get less technology out of the sport, and more brand recognition by association."
But how much does F1 participation affect car purchases? Wada insists that the association may help, even when consumers buy family cars. "I hate having to drive a boxy saloon, but that's what my family wants," says Wada. "If that's what I'm going to drive then at least I want the manufacturer to be sporty."
Honda's marketing issues are similar to those of Toyota. "In Europe our business is not so strong," says Wada. "Japanese companies in general do not have strong market share. All the feedback we get in Europe points to strong associations from buyers with motorsports - and Formula One generates far more exposure than Le Mans, for example, because there are 17 races throughout the year."
Wada says Honda also benefits from F1 internally. The company is intensely proud of its racing tradition and engineers are highly motivated to work on the programme. Also, given the ever-changing rules that are part of F1, project management skills are honed that should be useful as the engineers return to the regular production line.
Toyota has to get racing in its blood if it is to succeed, says Wada. "They may have a difficult first couple of seasons but it seems fairly unlikely that they won't do well," says Maxton. "Toyota doesn't do anything by halves."
But speed won't be everything in the hunt for car sales, he says, adding that the Japanese "didn't understand for a long time that the small-car market in Europe was about sexy young women. Sure they all build great cars, but compared to Renault, Peugeot, VW, where's the fun, the chic, quirkiness? Japanese designers just haven't been thinking like that. F1 is just the beginning of a change for Toyota, muscling into the glamour scene and looking for some panache."