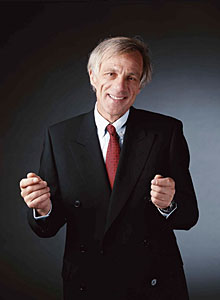 Q: What was your first impression of the Toyota development car?
Brunner: "My first impression was there are lots of nice things on the car. So my impression was a positive one. Obviously you have to consider that this was a vehicle designed and built in a short period to use as a test car, and it's a good thing for testing, because that's all it does. It serves for this and it serves it well. And it also has a lot of good details on it."
Q: Is it very conservative?
Brunner: "There are different ideas on it, also new ideas on it, not saying that they are better or worse. It is certainly a proper chassis, created by people who maybe have designed sportscars before."
Q: What is the story with Minardi - is there a legal situation that is still not resolved?
Brunner: "There is no legal situation, no legal conflict. I have never received any letter from a lawyer, nor from Team Minardi, nor from Mr Stoddart. So I think this an invention of the press. There have been lots of good stories, although I've never read any, but I do not believe there are any problems whatsoever. It's probably more a moral obligation which I had to Team Minardi, as I was very much involved with them, rather than a legal obligation to stay there.
"I have chosen to be with Toyota because this is a fresh start, and it's where I see my future because of the possibilities and the challenge they offer. Before I get my pension I'd really like to know how to do it once more! I have taken on this challenge, and I decided very quickly. I spoke to Toyota on Friday, I decided on Saturday, and I moved here on Sunday. I told Paul Stoddart on Monday, 'Sorry Paul, as much as I like you, I will help you where I can, but I have now other challenges.' That was it. There is no problem."
Q: Does that mean there was no ongoing contract?
Brunner: "There was no legal obligation. I would not be here in Toyota if there would be a legal obligation on my side. Toyota is a big company. It's the third biggest car producer in the world, also the car producer with the most cash in the bank, and they will not take me on if I am in breach of a contract. Toyota have checked my contract, very carefully. And it's not one lawyer; it's lots of lawyers in lots of countries."
Q: Were you disappointed by the bad publicity that resulted from it?
Brunner: "I haven't read anything. I do not think it's bad publicity. I think any publicity is good publicity. Not that I need it! But I think it was maybe not so good that Toyota got drawn into this. Because Toyota behaved very, very correctly and very honourably."
Q: You mentioned a moral obligation, so does some part of you have any regrets?
Brunner: "It's not a moral obligation. It's a small team, so if one person leaves, they're relying on this one. If you are with a team that is bigger and one person leaves, the others cover for it. It is obviously difficult for them to cover if there's one less, because there's only a few of them."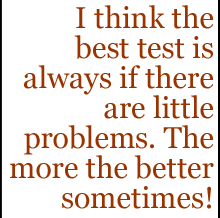 Q: And you had a lot of friends there?
Brunner: "They are still my friends. They will be my friends forever."
Q: And you've had no recent contact with Paul?
Brunner: "No contact whatsoever."
Q: How is the Toyota testing going?
Brunner: "Lately the car runs reasonably well. And sometimes on some days it does lots of laps, and we're all happy, and the next day it runs less laps because there are still some problems. I always say the worse the day is, the better for the team, because really we are there to train ourselves, to train the team, to train the mechanics. If it runs too smooth, it's not a good training! It needs to create problems to keep the boys on their toes, keep them moving. They need to learn how to change an engine quickly, or how to detect an electronic problem if it doesn't work, and so on.
We're not testing so much the car performance, we're testing the engine a lot, we're testing electronic systems, but we're also testing our crew, how to operate. The mechanics are new, the engineers are new, the telemetry system is new, the tyres are new, everything is new. I think the best test is always if there are little problems. The more the better sometimes!"
Q: And you're running with two cars now?
Brunner: "From the last test onwards, which was Barcelona, we are having two cars. We are running simultaneously with the two drivers at the same time, which is part of our test programme. I think we will have later on, I'm not sure precisely when, we should have a T-car in the garage. Not that they will use it, but only to reduce the space in the garage. Because Toyota has to train how to live with a small garage. When I came to the first test at Imola, it was just for one day, I saw we were using three garages. When it comes to racing next year there will be only one garage, and it's on the sharp end of the F1 pitlane, where the garages are smaller, and to cope with the space, we need to train for this. It's not that we'll have a few people in the garage - maybe too many. So we have to learn also this."
Q: How is the co-operation with Michelin - are you already involved in development?
Brunner: "The relationship that Toyota has with Michelin is a long standing one. I think they had great successes together in the past in rallying and Le Mans racing, whatever. The tyres we use are more or less the same as the race teams use, because we go to the usual racing circuits, and we go there two weeks after the race, and we try to use the same tyres."
Q: How many people are working at Cologne?
Brunner: "It's more than 500. It sounds a bloody high number, but it isn't really, because you need to consider all these things, like administration. We have lot of production. We are still at the beginning of the project so for sure we will need more people. We are still employing people, and we are still growing."
Q: Obviously Andre de Cortanze built things up and most of the people were hired by him. How difficult was it come in and replace him?
Brunner: "He has created lots of good things here. Maybe not the best car, but I think that was never the purpose, to create the most sophisticated F1 car. He has created a good structure, a lot of good investment if you have a look at the race shop, the design office, the CAD system, the connection we have via satellite to the race circuit, and all those things. The people he has employed are well-educated ones, they are all creative people, very reliable people I would say. It seems like a good crew. They do need a little bit of F1 experience, but I would say, we have a very good crew."
Q: What have you brought to the equation that was missing before?
Brunner: "If you create a good product, it is a mixture... It's not only good engineers with a good education, you need a little bit of F1 know-how. You can be the best engineer in the world, but it's very, very specific and there are lots of things that do happen in F1 that you only know if you have your ear on the garage floor, as they say! This was missing a little bit. I have brought a little bit, and we will grow, not only with youngsters and well educated engineers and scientists, we will grow also with a few more people who come from the other teams."
Q: Are you hiring any former colleagues?
Brunner: "I know all of them. I've been part of this thing for a very long time. As you know F1 is a growing business, and they are not so easy to come by. Everybody protects his personnel. We've been in contact with a few. They are not always available, and when they're available they're quickly available."
Q: You're known for doing a good job with smaller teams. How have things changed for you in terms of your philosophy and design strategy?
Brunner: "My challenge is a different one. Of course I have more possibilities, I have more people around me, but it's still a difficult task. Obviously I do not draw and design everything by myself. My task here is to motivate all the others, to teach them the best from what I know, get the best out of them. Really managing people is now a little bit more a part of my work."
Q: Is that difficult for you?
Brunner: "No, not difficult. Not everybody can successfully manage people. I can do this well, because you need the right personality. It's a mixture of what we are and who you are, and to get the others to work with you, to work in a team, because in the end it's the team which is going to be successful. If you're good enough by yourself and experienced enough by yourself, so they will respect you, and also listen to what you say. You need to work hard enough to make them work hard, but you also need to be nice enough to motivate them, because it is hard work for all of them."