---
The F1 FAQ
---
By Marcel Schot, Netherlands
Atlas F1 Magazine Writer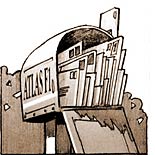 Have a question about Formula One statistics or history? Well you're not the only one, and it's about time someone came up with the answers to F1's most Frequently Asked Questions. Send us your questions to faq@atlasf1.com - we may not know everything, but we'll do our best to find out

For this issue, Kurt Sperry has been helping me out with the technical side of things, about which he knows a whole lot more than me.
"Has anyone tried or even considered an opposed piston engine (i.e., two pistons per cylinder, mounted vertically) in a Formula 1 car? This type of engine has been used in marine and railroad applications (especially Fairbanks-Morse units) for some time and with quite a bit of success -- they are notable for their high torque output -- although vibration can be a problem. Would such a unit be allowed under the current regulations? An opposed pistion engine should lower the centre gravity, reduce weight, and make the engine narrower. Thanks, Marc."
Kurt: The engines you refer to are all two-stroke Diesels. Opposed piston designs do not used conventional poppet valves, but use ports in the cylinder walls. The FIA Technical regulations state that engines for F1 must be 4-stroke, hence no opposed piston F1 engines.
My favorite opposed piston design has to be the Napier Deltic locomotive engine - check it out!
"Hi, everybody always wants to know about bhp of a Formula One car but what about the torque. Could you describe the torque curve of a Formula One car? Thank you. Tar."
Kurt: Current F1 engines produce somewhere between 250-290 lb-ft of torque with that figure peaking at around 14,500rpm. Expect bhp to peak around 3000rpm higher than the torque peak e.g. 17,500rpm, and the rev limiter to cut in a further 500-1000rpm higher than that. Sorry about the lb-ft, that is the way torque is expressed in F1, at least by the English-based teams.
"I just had a doubt which I'll be grateful if you could clarify. Do Formula One cars have a reverse gear? If not, why? Thanks very much. Suresh"
Yes, they have a reverse gear. In fact, rule 9.4 of the FIA Technical Regulations says "All cars must have a reverse gear operable any time during the Event by the driver when engine is running". However, the use of reverse is limited, as Nigel Mansell found out at the 1989 Portuguese Grand Prix. He missed the Ferrari pits when coming in for his stop, put the car in reverse to get back and was subsequently disqualified because reversing in the pits isn't allowed.
"Can you tell me what happened between Senna and Mansell in Portugal 1989? Trpimir"
That incident is closely linked to Mansell's pit reversal, which happened just prior to their collision. When Mansell resumed the race after his pitstop, he was black flagged for reversing in the pitlane. Instead of backing off and returning to the pits, Mansell decided to attempt to outbrake Senna at the end of the start finish straight. Mansell surely overshot his braking point and drove straight into Senna, retiring both cars. Senna was understandably extremely angry, as was FISA, who banned Mansell for one race and fined the Briton severely. Mansell claimed to not having seen the black flag due to the sun shining in his face down the pit straight.
"How exactly do airvalves work? Thanks, Jeff"
Kurt: The pneumatically sprung valves used in F1 are basically similar to conventional cammed valvetrains, the difference being that instead of using steel valve springs, F1 engines use a volume of compressed air as the valve spring. It was found that with the mass of valves used in F1, it was getting difficult to control the valves' motion using conventional metal springs and the pneumatic springs allowed significantly higher rpms without valve 'float' or 'bounce'. For a good drawing of how these systems work go to: http://members.atlasf1.com/desmo/valvesystem.jpg
"In reading various historical articles (and yes I do find them interesting), I have often noticed that qualifying times were broken during the race. In the time that I have been following F1 (late 82+), I cannot recall and don't expect to see this ever happening. Why is this? What has changed about F1? Ken"
Without looking at races where qualifying was run in the wet, there's still a few cases worth looking at.
The 1996 Argentine Grand Prix was a bit of a special event. No less than seven drivers drove faster in the race than they did in qualifying (Hill, Villeneuve, Alesi, Berger, Verstappen, Coulthard and Irvine). Alesi, who drove the fastest race lap, was 1.4 seconds faster than his qualifying time, which had put him fourth on the grid. The Frenchman had made a pitstop on lap 44 and set his fastest lap on lap 66, with just six laps to go. So, yes, low fuel, but also tyres with 22 laps already on them. The situation for the others was similar: low fuel and quite a few laps driven. So it wasn't a matter of fresh tyres and low fuel. However, it's not exactly the miracle it appears to be. What was the case? From Friday on, almost all drivers complained about the bumpiness of the track. Work was carried out overnight, but on Saturday the improvement wasn't very big and thus the work continued on Saturday night. Apparently, things were considerably better on Sunday.
In the 1997 Australian Grand Prix, there were again seven drivers quicker in the race than in qualifying. This can be partly attributed to the fact that it was the first race of the Goodyear/Bridgestone tyre war, and that qualifying was interrupted late in the session, possibly interrupting some drivers' fast laps. In the 1999 Malaysian Grand Prix, both Rubens Barrichello and Jacques Villeneuve went faster in the race than in qualifying, on a track new to Formula One. Last year at Indianapolis, the same thing happened, this time with Villeneuve (again) and Diniz.
In the 2000 Brazilian Grand Prix we find a good example. Heinz-Harald Frentzen qualified in 7th, started on a one stop strategy and dropped behind his teammate Jarno Trulli after his stop. As soon as Trulli made his second stop, the road was free for Frentzen to start chasing Giancarlo Fisichella, who was in third. The German went faster and faster, eventually setting his fastest race lap some three tenths faster than his qualifying time and ending the race in fourth, 1.4 seconds behind Fisichella. Eventually he got his podium, when Coulthard was disqualified.
A similar example is Gerhard Berger in the 1992 Mexican Grand Prix. The Austrian had battled hard with Martin Brundle for the first two thirds of the race and went chasing after Michael Schumacher in the final part of the race. He didn't make it, but the will to close the gap saw him set the fastest lap. Further examples are Nigel Mansell in the 1991 Mexican Grand Prix and Nelson Piquet in the 1990 Mexican Grand Prix.
This looks to make two things clear. First of all, there has to be a point on which the driver can focus in order to make him use the maximum potential and making him discard the possible damage done to the car and tyres. Secondly, most of these occurences have happened on the Autodromo Hermanos Rodriguez, a technical track where drivers could get into a fluent rhythm when they were focused enough.
So it does happen on very rare occasions. Why not more often? I can't be 100% sure, but the use of qualifying tyres and engines during various periods surely didn't help it to happen. Also, in earlier days a driver could make more of a difference, whereas nowadays a driver's ability is pretty much limited to what the car can do and under race conditions that's usually a lot less than in qualifying trim.
"I would like to know, where can I find the rules of Formula 1. Thank you very much, Santiago"
The rules can be found on the FIA website. The index to the various regulations can be found here.
"When did the very first Formula 1 race take place in Spa-Francorchamps? Jari"
The first Formula One World Championship race at Spa-Francorchamps took place on 18 June 1950, and was won by Juan Manuel Fangio in an Alfa Romeo. However, the World Championship didn't mark the beginning of Formula One. The term Formula One was first used towards the end of 1946, by the then newly-founded FIA. The first race at Spa-Francorchamps run to the formula that was established then was on 29 June 1947. Pre-war ace Jean Pierre Wimille won the race, driving the same car in which Fangio won three years later.
---
© 2007 autosport.com . This service is provided under the Atlas F1
terms and conditions
.
Please
Contact Us
for permission to republish this or any other material from Atlas F1.