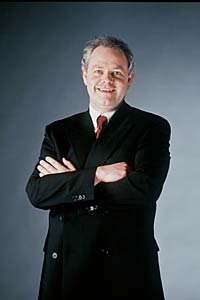 Q: You are General Manager of Toyota's F1 Operations - what does that entail on a day-to-day basis?
Cregan: "Two things really: to assist Mr Ove Andersson with the running of Toyota Motorsport, and the second is looking after the Formula One operation from the point of view of ensuring that all the different areas - technical areas, marketing, press - are actually coming together. So a lot of what I do on a daily basis is working to make sure that everyone has the right contact with everyone else, teamwork is in the right direction, a bit of everything really.
"We have a general manager for the chassis and we have a general manager for the engine and they manage their departments in that way. So basically what I do is make sure that they are communicating in the right way and that they both have the information they need. Because we are a big company, it's heading for 600 people by the end of this year, so obviously the bigger the company gets the more difficult the communication gets."
Q: What roughly is the break up among these 600 employees by nationality?
Cregan: "Well altogether we have 27 different nationalities. We are obviously predominantly a German operation as we are based in Cologne. We only have about 12 Japanese from Toyota Motor Corporation (TMC) working with us as part of the team who are actually based in Cologne."
Q: So what is the exact break up between what happens in Germany and what happens in Japan as far as the F1 operation is concerned?
Cregan: "The project is driven from Cologne; Mr Andersson basically runs the project from there completely. From Japan we get a lot of assistance on the technical side, we get a lot of assistance on new technologies and things like that, research and developments, so basically the flow of technology is from TMC into Cologne and hopefully in the longer term we would obviously like to reverse that and be in a position to help Japan with production car technology and things like that. But at the moment the cooperation with Japan is mainly on the engine side and new technologies in relation to the engine, so new ideas basically."
Q: There are two big talking points about Toyota coming into Formula One. The first is, of course, the decision to come in and run the whole project yourself and not take on established F1 partner. What was the thinking behind that?
Cregan: "Basically Mr Andersson and Japan looked at that, what would be the best in entering F1. We looked at being an engine supplier, we looked at buying an existing team and in the end the conclusion we came to, considering that Toyota is such a large manufacturer of complete cars, we decided that the only way to go into F1 was as a complete supplier. That meant engine and chassis and therefore the best way forward was to start our own team rather than buying an existing team. We didn't see anything out there that was any better than what we already had at the time, so in some respects we wouldn't have had anything to gain by buying a team, so that's why we went in this way."
Q: There are some in the paddock that would call that arrogance; I mean, it has never been done before in the modern era - a major manufacturer coming in and winning the World Championship using their own engine and chassis.
Cregan: "I think if you look at Toyota itself as a corporation, Toyota started from a very small background and they have built the company up organically until now very successfully, the third largest (motor manufacturer in the world, behind General Motors and Ford) and they are not a company that believes in acquisitions, they believe in organic growth, so the whole strategy of the Formula One operation was going to be following that in a similar way.
"So to answer your question about arrogance - no, certainly not. Toyota wanted to be in control of the concept of the car, which means doing everything ourselves. We are completely aware of the task ahead, and we know that it is a huge task and there is no doubt in our minds that it is going to take a long time to be successful."
Q: What you have just described is very much the way big companies think. But isn't F1 a totally different breed all by itself?
Cregan: "But I think if you look at how we succeeded in the Rally side, and how we built towards that, it would have been a similar exercise. On the one side there is definitely a corporate approach from Japan, but the motorsports approach is in Cologne in the mind of Mr Andersson, so obviously it is a big advantage for us that he is at the helm of the whole thing. Some people have criticized him because he has no F1 experience and things like that, and as you say, F1 is unique, it's completely different; but that doesn't mean to say that it cannot be conquered approaching it in a different way than everyone else has approached it.
"The fundamentals of any motorsport project are similar. Obviously F1 is much tougher, it is much more difficult, it is moving at a much faster pace than other motorsport projects. But I still think we can achieve what we set out to achieve provided that we get ourselves the right mixture of people, investments, budgets and so on. And what we have to do over the next two/three years, is to get that ingredients right and go from there."
Q: The other major question mark is over the decision to set up your operation in Germany. What was the thinking behind that decision?
Cregan: "Yes, I know that everyone talks about the motorsport triangle in this area (around Silverstone), which is fantastic, and it's incredible the technologies which are available. But they are available to everybody; everyone has a tap on the same technologies, the same people. When we set up in Cologne with the F1 project we looked at all these different things obviously, and we had to weigh up the advantages and disadvantages of being in Cologne. Your supplier base is to a large extent here (in the UK) but we started with the Rally programme to work with German suppliers and work with them very closely, and build them up with the company and that has worked out very well.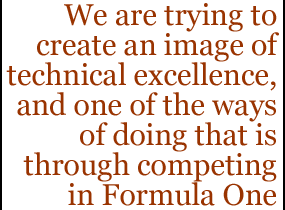 "So we are getting to the point now where we have half and half. Half our suppliers are in the UK, and half from Germany, so that's going in the right direction. One advantage with being in Cologne is the location. It is a nice area to live, there is very good schooling, very good facilities, so you have people who we believe will commit for a longer period of time. I think if you are based here in the UK, it is much easier to float between different teams; you can just maybe commute an extra five miles and still live in the same house.
"In Cologne our long-term objective is to build a stable team and this you can't do here (in the UK). You have to stabilize your people. I think a classic example of that is what Ferrari have done recently, where they have developed success by stabilizing their core people and this is something we are trying to do. We think that we can do that easier in Germany than we can in the UK."
Q: That's a good point, but in Ferrari's case their core of F1 people were all very experienced with a lot of success behind them. With the exception of Gustav Brunner, who are your core of F1 people working currently in Cologne?
Cregan: "Well, we don't really have a core of F1 people; we have a core of TMC people, who have done various projects through the years, whether it is Rally, or Le Mans or Touring Cars, and things like that.
"And then what we have tried to do is to bring in additional people with core competence, not necessarily from F1 and again it is a little bit different from what people perceive as being the idea of what is the right thing to do. A lot of the success around F1 is based on new ideas, new technologies and being ahead of the pack regarding that, and a lot of that is in Germany with the automotive industry and with the materials industry and we have tried to locate some key people from those industries which has worked out quite well.
"Obviously your key areas in F1 are your design, your aero, tyres, your engine technologies, but we have employed an interesting group of people, and what we have to do now is manage those people and get the best out of them. But people like Gustav Brunner, chief designer, Norbert Kreyer, general manager of the engine development, and Luca Marmorini, project leader of the F1 engine - these are key people in the operation."
Q: You must have your own internal timeline; how would you judge where you are now?
Cregan: "We did a test in Barcelona recently with Allan and Mika, and that was to a certain extent a turning point for us. Up until then we had been doing testing basically ensuring that the car had been operating correctly. Checking all the systems. And obviously we had problems like you do when you only run one lap a day and you have to just sort out your problems.
"But now we have moved on from that, and we have got to a point where we are doing some base testing, putting a baseline in place where we can see what the options are doing. So the results from Barcelona were very good - engine wise, chassis wise it was a good test.
"At the moment with the engine, I believe we are more on schedule than we are with the chassis. The engine is going very well. Chassis - we still have a lot of work to do and that's what Gustav is doing at the moment, examining the whole thing and coming up with some new ideas for next year's car."
Q: So overall, just what was the main reason why Toyota decided to enter Formula One?
Cregan: "I think the main targets which Toyota have, I mean it's all the things like increasing brand awareness and all the marketing jargon you hear, all those apply. But take those and put them to one side. Toyota has essentially been seen as a company that builds quality cars, good value for money, you know. You buy a Toyota and you can drive it till doomsday and it's going to last.
"But we are trying to create more of a technical excellence image and one of the ways of doing that is through the competition in F1, which is like driving your engineers forward and this is one of the main reason for Toyota to turn round and say, F1 is an area we have to get into. Now all the other big manufacturers are going in and proving their worth and so we need to go in and prove that we are a technically advanced company, which we already are, but perhaps we not perceived as such."
Q: But that's a big step for Toyota. I mean, other companies like Mercedes and Jaguar are not so much creating a brand name, they are reinforcing it. You are really attempting to build a completely new brand, aren't you?
Cregan: "Essentially yes. I mean, what we have to do on the back of the F1 project is obviously develop a sporting brand or a performance brand, and then to bring this into the public domain. So then you have your luxurious division, which is Lexus, your Toyota division which is your quality vehicle, and then you have the performance side of the package - which a lot of other companies have and probably Toyota don't have. So that's one of the key factors in the F1 project."