---
Interview with Paul Stoddart:
Driving Minardi to the Midstream
---
By Roger Horton, England
Atlas F1 Senior Writer
After seven races in 2001, Minardi are the only team yet to score a World Championship point. But the fact that the team is eleventh and last in the Formula One Championship standings only tells a small part of the amazing story that is European Minardi. After a winter break that saw the team without any testing, no engine supplier and no sponsors, Australian aviation mogul Paul Stoddart walked in to save the day. He's been standing there on guard ever since, and it's not an easy job. Roger Horton grabbed a bite with Stoddart at the Monaco Paddock, and heard from him about the highs and lows of Formula One's newest team boss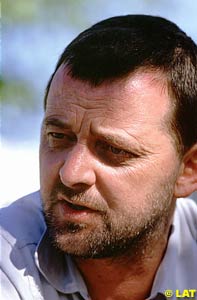 By now every follower of Formula One will know that Michael Schumacher won last Sunday's Monaco Grand Prix in his Ferrari. Most will have read that David Coulthard took the pole position on Saturday, and a good number will also remember that Eddie Irvine scored Jaguar's first ever Podium position.
Just how many, though, will be aware that the Spanish teenager, Fernando Alonso, in his first ever visit to the challenging Monaco track in an F1 car, managed to get his Minardi as high as ninth position before a gearbox problem ended his race? The media spotlight is nearly always focused on the battle at the front of the grid, where the title contenders slug it out, and the races are won and lost.
The Grand Prix in Monaco, like every race, was about all twenty-two cars that lined up at the start; it was about those down at the rear of the grid, where the battles were just as intense, and in their own way, the competition just as fierce.
On Thursday afternoon at Monaco, with million dollar yachts as a backdrop, I sat down in the Minardi motorhome and chatted with Formula One's newest team owner - the tough, aggressive, Australian aviation entrepreneur Paul Stoddart. We talked about his new life in Formula One, and just how he was coping with his own personal battle to turn Minardi into a mid-field outfit.
Stoddart admits that in the rush to get his cars to Melbourne for the opening round of the season, he didn't have enough time to nail down a title sponsor. Most of the names adorning the Minardi cars belong to Stoddart's own companies. He is in fact the only team owner actually funding his passion for racing with his own money. But you don't get as wealthy as Stoddart by being a fool, and not surprisingly, finding a title sponsor for next year, along with a works engine deal, is currently his top priority.
The conversation with Stoddart was dominated by the recent poaching of his technical director, Gustav Brunner, by the Japanese giant Toyota, who are scheduled to enter Formula One next season. Brunner, according to Stoddart, had twenty months left on a watertight employment contract and yet quit without notice, simply informing his current employers, via a hand written fax, not that he was leaving, but that he had already left. Legal action for compensation is now pending.
Stoddart is angry and somewhat bitter but not downhearted, and he is not without allies in the F1 Paddock. Craig Pollock walks by and steals a chip from his plate as the Minardi team owner talks and eats. "I get on well with Craig," he offers, "despite the fact that he beat me to the punch over the purchase of Tyrrell back in the May of '97. We were friends before, during, and after the Tyrrell deal was done. Everyone was straightforward, that's the way business deals should be done."
I leave his food alone and listen while he speaks. So how did he think his team's opening day at Monaco had gone?
Stoddart: "Well, we certainly didn't plan to hit the walls this morning. We told Tarso (Marques), who has never been here before, to go out and don't worry about setting a time, just go out and learn the track. But sadly, halfway through the session he found the walls, but the guys did well to get the car out in the second session. Then Fernando (Alonso), whom I didn't expect it from, went out and clipped the bloody wall in his car, and that was the end of his session. But it could be worse, we have had worse days than this."
This is your seventh race in Formula One. Is it like you thought it was going to be?
Stoddart: "Certain sides of it are. Formula One - the racing - is like I thought it would be. In fact, I think that we are slightly ahead of the targets we set ourselves for this year, even though our targets were relatively modest. Unfortunately, there is much more to Formula One than just the races, and the two things that have struck me are the amount of my time that it consumes, and I'm not saying that I went into it with my eyes closed, I didn't. But it has taken all the time I thought it would consume and a lot more. And the second is the Gustav Brunner situation. That showed me the darker side of Formula One; I mean, the kind of dirty business like that, which I would rather not be involved in.
"Now, we are all big boys, but out of this situation I hope something positive flows. That is why I am pushing so hard to get this contract recognition board extended to cover the five or six top guys in every team - the guys that can make a difference. So that showed me the dark side of Formula One."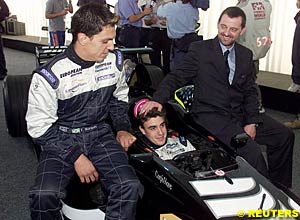 It reminds me, I interject, of Ron Dennis's "Welcome to the Piranha club" comment, directed then to Eddie Jordan, who had just had the brilliant newcomer Michael Schumacher snatched away from under his nose by Benetton.
Stoddart: "Sure, yep. Very true, and it's people like Dennis that I have absolute total respect for, but you have to earn respect, and sadly this episode with Toyota has not endeared them in any shape or form to us obviously, but I don't think it has helped their cause generally, because I think that a lot of people have stood up and taken notice and don't like what they have seen. If, and I stress If, these rumours of his (Brunner's) $12-million for three years deal are true, then I think it has caught the attention of every other F1 team owner, then I think they are going to say shit, it is high time we regulated this before it does get out of control. It is, after all, supposed to be a sport."
The conversation then turned to engines. In Melbourne, at the start of his Formula One adventure, Stoddart mentioned that his current batch of units had an inherent piston problem that could not be immediately solved, but that he had plenty of spare engines to replace the ones that blew up. That problem was apparently sorted by the Brazilian race, but Stoddart fully understands that only a works engine deal is going to allow him to fulfil his target of becoming a mid-field team within three years.
"I am in the final stages of negotiating a works engine deal for next year with a well known manufacturer," Stoddart reveals, "but obviously I can't at this stage say who. We are hoping to be able to announce it formally by the end of August, and it will allow us to achieve what I want to achieve with Minardi, which is to move up the grid to become a mid-field team.
"We have a good chassis, there are no regulation changes next year, so we are in good shape for 2002. We will have a few changes for Hungary on the car, a new gearbox, a new rear end, and so we should go well there. Overall I think we are ahead of our plan at the moment, some of it is by hard work, and some of it is due to the driving of Alonso, and so I see no reason to slip backwards."
You mentioned Alonso again. You obviously rate him highly?
Stoddart: "Well, a lot can happen in a driver's career, but barring any unforeseen incidents he is unquestionably a future Champion in the making, or at least a future race winner for sure if he can get the right equipment."
Alonso is, of course, under contract to Renault, how certain are you that you will be able to hang on to him?
Stoddart: "I would say I am 99 percent confident for next year, and less than 10 percent confident beyond that. I mean, you never really know with these things - suddenly there is a vacancy, and a driver is at the right place at the right time. So you never really know, but I am only banking on the rest of this season, and next year."
There has been much speculation that the relationship between Alonso and Renault is a clue to the Minardi team's future engine supplier. This only draws a smile from Stoddart and the observation that there are some people in the F1 paddock that wish he had been using the current Renault engine this year, and that Benetton had used their old engine for one more year, given just how slow the current Benetton cars are this season.
"I am sure that a company like Renault will get it right by the end of the season and prove everybody wrong, but at the moment I am very thankful to be beating the Benettons every weekend," he says, smiling.
Returning to the Gustav Brunner situation, I ask whether losing his designer will delay next year's car, and Stoddart's answer leaves no doubt just how deep his feeling on the matter still run.
"Not at all," he exclaims. "Next year's car was already penned anyway. I mean, Gustav - even though I now hate him - was a good designer, but he never was hands on, or he never was with us at least. He was a good guy that you could bounce an idea off, but he never was a doer, he was a thinker. So for next year we have got the team intact from the doing side of things, so I am not in a rush to make a knee jerk reaction and appoint a 'name' designer just for the sake of doing it. I will appoint someone, but in the correct way.
"Unlike Toyota, I will do it right and respect that person's contract and I may have to wait twelve months to get them. But I would much rather do it properly than do it the very low way that Toyota did it, and throw contracts and law out the window just because I can."
Minardi may be the current minnows of the F1 circus, but it is an indication of just how the Formula One bar has been raised by the fact that the team now employs around 160 people, some 110 in Italy, and the balance in the UK. This raises the inevitable question as to how much longer he can maintain two completely separate operations and just when he will have to merge them?
Stoddart: "Certainly there is no short-term plans for it, longer term I am not so sure. I did give them (the Italians) a commitment that we would keep their side of the operation and I have no plan to break that commitment. Certainly the airline make things much easier - we have an awful lot of training flights we have to do, so suddenly all these flights are between Italy and England, so that has made life a lot simpler for everyone."
When pushed on this, though, Stoddart concedes that having operations in two countries is currently forcing him to live out of a suitcase, and all the travel is so time consuming that it is becoming personally very stressful.
Stoddart: "One week out of every two you are racing, the other you are at factories based in two countries, and I still do a little bit in my airline, not a lot as I have a management team in place, but still two or three days per fortnight. So all this grinds you down after a little while."
So, with the first flush of enthusiasm perhaps fading away, and having come face to face with the realities of F1 life, does he still think of his racing passion as a sport or a business?
Stoddart: "It's business first, but I would like to think that I haven't lost sight of the fact that it is a sport out of which a big business has grown. That's why I get so vicious with companies like Toyota that only see the business side and think that money buys the sport side. I like to think that we (Minardi) are still human enough and still moral enough to both honour our contracts and still compete at the highest level, compete with the best of the best, do it professionally and not have to jump over everyone to get there."
Isn't that a little naive in modern day F1?
Stoddart: "I don't think that I am naive. As I said earlier, it's not so much what they did, it is the way that they did it that caught me by surprise. We don't respect anyone or anything, we are Toyota, I am Brunner, and I will do what I want. There was another way to do that, which has been done many times in the past - everybody has the freedom of choice, and if Gustav wants to have a new job then fine, I respect that. If he or Toyota had come to me and discussed it we could have worked something out. You don't need to have dirty deals in any business. Look at [the fight between] British Airways and Virgin - look at the massive shit fight that came out of that. It was called dirty tricks and this is Formula One's version of that."
Moving on, I turn the conversation towards drivers. His admiration for Fernando is well known, but who, in an ideal world, would he choose to drive his other car?
"If I had a blank piece of paper, there are two or three that are already in Formula One that I rate. I rate Heinz-Harald Frentzen a lot. Heinz needs to be loved, but when he is loved he is a performer. And then there is David Coulthard and Ralf Schumacher, they have been around a while, but they still have many years left in Formula One. So I would get into that level - the tried, tested race-winning type drivers."
For Paul Stoddart, the reality of hiring that level of drivers is very much in the future. But you underestimate this tough Australian at your peril. The Minardi team have survived a lot of disappointments in the past, but you get the feeling that in the hands of Paul Stoddart, their best days may still be ahead.
---
© 2007 autosport.com . This service is provided under the Atlas F1
terms and conditions
.
Please
Contact Us
for permission to republish this or any other material from Atlas F1.