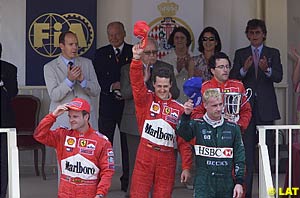 Year after year, the tight streets of the Monte Carlo circuit provide the Formula One fans with one of the most dull and processional events of the season, with the 800 bhp cars following each other in the hope that the driver ahead will retire. The 2001 Monaco Grand Prix was no exception.
Last year, it was David Coulthard with his McLaren who benefitted from Michael Schumacher's misfortunes to win the race. This year, the tables were turned and it was the Ferrari driver who came out the luckier. Not that he needed it, but it made his life a lot easier and all he had to do was to keep his car away from the unforgiving barriers.
"Today, I just had to think about reliability and make sure I didn't make a mistake." Those words from the German perfectly summarised the race. Schumacher did not put a foot wrong and dully took his fifth win at the Principality, moving twelve points clear in the Championship race and highlighting that the Ferrari team are the class of the field when it comes to reliability, as Rubens Barrichello's deserved second place showed in a race where only ten cars finished. And out of those, only eight didn't have any mechanical problems.
One of those two with problems was Sauber's Kimi Raikkonen, who lost five laps while his mechanics bypassed a problem with a wheel-speed sensor. The other one was, again, David Coulthard. The Scot again demonstrated at Monaco that he is driving at his best, perhaps boosted by the dismay season his teammate is enduring in 2001.
Whatever the reason, Coulthard is right now the only driver who can stop Schumacher from taking his second consecutive title, if his McLaren team allows him to do it, that is. The Woking-based outfit recovered well from the lack of pace they showed at the start of the season, and as Coulthard showed during qualifying, the MP4-16 is, at least, as fast as the Ferrari. But there's obviously something that is not working at McLaren - just ask Mika Hakkinen.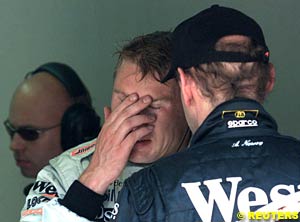 In the last five races - Brazil, San Marino, Spain, Austria and Monaco - only at Imola there was no McLaren left stranded on the grid. This time, as in Barcelona, it was Coulthard's time to stall, and again, the Scot was not to blame. Fortunately for him and for safety's sake, it happened before the formation lap, allowing him to start from the back and avoiding the scary thought of the car on pole being stuck when the lights went off.
Coulthard again recovered well, aided by the high attrition rate at Monaco, to finish in the points for the tenth consecutive race. Perhaps he could have made it to the podium if not for Enrique Bernoldi's Arrows who, despite what Ron Dennis might think, did a brilliant job to keep the Scot behind for more than 40 laps.
Whether the claims from Bernoldi that Dennis threatened him are true or not, the Briton should know by now there is no written rule saying that a driver can't defend his position if he is not fighting for the Championship. "You could argue it's motor racing, but in 15th position it is different when you are hampering a driver who is clearly faster and has the World Championship at stake," Dennis said after the race. The outspoken team boss is always great when it comes to giving reporters their headlines, but this time, perhaps he went too far.
Someone who didn't go far at Monaco was Mika Hakkinen, who by now must be wondering what he has done to deserve the season he is enduring. We are only a race or two away from the middle of the season, and the Finn is still on four points, 48 behind Schumacher. Clearly, Hakkinen is not thinking about the Championship anymore, but rather when will he be able to return to winning ways, or to finish a race in the points for that matter.
As usual, the Monaco circuit offered the opportunity to shine to those not used to fighting for points, and Eddie Irvine was the biggest surprise of the weekend after scoring the first points this season and the first-ever podium for the Jaguar team. Apart from Irvine, Jean Alesi and Giancarlo Fisichella were able to show they deserve better than what their cars have allowed them to do so far this season, the veteran Frenchman returning to the points for the first time since the 1999 Japanese Grand Prix. In Canada, however, they will probably be taken back to reality.
Qualifying
David Coulthard emerged as the brilliant winner of the hour-long battle for the ever so important pole position on the streets of the Monaco circuit, the Scot completing a superb final lap in the dying seconds of qualifying to steal the thunder from Michael Schumacher, who had topped the timesheets for most of the second part of the session.
In clinching his second pole of the season, and the twelfth of his Grand Prix career, Coulthard smashed the circuit's all-time record with a time of 1:17.430, nearly a second quicker than Heinz-Harald Frentzen's time set in 1997 with the slick-shod Williams. Having set the pace both on Thursday's and Saturday's free practice, Mika Hakkinen was disappointed after having to settle for third in the second of the McLarens, and most importantly, after missing the front row at the virtually-impossible-to-overtake track.
Jos Verstappen was the first driver to jump onto the track, his Arrows team having been - along with Jordan - one of the protagonists of practice, where both teams introduced bizarre aerodynamic solutions in order to increase the downforce, always vital at the Principality. As it turned out, both the Arrows "nose wing" and Jordan's cockpit wing were banned by the FIA, alleging their construction was dangerous. By looking at both of them, the general consensus was that the governing body was right.
BAR's Jacques Villeneuve, Heinz-Harald Frentzen in the Jordan, Giancarlo Fisichella driving a much improved - or perhaps less handicapped - Benetton, and then Eddie Irvine with the Jaguar took the top spot before Hakkinen come out and set a time of 1:18.552 to put himself on provisional pole at a very hot track where track temperatures reached as high as 42 degrees Celsius.
Juan Pablo Montoya, in his first Formula One race at Monaco, soon began to show signs of overdriving his Williams - something he did during most of the weekend - "kissing" the armco on his first attempt. Twenty minutes went by before the two Championship contenders took to the track, with Coulthard immediately breaking the track record on his first run with a 1:18.127. Schumacher, meanwhile, was forced to abort his first attempt following an incident with the Arrows of Enrique Bernoldi, and returned to the pits before setting a significant time.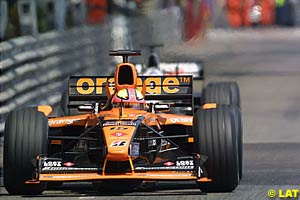 Ralf Schumacher, who was forced to take Friday off at home following a massive crash on Thursday, placed himself in third on his first run with the rebuilt FW23, ahead of Jarno Trulli with the Jordan and Irvine with the Jaguar, his R2 already using a new aero package which seemed to work very efficiently, to the delight of the Irishman. Rubens Barrichello was down in fifth, still not satisfied with his car's handling.
With half the session gone, Schumacher returned to the track for his second run to set the second quickest time, two tenths behind Coulthard, who went for his second attempt only seconds later, with Hakkinen also on track. The Scot improved his previous time by one tenth, but he was demoted from first place by his Finn teammate, who was the first driver to get within the 1:17s bracket, improving a massive six-tenths of a second over his previous best. Schumacher would then be relegated to fourth by his brother Ralf.
But the elder Schumacher did not wait long to jump onto the track for the third time, and 38 minutes into the session he completed a brilliant effort to beat Hakkinen's time by more than three tenths, paving the way to what seemed a certain sixth pole of the season in seven races, especially after Coulthard finished his third run without improving his time. Hakkinen, who used four sets of new tyres during the session, was able to improve time, but not position, and stayed second, a little more than a tenth behind Schumacher.
Both Ferraris and McLarens came back out for the final time with less than four minutes remaining in the session. Schumacher was the first one to complete his final run, but the German hit the barrier at the Portier and was forced to park his car after the tunnel. "When I arrived at Portier, I thought somebody was moving the barriers. Something strange, it was just too tight," explained Schumacher.
Hakkinen's last effort came up short too, so it was up to Coulthard to demote the multiple World Champion from the front row, and he did so, the Scot beating Schumacher by more than two tenths with only seconds to go before the checkered flag was dropped.
"I'm delighted and satisfied with our performance today and despite all pole positions being important, at Monaco it's essential because it's so difficult to overtake," said Coulthard, who set his fastest time with used front tyres. "I was able to avoid traffic and the front end was working well which allowed me to really hit the apex of the corners. However, now we need to focus on the race because that is where the points can be won." Or lost.
Despite having to settle with second, Schumacher was happy after qualifying: "I am happy to be on the front row, although I would rather be on pole. However, David did a better job today. I never got a perfect lap today. I am looking forward to the race, because I think it will be very open."
Third position was a disappointment for Hakkinen, who was hoping for more in order to finally return to the top step of the podium. "I'm a bit disappointed because I didn't get pole position and I think we could have had an all McLaren front row today," he said. "We made a few changes to the car for my last run, which obviously didn't achieve what we wanted and I had a lot of understeer at the Rascasse and was unable to improve my time."
Barrichello, who constantly improved his time in each of his four runs, was finally fourth ahead of Ralf and the Jaguar of Irvine, who equalled his best qualifying performance with the Milton Keynes-based team.

Pos. Driver        Team                    Times                 
 1.  Coulthard     McLaren Mercedes   (B)  1:17.430  156.683 km/h
 2.  M.Schumacher  Ferrari            (B)  1:17.631    +    0.201
 3.  Hakkinen      McLaren Mercedes   (B)  1:17.749    +    0.319
 4.  Barrichello   Ferrari            (B)  1:17.856    +    0.426
 5.  R.Schumacher  Williams BMW       (M)  1:18.029    +    0.599
 6.  Irvine        Jaguar Cosworth    (M)  1:18.432    +    1.002
 7.  Montoya       Williams BMW       (M)  1:18.751    +    1.321
 8.  Trulli        Jordan Honda       (B)  1:18.921    +    1.491
 9.  Villeneuve    BAR Honda          (B)  1:19.086    +    1.656
10.  Fisichella    Benetton Renault   (M)  1:19.220    +    1.790
11.  Alesi         Prost Acer         (M)  1:19.245    +    1.815
12.  Panis         BAR Honda          (B)  1:19.294    +    1.864
13.  Frentzen      Jordan Honda       (B)  1:19.316    +    1.886
14.  de la Rosa    Jaguar Cosworth    (M)  1:20.033    +    2.603
15.  Raikkonen     Sauber Petronas    (B)  1:20.081    +    2.651
16.  Heidfeld      Sauber Petronas    (B)  1:20.261    +    2.831
17.  Button        Benetton Renault   (M)  1:20.342    +    2.912
18.  Alonso        Minardi European   (M)  1:20.788    +    3.358
19.  Verstappen    Arrows Asiatech    (B)  1:20.823    +    3.393
20.  Bernoldi      Arrows Asiatech    (B)  1:21.336    +    3.906
21.  Burti         Prost Acer         (M)  1:21.771    +    4.341
22.  Marques       Minardi European   (M)  1:22.201    +    4.771

The Race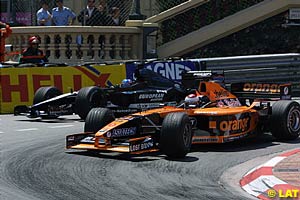 Everyone was fearing a launch control disaster at the tight streets of the Principality, and so the race officials allowed the teams to test their systems during the whole weekend in order to avoid the likely chaos a car stall on the grid would cause. The Jordan team even decided not to use launch control following the incident in Austria, where both Heinz-Harald Frentzen and Jarno Trulli stalled at the start.
As much as he practised without problems on the previous days, David Coulthard's McLaren refused to move when the formation lap began, putting him out of contention for the second time this season. "It was caused by a set of conditions input into the software which had not been provided for," explained Ron Dennis after the race. "Basically if the computer sees a set of conditions it doesn't expect to see, it will turn the engine off. That's what occurred."
Fortunately, the start was clean, with no other drivers stalling. Michael Schumacher made it in the lead into the first corner, as the order in the top four remained unchanged. Only Juan Pablo Montoya was able to gain a position by overtaking Eddie Irvine for fifth, but the Jaguar driver would recover his position on lap two, when the Colombian made a mistake and ended up hitting the tyre barriers in front of the swimming pool after hitting the Armco on the exit of the swimming pool chicane.
Up in front, Schumacher and Hakkinen began to pull slightly away from Rubens Barrichello, struggling with a leg cramp, while Ralf Schumacher, running in fourth, was losing ground to the Brazilian. On lap 7, Coulthard, who had moved up four places following the retirements of Montoya and Nick Heidfeld, came up behind Enrique Bernoldi's Arrows, who would become the Scot's nemesis, the McLaren being unable to move ahead of the Asiatech-powered car.
The order at the front stayed unchanged until lap 13, when Hakkinen suddenly slowed down and was overtaken by Barrichello. The Finn, it transpired, was struggling with his car. He was forced to come into the pits a lap later, rejoining after his mechanics checked his car, but his efforts were in vain, and for the fifth time in seven races, Hakkinen was unable to finish.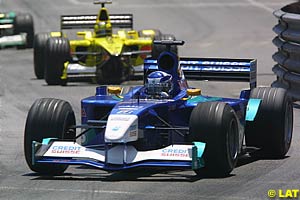 "All of a sudden the car just started pulling to the right," explained a disappointed Hakkinen. "I went into the pits but the crew couldn't find anything wrong immediately and we decided to go back out. However the car was still behaving in a strange manner, and I decided that it would be impossible to go flat out and there was no other option than to retire." And that was basically the end of the race.
Hakkinen's retirement left Schumacher with a 12-second lead over Barrichello on lap 20, and when six laps later the German lapped Coulthard, it was clear that only a driving error or a mechanical failure would stop the Ferrari driver. The Scot, meanwhile, was still stuck behind Bernoldi, his shy attempts of overtaking not intimidating the Brazilian rookie.
The high-speed procession continued in front, with only Giancarlo Fisichella's incident offering some excitement. The Italian driver, completing his best race of the season with the Benetton, lost control of his car going into St. Devote, hitting the tyre barriers, but amazingly was able to continue in sixth place. Not for long, though, for a few laps later, he would crash again at the same corner, this time damaging his car and retiring.
On lap 44, Coulthard finally saw the light at the end of the tunnel when Bernoldi pulled into the pits for his scheduled stop, the Scot immediately setting the fastest lap of the race, lapping more than four seconds quicker than when he was behind the Arrows. Coulthard moved up to ninth after overtaking Minardi's Fernando Alonso, then being promoted to eighth when Jenson Button came into the pits. When Frentzen crashed heavily at the exit of the tunnel, the McLaren was one place away from the points.
Schumacher, leading by more than sixteen seconds ahead of Barrichello, made his scheduled pitstop on lap 55, rejoining the race behind the Brazilian, who would drop back to second five laps later after making his own stop. Ralf Schumacher, running comfortably in third position, continued with his disappointing run of retirements after his San Marino win, suffering an electrical problem which allowed Irvine to start dreaming of a podium finish. Ralf's retirement also allowed Coulthard to get into the points behind Jacques Villeneuve and Jean Alesi.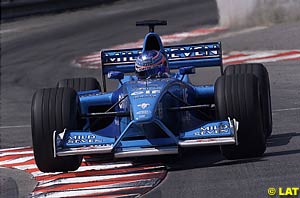 Coulthard, as usual on a very long first stint, pitted on lap 65, only thirteen before the end of the race, returning to the track some 30 seconds behind Alesi. The Scot soon began to reduce the gap dramatically, and Prost decided to bring Alesi in for a new set of tyres, a decision which at the end cost them fifth place. "I was really worried," explained Alesi. "It was a flat tyre (rear left) and I had to go back to the pits to change it, which cost me the fifth place points."
The only action in the final laps was courtesy of a charging Villeneuve, who put Irvine under pressure but who was unable to get close enough to try anything. In front, the untouchable Schumacher and Barrichello crossed the line clearly ahead of the rest, claiming one of their easiest one-two finishes for Ferrari. The Championship leader was unemotional after his fourth win of the season.
"Honestly, I don't feel that emotional because it has been a very straightforward win," said Schumacher. "It wasn't anything exceptional, nothing exceptional happened through the race, which could make you emotional. It's always nice to win in Monte Carlo, it's always special, but then it was straightforward." In other words: a piece of cake.
Irvine was delighted with third, giving a big boost of confidence to his Jaguar team, hoping it was the start of something good. "To have two Ferraris and a Jaguar on the podium in Monaco is really what Formula One is about in a way. Monaco is a strange circuit. We've been quick here all weekend. Let's hope we can carry that speed to Canada," said Irvine, who finished just ahead of Villeneuve in the BAR and the McLaren of Coulthard, who was philosophical after the race.
"We have to look at the positives and once we were in the race, we had a quick and reliable car," Coulthard said. "I'm pleased to finish in the points but I wanted to win." The Scot, as in Spain, was able to recover well, proving beyond doubt he is driving with a new-found consistency. Unfortunately for him, it is now his team that seemed to have inherited his problems.

CLASSIFIED

Pos  Driver        Team                       Time        
 1.  M.Schumacher  Ferrari            (B) 1h 18:50.345
 2.  Barrichello   Ferrari            (B) +      0.431
 3.  Irvine        Jaguar Cosworth    (M) +     30.698
 4.  Villeneuve    BAR Honda          (B) +     32.454
 5.  Coulthard     McLaren Mercedes   (B) +     1 Lap 
 6.  Alesi         Prost Acer         (M) +     1 Lap 
 7.  Button        Benetton Renault   (M) +     1 Lap 
 8.  Verstappen    Arrows Asiatech    (B) +     1 Lap 
 9.  Bernoldi      Arrows Asiatech    (B) +     2 Laps
10.  Raikkonen     Sauber Petronas    (B) +     5 Laps
 
Fastest Lap: D.Coulthard, 1:19.424, lap 68

NOT CLASSIFIED / RETIREMENTS                                
                                                              
     R.Schumacher  Williams BMW       (M)   58 
     Marques       Minardi European   (M)   57 
     Alonso        Minardi European   (M)   55  
     Frentzen      Jordan Honda       (B)   50 
     Fisichella    Benetton Renault   (M)   44 
     Trulli        Jordan Honda       (B)   31 
     Burti         Prost Acer         (M)   25 
     de la Rosa    Jaguar Cosworth    (M)   19 
     Hakkinen      McLaren Mercedes   (B)   16 
     Panis         BAR Honda          (B)   14 
     Montoya       Williams BMW       (M)    3 
     Heidfeld      Sauber Petronas    (B)    1 

WORLD CHAMPIONSHIP STANDING, ROUND 7:                

Drivers:                    Constructors:   
 1.  M.Schumacher  52        1.  Ferrari             76
 2.  Coulthard     40        2.  McLaren             44
 3   Barrichello   24        3.  Williams            18
 4.  R.Schumacher  12        4.  Jordan              13
 5.  Heidfeld       8        5.  Sauber              12
 6.  Trulli         7        =   BAR                 12
 =   Villeneuve     7        7.  Jaguar               4
 8.  Montoya        6        8.  Benetton             1
 =   Frentzen       6        =   Arrows               1
10.  Panis          5        =   Prost                1
11.  Irvine         4                                  
 =   Raikkonen      4                                  
 =   Hakkinen       4                                  
14.  Fisichella     1                                  
 =   Verstappen     1                                  
 =   Alesi          1                                  
 

Pos  Driver        Team                  Lap  Time           
 1.  Coulthard     McLaren-Mercedes  (B)  68  1:19.424         
 2.  M.Schumacher  Ferrari           (B)  50  1:19.770  + 0.346
 3.  Barrichello   Ferrari           (B)  57  1:20.329  + 0.905
 4.  Villeneuve    BAR-Honda         (B)  75  1:20.417  + 0.993
 5.  Irvine        Jaguar-Cosworth   (M)  76  1:20.681  + 1.257
 6.  Raikkonen     Sauber-Petronas   (B)  60  1:20.705  + 1.281
 7.  Frentzen      Jordan-Honda      (B)  46  1:20.810  + 1.386
 8.  R.Schumacher  Williams-BMW      (M)  47  1:20.975  + 1.551
 9.  Alesi         Prost-Acer        (M)  73  1:21.151  + 1.727
10.  Button        Benetton-Renault  (M)  65  1:21.580  + 2.156
11.  Fisichella    Benetton-Renault  (M)  37  1:21.646  + 2.222
12.  Hakkinen      McLaren-Mercedes  (B)  12  1:21.682  + 2.258
13.  Verstappen    Arrows-Asiatech   (B)  74  1:21.732  + 2.308
14.  Bernoldi      Arrows-Asiatech   (B)  75  1:22.053  + 2.629
15.  Trulli        Jordan-Honda      (B)  30  1:22.345  + 2.921
16.  Alonso        Minardi-European  (M)  28  1:22.956  + 3.532
17.  de la Rosa    Jaguar-Cosworth   (M)  18  1:23.483  + 4.059
18.  Burti         Prost-Acer        (M)  18  1:24.206  + 4.782
19.  Marques       Minardi-European  (M)  33  1:24.570  + 5.146
20.  Panis         BAR-Honda         (B)  10  1:24.719  + 5.295
21.  Montoya       Williams-BMW      (M)   2  1:25.773  + 6.349


Pos  Driver        Team                   Time  Lap
 1.  Coulthard     McLaren-Mercedes  (B)   26.9  65 
 2.  Barrichello   Ferrari           (B)   27.6  60 
 3.  Irvine        Jaguar-Cosworth   (M)   27.9  60 
 4.  M.Schumacher  Ferrari           (B)   28.1  55 
 5.  Villeneuve    BAR-Honda         (B)   28.2  56 
 6.  Alesi         Prost-Acer        (M)   28.6  69 
 7.  Alesi         Prost-Acer        (M)   29.5  51 
 8.  Button        Benetton-Renault  (M)   29.6  49 
 9.  Raikkonen     Sauber-Petronas   (B)   29.7  58 
10.  Alonso        Minardi-European  (M)   31.1  47 
11.  Marques       Minardi-European  (M)   32.4  44 
12.  Burti         Jaguar-Cosworth   (M)   32.9   3 
13.  Bernoldi      Arrows-Asiatech   (B)   33.1  43 
14.  Panis         BAR-Honda         (B)   34.3  12 
15.  Hakkinen      McLaren-Mercedes  (B)   55.0  14 
16.  Verstappen    Arrows-Asiatech   (B)   61.8  42 
17.  Raikkonen     Sauber-Petronas   (B)  305.9  15 
18.  Panis         BAR-Honda         (B)  664.4  13 


The Monaco Grand Prix, Lap by Lap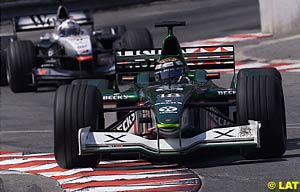 At the start of the final parade lap David Coulthard fails to get away from the pre-grid. Mika Hakkinen is stuck behind his team mate but is able to get away before the last car has gone by and so is allowed to take his usual grid position. Coulthard's car is restarted by his mechanics but he has to start the race from the back of the grid.
Lap 1 At the start the first four get away well and Michael Schumacher leads Hakkinen and Rubens Barrichello up the hill to Monte Carlo. They are chased by Ralf Schumacher and Juan Pablo Montoya, the Colombian having got ahead of Eddie Irvine's Jaguar when the Ulsterman went wide at Ste Devote. Behind them Jos Verstappen gets his Arrows out of shape at Ste Devote and brushes Luciano Burti's Prost. Verstappen manages to avoid hitting the wall but drops to 20th while Burti loses a front wing endplate. Further around the lap Nick Heidfeld goes into the barriers on the run down to Portier.
Lap 2 The order at the front is unchanged. Montoya sets the fastest lap of the race as he tries to find a way to pass Ralf Schumacher. At the back of the field Burti drops to the tail of the field, being overtaken by Verstappen and Coulthard, who is unable to pass the Arrows (which has a lower fuel-load).
Lap 3 Michael Schumacher increases his lead to 1.6 seconds. Montoya glances the wall in the Swimming Pool section and damages the rear of his car. this causes it to slide off at the ends of the short straight. This lifts Eddie Irvine to fifth place with Jarno Trulli sixth in his Jordan. At the tail of the field Verstappen overtakes Tarso Marques to move up to 17th. Burti pits for a new nose and rejoins a long way behind the field.
Lap 4 Coulthard passes Marques for 18th.
Lap 8 The order has been unchanged for four laps and Schumacher's lead is reduced as Hakkinen speeds up. Verstappen overtakes his Arrows team mate Bernoldi for 16th position.
Lap 10 Barrichello begins to drop back, suffering from a leg cramp.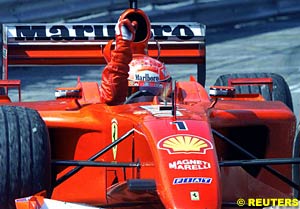 Lap 12 Hakkinen gets within a second of M Schumacher. Further back Olivier Panis comes into the pits with a technical problem. The Frenchman later rejoins but soon returns to the pits. Further back Verstappen overtakes Fernando Alonso for 15th. Behind them Coulthard is unable to pass Bernoldi.
Lap 13 Hakkinen drops to third behind Barrichello.
Lap 14 Hakkinen pits. He rejoins but retires after a couple of laps. This moves Ralf Schumacher to third with Irvine fourth, Trulli fifth and Jacques Villeneuve sixth.
Lap 15 Eleventh-placed Kimi Raikkonen goes into the pits. He rejoins several laps down after repairs. Verstappen overtakes Jenson Button's Benetton.
Lap 19 Tenth-placed Pedro de la Rosa pulls off with a mechanical problem.
Lap 26 Burti spins into retirement.
Lap 31 Trulli goes out with a fiery engine failure at Rascasse. This puts Giancarlo Fisichella into sixth place.
Lap 34 Fisichella hits the barriers quite heavily at Ste Devote but manages to keep going without losing sixth place to Jean Alesi.
Lap 42 The order has been stable with Michael Schumacher extending his lead to 18 seconds. Barrichello is still suffering from cramp which is causing him problems. Verstappen stops early as usual and there are problems and he loses considerable time and drops back to 12th.
Lap 43 Bernoldi pits, dropping to 13th. Coulthard drops his lap times by more than four seconds and sets several fastest laps.
Lap 44 Marques pits.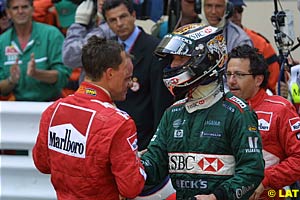 Lap 45 Fisichella crashes into the barriers at Ste Devote and tears a front wheel from his Benetton. This promotes Alesi to sixth position.
Lap 46 Coulthard catches and overtakes Alonso's Minardi. to move to ninth place. Alonso pits soon afterwards and drops behind Verstappen.
Lap 49 Eighth-placed Button pits and drops behind Coulthard.
Lap 50 Seventh-placed Frentzen has a huge crash in the fast section in the tunnel. The car slithers down the barriers to come to rest just before the chicane. This moves Coulthard to sixth.
Lap 51 Alesi pits and manages to hold on to his sixth place.
Lap 55 Schumacher M stops and loses the lead to Barrichello. At the tail of the field Alonso stops with a mechanical problem.
Lap 56 Fifth-placed Villeneuve pits but keeps his place.
Lap 58 Third-placed Ralf Schumacher pits and retires with a mechanical problem. This moves Irvine to third with Villeneuve fourth, Alesi fifth and Coulthard sixth. On the same lap Marques retires with mechanical trouble.
Lap 60 Barrichello pits and Schumacher goes back into the lead. Third-placed Irvine also stops but holds on to his position.
Lap 65 Coulthard finally stops but he is able to stay ahead of Button having made a big charge in the final laps before stopping. Coulthard sets off after Alesi, who is half a minute ahead.
Lap 66 Irvine brushes the wall at Ste Devote but escapes without damage.
Lap 69 Coulthard has reduced the gap dramatically and the Prost team decides to bring Jean in for new tyres with which to mount a stronger defence. The stop is slower than anticipated and Coulthard gets ahead.
Lap 78 Schumacher and Barrichello cross the line 1-2 in a staged finish. Irvine is third having had to fend off Villeneuve in the closing laps. Coulthard is fifth, a lap down, while Alesi gives Prost its first score of the year. Button finishes seventh and the two Arrows and Raikkonen complete the list of finishers.