---
The F1 FAQ
---
By Marcel Schot, Netherlands
Atlas F1 Magazine Writer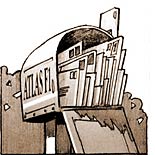 Have a question about Formula One statistics or history? Well you're not the only one, and it's about time someone came up with the answers to F1's most Frequently Asked Questions. Send us your questions to faq@atlasf1.com - we may not know everything, but we'll do our best to find out
"Who was the last Englishman to win the Monaco Grand Prix? Nik"
The last driver from Great Britain to win the Monaco Grand Prix was David Coulthard, last year. However, I assume you say England instead of Great Britain with a reason. Before Coulthard, it was Jackie Stewart in 1971 and 1973, but he's also from Scotland. This leaves the last Englishman to win the Monaco Grand Prix as Graham Hill, back in 1969. Incidently, Hill gained the lead when Jackie Stewart retired with gearbox problems.
"Which winner of the Monaco Rally also took part in the F1 championship? Nikolai"
For this one we'll have to go even further back in history.
Louis Chiron is quite a Monaco legend. Born and raised in the principality, he started racing in 1928 and continued to do so until 1956, after which he was the organiser of the Monaco Rally and Formula One Grand Prix until his death in 1979. Although his greatest successes took place a long time before the Formula One World Championship was started, he did drive 16 World Championship Grands Prix. In 1954 he also won the Monaco Rally, driving a Lancia.
"A special event took place in 1979 at Imola. Could you tell me what happened? Mourad"
In 1979, the first Formula One race on the Imola circuit took place. The circuit has been around since the early Fifties but had never been used for anything of international relevance. This first race, however, didn't count towards the championship. It was held a week after the Italian Grand Prix at Monza.
In 1980, the Italian Grand Prix would be held at Imola and this non-championship race was more or less a rehearsal. The event was rather small, as only fifteen cars participated. In qualifying the Ferraris proved very strong, as Gilles Villeneuve took pole position with Jody Scheckter alongside him on the front row. On the second row were the Lotus of Carlos Reutemann and Niki Lauda's Brabham. The end result was a win for Niki Lauda, followed by Carlos Reutemann and Jody Scheckter. Tenth place finisher was an interesting chap, by the way: Giacomo Agostini, fifteen time motorcycle World Champion, took part in this race, driving a Williams.
"I have a trivia question because nothing have been said about it. Is it normal to see eight cars within one second on an F1 Grand Prix start grid? If it's not, then when was the last time you have seen this? Hiram"
Of the 670 World Championship Grands Prix that have been held to date, this year's Austrian Grand Prix was the 63rd time this has occurred. In 2000 it never happened, but in 1999 it happened no less than three times: first in Spain, where Heinz-Harald Frentzen qualified eighth - 0.850 seconds behind pole sitter Mika Hakkinen. The next time, at Hungary, there were nine cars within a second, as Rubens Barrichello and Jacques Villeneuve qualified eighth and ninth respectively, 0.939 and 0.971 seconds behind Hakkinen. A similar thing happened at the European Grand Prix of 1999, where number nine, Eddie Irvine, qualified 0.932 seconds behind pole-sitter Frentzen.
In 1997 the field was extremely close in qualifying throughout the season. In 11 out of 17 rounds, the top eight were covered by less than a second! In fact, the 1997 Austrian Grand Prix has the most drivers covered by a second ever: Giancarlo Fisichella qualified 0.995 seconds behind pole... only to find himself in 14th position! The only other times previously that the top 14 were covered by a second, were at the 1975 and 1976 Dutch Grands Prix.
In the Eighties, it only happened four times, which of course is largely due to the dominance of McLaren and Williams during most of the decade. The closest a top eight ever was in the history of the sport was at the 1961 British Grand Prix, when Jim Clark qualified a shockingly low eighth, just 0.4 seconds behind pole sitter Phil Hill. The top five of the closest ever qualifying top eights are:

1961 British Grand Prix         0.400 seconds
1974 South African Grand Prix   0.410 seconds
1974 Canadian Grand Prix        0.548 seconds
1974 US Grand Prix              0.560 seconds
1979 South African Grand Prix   0.560 seconds

The most times per season the top eight on the grid were covered by a second:
1997 - 11
1974, 1976 - 7
1975 - 6
1977 - 5
1972, 1999 - 3
1970, 1973, 1978, 1979, 1981 - 2
1961, 1966, 1968, 1969, 1984, 1985, 1994, 1996 - 1
"When was the last time all points-finishers in one race were from different teams? Joseph"
This is not as uncommon as it may sound. The last time it happened was at the 2000 Italian Grand Prix, where the top six were occupied by a Ferrari, a McLaren, a Williams, an Arrows, a Benetton and a BAR. Ever since the points system awards the top six, this has happened 78 times.
"What season had the most number of different race winners? What about in recent history? Joseph"
The season with the highest number of Grand Prix winners was 1982. No less than eleven different drivers won at least one race that year. The season started in South Africa, where Alain Prost won. He made it two in a row in Brazil, after Nelson Piquet and Keke Rosberg were disqualified. The next race was the USA-West Grand Prix at Long Beach, where Niki Lauda scored a victory. After that came the San Marino Grand Prix where Didier Pironi was victorious, much to the rage of his teammate Gilles Villeneuve. In Belgium it was John Watson, followed by Riccardo Patrese in Monaco and Watson again in the US Grand Prix in Detroit. Nelson Piquet was victorious in Canada, after which Pironi grabbed his second win at Zandvoort. The next new winner was Rene Arnoux in France, followed by Patrick Tambay in Germany. Elio de Angelis then won in Austria, after which World Champion-to-be Keke Rosberg scored his only win in the Swiss Grand Prix. After another win by Arnoux, the season was closed in Las Vegas, where the late Michele Alboreto scored a surprise win for Tyrrell.
As for recent history, it's a three way tie between 1990, 1997 and 1999. All three seasons saw six different Grand Prix winners.
"Can you shed some light on when the present numbering system came into being and exactly how it works? I know the Drivers' Champion gets the number 1, but how does that fit in with the constructors' title and how each team finishes at year's end? Also, something that completely baffles me is the numbering system Formula One used in the sixties, when the numbers on the cars seemed to change on a race-by-race basis. What was this practice based on? When was it changed? Any background you may have on this subject would be helpful. Cheers! Greg"
First the easy part, which is how it works now. This can be found at a previous F1 FAQ. This system has been in use since 1996. Before that, teams basically had the same number each year, except that the team for which the World Champion drove in the following season would swap numbers with the team carrying numbers one and two. That system in turn has been around since 1974, although some exceptions exist in the first few years, mainly because there were still private entries in those days.
In the earlier days it was up to the Grand Prix organisers to distribute the numbers, so yes indeed, it was on a race by race basis. Example of how they distributed the numbers is the use of only even numbers in the Italian Grands Prix.
---
© 2007 autosport.com . This service is provided under the Atlas F1
terms and conditions
.
Please
Contact Us
for permission to republish this or any other material from Atlas F1.