---
The Weekly Grapevine
---
This week's Grapevine brings you
information fresh from the paddock on:

Sporting Conduct
Prost secure for 2002

Sporting Conduct
The fact that Monaco was a largely processional affair is related to the nature of the circuit, rather than any other facet of the modern sport. This was ably illustrated by Enrique Bernoldi on Sunday, as he raced David Coulthard, successfully defending his position for over half the race, until making his pitstop. Coulthard, when released, immediately improved his times by three seconds per lap...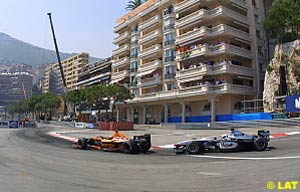 The event has caused something of a storm in a tea-cup around the paddock. There are some who believe that Bernoldi should have let Coulthard through. He was, after all, clearly holding the Scot up, and besides, was always going to come out second best after the pitstops. Others have taken the counter view; that if Coulthard is supposed to be so much quicker, then he should have found a way past.
"Ah yes," comes the swift riposte, "but Bernoldi shut the door unfairly."
Of course, that is not strictly the case: if Bernoldi was driving dangerously and unsportingly, then Charlie Whiting would have presented him with ten frustrating seconds of pit-time to reconsider his racing manners. Bernoldi, in shutting the door firmly each time Coulthard showed a nose, was making it plain that to get past, the McLaren was going to have to do better than just look up the inside: get alongside, back off, or lose the nose. Precisely what is expected of a racing driver, racing for any position, in fact.
So, Coulthard was reduced to lapping well off the pace, and being lapped, before making a clean break of it when the pitstops came along. Having looked after his machinery, he drove hard, and realised two Championship points. Patience and commitment paid dividends in the long run. Ironically, had he been presented with the same situation, ex-driver and ITV commentator Martin Brundle admitted he would have tried going up the inside regardless, gambling on luck that his car was undamaged as he shunted Bernoldi's Arrows out of the way. Not the sort of thing you normally expect a driver to admit, but then again, that might be why he drives a microphone, and Coulthard the McLaren, these days.
What's all the fuss about, then?
Well, according to Bernoldi, on returning to the pit-lane, he was informed in no uncertain terms by Messrs Dennis and Haug that obstructing their man Coulthard was a jolly poor show, and Bernoldi had made himself no new friends with his actions. Of course, the McLaren and Mercedes bosses deny being so forceful – though they admitting letting the Arrows driver know their minds.
Such a simple exchange, yet it's set most of the paddock to muttering. Arrows are outraged, of course. Particularly as keeping Coulthard behind gave Bernoldi more television coverage in this race than the whole of last season. But aside from the commercial issues, the whole concept of racing is about fighting the heroic fight, struggling to triumph against the odds.
There are mixed feelings around the pitlane. Some believe Bernoldi could have let Coulthard through, as he was clearly much slower, but they are resisting the urge to say so: if Bernoldi moves over, who else should? At what point does it cease to be a "sporting gesture?" At what point is the driver in front fast enough to contest his position? And so, for the most part, they keep themselves to "what goes around, comes around."
Ferrari, meanwhile, are carefully not getting involved – they remember all too clearly racing in Japan a couple of years ago, where Schumacher was allowed to drive through the field. Until he reached the Jordan of Damon Hill, who was given the discretion to defend his position, and chose not to move aside. At the time, there was a large outcry from folks who believed that Hill should have moved over, and let Schumacher through to contest the lead from Hakkinen, and continue contesting the World Championship. Ferrari, obviously, thought so too, so it would be asking for trouble to stand up for Bernoldi now.

Prost secure for 2002
A World Championship point seems like a relatively small thing, but to the likes of Prost, it can be make or break for the future of the team.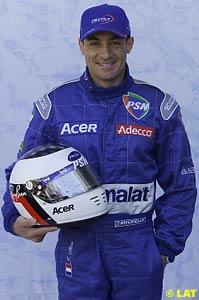 Since landing the Ferrari engine deal, Prost have had to shell out some serious capital in order to finance their motive power. Sponsorship deals have been hard to come by, and losing both Yahoo and Gauloises has made the team's finances look very awkward.
Getting Ferrari engines was something of a coup – especially as it came with blueprints for the excellent suspension Ferrari ran in 2000. In order to justify the expense, Prost had to come up with something this year to demonstrate progress. Their current sponsors have all been promised that the team has moved forward in leaps and bounds, secured an excellent powerplant, and will be making inroads on the mid-field at least this year. Pre-season testing seemed to back up the marketing claims with some very quick times, but results in races have just not been coming.
Pulling in a point at Monaco has all but guaranteed the team will not be bottom of the Constructors' championship at the end of the year. This alone is worth several million dollars – nothing like enough to pay for Ferrari power, but enough to make the difference between a tight year, and an impossible one.
As much to the point, being tied with Arrows and Benetton on one point means that scoring another would place Prost two places higher overall. Scoring four more, to move ahead of Jaguar, seems unlikely, but worth striving for.
As an added bonus, scoring at Monaco is remarkably timely for working on building sponsorship for 2002. It is the place which draws the biggest crowd of play makers in the calendar. Companies executives looking to get in on the game, sounding out where to spend their marketing cash, get invited to Monaco, wined, dined, and feted. They like to be with a team that is going places. And they want to see "their man" do well.
To the top six teams, each point is also precious: Jordan, Sauber and BAR are all within a point of each other as they scrap for fourth; but for these players, it's just about pride. Ferrari can afford to shuffle points between their drivers, whilst McLaren are throwing them away at the start of half their races. But at the back of the grid, there is cause for real celebration at Prost: for even if they manage nothing else this year, at least they will be back in 2002.
---
© 2007 autosport.com . This service is provided under the Atlas F1
terms and conditions
.
Please
Contact Us
for permission to republish this or any other material from Atlas F1.