---
Q & A with Mike Gascoyne
---
By Roger Horton, England
Atlas F1 Senior Writer
The Benetton team went into last Sunday's Monaco Grand Prix under some pressure, with only the one point for Giancarlo Fisichella's sixth placed finish in Brazil to their name. In the race, Fisichella was running in the points before retiring and Jenson Button finished just out of the points in seventh. Roger Horton caught up with the team's technical director, Mike Gascoyne, after the race.

Q: Were there any changes on the car this weekend?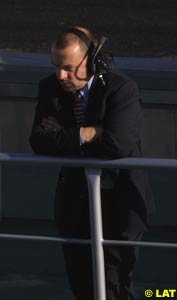 Mike Gascoyne: No, just some minor changes on the chassis. We were using the same specification engines that we have had all year.
Q: So how come you ran so well here then?
Gascoyne: I think the car has always had very good low speed performance, it's good under braking, and has very good traction. We know we are behind on the engine package and we know we have to improve the aerodynamics for high speeds, so we always thought we would go well here, but it's very pleasing to be competitive again.
Q: So this performance lifts the pressure a little?
Gascoyne: Yes it does. I mean, ultimately we didn't score any points, and we go racing to earn points. But over the last month the guys have been doing an awful lot of work on the Dyno and in the wind tunnel. I mean, you don't see the results now, you don't see them in testing, but you will see them at Magny-Cours (at the French GP).
I think here we have proved that the basis of the chassis and the basic handling is very good here. We are a long way behind the Honda powered cars here, for instance, in engine performance and yet we were being held up by them, so that speaks for itself. It's frustrating, really; if we had had the new developments here, we would have sorted out a few people.
Q: What happened to Fisichella?
Gascoyne: Basically he had a problem with the brakes when he clipped the barriers the first time. Then he had a problem with the hydraulics - we could see the pressure going down, we knew it was likely to cause some problems. Then, basically it wouldn't shift down and he was stuck in fifth gear before he spun. Frustrating, really, because he would have scored some points.
Q: Were you surprised that he could continue after he hit the barriers earlier in the race?
Gascoyne: Yes, we were very surprised he was able to keep going, but you know after he hit the barrier, on the rest of that lap, he was slower than his best time through the last sector by just one thousands of a second, which was a pretty good effort after hitting the barrier so hard earlier in the lap. Then he picked it up and was pulling away from Alesi again, so it was a pretty good effort.
Q: Jenson seems to be struggling a bit this season...
Gascoyne: I think he is a bit frustrated. I think if you look at him last year, he had a much better year than anyone expected. I mean, nothing much was expected of him, so the bad races were written off due to lack of experience and learning, and now there is this huge weight of expectation on him. He is still a young guy learning his trade, serving his apprenticeship if you like, and doing it under this intense glare.
Jenson is a guy that needs time in the car, he is not an explosive driver on the first lap like Giancarlo, and so our lack of testing has hurt him, and losing the time on Thursday hurt him, because he is the type of guy that needs to be building up to it.
Giancarlo, on the other hand, is the type of driver that can sit out the whole session and go out and put it in the top ten because that's what he is naturally like as a driver, and he has the experience to do that. Jenson doesn't have the experience to fall back on. He will be fine, though. We are very confident in him. We said to him today, 'just go out there and get a good race distance under your belt'. Shame he couldn't hang on to sixth place - if he had grabbed a point he would have been a hero again.
---
© 2007 autosport.com . This service is provided under the Atlas F1
terms and conditions
.
Please
Contact Us
for permission to republish this or any other material from Atlas F1.