The 2001 German Grand Prix was arguably one of the more interesting races so far this season, with quality on-track passes, plenty of retirements, and enough incidents to keep millions of Formula One fans around the world glued to their TV sets for the entire race. Lap seven was no different: Jenson Button passed Enrique Bernoldi for 12th position; Jos Verstappen went into the pits to repair his ailing car; and Ricardo Zonta pulled the Jordan No. 11 into the pits to retire.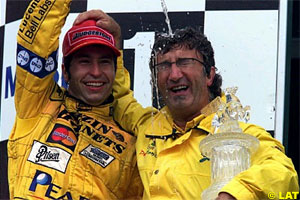 Somewhere in Spain, Heinz Harald Frentzen must have roared with laughter.
Only five days before, Jordan Grand Prix faxed their most successful driver ever, letting him know in plain and formal words that his employment with the team was terminated, effective immediately. That is, five days before Frentzen was to take part in his home Grand Prix. The unprecedented move was to send a shockwave through the Formula One Paddock - Frentzen is considered one of the top league current drivers - and proved to be the central talking point around Hockenheim.
One month before, Atlas F1's Karl Ludvigsen wrote an article about Frentzen. It was titled, Harry-Heinz is History. Last weekend, when Eddie Jordan was presented with a copy of that article, he had a delightful chuckle while reading it; perhaps he was enjoying a small reinforcement to his controversially harsh decision. Outwardly, at least, it would be one of just a few offered to him.
What would run a team owner to fire a driver before his contract ends - 18 months before his contract ends, to be precise? There has been no similar occurrence in Formula One in recent years, but on the occasions where teams parted ways with their drivers it had always been about disappointing performance. Alessandro Zanardi was replaced at Williams in 2000 after a point-less season in 1999; Jan Magnussen was replaced at Stewart half-way through the 1998 season for similar reasons. Even Damon Hill, who was told by the Williams team that his services would no longer be needed past the 1996 season, was blamed for under-performing their expectations - and that was at a point when he was winning the World Championship.
Frentzen indeed had a slump of results this year, there can be no denying of that. Among those drivers scoring points this season, Frentzen has had the longest run without any points-finish - his last top six result was in San Marino, many a race ago. In between, he had two finishes outside the points (England and France); two races where he spun off (Europe and Monaco); one mechanical failure (Austria, on the grid); and one race where he was absent due to injury (Canada). In all, not a very impressive tally for someone who started the season with three points-scoring races out of four - someone who was a Championship contender only two years ago, in the very same team.
But Frentzen is no slouch and this isn't his first season in Formula One, most likely not the last either. So what could have driven Eddie Jordan to fire a driver he once called, "my prized possession"?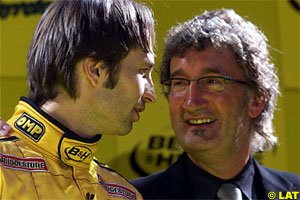 Eddie Jordan has been running his team in Formula One for ten years now, almost eleven full seasons in all. In that period, his team started 175 Grands Prix with 21 different drivers. In an era where teams prefer continuity and drivers run in a team for three, four and even more seasons, only two drivers lasted at Jordan for more than two seasons - Frentzen and Rubens Barrichello.
Of course, Jordan Grand Prix wasn't always considered a relatively strong team as they are now, which means many of their drivers were rookies who would soon be snatched by other, more successful teams; or they would be veterans who were ending their career in the Irish-owned outfit. But it does say something about Jordan that several drivers left the team on much less than good terms.
Damon Hill didn't seem to want to drive anymore for the majority of his second and last season with the team; Ralf Schumacher had to pay his way out. Giancarlo Fisichella's move to Benetton had to be sorted by legal means; Michael Schumacher had to pay damages to Eddie Jordan when he jumped ship to Benetton after just one race. In other words, from having a reputation of someone who discovers the talents of the future, Jordan is slowly but surely building a reputation of someone who will more often than not part ways with his drivers through lawyers.
Frentzen arrived at Jordan for the 1999 season, in a direct swap between Williams and Jordan - Williams took Ralf Schumacher, Jordan took Frentzen. In 1999, Schumacher and Frentzen were, to a large extent, the revelations of the season. The highly acclaimed Autocourse ranked Frentzen the best driver of that season, with Ralf second in that Top Ten chart. Frentzen himself won two races for the Silverstone-based outfit, Ralf just missing out. Since then, however, Ralf Schumacher has been on the rise whereas Frentzen has been going the other direction. But if 2000 proved to be a disappointing year due to very poor reliability - Frentzen retired from half the races with mechanical problems! - 2001 was panning out quite differently. At least in Eddie Jordan's mind.
"There are no excuses for our recent poor performance," Jordan said just one month ago, ahead of the French Grand Prix. "We are extremely frustrated with the course of events over the past few races. Having said this, it would be easy to build up a false picture and it is important to stand back and look at all the facts. I think some people will wrongly jump to the conclusion that we have an unreliable car and are suffering similar problems to last year. This would be inaccurate for a variety of reasons." In other words, it's not the car.
In Formula One, it is generally accepted that two primary parts account for any race result - a driver and his machine. If Jordan thinks the car is not to blame, you have to look at the driver. Taking that attitude into account, one can only imagine what Jordan told Frentzen in their various meetings over the last month. But what was Frentzen's reply?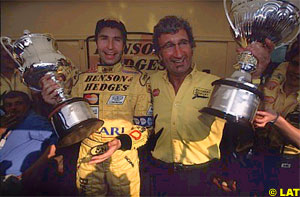 A clue to that can be found in what Frentzen's father told German news agency SID last week: "It's not at all normal that the car continues to fail in the races and in the tests everything works wonderfully. Someone is pressing the buttons." Is the Frentzen family accusing Jordan Grand Prix of deliberately sabotaging the car?
"I suspect that a conversation took place where things were said which maybe are not easy to recover from," Patrick Head commented in Hockenheim this weekend. He, like others in the paddock, don't know for a fact what transpired between Eddie Jordan and Frentzen. But Head, like others in the paddock, were led to believe that something was said - supposedly by Frentzen - that simply shouldn't be said, to any team owner, not least of all your boss.
"In a driver-team relationship, there are certain elements of a marriage and sometimes in any marriage, however each party feels, there are certain things which you cannot say because if you say them, you can't take them back and they live in the other person's mind," Head elaborates. "So OK, it's not quite the emotional involvement of a marriage, but still - a driver needs to know that the team has confidence in him and vice versa."
Head knows a thing or two about running a Formula One team. He also knows Frentzen - the German driver worked for Williams in 1997 and 1998, scoring just one single win and generally under-performing against teammate Jacques Villeneuve.
"Heinz was very well mannered, very charming. Surprisingly humourous for someone who comes from a family of undertakers, and certainly Frank and I felt that his potential was always very high and we never criticised his speed or his potential," Head recalls. "Our view was that for whatever reason, in our team he underachieved. But he went from our team straight to Jordan and won two races in the following year. Whatever it was, the situation with us was not one that proved a very positive association for either party."
Shortly after Frentzen left Williams, he accused Head of mistreating him - almost accusing him of cruelty. "I always did my best for the team," Frentzen said in November 1999, "but at times it did not seem to matter what my performance was like, it was never good enough for Patrick or Frank. Patrick is a brilliant engineer but he has no idea of man-management. He told me early on that he didn't need a good relationship with a driver as long as there was success."
Head smiles when I remind him of these comments. Williams was never renowned as a warm-loving nest for tender drivers; Jordan on the other hand was renowned for just that. But then, I suggest to Head, when you involve emotions in a professional relationship perhaps that's exactly the risk you're running - of affection turning sour?
"It's possible, yes, maybe that's a factor," he says. "You have to remember that Williams as a team has been going on for an awful lot longer than Jordan and has won many many more Grands Prix and Championships. And I don't mean to say that makes you lose emotions completely, because I don't think Frank is an unemotional person and I don't necessarily think that I am. But yes, it gives you a more pragmatic view of things when you've been in this business for such a long time.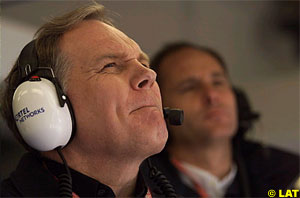 "Also, our expectations are - at the moment and in 1997/8 - higher than the expectations had been at Jordan back then. But now they have of course crossed that barrier of winning the first GP, and their expectation of themselves and their drivers is that they were going to do a better job and finish at least third in Championship this year, and they are now under-performing their own expectations. Maybe some of that freshness and some of that emotion in the team is coming under the hard reality of what this business is about."
Harsh reality indeed: Jordan, for the first time since they entered Formula One, have a works engine deal, with Japanese giant Honda. However, their position with the engine manufacturer is not as secured as, say, Williams's relationship with BMW or McLaren's relationship with Mercedes. Sharing the development work with BAR - the initial partner to Honda - means that Jordan could well lose Honda in the future, if they don't perform at least on par, if not better than BAR. And, if at the start of the 2001 season it looked as though Jordan were stomping on their primary rivals, by now BAR have overtaken the fifth slot of the Constructors' Championship and seem in general to be better performing of the two Honda outfits.
With such pressure running high, working at Jordan this year must have reminded Frentzen of his experience, self-proclaimed at least, in Williams: a good relationship isn't needed as long as there is success. And when both are missing, Frentzen had no place in the team anymore.
"To be honest," Jarno Trulli said this weekend, "the atmosphere in the team was not as bad as you probably think. I didn't feel anything wrong in the team and especially I've always seen Heinz doing his job well. I just don't understand what had happened and it's not going to be any easier now."
Did you notice any friction between Frentzen and the team beforehand? I ask him. Trulli grimaces, punctuating every word. "Not-At-All!" he exclaims, almost desperate. "I couldn't see anything wrong, I just don't understand it!"
Q: Have you talked to Frentzen since it happened?
Trulli: "No, not yet, but that's deliberate because I know it's a very hard situation for him and I don't want to get involved. I also don't know the reason, and I don't want to ask him what are the reasons, because I'm not sure I want to know."
Q: You don't want to know, perhaps, because it might make you realise that you have a team boss that can turn around and make such a decision abruptly?
Trulli: "Well, I don't need to know the reasons to think that in F1, everything can happen from one day to another. I can never relax and think my position is safe. But even so, I can't believe something like this would happen without a really good reason."
Q: Do you fear for your own future now?
Trulli: "I can't honestly say that such a thing will never happen to me... it can happen to everyone. Anything can happen. Maybe Eddie wants to change both drivers, you never know!"
Q: Did you talk to Eddie, to make sure it won't happen to you as well?
Trulli: "Actually, I didn't want to talk to anyone because I didn't want to get in the middle. I feel it's something really big, and I don't know what it is. I am curious, but I also think it's better not to get involved."
Trulli is currently negotiating his contract with Jordan, contemplating whether to stay with the team or not. And while he himself claims the Frentzen affair will have no effect on his own future, it's safe to assume that Jordan will be even more keen on securing the talented Italian's services for next year, preserving some continuity and limiting the damage that may have been caused by the current scandal.
But what about Frentzen's future? Where will he be going from here?
First stop will be the court, that much he has already announced. Eddie Jordan, a veteran of the Contract Recognition Board as well as driver-team contract litigation, is already hard working on his case; he will need to prove profound breach of contract to be able to escape any payment; however it is very likely he will eventually need to pay Frentzen, at least for the remainder of the 2001 season. Considering Frentzen's annual salary is around five million dollars, and considering he was let go with 35% of the season left, then Frentzen may well be awarded a sum of close to 2 million dollars at least - and who wouldn't sue for such sums of money.
Beyond that, Frentzen will have a hard time finding a competitive seat for next year, with all top teams pretty much locked tight on their line-up. Rumours persist that he had already signed with newcomers Toyota, but so far the German-based company denied interest in the driver, and whether the rumour or the denial is true or not remains to be seen. One team owner, however, has already openly admitted his interest in Frentzen, even before he was fired: Minardi's new owner Paul Stoddart.
Speaking to Atlas F1's Roger Horton just two months ago, Stoddart said: "If I had a blank piece of paper, there are two or three that are already in Formula One that I rate. I rate Heinz-Harald Frentzen a lot. Heinz needs to be loved, but when he is loved he is a performer." Last weekend, I asked him if he already gave Frentzen a call.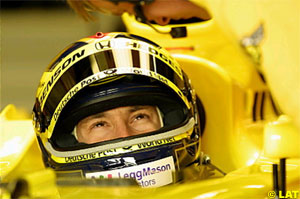 "No, I haven't, because Heinz is such a nice guy, such a deep and meaningful person, that he will be hurting quite a bit at the moment," Stoddart replied. "The best thing anyone can do now is just leave him alone for a little while. But if we end up with a Ferrari or a Cosworth engine, then I would definitely like to try and get Heinz. I respect Heinz and his ability, and I know that for him to drive for us it would have to be with a competitive car. So it's up to us to wait and see what happens with the Merry-Go-Round on the engines, and if we do end up with a Ferrari or a Cosworth then yes, definitely, I would try to get him."
Stoddart has been one of several victims this year, to what is a growing concern among all teams and drivers - contracts don't seem to matter much nowadays, not if you have good lawyers and enough money. Minardi's technical director Gustav Brunner notified Stoddart of his early departure by fax; Adrian Newey signed a contract with Jaguar, only to change his mind minutes before it was announced. And now Frentzen... "Makes you wonder if there is any such thing as a contract at all, really," Stoddart smiles. "People ask me if Fernando [Alonso] is racing with us next year, and I reply that yes, he is, he has a contract. But can I really be sure? What is a contract nowadays?"
Q: You know both Frentzen and Jordan very well. What do you think about this whole affair?
Stoddart: "It defies logic, really; I cannot see the circumstances that would lead me to dump a driver in the week before his home Grand Prix, I just can't perceive what circumstances will lead to that situation. Whatever happened between them, I would have at least waited until after Heinz's home Grand Prix. But Eddie's been around a long time, and without knowing his reasons it's hard to judge his actions. I think there's only two people who can answer the question of what happened - and that's Eddie and Heinz. Anyone else is just speculating.
"Nevertheless, it certainly reflects badly on Jordan. Anybody that changes drivers in a season pays a certain price for that. It's not good for the team progress, and it's not good for the team's sponsors. Just spare a thought for Deutsche Post and the other Jordan sponsors. I mean, how much merchandising with Frentzen's name are they now sitting on? How many advertising campaigns they have ready to go, with Heinz starring in them? F1 today is such a big business that any one decision has so many knock-on effects, and I would imagine that some of Jordan's sponsors are not very happy."
Indeed, at the bottom line, this is just a business affair. "Eddie Jordan is the boss," as Eddie Irvine bluntly put it. "He pays the money, he makes the decisions. He has his reasons, and whether it's the right thing to do or the wrong thing is irrelevant - he is the boss." And Frentzen is just like any other employee that got fired because he no longer gets along with the boss, in any other business around the world.
He just happens to be a famous one.