---
The Weekly Grapevine
---
This week's Grapevine brings you
information fresh from the paddock on:

Coulthard and Villeneuve see Red
Jordan covers his bases

Coulthard and Villeneuve see Red
In the current era, a red flag is a rare sight at a Grand Prix, typically being shown only when there is a driver injury – for example, like when Michael Schumacher broke his leg at Silverstone in 1999. Accordingly, when the red flag was shown at Hockenheim, after Burti and Schumacher climbed out of their cars, it was met with considerable surprise.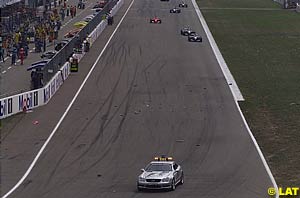 The politics of the situation are clearly significant: Schumacher has never yet gone well at this "home" event, but any points scored should go a long way to ensuring the title. Accordingly, whilst being deprived of this race initially appeared to be par for the course, a restart was potentially a huge gift.
As he has done before, with his professional eye keeping ahead of the odds, hoping for the red flag, Schumacher left his car nicely in the middle of the track. It's easily excused when a car is missing a wheel, after all; but with such a long lap time, there was little danger of it still being there when the field came past, and so it proved on Sunday. Usually, stricken cars are easily cleared up, as the safety car makes an appearance and run for a few laps whilst the detritus is removed, before the race continues.
Fortunately for the army of Schumacher fans, this time things were different, and a red flag at least gave them a shot at seeing their hero in action: the debris from Burti's car was widespread, meaning the circuit officials needed to get some heavy duty track cleaning machinery on the track to be sure of removing all the carbon-fibre shards.
The flag decision turned out to be fairly simple, in the end. Charlie Whiting was able to see over 100 meters of debris along the circuit, some of which would inevitably find its way under the wheels and tyres of the cars. Given the very high speed nature of this circuit, even a small slice could result in a tyre giving up at over 220mph. This type of incident has a high probability of resulting in a fatality, so after seeing the pack tip-toe their way over the pieces as they followed the safety car, there was no other decision to be made.

Jordan covers his bases
At first sight, there seemed to be no logic to giving Heinz-Harald Frentzen the heave-ho, just before his home Grand Prix. And with neither party prepared to comment, the truth of an intriguing situation remains an unknown, so speculation is rife concerning who is doing what to whom, and why...
So, there are two ways of seeing this, depending on which motivating factor is driving Eddie Jordan. The first, and the one which fits his traditional "wheeler dealer" image, is purely money oriented, and falls into two camps around Deutsche Post playing games. The first thought was that Deutsche Post have held off until now before signing up for an extension to the current contract. In which case, Frentzen was a sweetener until the signing, then became irrelevant. The second was that the sponsor decided to withhold sponsorship funds, on the basis of Jordan's failure to perform, giving Jordan rise to remove one of the contributing factors.
Then again, it happens that sacking Frentzen is certainly going to carry a significant financial penalty – he had just signed for 2002 – so the economies of the situation point to other factors.
Which raises the pertinent point of performance: Frentzen would not have been sacked mid-season over any private quarrel, if he had been performing at the same level as in 1999, when he brought home two race wins. Jordan have not been living up to their expectations, and given Trulli's domination of Frentzen, it seems that there is little justification paying the German a large retainer when he is not bringing home the results.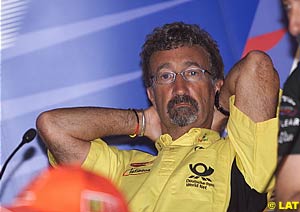 So that is the other viewpoint. Jordan needs to perform, or they stand a good chance of losing their Honda engines at the end of next year. If they are not performing now, then they must at least get a good start to next year, in order to be properly placed for contract re-negotiation. Or they need to have a sweetener, making it worth Honda's while sticking with them. Either way, a driver who is being seen as having come off the boil is not a valuable asset: Frentzen had to go. His replacement must then be either of intrinsic value to Honda, or a solid racer, and this is certainly something Jordan is providing.
When Ricardo Zonta raced at BAR, he appeared to be comprehensively trounced in qualifying and race trim by Jacques Villeneuve. At the time, the rookie claimed to be given less attention than his teammate, and often the inferior equipment too. This was not much of a surprise, but not considered much of an excuse by the paddock either. The exceptions being Jordan – who recalled Zonta's pace as a test driver – and Honda, who had the inside track on the engines they supplied to the team. Indeed, there seems to be an air of guilt around Honda when they talk of the Brazilian, and it seems they even think he could be rather better than races to date have shown. So the politics are right.
Then again, there is a lot of noise about two different characters making a Jordan appearance. The first to be voiced in the paddock was that of Takuma Sato – the rookie F3 driver causing a sensation in the British F3 championship. Despite youth and inexperience, the Japanese driver has bundles of talent, and apparently offers potential similar to Button and Raikkonen. Better still, his Japanese origin would make Honda a very happy partner… so without doubt he would be a useful signing.
The other name is Jean Alesi. Jordan has been trying for years to persuade Alesi to drive for him, and there are loud whispers that this is finally going to happen… loud enough for Alain Prost to say – for the record – that he intends to hold on to his man. Is it any accident that Alesi very publicly slated his car, the team's structure and their prospects for the future a couple of weeks ago? And why, after two exuberant reactions to scoring points, was he so down in Germany? It takes little intuition to read a grudged response of "I'm happy for them" when asked about his points scoring result as an indicator something is up.
The irony here, of course, is that Prost's denial has added food to the fire of Alesi's pending move; there were already rumours that Prost could not afford his salary in 2002. Passing him on to Jordan for an even two million dollars – and figures bandied around the paddock are between two and three times that – should make a big difference when it comes to paying Ferrari for continued use of their engines.
---
© 2007 autosport.com . This service is provided under the Atlas F1
terms and conditions
.
Please
Contact Us
for permission to republish this or any other material from Atlas F1.