---
Winner Walkinshaw
---
By Karl Ludvigsen, England
Atlas F1 Senior Writer
Arrows boss Tom Walkinshaw said after securing Cosworth engines that if his team fail to succeed in 2002 they will only have themselves to blame. Karl Ludvigsen doesn't agree, and he believes there's much more to Walkinshaw's deal with Ford than first meets the eye

The closest I've been to Tom Walkinshaw is the pew behind him at the wake for Walter Hayes. I've missed the chance to meet the man himself, although I have visited his Leafield complex, hidden away in the English countryside. That visit was to discuss his then-new joint venture with Volvo. The plan was to use part of a never-commissioned Volvo factory in Sweden to build coupes and convertibles that would be designed by Tom's Leafield team and e-mailed to Sweden. A new company called AutoNova was set up to do this with Walkinshaw's TWR owning 51% and Volvo the minority share.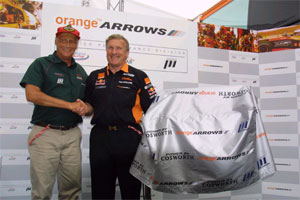 It eventually happened, but not without a lot of pain - especially for Volvo. The cars were late to market because quality was slow to reach the required levels. Lateness meant a shortfall in cash for the joint venture, and at one point the TWR-controlled AutoNova stopped making cars until Volvo agreed to help with its funding. The upshot was that Volvo was forced to buy out TWR's share of the company and take full responsibility for AutoNova. We can be sure that Walkinshaw didn't come out of the deal badly.
This sounded pretty familiar to me. A friend of mine, a Ford executive, was responsible for unwinding the TWR joint venture with Jaguar that produced the XJ220 and made, for a while, the JaguarSport versions of standard Jaguars. Tom was intimately involved with Jaguar then, running its racing programs in Europe and America. The unwinding was no easy task. My friend's search of Walkinshaw's business dealings found his hand in more than 140 enterprises, including florists as well as car dealerships. About a decade ago I gained from him the distinct impression that Ford was highly unlikely to get involved with Walkinshaw in business again.
What do we hear now? Walkinshaw's Arrows to use Ford's Cosworth engines next year! Count me among the amazed. I guess the gang at Ford's new Premier Automotive Group (PAG) - Wolfgang Reitzle, Niki Lauda et al - either don't know Tom's history with Ford and their own Volvo or are prepared to ignore it. Looks like Tom has done another of his outstanding selling jobs.
Yes, Walkinshaw was a key member of the team at Benetton that brought Michael Schumacher a World Championship using a Ford Cosworth engine. But the men who helped him do that are doing the same for Ferrari now. Maybe he promised Ford that HE is the man to prise Newey away from McLaren. Walkinshaw's long-term plan? Probably to involve Ford's PAG so intimately with Arrows that it will have no alternative but to buy him out. What odds against a Volvo Formula One team by 2005?
I was surprised too by Walkinshaw's statement in connection with the deal. It was to the effect that with a works engine he'll be able to tell for sure that any shortfall in Arrows performance is due to the chassis. I could understand that if he were getting a BMW or Mercedes engine, or even last year's Ferrari V-10. But a Cosworth? Give me a break. Apart from the abovementioned Schumacher Championship, what has Cosworth done lately? It's been almost 20 years since the Cosworth glory years ended with a Championship for Brabham and Nelson Piquet. Since then we've had a failed V-12 and a turbo V-6 that was last in and worst dressed. Cosworth's subsequent efforts in Formula One hardly qualify its engines as the ones to use as a yardstick for excellence.
I'd like to come back to engines after Monza, but for now the power pecking order certainly has BMW, Ferrari and Mercedes at the top with Honda next in line. Close to them are last year's Ferrari engines. Cosworth is somewhere below those. Renault is struggling, sure, but they achieved a major milestone by finishing both their cars at Hockenheim, the track that is toughest on engines. This was and is a massive breakthrough for their radical 111-degree V-10, one on which they will build for next year. And the word is that with Formula One exploding in popularity in Germany (see last week's column) Porsche wants to get into the act!
Against these heavy hitters Cosworth is supposed to be a threat? For those of you at the back of the room who have been talking amongst yourselves, here's a brief reminder that Cosworth Racing is a shadow of its former self. A few years ago, VW's Audi bought all of Cosworth from its former shareholders. A stunned Ford reacted by offering to buy the racing arm of the company, which Audi said it didn't need or want (That tells you something right there! The designer of BMW's sensational engine is a former Audi man!). Audi kept the general engineering and foundry side and sold the racing arm to Ford. It's now in PAG's Performance Division under the guidance of Niki Lauda. It's far from the integrated Cosworth powerhouse of old.
Come to think of it, Tom Walkinshaw could be playing a quite different game. He knows that Ford and Jaguar will tire of this masochistic Formula One exercise sooner or later, probably sooner in view of Ford's plenitude of North American problems. With his engine deal, Tom can be close enough to both companies to be able to come to their rescue. He'd be in pole position to acquire both Jaguar Racing and Cosworth very cheaply - probably with the backing of a Ford subsidy and/or sponsorship for a year or two. Either way, you can bet that Walkinshaw will win.
---
© 2007 autosport.com . This service is provided under the Atlas F1
terms and conditions
.
Please
Contact Us
for permission to republish this or any other material from Atlas F1.