Hockenheim was bloody hot last weekend. At high noon, air temperatures were searing beyond 35°C in the shade - and there isn't that much shade around the Hockenheim paddock. Jaguar's neatly carved chocolate miniature F1 cars were lazily melting away on the stand, and Jaguar have the coolest motorhome in the Paddock.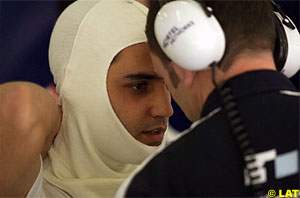 Thursday was apparently 'Jeans Day', for all the drivers fashioned shabby, often torn pairs of jeans, some - like Michael Schumacher - wearing shorts that display tanned legs (and hairless, I might add). Among them all - medium height, thin and indistinct human beings as they are - you couldn't miss Juan Pablo Montoya.
Stubby-looking, Montoya has the air of a raging bull. He walks and talks animatedly, he doesn't shy away from making faces at his interlocutor or teasing freely, as though he was sure to be among friends. He doesn't yet possess the calculated shrewdness of the Schumacher Brothers, who make you feel that every word they say serves some hidden agenda; or the intelligent honesty you could find with drivers like Jenson Button or even Mika Hakkinen. Neither is he dull, like so many other drivers to have come and gone through the F1 pitlane. In the artificial world created by fancy lounges on wheels and million-dollar-stars, Montoya is as real as it gets. Warts and all, as this season is proving out.
Anticipating that he will likely be the winner of the race, I decided to focus on Montoya throughout the weekend and grabbed every opportunity to listen to him, look at him mingle and interact. His girlfriend never complained - neither did he, for that matter. The only problem was, in fact, the lack of air conditioning in the Williams, BMW and Compaq motorhomes - something Montoya himself wasn't very happy about.
"Don't we have any ventilators or something?" he asked, looking perplexed, when he sat down at the table on the first occasion, completely ignoring the many people around eyeing his every move. The day later a few fans were added around the motorhome, but in the mean time, Montoya had to suffer like the rest of us - clutching a glass of water and a piece of tissue to wipe the lingering sweat around the face and neck.

Deconstructing Ralf
Over the course of the weekend, Montoya would be asked time and again the same questions about his teammate Ralf Schumacher and his much publicised refusal to obey team orders and move for Montoya in Silverstone, two weeks ago. Ralf, on a one-stop strategy, was running behind Rubens Barrichello, in fourth, with Montoya - on a two-stop strategy - running patiently behind them, waiting for the German to move over. He did not. And, considering this is becoming a trend - with Ralf ignoring similar orders the race before, in France, you would expect Montoya to be nothing short of enraged.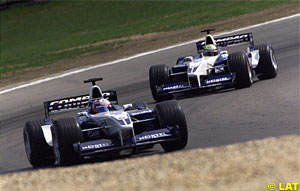 "Actually," he says, shrugging his shoulders, "I never really had a problem with it." I check under the table to see if he's crossing his fingers, as he insists: "Honestly, I don't care. I mean, hey, the team makes a call and he makes a decision and that's it."
Q: Did you talk to him about it?
Montoya: "Not really. I never really talk to Ralf about anything. Honestly. I'm not saying that in a bad way: he's doing his thing and I'm doing mine, and our engineers speak to each other a little bit, but for them it's just technical talk on Saturday."
Q: Did it surprise you that he didn't follow team orders?
Montoya: "No, he's signed already until 2004, you know..."
Q: Why is that relevant? Do you feel insecure about your own place in the team?
Montoya: "No, not insecure, but I don't want to give it away."
Q: So you would have moved if the situation was reversed, then.
Montoya: "I think I would move. I'm not in a position to go and put my driving seat in jeopardy for team orders. You know, if it's about winning a race you would think about it, but the same situation as Silverstone? I would move over. Because at that point I was so much quicker than him and Rubens. I could have had a chance to pass Rubens and when I pass Rubens he could have had a chance to pass him as well. And if I've passed Michael, then obviously I had a good chance of passing Rubens as well.
"But really, bottom line is that I don't have a problem with it. It's the team's decision and they have to deal with it. I will just follow orders and push the car."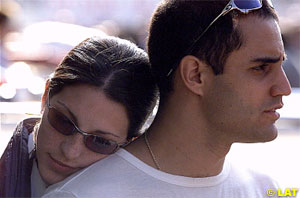 Montoya releases a small yawn, and smiles at his girlfriend, sitting a couple of tables away. Over the course of the weekend, I'll have learned his telltales quite well. Every driver has them: some play with their watch without noticing, others will begin moving a finger around the table in front of them. It's a sign that you've lost their attention span there and then.
Montoya has three telltales: he would seek a familiar face away from the journalists around him and smile at him or her, as though detaching himself from the nearer environment. Or he'd start peeling off some unseen sticker on the table in front (and considering there's nothing there, it's a very efficient telltale, because it always distracted me as well). And, there's that long, near-hypnotic look he would give, mouth slightly open as if suppressing a yawn, that makes you wonder whether you shouldn't just let him go, the poor thing. But then, just the right question comes along and he is back to his usual self.
Q: Ralf has, in general, outperformed you this year from the outset. Do you feel you are now nearing his level though?
Montoya winces. "Hey, I've led three or four races this year, you know!" he exclaims. "It's not like I've been flipping coins."
Q: Well no... you're very competitive with him, if I may state the obvious...
Montoya: "Yes, but that's good, no? You know, I was looking at something the other day - on my first test with Ralf, I was two tenths of a second off his pace. And I looked at the latest times we've had, and the gap hasn't changed much. It's still the same. So he raised his game and I raised mine as well, and it's been getting better. I enjoy it. We're pushing each other and it's good for the team."
Q: And yet you feel he's secured his place in the team and you haven't yet.
Montoya: "I believe that I've done a really good job to keep my seat. I showed I have capabilities to win races and be in the front, so now it's up to the team, really."
Q: It looks obvious that Williams will be a WC contender next year. Do you think you will be able to fight Ralf and have a chance at becoming a WC?
Montoya: "Sure, why not? I won a CART championship, you know. And this year has been a learning year for me, and I've learned a lot. So if the car is prepared to win a WC, I will be prepared for it as well."

The Season So Far
I've not seen Montoya beforehand this year, but judging by his press coverage over the course of the year, Hockenheim was a 'Good Hair Day' kind of weekend for him.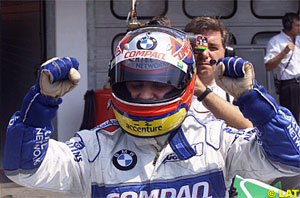 Montoya was less uptight in Germany, calmer than before, and he didn't have that look of desperation to win now that so typified his first days in The Circus. That's an excellent opportunity to let him reflect back on his first season - albeit not finished yet - in F1. However, bear in mind that all this was asked and answered before the German Grand Prix race, which may well have changed his answers, in particular to the first question: What does he think was his best race so far?
Montoya: "I think pushing wise, Silverstone was pretty good. I was pushing really hard from the beginning, and when they told me to push harder I managed to get more out of the car - we worked really well. In fact, I think the last three races were OK. The Nurburgring was a very steady race and I got me to the end, in second, and it was really good. But there is a lot more to come; a lot more to do to make it better."
Q: What was the most difficult circuit or race for you this season?
Montoya thinks long about this one. "That's a big question," he says eventually, "I can't think of one. Australia was quite difficult - there was very little grip and the car wasn't very good. But you know, I think that when the car is good you like the track, because you can go fast. When the car is bad, you hate the place and you come the year after thinking, this place is shit. But suddenly the car is really good and you like the place. There hasn't really been a place where I thought, oh, I don't want to drive here."
Q: Did you like Monaco?
Montoya: "I enjoyed Monaco. The car wasn't very good there for me handling-wise, but that's racing, you know."
Q: You made a mistake there...
Montoya: "Oh yeah, big time. But since then I am definitely getting more comfortable, I am learning more about F1, learning to understand the car more, what do I need for the car to go quicker, what I need to do in the race to keep a good balance."
Q: Is there less pressure on you now?
Montoya: "No, it's the same. I think the biggest pressure comes from myself. And that hasn't changed."
Q: Still, you seem to have mellowed. You seem to make fewer mistakes, take your time...
Montoya: "Well I think I've been getting better, but there is so much more I need to improve. I think the last few races I've done a really good job, but it's still not quite there yet."
Q: What was the hardest part, technically, to get used to?
Montoya: "Oh, the brakes! I had to learn to brake, to get in control of the brakes. Carbon brakes are really different and at first you think you really need to stand on them in order to brake. But then you learn how to use them better. I think I have it right by now."
Q: So you think you're on top of it now, huh? Ready to conquer the F1 World...
Montoya: "No, no. Not 100%. I'm getting there, though. I'm starting to get it right, but there's quite a way to go."

F1 Impressions
OK, so obviously Montoya's favourite talking subject is Juan Pablo. But then, he's not asked much about anything else, is he. Well, he doesn't shy away from questions about others, but then they too always seem to end up having something to do with him...
Q: Who is the driver that has so far most impressed you in F1?
Montoya: "Well... I would have to say Michael [Schumacher]. He is very wise and very quick. He also has a really good car and a very strong team behind him for his strategies and everything, so when I look at him I know where we need to aim, me and the team, to raise our game."
Q: What about Coulthard? Hakkinen?
Montoya: "Sure, Hakkinen is really quick. But this year - when the car hasn't been really good, he seems to back out a little bit. But that's my outside view of him. Maybe he's been pushing every inch of it and I don't see it."
Q: In the beginning of the year you said how happy you were that you have done two years of CART, how much it's taught you about racing. But when you see guys like Kimi Raikkonen and Fernando Alonso coming into F1 looking pretty good, don't you sometimes wish you went straight into F1 two years ago?
Montoya: "No, no! Hey, they are not Indy 500 Champions, they are not CART champions. I am. And you know, maybe they have natural talent but I have more experience than them."
Q: What do you think of these two, anyway?
Montoya: "I think Raikkonen has done a very good job. Alonso is very difficult to judge, because the car is a bit of an unknown. But I speak to him from time to time, and he's a really nice guy. He doesn't look like a 19 year old, he's very mature."
Q: There's been a lot of criticism about F1 becoming very boring lately, do you agree with that?
Montoya: "It's boring for the people on the outside, I am sure, because there is so much strategy going on that people don't know about, which makes it interesting for us on the inside. You know, people are always going to find something to criticise about. F1 has always been like that, what changed? And yet people still watch it and still enjoy it."
Q: Do you yourself watch the races afterwards on video?
Montoya gives out a long dismissing "Naaaa." I put a face of victory and exclaim, because they're boring!
"No," he laughs, "because I was in it, so I know how it ends."

That Winning Feeling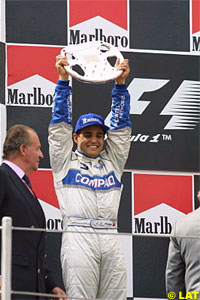 Montoya is used to being immediately successful at every series he's entered so far. He stamped his authority on F3000 and CART immediately, and long before he came into Formula One people were whispering "that kid is special." To a large extent, he is. You cannot ignore the feeling that here stands a man who is destined to become the star of Formula One. It's just a matter of time, and a short one at that.
As for Montoya himself, whatever frustrations he may have, he's doing a good job hiding them. And, he's very cautious in making any sort of predictions, perhaps something you learn by working at Williams (I'd hate to think what he would have been like working for McLaren).
So you're going to win this weekend? I ask him on Thursday. "Now that's a good question!" he chuckles. "Ask me again on Sunday afternoon, OK?"
Q: Any reason why you shouldn't win? You have a very strong package here.
Montoya: "Well, sometimes we surprise ourselves. Sometimes we think we're gonna be real strong and we're not. It would be nice if I win, believe me, but it doesn't bother me that much. If it comes, it comes."
Q: In CART, how many races did it take you to win the first one?
Montoya: "Three."
Q: And in F3000, how many?
Montoya: "Three. OK, I see where you're going. But I don't think about it really, I just push."
Q: Surely you must be keen on winning again?
Montoya: "You know, last year in CART I only won 2-3 races. And it took me more than half of the year to get the first win. It was a very frustrating year. The car broke down in most of the races - I only finished about 5 races out of 22 or something. So patience is something you also have to practice in racing."
Q: OK, if not the race then give me your prediction for qualifying. Are we going to see you on pole for the first time?
Montoya glares at me long and hard, almost disappointed. Yeah, yeah, I know, I'll ask you about it on Saturday afternoon, I say. "Good! You're learning!" he retorts, and we both start laughing.

The Taming of the Shrew:
Patrick Head's Perspective
When Patrick Head is asked about Montoya, he bears a tolerant smile on his face as if saying, I've been asked all this before and I'll probably be asked the same a hundred times more. But it doesn't stop him from giving detailed, honest replies, which probably makes him one of the most interesting people to interview in Formula One.
Head describes Montoya's season so far as a roller coaster ride: he began on a high, took a sharp turn to the bottom, and is now steadily climbing back up, taking him to higher peaks than before. Considering the many reports that both Head and Frank Williams have been holding serene talks with Montoya after the Canadian Grand Prix - where Montoya not only performed badly but also got himself tangled in a fight off-track with Jacques Villeneuve - it begs to be asked, how did he manage to tame the young shrew?
"Well I don't think I can compare Juan Montoya to a shrew," Head laughs, "but if to be honest, it's not true, really, that we had much of a serious talk with him in Canada. When I say he had a good start to the year - it wasn't really that good. In Melbourne he was going well and was in 4th place and had a technical problem. Malaysia really he didn't do a particularly good job. And then the big thing was Brazil, where he overtook Michael Schumacher and everyone said, Ah! The New Messiah! And all this sort of stuff.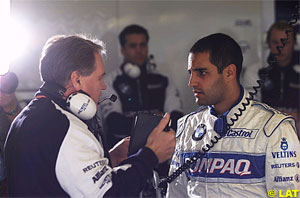 "I think a little bit of it went to his head; he expected to come into Formula One and expected to be as strong as he was when he went to CART in the States. And then when that happened [in Brazil] and he was leading Michael for a large part of the race, I think he believed his expectations. And of course, the press helped enormously by hyping him more, with headlines like 'he's going to show Michael' and all that sort of stuff, and I think Juan believed that a bit.
"Then there was the incident in Austria (where Montoya nearly had a coming together with Schumacher), and then Juan had a couple of really very poor races where he made very bad judgement calls. He was in 4th or 5th place in Monaco just behind Ralf, and I don't know whether he was trying to win the race on the second lap. I've been to Monaco enough times to know that it's a race of patience. He really made a major error in Monaco, and what appeared to be a similar - though not identical - error at Montreal.
"Obviously that wasn't good, but Frank and I talked about it and we never had any doubt that Juan Pablo was technically capable. We just felt that he was being a bit too macho, a bit too emotional, a bit too impulsive. And I think we just said to him, look, we're not going to talk to you about any particular incident, but just take it easy, easy, easy. And equally, at the same time, we had one or two practices where he had technical problems and we could see that it was quite damaging to his performance. So we focused on trying to make sure that his car is reliable during practice, and we just said, look - take it easy, Juan.
"I don't want to sound complaining about the press, but immediately after Montreal they said that we were going to sack him straight away. I don't know where this came from - it really wasn't the case - and I'm not sure how that affected him. But after that, Juan didn't drive himself to the maximum, because he knew it was important for him to re-establish himself."
Q: Montoya doesn't feel that his seat in Williams is secured, compared to Ralf.
Head: "Certainly we've not given him any indication that that's the case. It's a well known situation that he has a contract with Williams for two years - covering 2001 and 2002 - and we have an option on his services for 2003, and that's the contractual situation. OK, if he thinks that the extension of Ralf's contract puts pressure on him, then... well, he's a big boy. He can handle that sort of thing."
Q: Montoya's previous two races were somewhat hampered by the fact that he was held up by his teammate who, on both occasions, ignored your orders to let Montoya pass. How long do you allow a driver to disobey team orders? How do you make sure it won't happen again?
Head: "Well, we've obviously had discussions about that [with Ralf] and we obviously decided exactly in what circumstances it's acceptable for the team to ask the driver to move over. We don't actually have anything in our contract that says that one driver has to give way to the other, but equally both drivers accept that the team is interested in our overall result as well as the individual driver's result. Quite honestly, I doubt this will happen again."
Q: For the first time, you have both of your drivers on the front row and they are very competitive with each other. I can imagine you worry that they may drive each other out, but how do you prevent that from happening?
Head: "Well obviously it's part of the discussion we've had about instructions coming from the pit wall, and it was fully accepted that there will be many circumstances in which they will be racing each other and the team will not make any instructions. So we've said to them that it will be viewed very badly if they take each other off or one of the drivers takes the other off.
"It's neither of their style, really. Ralf is a very firm but he's gentlemanly on the track. And I'd say Juan Pablo is the same. OK, there was the incident in Austria, but it was an error by Juan where he braked too late, it wasn't a deliberate attempt to drive Michael off the track. So we've done as much as we can to say, look guys, race as hard as you like but be fair."
Q: Do you see them reaching some kind of a first-corner agreement, like McLaren had in 1998?
Head: "Absolutely not. I don't think they have the character to do that. They're both hard men and I think they'll race very hard, providing we make sure the equipment survives."
On Sunday, Montoya's equipment didn't survive but while he lost that battle, in Head's view he won the war. "He had everybody covered, including his teammate," Head said on Sunday afternoon. "He had the race under control and was easily the fastest driver out there. So he should be happy."
Q: What about you, are you happy with him now?
Head: "Oh, definitely. He was running very well. I think both he and Ralf are potentially at a very similar performance level and I think in order to compete with each other they'll have to dig deep and be a 100% at every lap. It's going to be a hard battle no doubt."
Judging by the weekend at Hockenheim, it is also going to be the best show in town.