---
Holy Smoke: the History
of F1's Tobacco Addiction
---
By Dieter Rencken, South Africa
Atlas F1 Magazine Writer
Pending a decision from Midland-Jordan and B&H, the grid for the 2005 Australian Grand Prix could have the least number of tobacco-liveried cars in the history of the event. By the end of the season, Formula One could be left with just two or three cigarette-backed teams. After 37 years, Formula One is fighting the addiction as tobacco companies find less and less welcoming governments and countries. In a two-part feature, Atlas F1's Dieter Rencken looks at the history of F1's tobacco sponsorship and what future it holds. This week: Dieter reveals how the addiction began (and no, contrary to common belief, Colin Chapman is not the man responsible...)

It is a peculiar paddock truism that of the five team bosses competing without tobacco partners, three are smokers, whilst none among the heads of the tobacco-backed teams does.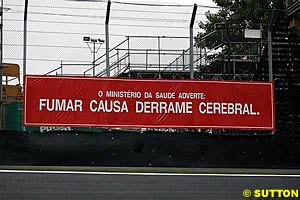 Paul Stoddard and Toyota's Tsutomo Tomita inhale, whilst Peter Sauber puffs on Swiss cigars of custard-eclair diameter. David Richards lit up cigars on occasion last year, but, of course, he has since moved back into rallying, where, after 555 withdrew its sponsorship from the bearded Welshman's Subaru team, only Peugeot relies upon tobacco money.
Jean Todt (Scuderia Ferrari Marlboro), West McLaren's Ron Dennis and Mild Seven's Renault's Flavio Briatore shun the stuff – the latter was once publicly reprimanded for lighting up on his pit wall during a race, but gave up in 2003 – as does Lucky Strike Racing BAR CEO Nick Fry. Mixed messages regarding Benson & Hedges' support for Jordan are emanating from that quarter, and too little is known at this stage of its present management and their habits, but, whatever, Eddie Jordan did not smoke but gratefully accepted its proceeds.
Of the balance, Sir Frank Williams has long been opposed to smoking (but accepted its funding for a decade from 1989 until BMW joined his team and opposed any connection between its engines and tobacco). The same applies to Red Bull Racing, which maintains its primary products are aimed at active lifestylers. So, as the 2005 Grand Prix line-up is finalised, five teams are without tobacco funding, four with, and one undecided.
The 2005 Australian Grand Prix grid could see the lowest level of tobacco livery in the history of the race – whether in Adelaide or Melbourne – and, through a mixture of self-imposed cut-off dates and bureaucratic meddling, this trend is sure to continue until all Formula One's links with tobacco are totally removed. The only question remaining is 'when?', for utter confusion surrounds the issue, with mixed messages emanating from all quarters.
If, though, tobacco funding in motorsport, particularly Formula One, faces an uncertain future, it certainly has a colourful past, and has blazed the trail for commercial sponsorship in all FIA-regulated branches of the sport.
In the Beginning
Contrary to the regularly perpetuated myth that Colin Chapman and Lotus introduced outside funding to Grand Prix racing in 1968, it was a bunch of amateur racers based in the then-Rhodesian town of Bulawayo who revolutionised Formula One by painting their privateer cars in tobacco livery to fund annual sojourns into World Championship racing.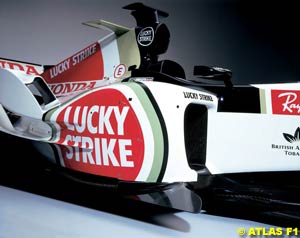 Until that season, in 1968, Formula One had been nationalistic: teams entered in the colours of their countries as determined by the sport's governing body before the Great War. Thus, Italian entries raced in red (giving rise to the myth that Ferrari's corporate hue is red; it is, in fact, the yellow/black of the surrounding Modenese region), French cars in blue, British teams in green, Dutch privateers drove orange cars, and the American Scarabs were entered in blue/white.
Financial support was permitted, but only from trade sponsors whose products were used in the course of racing. Therefore fuel and tyre companies, spark plug and piston suppliers, brake and clutch manufacturers all contributed to team running costs and driver retainers, with the balance derived from starting money individually negotiated by teams and entrants with event organisers. There had been a seasonal deviation from the FIA's edict: the Indianapolis 500 permitted commercial livery and was included in the World Championship for eleven years from 1950.
In 1961, attempts were made by various British operations, UDT-Laystall and Bowmakers in particular, to circumvent commercial restrictions, but, despite appearing in colours other than BRG, these amateurish efforts were short-lived, and Formula One carried on along its well-trodden path until January 1st 1968 – the date after which the FIA's sporting wing of the time, CSI, relaxed all forms of commercial restrictions.
John Love - who had returned to Bulawayo in his native Rhodesia (now Zimbabwe) after winning the 1963 British Saloon Car Championship in a Mini-Cooper and winning variously in Formula Junior for Ken Tyrrell - was in a fix. Political upheaval and a bush-war in the world's then-foremost tobacco-producing country meant money, particularly foreign currency, was in short supply, making his entry in the 1968 South African Grand Prix in a private Brabham BT20-Repco doubtful; ditto the entry of his neighbour and friend, Sam Tingle, who owned a locally-cobbled LDS Mk3-Repco.
The drivers had befriended long-time racing fan Joe Putter, employed as salesman for the Gunston cigarette brand, which was making inroads into South Africa's tobacco market. Putter, aware that bans on sponsorship had been lifted by the FIA, suggested Gunston sponsor the entries of the Rhodesians at the South African GP – which was to be held on, co-incidentally, January 1st - to gain exposure in their primary market. Deal agreed, money changed hands, Putter was appointed 'Manager: Team Gunston' and both cars were hurriedly sprayed in the gold/chocolate of the cigarette brand.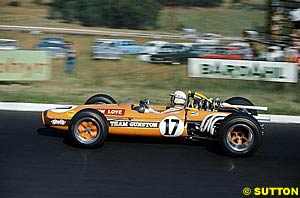 Love qualified 17th for that race (Tingle lined up 22nd), and, as he crossed the line at the drop of the orange/white/blue flag, he became the first man to start a Formula One World Championship Grand Prix with a commercial sponsored livery, carrying tobacco brand. At that precise moment, the world of motor racing changed forever.
Did Love, who had finished a fine second at Kyalami the previous year after a heart-wrenching last minute splash 'n dash whilst in the lead (see sidebar), imagine his precedent would eventually lead to special sittings of parliaments, to accusations of 'baccy bungs', to cancellations of Grand Prix contracts and the granting of 'duty-free' status to villages in Belgium? To farcical situations whereby team clothing varies from race to race, and, at times, even within the same country? To a spiralling of driver salaries and team budgets, or calls for the resignation of a British Prime Minister?
"Of course not, nor do I regret it," Love told Atlas F1 last week from his daughter's home in Durban, South Africa, where he is recovering from radium treatment to life-threatening malignant growths. "It is funny how the world has moved on. We (Rhodesia) were fighting a bush war at the time, and all sorts of sanctions were applied against us. The country needed to export tobacco, and we provided the means. I think it (tobacco sponsorship) proved positive for Gunston, Sam and I as we continued racing when times were hard, and positive for motor racing in general. It also proved very positive for Chapman..."
Present that January day, of course, was one Anthony Colin Bruce Chapman, and, quicker than the pole lap gained by (and a subsequent final Grand Prix victory for) Jim Clark in Chapman's sublime Lotus 49, Chapman's fertile brain grasped the significance of Love's deal. Some allege that Chapman had previously initiated discussions with Players for sponsorship, others that a team employee arranged a meet between his and Players' boss; whatever, the record shows Love was first to strike a tobacco deal and Chapman was there to witness the result.
The record, too, shows Chapman changed his movements after the 1968 South African GP: scheduled to fly to Australia for the Tasman Series, in which his 2.5-litred 49Ts were competing, he returned to London, missing the first two rounds of the Championship at Pukekohe and Levin in New Zealand respectively. Only then did he fly to South Island's January 20th Wigram Trophy race. His bags contained enough stickers to bedeck the 49Ts of Clark and Graham Hill in Gold Leaf's red/white/gold colours.
With a break of almost five months between World Championship races - the next Grand Prix was the Spanish one, at Jarama, on May 12th - the ever-restless Chapman had sufficient time to repaint his cars and enter them under 'Gold Leaf Team Lotus'. Of course, Graham Hill, in a GLTL 49, won that event (Clark perished in a Formula Two race five weeks before), and most motorsports journalists, not having been to South Africa, hailed Chapman's commercial 'initiative'.
The crux, though, is that Love, Tingle and Gunston opened the doors to Formula One sponsorship of any type, whether tobacco-funded or not. BRM followed suit with Yardley stickers on its P160 designs, and soon every team owner was chasing the commercial buck, including Max Mosley, whose March 701 was to sport STP petroleum additive livery.
Since Love and Gunston's precedent, virtually every smoke worthy of a flame has coloured Formula One cars. The next brand to make its entry into F1 was, believe it or not, Lucky Strike, which sponsored a Brabham BT33 for South African-domiciled David Charlton in the 1971 South African GP, and then bought him a Lotus 72 for a run of European events in 1972.
Marlboro joined in as partner to BRM in 1972, before moving to McLaren for 1974 and starting a record 22-year stint. So powerful was its influence that Marlboro's sponsorship manager, John Hogan, forced an amalgamation between an underperforming McLaren under Teddy Mayer's stewardship and Ron Dennis' Project Four F2 team, to form McLaren International. The Marlboro-McLaren partnership ended, however, when Philip Morris – the Marlboro brand owner – decided to sponsor Ferrari exclusively as of 1997. McLaren then went West.
Another Players brand, JPS, entered F1 with Lotus wedge-like 72 in 1972, and images of those iconic black/gold pin-striped cars launched a million dreams as kids fought to be first on the block with models of Chapman's all-conquering creation. And, quite a few serious racing careers were sparked by those dreams. Chewing tobacco, rolling papers and cigars all played roles in Grand Prix racing over time - and so, too, have anti-smoking aids, such as Niquitin CQ - which briefly sponsored BMW-WilliamsF1 until leaving the sport last year.
One statistic portrays very simply the overall impact and influence of tobacco sponsorship on F1: the last title won by a non-tobacco supported driver was Nelson Piquet's 1983 World Championship, in a Brabham owned, ironically, by the man who has gained so much from the 'weed': Bernie Ecclestone.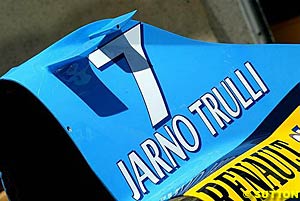 Thereafter, all went smokingly well in the partnership between Formula One and tobacco until 1990 – when France enacted 'Evian's Law', which banned the advertising of tobacco products on its soil. Simultaneously, an agreement between tobacco companies led to a removal of their branding on cars in three countries: France, England and Germany. But, if the tobacco giants believed this voluntary move would decrease pressures on them, they were gravely mistaken.
Next Week: Kicking the Habit
Sidebar: The Second shall be First

Strangely, John Love – the man who was first to introduce tobacco sponsorship in Formula One - is better remembered for coming second.

In 1967, aware that his 2.7 four-banger Climax would guzzle more fuel during 80 laps of the 4,080 kilometre Kyalami circuit than his privateer Cooper T79's tiny tanks had capacity, he had lashed up a spare tank above his knees. A secondary pump was fitted to move petrol to the main tank, with the capacity providing, he calculated, sufficient fuel to get him to the end of the opener of the season without a stop.

Alas, it was not be: in practice he had shared with his car's constructor John Cooper his plans, and the Surrey team owner realised that it was doubtful whether his own brace of Maserati V12-engined T81s could run the distance, particularly on the undulating, partly sinuous track situated 2000 metres above the Indian Ocean.

With the race scheduled for January 2nd - a Thursday - through it being a public holiday, and with no television schedules to honour in a country which still banned the goggle box, practice for South Africa's return to the Championship calendar (and maiden race at the Kyalami circuit) was scheduled for Wednesday. Cooper had no spare pumps in his boxes, and with spares outlets closed for the holiday, he asked to borrow same from the man he had previously run in Formula Junior via Ken Tyrrell.

Love rummaged about, found an SU 'ticker', chucked it at Cooper, and thought no more of it. Until three laps from the end of the race: leading the Grand Prix closest to his heart and home in a privately entered, virtually obsolete car, one which had seen service in the Tasman Series before having its 2.5 litre four cylinder ex-fire pump Climax engine bored to the max to provide as close to the three-litre limit as possible, a hick, splutter, cough suggested switch-over time. Done, the spluttering worsened.

The pump was dead, and a disbelieving Love swerved agonisingly as he dredged the remains and headed for the pits and the splash 'n dash. Utterly frustrated, almost in tears, he watched helplessly as Pedro Rodriguez swept past from second, his Maser engine fuelled via a pump from Love's tool box...

Love returned to the track, but there was no stopping the Mexican, who took his maiden Grand Prix victory. Love, though, claimed second, ahead of John Surtees' Honda, whilst fourth went to Denny Hulme - driving, ironically, the Brabham BT20-Repco with which Love and Gunston tobacco were to make Grand Prix history the following year.

Little did Love know then that the second shall be first...
---
© 2007 autosport.com . This service is provided under the Atlas F1
terms and conditions
.
Please
Contact Us
for permission to republish this or any other material from Atlas F1.