Any driver who has had to carry the hopes of a nation on their shoulders will tell you that it can be a heavy burden.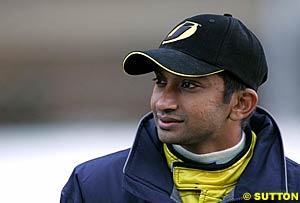 It's hard, then, to imagine what it must be like when the nation in question has a population of around 1,065,000,000.
After several years of chipping away in lower formulae, Narain Karthikeyan will carry the Indian flag into Formula One for the first time ever when he lines up on the Albert Park grid with Jordan in a little over two weeks.
It hasn't been an easy road, but in that regard he is not exactly unique - who was the last person to find it easy to land a Formula One seat?
In this case, Karthikeyan had already become the first Indian to drive an F1 car when he tested a Jaguar in 2001, almost finalised a deal with Minardi for 2003, and tested with the Faenza team again last year. But there is a big difference between nearly getting into F1, and actually getting there. Like dozens of others, Karthikeyan had sufficient promise to start knocking on the right doors, but it is only now that he has been able to gather the required support to actually get one to open.
"Oh, it's a great feeling," Karthikeyan told Atlas F1 a couple of hours before his first shakedown of the Jordan EJ15 at Silverstone last week.
"To be the first Indian is a very special thing, and the whole country is proud of it. Motorsport back home is going to a whole different level now. Getting somewhere in Formula One is about having the right contacts, and you need some commercial deals as well. We had the right opportunity to do it with Jordan this year, so that is what made it possible.
"I knew that I was the best Indian out there. Nobody else from India has even won a race in F3 before, so I knew I had the best opportunity. I just needed to keep going at it. I started late with my (F1) career, but I am here and that is the most important thing."
According to the Channai-born 28-year-old, the reaction back in his homeland to the news of his arrival in Formula One has been momentous.
"It has been on the frontpage of every newspaper, magazine … everything you can imagine. It's been on all the news and everything. I was already popular in India, but now it is … you know, very close to the popularity of the cricketers."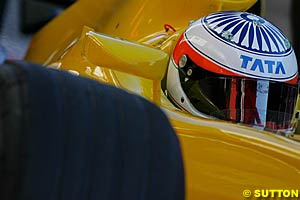 I ask him if we are talking about the levels of hysteria that Indians normally reserve for the likes of cricket superstar Sachin Tendulkar.
"Tendulkar is my very good friend!" Karthikeyan chuckled. "His level (of popularity) is different. But apart from Tendulkar, I think that the rest of the cricketers should be no problem. I should be as popular as them."
From an Indian perspective, the arrival of Karthikeyan onto the world stage seems timely. Interest in motorsport on the subcontinent has been on the rise over the past few years, and while the local scene has some way to go before it can rival the likes of Europe, the USA, Australia and South America, the foundations are being laid.
"More and more kids will look up to Formula One now," Karthikeyan explained. "There is a good karting championship that has come up in the past few years, the Rotax Max Challenge. So karting has come up in a big way, and that will help kids come into it. So it is looking good at the moment. As long as the corporations keep pushing it, it should be OK."
There are also signs that the country, traditionally a rallying stronghold, is beginning to develop a grassroots circuit racing scene.
"There are two racing circuits in India now," Karthikeyan continued.
"They are not great, but something is better than nothing. The cars are very basic - they have an 800cc, 40bhp engine and the next one up is a 90bhp engine. They need a better formula, I think, in India. It will happen, but it costs money, you know, so it will take some time.
"The cars were made in the late-1980s. Unfortunately, motor racing is such an expensive sport that they haven't evolved from that. But a lot of multi-nationals are coming in, and they have me in Formula One now, so maybe things will change.
"My backers, Tata, have been backing me since 1999. Now we have Speed Petroleum, which is a big national petroleum company. They are in Formula One now with me as well. I think they were waiting for a good opportunity. And Formula One TV viewership has gone up, and I think they've seen all that. We presented a good case, and they will get good returns on their investment, so I think that's why they have come into it finally.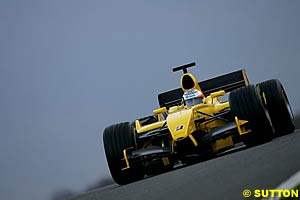 "Everything has finally come together. Now, my objective is firstly to finish the races, and then to try to pick up the odd points here and there. As you know, Jordan is not capable of running at the front, so we'll just make the best with what we have."
Respected Indian sports journalist Harsha Bhogle noted recently that the rise of Karthikeyan and young tennis player Sania Merza could be taken as indications that the cricket-mad nation might finally be ready to expand its focus - and column inches - beyond the boundaries of one sport.
"For sure," agreed Karthikeyan. "I think it will change a lot of things in India now - the way that corporations have been looking at things. With me, and Sania as well to an extent, we are up there and in our respective fields we are at the top. I think it will change, for sure. And cricket is getting boring."
Despite the sudden brightening of the spotlight that shines over him, Karthikeyan says that he doesn't feel any extra pressure to perform.
"I have always had pressure, because I was the only Indian," he reasoned. "The pressure is bigger in a way, but I just need to concentrate on doing what I do best, and it should be OK."
Karthikeyan's introduction into Formula One will be complicated by the dramatic changes that Jordan have undergone since the circus broke camp in Brazil last October.
With new owners, new team management and a new engine supplier, the Indian is walking into a team who have to juggle all of the normal pre-season pressures with such fundamentals as getting to know one another, making sure that the adaptation to the Toyota powerplant runs smoothly, and trying to break in two completely green drivers (with Karthikeyan being joined by another newcomer, Portugal's Tiago Monteiro).
One thing that will help smooth the path a little for Karthikeyan, however, is his relationship with new Jordan team manager Trevor Carlin, with whom Karthikeyan has worked for several years.
"Trevor has helped me in a big way with the whole deal," agreed Karthikeyan. "I think he kind of pushed for it as well. There are a lot of Carlin boys here and Colin Kolles, who I know very well, so on the whole it is much better than going to a new team that I don't know. Here, it's like I am already accepted.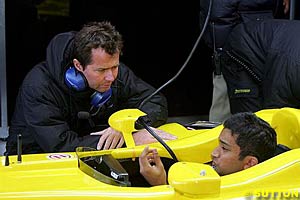 "There are so many new people, and everything (with the team) was done at the last minute. So there is a lot of work to do. But we are up to it, and we are going to do the best we can."
And so, in about 17 more sleeps, Narain Karthikeyan will reach the end of one long road, and the start of another. Staying in F1 is not much easier than getting there in the first place, and it's vital that Karthikeyan and his Indian supporters do not lose sight of that.
But it's equally important that, when he arrives in Melbourne, he remembers to savour the moment.
"I am looking forward to it, really," he concluded. "The coverage has been so big everywhere that people know that I am going to be racing. It would be great to see some Indian flags in Melbourne, and then we go to Malaysia, which will be big as well because there is a huge Indian community living there. It's going to be great."