Car Briefs
Peugeot has released pictures of its 407 Prologue Concept Coupe. In fact it is almost identical to the 407 Coupe that will go on sale in early 2006.
While not being as attractive as the Pininfarina-designed 406 Coupe, the Prologue is a good-looking car. However Peugeot promises a more luxurious interior than the old model - the one area that let down the 406 Coupe. The engine range will feature the same 2.7 V6 diesel used in the Jaguar S-Type and equipment is likely to include directional xenon main headlamps, front and rear parking assistance, laminated side windows and satellite navigation with a 7-inch colour display.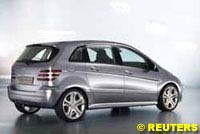 Mercedes has shown the first official pictures of the new B-Class that will go on sale in late 2005.
The B-Class is effectively a stretched version of the new A-Class. The wheelbase is now 2778 mm, almost as long as an E-Class but with more interior room. The seats can be folded and removed, giving a maximum carrying capacity of 2245 litres and a maximum load length of 2.95 metres (with the front passenger seat removed). The engine range is as per the A-Class, but with the addition of a 2.0 petrol turbo producing 193 bhp.
Citroen has announced a range of major diesel incentives which will run until March 31.
The 92 bhp Citroen C4 1.6HDi LX, which can return 60mpg, is now available for £10,995 - a remarkable price for a state-of-the-art diesel family hatchback. All other diesel C4 models have savings of £1,600.
Xsara Picasso buyers will save £3,900 on all diesel models (or £3,400 if they choose petrol), meaning the diesel range now starts at £10,495 - a typical price for a car from the class below. Citroen's other MPVs also benefit from diesel deals, with savings of up to £3,500 and £1,700 on C8 and Berlingo Multispace models respectively.

Europe Car Sales Slip
New car registrations in Western Europe have slipped 0.2 percent in January after a buying rush in late 2004, according to official data. Bucking the trend was Renault which steamed ahead of the market with a 15.3 percent rise.
Kia was the top gainer in the world's second-largest auto market, while Renault-controlled Nissan and Fiat continued to sputter their way lower and market leader Volkswagen dropped 1.1 percent. Total sales in the 15 older members of the European Union plus Norway, Switzerland and Iceland came in at 1.17 million units, figures from Brussels-based carmakers' group ACEA showed.
The eight nations that joined the EU last year fared worse and overall sales there tumbled 12.7 percent, a 23.7 percent slump in Poland more than outweighing a 25.8 percent leap in Slovakia.
"The relatively slow start of the year has been mainly driven by the drop posted by new EU member states and (Norway, Switzerland and Iceland), down 4 percent," ACEA said.
Car sales jumped 7.7 percent in December, helped by year-end incentives, new models and extra selling days, pushing total 2004 registrations to a three-year high of 14.5 million cars, up 2.1 percent from 2003.
Most auto executives are predicting European car sales will be flat in 2005 and are fighting for customers with incentives and new models. Some said December's figures were inflated by market share tricks that did not translate into profit.
Fiat Chief Executive Sergio Marchionne said this week that he expected the Italian group's car sales to drop this year as he cuts out unprofitable sales like zero kilometre cars that are registered by dealers and sold at less than full price.
"The philosophy of winning market share at any cost doesn't pay in the long-term," he said.
Fiat's European sales continued to fall, down 16.9 percent for market share of 7.3 percent against 8.7 percent a year ago. Nissan lost 18.6 percent and Daimler Chrysler dropped 4.9 percent, having posted a 20.7 percent leap in December.
PSA Peugeot Citroen lost 1 percent against December's 6.2 percent rise while Ford dropped 4.6 percent, squeezing its market share to 11.5 percent from 12.1.
It was a mixed bag for Asian carmakers with Kia sales continuing their surge, up 55.1 percent to take 1.3 percent of the market, Honda up 8.3 percent and Mitsubishi up 9.5 percent. Toyota and its upscale Lexus marque slipped 1 percent, Hyundai fell 8.9 percent and Suzuki declined 7.5 percent.

Ante Upped in Emissions Fight
The board of Calpers, the biggest U.S. pension fund, has voted to intensify its efforts to prod car makers to adopt California's strict tailpipe emission standards and vowed to make environmentalism a top investment priority.
The board's move came two days before the Kyoto international climate change treaty goes into effect. It requires developed nations to cut greenhouse gas emissions, but the United States has not signed it.
The board of the $182 billion (95 billion pounds) California Public Employees' Retirement System, known as Calpers, said its investment staff could evaluate the fund's portfolio companies in terms of any environmental liabilities they might pose.
Under the plan, utility companies, along with car makers, would come under scrutiny because of greenhouse gas emissions. The plan calls this year for Calpers to join the Carbon Disclosure Project, a European effort by shareholders concerned about the effect of carbon emission on company value.
"We expect environmental corporate stewardship to play a greater role in corporate governance over the next 10 years," Calpers board member Priya Mathur said.
The plan also serves as a challenge to the Bush administration, said Phil Angelides, California's treasurer and Calpers board member. Angelides, as well as former Vice President Al Gore and acting Calpers board President Rob Feckner, hosted a conference call with reporters on Monday afternoon.
The United States, which accounts for about a quarter of greenhouse gas emissions, has not signed the Kyoto treaty. Gore said the White House has its "head in the sand" on the issue of greenhouse gas, which contributes to global warming.
Calpers' move marks an escalation in its battle with car makers to adopt California's emissions standards. Its board put Detroit on notice by approving its investment staff to vote for shareholder proposals requesting that General Motors, the world's largest car maker, and Ford, the second-largest U.S. car maker.
Car companies could be placed by Calpers on its so-called "focus list," a step the fund takes to discipline companies.
The Alliance of Automobile Manufacturers, an industry group, is suing to stop the state standards from taking effect and turned down a Calpers invitation to meet to discuss its demands.
Steve Westly, California's controller and a Calpers board member, said the fund's aggressive posture is necessary with the Kyoto protocol set to go into effect.
"What's clear is that we're giving the staff teeth," Westly told Reuters in an interview. The car makers' alliance in a January 27 letter informed Calpers that only the federal government may set fuel-economy standards.
However, California may set air-emissions rules, which state officials say gives it authority over this matter.