UNDERSTANDING FORMULA ONE
Formula One 2005-style will be a totally different animal to what was before. That is the loud message coming through very clearly from the teams after the first four launches of the year.
Although pitstops will still feature, most technical directors believe their number will reduce by an average of one per race. "There will still be pitstops," said Toyota's Technical Director Mike Gascoyne, "and you still need to qualify with a load of fuel, but you will most likely see one less stop per race. The balance between qualifying weight and race performance will remain crucial, but, without the opportunity of changing to fresher rubber, there is less need to stop frequently."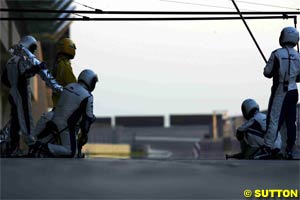 So, a typical two-stopper circuit should now see just see a single refuel halt; a three-stop strategy in 2004 could mutate to just two replenishments this year. Of greater significance, though, is the loss of what Sir Frank Williams calls the "fine choreography" around the car.
"You won't see the fine choreography, of 19 people changing tyres anymore, and that is a real loss," said the 63-year old on Monday. "You'll still see stops, of course, but they could be a bit of an anti-climax with just four or five people attending solely to the task of refuelling."
The Williams team boss also believes, too, that the new-look Formula One will present more overtaking opportunities than hitherto, surprisingly singling out reduced engine revs (due to the double Grand Prix engine distance requirement) rather than reduced aerodynamics as the root cause. Theoretically lower drag co-efficients should increase top speeds due to lower drag co-efficients, but Sir Frank believes "the straights will appear longer, thus providing more overtaking opportunities under braking".
But will revs, and hence speeds, really be reduced significantly? Dr Mario Theissen, BMW Motorsport Director, believes revs will not necessarily be lower; rather that teams will be more selective with shift points. "I believe that we will see the same maximum revs, certainly on our engine, just that you won't see them as often," he said. He refused to be drawn on the question of power loss, but seemed confident that BMW's engine would be the benchmark engine in 2005.
Durability during Grand Prix weekends can be achieved via two routes, particularly during free practice sessions, explained the good doctor. "That can be achieved in different ways: driving fewer laps or reducing engines speeds. We don't want to drive less because that cuts down on valuable set-up time, particularly as we want to cut down on test drives (between races).
"Curtailing maximum engine speed is the preferred option. You don't need peak revs for set-up work and tyre selection," he explained before pointing out that the same set of tyres will be required to last through qualifying and the race.
Williams Technical Director Sam Michael expects the latter aspect to most change the face of races. The Australian pointed out that drivers would need to drive sensitively to conserve rubber, but a bigger factor would be the state of play immediately after pitstops. "In the past," said the 33-year old, "it would be impossible to get past a heavier car immediately after a pitstop, because it had a fresh rubber advantage. So, even if the car behind was lighter (faster), overtaking was out of the question due to the grip factor of the new tyres.
"This year, though, their tyres will be roughly the same, but the heavier car will have an even greater disadvantage as its tyres would have cooled down during the pitstop."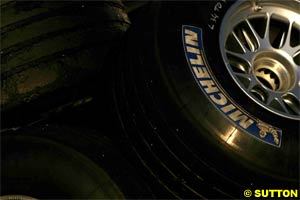 Patrick Head, Engineering Director of the Anglo-German team, believes the tyre regulations will require vigorous policing. "The way I understand it is that a tyre may be changed in the event of a puncture, or if it wears down to the canvas (for safety reasons, and then only for one with the same or greater wear), but such changes may not take place during scheduled fuel stops. A team wishing to change a punctured or worn tyre will have to do so outside of a scheduled stop. This will impose some sort of penalty.
"But," he continued, "I believe (Race Director/Safety Delegate) Charlie (Whiting) will take a close interest in any team regularly changing tyres at half distance, and, if it continues without good reason, some sort of sanction will be imposed."
New aerodynamic limitations, estimated at reducing downforce by 30% via front wing endplates raised by 50 millimeters, rear wings longer by 150mm, reduced diffuser heights and narrower floors, should see laptimes increase by approximately three seconds on average. Will spectators actually notice these increases?
Overall consensus is that the speed reductions will not be generally evident and even less so for television viewers, all of which is good news. Even better news is that the spectacle should increase, and drivers – Sauber's Jacques Villeneuve, in particular – have commented upon the increased twitchiness of 2005-style cars.
The 33-year old French-Canadian, who took a sabbatical last year before returning to contest the final three Grands Prix for Renault, believes this season will be more about "strategy than a string of flat-out laps". Good drivers, he said, will consider the effects of their driving styles on engine and tyre wear whilst maintaining maximum racing speeds. "We're going to have to connect speed with intelligence," added the 1997 World Champion, "so drivers' responsibility will increase."
The requirement for increased responsibility will be most acute between 13.00 and 14.00 on Saturday, when drivers will slam in an empty tank "pre-qualifier" in order to determine run order for Sunday's (10.00 to 11.00) fuelled definitive qualifying lap. BMW points out that Saturday's pre-qualifying constitutes half the battle despite not counting for grid position: the grid will be determined by the combined times of both Saturday's and Sunday's flying laps.
Complicated to say the least, and here's hoping that the technology will be in place to properly educate 350 million television viewers, who may not be fully up to speed with the new regulations. After all, somehow they need to be informed that Driver A, who just creamed fastest time by 0.20 seconds, will start from tenth because he was forced to conserve his engine 20 hours ago? Seems like TV commentators will really start earning their keep come Sunday morning in Melbourne.

THE TOBACCO ISSUE
A year or so ago Ferrari alluded to a plan to run their cars in Marlboro red with just a few white patches denoting where the tobacco company's logos would, under 'normal' circumstances, have appeared. To gain maximum effectiveness, the race cars would be presented totally devoid of secondary sponsorship, with Marlboro's commercial messages transmitted subliminally via white spaces.
Such a programme would have cost Phillip Morris – owner of Marlboro – an absolute fortune, for inherent in such a plan would have been compensation to Ferrari for all the secondary sponsors removed in the process of the 'branding' a totally red/white car devoid of all other logos.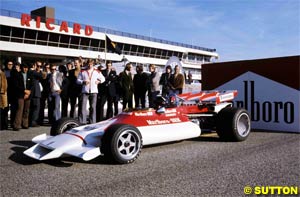 All well and good for a brand which has enjoyed continuous presence since first appearing on BRM's P160B in 1972, for its red and that of Maranello – although from totally different spectrums – is totally synonymous with Ferrari in the mind and eyes of its target consumers. Such has been the strength and effectiveness of Marlboro's marketing campaigns.
Brands such as West (with a nine-year tenure in the sport if initial forays via Zakspeed are ignored), Lucky Strike (since 1999, having briefly flirted with F1 in the early seventies) and Mild Seven (initially with Tyrrell in the early nineties, then Benetton/Renault), Benson & Hedges (on with Eddie Jordan's Jordans since 1996) lack such strong F1 identities - would, for example, a plain yellow Jordan pass for a box of B&H? – and, as such, all were thought to be planning elegant exits from the sport come 31 July – the implementation date of the European Union's legislation.
But, it seems, sufficiently vague tobacco legislation has handed the industry a reprieve, and tobacco brands may be around Formula One for some time yet to come. As it stands right now, it seems all European countries intend banning the physical display of logos on cars whilst on their own territories, but will permit the transmission or publication of pictures within their territories.
So, simply stated: if Country Z in Asia permits tobacco advertising, cars may display logos whilst on its turf, with the European Union's Country A permitting broadcasts and publication of visuals showing cars bedecked in tobacco logos. Same would apply even if Team S, based in Country A, displayed tobacco logos which were transmitted back home to Country A. But, should Country A host a Grand Prix, then tobacco livery would be banned in that instance. Confusing, yes, but then lawmakers have such tendencies.
The UK has, apparently, interpreted the EU law rather differently, unilaterally deciding the transmission of tobacco images to the UK, generated by or through UK-based entities - regardless of the actual territory upon which such images were generated – constitutes an offence.
The first team principal to draw attention to this anomaly was BAR's Nick Fry in his exclusive interview with Atlas F1. "We've asked for clarification (from the British authorities) on many occasions, and none has been forthcoming, but there is time yet. We would never knowingly commit an offence, nor expect our employees to do so. But we need clarification urgently," he said a fortnight ago. Fry stated BAR did not believe the interpretation as put out by Britain was ever the intention of the law.
Shortly thereafter McLaren launched their MP4-20 in the silver/black livery of West, but played their cards close when asked about their tobacco partner's plans. Then, last week, Midland F1 suggested they were hopeful of retaining B&H support, even after the 31 July deadline. And, just this week, at the launch of the French company's R25, Renault Sport boss Patrick Faure pushed for clarity. "We think we can keep tobacco for 2005 and 2006 with the right number of Grands Prix being raced with tobacco," he said.
"Renault will do everything respecting the law," Faure told Autosport.com at the launch. "It is not clear what the law will be after July 31. It is not clear what is the European rule and we will clarify it and we will respect it."
Seems tobacco will be seen in Europe for at least another two years yet, and that Ferrari may retain its secondary sponsors.