---
Time to Deliver:
Interview with Nick Fry
---
By Dieter Rencken, South Africa
Atlas F1 Magazine Writer
After their best season to date in 2004, the BAR-Honda team will start 2005 as one of the favourites to topple Ferrari's reign of Formula One. All the ingredients are now in place for the team from Brackley to get their first Grand Prix win and fight at the very top. Anything else would be a failure, admits CEO Nick Fry. Atlas F1's Dieter Rencken talked to the new man in charge of BAR-Honda about past, present and future of the team

British American Racing is dead; long live BAR-Honda.
That was the unequivocal message from Nick Fry, newly appointed CEO of the operation which placed second in last season's Formula One Constructors' Championship, at the launch of the 007 – their 2005 challenger – at the Circuit de Catalunya this Sunday past.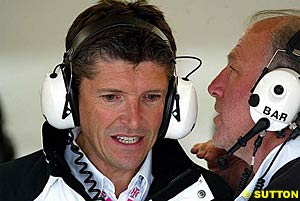 Whenever I refer to BAR, the Economics graduate ensures his response includes "BAR-Honda", and the implication is clear: BAR and Honda are now one operation, with one aim: to win the FIA Formula One World Championship together within three years. Where once British American Racing was the company, BAR the team, Honda the engine supplier, with an amalgam of the last two denoting the chassis, "BAR-Honda" now covers the whole bang shooting match.
(Okay, slight correction: the team are officially known as Lucky Strike BAR-Honda, but more of the tobacco angle anon.)
Fry (48) joined British American Racing, as the operation was then known, at the end of 2001 when owners British American Tobacco appointed Prodrive to manage its investment. It had swallowed at least a billion dollars since 1999 in return for a cumulative points tally of 37 points, on a consultancy basis, and the paymasters had drawn a line in the sand outside the team's palatial Brackley headquarters. In short, BAR had blown upwards of $27m for every point it earned over three years.
Fry, a year earlier recruited from Ford subsidiary Aston Martin by David Richards to head up the rally-championship automotive engineering company, came as part of the management team. "David needed a Managing Director for Prodrive when he took over ISC (commercial rights holder of the World Really Championship), and approached me. He was a customer of ours at Aston Martin, of which I had been Managing Director, plus I knew him from my Ford days when I had responsibility for the Mondeo brand and Prodrive operated our British Touring Car Championship team. When BAT appointed Prodrive to manage BAR, I was made MD of that, too."
Sure, a good (make that "excellent') business pedigree, but is Fry a genuine petrolhead or did he "fall' into Ford, then work his way up and through its Manufacturing, Service, Product Planning, Business and Specialist Divisions to eventually snare director status? "At Ford, apart from the BTCC Mondeo programme, I had responsibility for the Escort Cosworth (that be-winged WRC homologation special), plus performance cars like RS2000 and the Sierra Cosworth, and obviously those had competition programmes to them.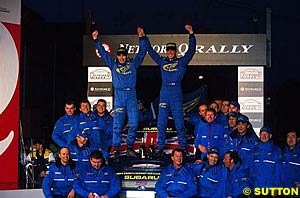 "At Prodrive, in my first year, we were fortunate enough to win the WRC with Richard Burns after a somewhat hesitant start, and at Aston Martin we had the DB7 race car and Le Mans programmes, so, yes, you could say I'm a petrolhead. But I know how to put cars together, and one of the most gratifying things about 007 is how easily it went together."
All well and good, but does he pump high octane? "I first became interested in motorsport at 10, and raced karts from age 17 – 21. Then I did some Formula Ford; nothing, though, that would make Jenson (Button) nervous. Quite where my interest came from is a mystery to my family. My father was Circulation Director for the Mirror (newspaper) Group, so we always had passes and tickets, but he was more an all-round sports fan."
Nick makes a point of mentioning that his boyhood hero was Chris Amon (and chuckles loudly when I mention that the New Zealander failed to win a Grand Prix), and admits to having been born "within half a mile of the Cooper Car works in Surbiton, Surrey. Maybe that is where my interest came from..."
As an F1 team principal (although he refers to himself as CEO and not Team Principal), Fry is unique: a graduate with automotive performance experience in corporate environments, coupled with genuine enthusiasm for the sport. No other team boss has the same mix. Jean Todt was a champion rally co-driver-turned-team manager when age intervened; Ron Dennis and Sir Frank Williams clawed their ways up the motorsport ladder. Flavio Briatore unashamedly admits to selling commodities, with performance just happening to be his present stock-in-hand; Peter Sauber was an electrician whose car-building hobby got out of hand, whilst Paul Stoddard, school leaver at 14, gives the impression of being the ultimate Scalextric fan, albeit with the wherewithal to own a king-size set. Dietrich Mateschitz is a shrewd adrenaline junkie (who, though, is Red Bull's team principal?), and Eddie Jordan is bank clerk-turned-racer-turned-team owner.
So, from a business perspective, what shortcomings, what barriers to performance, did Fry identify at BAR when he first walked into BAR early in 2002? "Simply put, there was a lack of organisation, with poor accountability. There were no structures, and processes were ill-defined. People were in the wrong roles, and their responsibilities were undefined. There was a lot of stuff going on because the company had good funding, but there was no real focus on the objectives of the company, which were to go Formula One motor racing and win.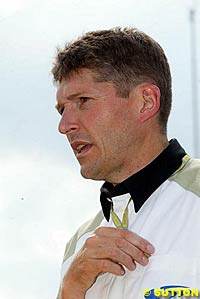 "So we focused on the added-value tasks, and it is interesting that the hands-on people, the race engineers, the mechanics, those levels are almost exactly the same people we had when I came in. So, the issues were at senior management level, and not at all related to the calibre of the people or facilities."
Of course, having managed British American Racing from sixth in the 2001 Championship to second last season, Prodrive worked itself out of a job. BAR became an attractive investment proposition, particularly with pending tobacco legislation making it less so as a cigarette sales vehicle. So, Honda, wishing to consummate its partnership acquired a 45% stake - effectively in November, but officially earlier this month after a legal wrangle involving former minority shareholder (and founding team principal) Craig Pollock.
That Honda, intent on again winning the F1 World Championship, was keen on equity involvement had been an open secret in F1 circles for the past two years, and, with EU laws banning tobacco advertising from 31 July this year – explaining why F1 has packed four Grands Prix into the month's five weekends – the world's most prolific engine manufacturer wished to secure its ambitions. So, a deal was struck, and a 55%/45% holding company registered as BARH Limited. But, did Honda insist that Richards, who had obviously played a critical role in the turnaround, stand down as team principal? More specifically, was his departure linked to "Buttongate' and the fact that Richards had signed Brazil's Cost Saving Initiative, which pledged to reduce testing, without reference to Honda?
"Hiccups happen in any relationship," explained Fry after a pause, "and, yes, these were hiccups, but they had nothing to do with the change. It would have happened in any event, with or without the Jenson affair. The CSI made no difference either; as it was, it turned out be a red herring, as various things discussed in Brazil were not reported upon, and there were all sorts of other inclusions here and there, and it has now changed.
"BAR-Honda is in favour of testing restrictions, and Honda has suggested 30 days testing per year (the CSI proposed 24), which seems to have been generally accepted as a reasonable cap, and Honda is totally against any form of distance-related limit as suggested by Ferrari. That is difficult to monitor.
"The point is that we, in common with other well-funded teams like McLaren and Williams, are prepared to compromise ourselves versus what we are able to do for the sake of the common good. But it must be a level playing field."
Fry, who reports to a board of six people appointed in threes by both BAT and Honda, insists that the relationship with his high-profile former boss, for whom he implemented so many changes in so many areas and levels at Prodrive and BAR, is "good. In fact," he expands, "David and I have a professional transition plan in place which runs through to end-February, and entails structured hand-overs in both directions. For example, at the end of this month we are going to Australia together, where Prodrive runs a Ford Supercar V8 team which was under my command.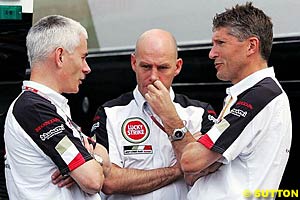 "The business relationship between the two companies is good, as well. A Prodrive subsidiary does BAR-Honda's merchandising programme, and BAR does paint support for Prodrive's WRC programme, which in turn does some carbon-fibre work for us," adds Fry, formerly a resident of Cologne and Detroit who now lives in Oxford.
The board structure of BARH should not, he feels, present any problems. "The board does not have a chairman, one is nominated shortly before a meeting begins. We are talking about two mature companies here, but with one common objective. So, any matters will be resolved somehow, even if a vote should go three each way. There is no casting vote, but everybody is working for the common good."
Fry, a graduate of the University of Wales, reiterates that BAT's investment in BARH and its (BAT's) Lucky Strike advertising programme are separate issues, and that the running (for which read 'funding') of the team will be unaffected by tobacco legislation in the short to medium term. "BAT is fully behind the company," he says, "and can still own the team even if it can't advertise. There is a full commitment to and beyond 2006. We expect to find another major title sponsor by the end of 2006."
BARH's interpretation of the law, though, could cause some anxious moments in Brackley. Until the British Government clarifies its interpretation of the law, that is. Indications are that the authorities believe British subjects (persons or companies) causing tobacco images to be transmitted in or to the UK to be guilty of an offence; BARH believes, as is the case elsewhere in Europe, this interpretation never to have been the intention of the law. So, as of now, Lucky Strike BAR-Honda intends running full tobacco livery at races outside Europe after 31 July.
But, if their interpretation is wrong; could the directors go to jail. "Yes," says Fry immediately, "in that case the directors would be guilty of an offence and could be punished accordingly, but we will cross that bridge when we get to it. We have asked for clarification (from the British authorities) on many occasions, and none has been forthcoming, but there is time yet. We would never knowingly commit an offence, nor expect our employees to do so. But we need the clarification urgently."
"Crossing that bridge" is also BAR-Honda's philosophy when their post- July livery is queried. Would the cars run in Lucky Strike colours, but without branding if the law goes against BARH? "We'll see when we get there."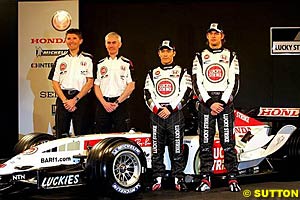 At the launch, rumours abounded that Honda's RA005E has yet to run 1000 problem-free kilometres (two Grand Prix weekend distances), and that Button needs to score a minimum of 70% of the Championship leader's points by 31 July if BAR-Honda wish to hold on to their star. Fry is quick to refute the former, and is adamant the latter is achievable.
"It (the engine) has run more than that on numerous occasions without problems, so I don't know where that comes from. As for Jenson, I am not going to discuss the terms of his contract, but whatever performances clauses are included are achievable."
All BAR-Honda need to win the world championship is, Fry believes, time. "We have the right levels and calibre of manpower, we have a new wind tunnel, capable of accommodating a full size Formula One car, coming on stream during the middle of 2006, and our long-term funding is assured. We don't require significant assets beyond the tunnel, all we need is time."
BAR-Honda intends spreading their 2005 testing loads over four drivers: "Jenson and Takuma (Sato) will concentrate on ultimate performance testing when race schedules permit, whilst Anthony Davidson will do some of that plus durability testing. Then we have Enrique Bernoldi doing more durability work, so we can have various programmes going at the same time. That is why you may see large differences in times at the same circuit on the same day, because we are testing different things."
Driver development, too, is ongoing. "We are committed to our Young Driver programme," says Fry, and the three drivers we previously tested drive again later this month. We have short term contracts in place with each of them – Alan van der Merwe, Adam Carroll and James Rossiter – which cover us until those tests," he says of the programme which saw the Swiss-South African and both Brits averaging a race distance each at Jerez in December.
All fine and well, so far, and even, one feels, a touch corporate. Does Fry, therefore, believe that the days of "one-man band" teams are over; that corporations will in future rule grids? "I think the business lies between the two. It is too big and demanding to be a one-man band-type operation, as you call it, but, equally, you have to move quickly, way quicker than corporations can. But it needs the processes of a corporation, and the skill lies in balancing it between the two."
Of course, a team principal is not measured by skills, systems and philosophies, but by their effects on F1's bottom line: performance. And, too often, team principals are hamstrung by the commercial, technical and sporting politics of the business. How does Fry see the future of F1? "The future of Formula One needs sorting," he answers immediately. "There are three areas: commercial, quality (of the show) and technical, which to us, and more specifically, Honda, is as important as the commercial. We believe that by sorting out quality and the technical, the commercial sorts itself out.
"One has to set clear long-term objectives," says the professional manager, "and how one achieves them is secondary. If, for example, we are required to all have common brakes, that is short-termism and costs money. All change costs money, and small changes have no effect in any event, the way we see it, because the money will just be spent elsewhere.
"Formula One needs to adopt long-termism, and then the short terms will sort themselves. A function of Formula One budgets is that shareholders - make that "stakeholders' – at Ferrari, at other teams, will spend whatever they believe their return needs to be."
As regards the GPWC, Fry admits that BAR-Honda, though totally neutral, is involved in "ongoing discussions' with the breakaway body. "If we all pull together, the sport has huge potential global popularity. Right now we are good, with a massive fan base, but what are we missing?"
BAR-Honda under Nick Fry, though, seem to be missing nothing. Apart from, that is, a maiden victory, which he is adamant, will come in 2005. "Or we will all have failed."
---
© 2007 autosport.com . This service is provided under the Atlas F1
terms and conditions
.
Please
Contact Us
for permission to republish this or any other material from Atlas F1.