Advice: The points tables for most series covered by Elsewhere In Racing are available here. Individual series are linked to their corresponding points table after each report.
Rally Raid
Consecutive Titles
In 2001 KTM and Mitsubishi won the Dakar Rally for bikes and cars. That result has not changed in the four years since then. Similarly Kamaz has won the Dakar for Trucks each year since 2002. Those results did not change this year as Cyril Despres and Firdaus Kabirov won their first Dakar Rallies while Mitsubishi's Stephane Peterhansel won his eighth Dakar, his second behind the wheel of a Pajero Evolution.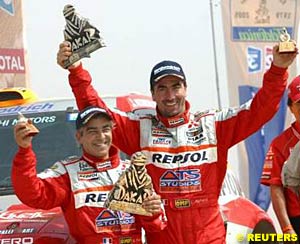 The rally entered Stage 12 with Peterhansel holding a twenty minute lead over teammate Luc Alphand with Jutta Kleinschmidt's Volkswagen 68 minutes behind. The gap to the rest was measured in hours.
With the crossing of the border into Mali, the stages became firmer and the soft sand advantage of the Mitsubishis came back to the field, but the time they had gained was significant. On the firmer surfaces the Nissans in particular came back to the fore with Giniel de Villiers winning Stage 12 at Bamako, Ari Vatanen winning Stage 14 at Tambacounda with the rally entering Senegal, and de Villiers struck again on Stage 15, the final stage of any distance to Dakar.
However Peterhansel won Stage 13 at Kayes and kept close enough tabs on Kleinschmidt that the 2001 champion, who started Mitsubishi's run, never got close. Each day Peterhansel, with Alphand in close company, pulled another ten minutes clear of Kleinschmidt until Stage 14 where a seemingly innocuous incident with a small tree damaged the Touareg's power steering and they lost any remaining hope. On Stage 15 Mitsubishi applied team orders to Alphand and the finishing order was settled.
Peterhansel entered the control point at Lac Rose 23 minutes ahead of Alphand, providing another demonstration of Mitsubishi's superiority on the toughest motorsport event in the world. Nine hours behind was the third Pajero of Nani Roma in sixth position. Mitsubishi had lost Hiroshi Masuoka and Andrea Mayer during the second week, but in the end it mattered little.
Kleinschmidt was over three hours down at Lac Rose in third position. With Volkswagen still developing their turbo diesel Touaregs they could not be totally disappointed. Bruno Saby ably backed up Kleinschmidt, finishing in fifth position, almost nine hours behind. Robby Gordon finished his first Dakar in twelfth. A top ten position was possible for the NASCAR racer but playing fast service vehicle for Kleinschmidt was more important that dicing for positions at the bottom of the ten so when Kleinschmidt lost time, so did Gordon. Juha Kankkunen's car was abandoned to help focus effort on the three other VWs.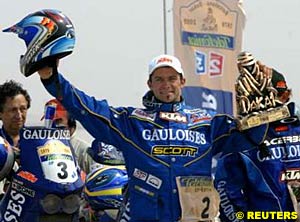 Nissan came away from the Dakar disappointed. The pace of all three cars was readily apparent with five Stage wins between them, but their flat stage speed was of no help in the heart of Mauritania where the rally is won and lost. They were not helped by the early retirement of Colin McRae in a semi-typical enormous crash for the Scot. Giniel de Villiers lost the least amount of time of only four hours, but it was an eternity that could not be overcome once the rally reached Mali and de Villiers started gaining time. Vatanen lost over a day, not including the ten hour penalty for not making the Stage closure at Tidjit, his position in the rally needing a calculator to determine it.
Carlos Sousa's run at the podium in the '03 model Nissan Dessoude team Pickup ended when a small problem needing assistance stopped him out in the Atar loop in the second week. With teammates Shinozuka and de Mevius having crashed out, Sousa had to wait seven hours for the service vehicle. Seventh was a poor reward for a sterling drive.
With the already delayed Josep Maria Servia bowing out of the rally after a roll in the final week a lot of interest left the buggies, but Thierry Magnaldi pulled off a second consecutive top ten finish and was again the first buggy home in the Honda-powered Fast and Speed team. Part of Schlesser's team won though with a Schlesser-specification gearbox loaned to Magnaldi after theirs failed.
Jose Luis Monterde was ninth in a disappointing run for the BMW X-Raid team after Nassar Al-Attiyah was climbing rapidly toward a podium prior to his rally-ending smash. Rounding out the top ten was the Tot Curses buggy of Raimon Dalmau.
Cyril Despres picked up a nine minute penalty for village speeding during the final week, pushing his pursuers tantalisingly close, but stage victories went to Andy Caldecott and Jean de Azavedo. Any of Marc Comas's gains were erased on Stage 15 when Despres won, sealing overall victory. Reaching Lac Rose Despres still had nine minutes on Coma.
Third was considerably closer, with Isidre Esteve Pujol needing to close a gap of 98 seconds on Alfie Cox to claim third place on the very last stage. On the final stage the Spaniard was second only to Kellon Walch, but Cox hung onto third place by a mere 22 seconds. Thirty minutes from the lead was David Fretigne on the Yamaha, lacking only horsepower to match the KTMs ahead of him. Andy Caldecott won his second stage on Stage 13 and claimed sixth ahead of de Azavedo, veteran Giovanni Sala, young American rookie Chris Blais and the last of the factory supported KTMs of Jean Brucy.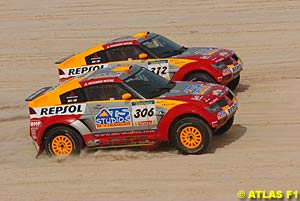 A last minute drama nearly took the rally from Kamaz. Kabirov lost thirty minutes on Stage 13 but any remote threat was removed from the Rally when the DAF of Hans Bekx was disqualified on the final night of the rally while three hours arrears of Kabirov in second place. This gave second to the rally's veteran of veterans, the Hino Ranger of Yoshimasa Sugawara. Another experienced campaigner Giacomo Vismara finished third in his Mercedes Unimog in a result that stunned the small team as the larger engined trucks ahead of him progressively failed.
Vladimir Tchaguine was back to his best collecting Stage wins into Mali, however after losing almost a day running out of fuel in Stage 7 he was well outside the top ten. After the crash of Ilgizar Mardeev put the team's third Kamaz out of the event, all the team focused on Kabirov. Behind Vismara were the father and son de Rooy team in their DAFs, father Jan seven and a half hours from Kabirov, son Gerard another two hours distant. Another son, Teruhito Sugawara was next in the second Hino Ranger with former WRC hotshot Markku Alen seventh in the remaining Iveco Eurocargo.
Questions have been raised after the deaths of Jose Perez and Fabrizio Meoni at the end of the second week, and three partially related deaths outside of the rally proper in traffic accidents.
For Yamaha, Nissan, Volkswagen, Tatra and DAF have some preparation ahead of them if they are to unseat the title holders for the 2006 event, for KTM, Mitsubishi and Kamaz look to have a performance advantage sufficiently large to mean each could be nothing but favorites to win again in 2006.
Barcelona-Dakar Rally, Dakar, Senegal:

Cars

Pos  Driver                                   Car
 1.  Stephane Peterhansel/Jean-Paul Cottret   Mitsubishi Pajero Evo III
 2.  Luc Alphand/Gilles Picard                Mitsubishi Pajero Evo III
 3.  Jutta Kleinschmidt/Fabrizia Pons         Volkswagen Touareg
 4.  Giniel de Villiers/Jean-Marie Lurquin    Nissan Pickup
 5.  Bruno Saby/Michel Perin                  Volkswagen Touareg
 6.  Nani Roma/Henri Magne                    Mitsubishi Pajero Evo III
 7.  Carlos Sousa/Thierry Delli-Zotti         Nissan Pickup
 8.  Thierry Magnaldi/Jean-Paul Forthomme     Fast & Speed Honda Evo 3
 9.  Jose Luis Monterde/Rafael Tornabell      BMW X5
10.  Ramon Dalmau/Enric Oller                 Tot Curses JLA2

Motorcycles

Pos  Driver                Bike
 1.  Cyril Despres         KTM 660 Rallye
 2.  Marc Coma             KTM 660 Rallye
 3.  Alfie Cox             KTM 660 Rallye
 4.  Isidre Esteve Pujol   KTM 660 Rallye
 5.  David Fretigne        Yamaha 450WR 2WD
 6.  Andy Caldecott        KTM 660
 7.  Jean de Azavedo       KTM 660
 8.  Giovanni Sala         KTM 660 Rallye
 9.  Chris Blais           KTM 660 Rallye
10.  Jean Brucy            KTM 660 Rallye

Trucks

Pos  Driver/Co-drivers                        Truck
 1.  Firdaus Kabirov/A.Belyaev/A.Mokeev       Kamaz 4911
 2.  Yoshimasa Sugawara/K.Hamura              Hino Ranger FT
 3.  Giacomo Vismara/C.Bellina/M.Cambiaghi    Mercedes Unimog
 4.  Jan de Rooy/D.Colebunders/C.Smulders     DAF FAV 75
 5.  Gerard de Rooy/T.Colsoul/A.Slaats        DAF FAV 75
 6.  Teruhito Sugawara/S.Suzuki               Hino Ranger FT
 7.  Markku Alen/G.Toni/A.Micozzi             Iveco Eurocargo
 8.  Karl Sadlauer/F.Maier/M.Mayer            MAN L90
 9.  Peter Reif/G.Pichlbauer/S.Huber          MAN LE 18280
10.  Jan Govaere/M.Gheradyn/Y.Despiegelaere   Ginaf X2222

Deaths Put Dakar Safety Under Scrutiny
By Andrew Gray
In the early morning before the final stage of the 2005 Dakar rally, the motorbike riders knelt on the beach and faced the Atlantic Ocean, holding a simple banner with the words "Ciao Fabrizio".
Fabrizio Meoni of Italy, twice winner of the rally, was one of two motorcyclists killed in this year's 17-day event -- reviving questions about whether the famous race can be made safer and whether it should even take place at all.
A French member of parliament has written to his Prime Minister to demand the race be outlawed, arguing you cannot encourage road safety at home while allowing drivers and motorcyclists to roar around Africa at dangerously high speeds.
Austrian motorcycle manufacturer KTM, which has provided machines for many top riders including Meoni, has called for talks with the rally organisers to improve safety and says its continued participation will depend on the outcome.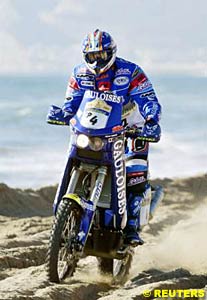 Yet the competitors who completed the course of some 9,000 km from Barcelona through Spain, Morocco, the deep dunes and sandstorms of Mauritania and then on to Mali and Senegal, seem to have few qualms about coming back next year.
While saddened by the deaths of Meoni and Spanish amateur Jose Manuel Perez, they say danger is part of the Dakar.
"It's always very sad to hear a competitor has died but this race is a trial and no one forces us to face this trial," said Mitsubishi driver Stephane Peterhansel, who won his second straight Dakar in the car event this year.
"We know we're coming here to have emotions, to get an adrenalin rush but we also know there's a large element of risk, particularly on the motorbikes," said the Frenchman, who took the bike title six times before switching to cars.
Cyril Despres, the French rider who won the bike event this year, has lost two close friends to rallying in just a few months -- Meoni and Richard Sainct, a three-times Dakar winner killed in the Pharaohs Rally in Egypt in September.
"All the riders who are here are in love with rallying above all, in love with the desert, in love with competing," he said.
"That's why I've done 25 rallies in four years and I want to continue," the KTM rider added. "Richard loved it, Fabrizio loved it and we love it more than anything."
Veteran Finnish driver Ari Vatanen, a four-times Dakar winner, said organisers should always be looking to improve safety but dismissed the idea of a ban.
"You might as well stop any human activity," declared Vatanen, who is also a member of the European parliament. "Man has to always discover new things, has to risk things, has to jump into the unknown."
The risk of death has always gone hand in hand with the event, which began life in December 1978 as the Paris-Dakar rally but no longer starts from the French capital. Twenty-two competitors have died over the years.
Some critics say it has become more dangerous in recent years as organisers have forced the riders and drivers to stick to a narrowly defined route -- meaning they cannot win through navigation skills and must compete mainly on speed.
Ironically, the route limits were imposed for safety reasons -- to stop competitors getting lost in the vast Sahara Desert.
Race organisational director Etienne Lavigne said it may be time to look at introducing different rules for professionals and amateurs -- giving more freedom to the well equipped and experienced while keeping more restrictions on amateurs.
"It's very difficult to compromise between all these requirements of professionals and gentlemen, or amateurs," he said.
Safety report provided by Reuters
Rally
Loeb Relaxed As Citroen Prepare To Say farewell
By Alan Baldwin
World champion Sebastien Loeb says the pressure is off as his Citroen team go into their farewell season.
Loeb will be the man to beat, both in the traditional Monte Carlo season-opener that starts on Friday and over the course of the year, but he is sounding pretty laid-back about the challenge ahead.
"I feel liberated," said the former gymnast, who did a victory backflip after racking up his record-equalling sixth win of the season last year to become France's first rally champion in a decade.
"Whatever happens now I've achieved my goal and fulfilled every rally driver's dream.
"Some say that the first conquest is the most difficult. We'll see. What's certain however is that I haven't had my fill behind the wheel. I feel the same desire to win. I want this to be a fantastic season for Citroen."
Citroen, champions for the past two years, and their stablemates Peugeot have already announced that they are quitting after this year's championship.
Even if some are still hoping that Citroen will have a rethink, the team has abandoned plans to introduce a new C4 car this year and will instead continue with the familiar Xsara.
Peugeot, winners of the manufacturers' crown for the three years before Citroen's first success, are entering the new world touring car series.
"Everyone is of course aware of the decisions that were announced at the end of 2004," said Citroen team boss Guy Frequelin. "They have sunk in but we don't intend mulling over them all season.
"We have much better things to be getting on with."
French Duel
Both of the French carmakers want to go out on a high and their duel should set the tone of a championship that can count on strong manufacturer support even if the future looks uncertain.
Ford and Subaru will be pushing hard while Mitsubishi and Skoda are also competing in all 16 rounds of what could be a far less predictable campaign.
Cost-saving measures have been introduced, such as engines having to last for two rallies in a row, and many of the drivers have traded places, with some new faces drafted in.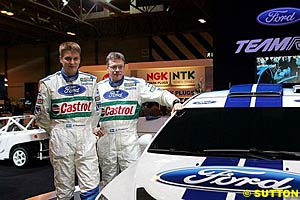 Ford, who have made a long-term commitment to the championship, have an all-new line-up in Finland's Toni Gardemeister and Czech Roman Kresta.
Belgian Francois Duval, who was at Ford, joins Loeb and replaces Spaniard Carlos Sainz who has finally brought rallying's most successful career to an end.
Peugeot have signed Estonian Markko Martin from Ford and switched from Michelin to Pirelli tyres in search of an additional advantage. Double champion Marcus Gronholm, 37 next month, will be their main hope.
"With Markko coming in to reinforce our line-up alongside Marcus, we have two of the best drivers of the moment," said team boss Corrado Provera.
"While the 307 WRC proved competitive -- if too fragile -- last year, we ended the 2004 season and completed our recent test programme without any reliability problems, so that's reassuring."
Subaru have 2003 world champion Petter Solberg of Norway as their main driver alongside France's Stephane Sarrazin and Australian Chris Atkinson.
They plan to wait however before giving their 2005 car its rally debut.
Conservative Approach
"Our overall objective this season is to make Petter world champion," said team boss David Lapworth.
"We'll be following a slightly conservative approach for the first two rallies, both technically and in terms of driver strategy," he added.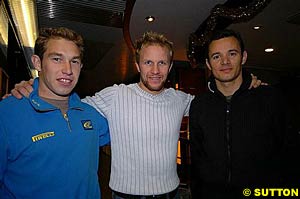 "Monte Carlo and Sweden are specialised and the focus is on tyres and tactics, so we feel there's little to be gained by introducing a new car at this time.
"From Mexico onwards it's the car that counts...we start being less conservative and more focused on wins."
Sarrazin, who has raced in Formula One and served as a Formula One test driver for Prost and Toyota, has had a meteoric rise to the top after making a big impression with a privately-entered Subaru last year.
The Frenchman won his national rally championship at the first attempt and finished a remarkable fourth in Catalunya on one of his three WRC events.
"His focus has to be gaining experience," said Lapworth.
Atkinson also faces a steep learning curve, having never before raced a world championship specification car, when he makes his debut in the second round in Sweden next month.
"I'm not going to rush things or push too quickly," he told Autosport magazine recently. "I'm here to learn. The time when I might start to go quicker is when I come to the rallies I've competed on before."
Entries, Classification 1 & 2 drivers, Monte Carlo Rally:

No  Driver/Co-driver                    Car
 1. Sebastien Loeb/Daniel Elena         Citroen Xsara WRC
 2. Francois Duval/Stephane Prevot      Citroen Xsara WRC
 3. Toni Gardemeister/Jakke Honkanen    Ford Focus RS WRC 04
 4. Roman Kresta/Jan Tomanek            Ford Focus RS WRC 04
 5. Petter Solberg/Philip Mills         Subaru Impreza WRC 2004
 6. Stephane Sarrazin/Jacques Renucci   Subaru Impreza WRC 2004
 7. Marcus Gronholm/Timo Rautiainen     Peugeot 307 WRC
 8. Markko Martin/Michael Park          Peugeot 307 WRC
 9. Harri Rovanpera/Risto Pietilainen   Mitsubishi Lancer WRC05
10. Gilles Panizzi/Herve Panizzi        Mitsubishi Lancer WRC05
11. Armin Schwarz/Klaus Wicha           Skoda Fabia WRC
12. Alex Bengue/Caroline Escudero       Skoda Fabia WRC
14. Antony Warmbold/Damien Connelly     Ford Focus RS WRC 04
61. Didier Auriol/Denis Giraudet        Peugeot 206 WRC
62. Manfred Stohl/Ilka Minor            Citroen Xsara WRC
63. Xavier Pons/Oriol Julia             Peugeot 206 WRC

Rally                 Dates
Monte Carlo           January 21-23
Sweden                February 11-13
Mexico                March 11-13
New Zealand           April 8-10
Italy (Sardinia)      April 29-May 1
Cyprus                May 13-15
Turkey                June 3-5
Greece (Acropolis)    June 24-26
Argentina             July 15-17
Finland               August 5-7
Germany               August 26-28
Britain (Wales)       September 16-18
Japan                 September 30-October 2
France (Corsica)      October 21-23
Spain (Catalunya)     October 28-30
Australia             November 11-13 

Report provided by Reuters
MotoGP
Biaggi Gets Factory Honda Ride For 2005
Italian Max Biaggi will ride for the factory Honda team in the MotoGP world championship this season.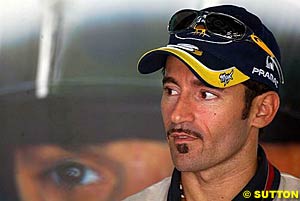 Biaggi, a four time champion in 250cc, has finished third in the past two seasons riding for a Honda satellite team.
Honda said on their official team website that Biaggi and American Nicky Hayden would be their two riders for the upcoming season.
The Italian, who broke his leg in training for a Supermoto race in November, said he was delighted to have finally secured a top ride with Honda.
"It is every rider's dream to race an official Honda and it has been my personal aim," Biaggi told the Italian news agency ANSA.
"Joining Honda is the best way for me to express my potential and my ability," he added.
Biaggi has frequently stated that he felt at a disadvantage in his battle with compatriot Valentino Rossi due to not having an official Honda to race.
Yamaha's Rossi has won the last four world championships.
Report provided by Reuters
A1 GP
Brands Hatch To Host A1 Series Debut
By Alan Baldwin
England's Brands Hatch circuit will host the opening round of the new Dubai-based A1 GP series next September, organisers said on Thursday.
The series is designed to fill the gap over the European winter months when the Formula One season is over.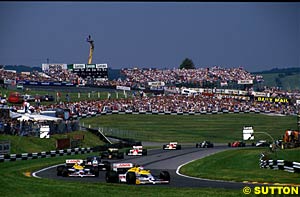 "The UK plays a very important part in the heart of international motorsport and has a great heritage, so in many ways it is fitting that the first ever A1 race is held there," said series founder Sheikh Maktoum Hasher Maktoum al Maktoum.
Jonathan Palmer, whose company owns the Brands Hatch circuit in Kent, southern England, said at the Autosport International show that the September 18 race could be the fastest at the track since the 1986 British Grand Prix.
"We're going to have a world class car race there again," said the former Formula One driver, who competed there in 1986. "We are intending for the race to take place on the grand prix circuit.
"It's a fantastic track and tremendously scenic for the television cameras. We are now working very hard to upgrade this part of the circuit," he added.
"We need to make considerable modifications to bring it up to modern safety standards."
The A1 series has been billed as the 'World Cup of Motorsport', with national teams signing up on a franchise basis to run identical V8-powered Lola cars provided by the organisers.
Maktoum said 13 countries had signed up so far with at least 23 scheduled to take part. Those confirmed include Australia, Britain, Canada, China and Lebanon.
Britain's 1964 Formula One champion John Surtees, the only man to win world titles on two wheels and four, is involved with his country's entry.
Report provided by Reuters
Briefs
Signings continue in America, where Chip Ganassi Racing have finally confirmed former Toyota F1 test driver Ryan Briscoe in a third car for the team, joining the team's 2004 drivers Scott Dixon and Darren Manning.

Panther Racing have also committed to a second car for 2005 with Czech Tomas Enge to drive alongside namesake South African Tomas Scheckter at the leading Chevrolet-powered squad. In other IRL news Dreyer & Reinbold Racing have signed Roger Yasukawa and will shift from Chevrolet to Honda.

Meanwhile the annual battle between American and European sports car philosophies is almost ready. The Daytona 24 Hour held its test days last weekend, with Riley-Pontiac racer Max Angelelli (Howard Boss Motorsports) topping the timesheets with a time of 1:48.770. 27 European-style GT cars will race against 31 of the locally-developed Daytona Prototypes. The DP cars having been practicing at around eight seconds a lap faster than the top GT cars. Hollywood veteran Paul Newman was involved in a fiery crash in his Crawford-Ford but was not harmed. Randy Pobst set the fastest time (1:56.604) in the GT class in the TPC Racing prepared Porsche 996 GT3.
Upcoming Events Calendar
January 21 - World Rally Championship, Round 1 of 16; Rallye Automobile Monte Carlo, Monaco
February 3 - Grand Am Sports Car Series Round 1, Daytona 24 Hour, Daytona, Florida, Unites States