Car Briefs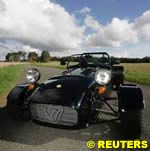 Caterham, the company that bought the rights to the Lotus 7 in 1973, has been sold.
Owned by the founding family for the last 32 years, Caterham turned the unwanted Lotus 7 into the car industry's most unexpected success. Sales last year were 500 cars generating £15 million in sales. Lotus had stopped making the car because they wanted to move upmarket where profits were thought to be better. Ironically, every Lotus for the following 20 years struggled to make any money and only the Elise, basically a modern interpretation of the Lotus 7, was a commercial success.
In another ironic twist, the new management is led by ex-Lotus General Manager, Ansar Ali, who presumably will keep Caterham in its present niche.
Toyota has reported record European sales for 2004.
Total European sales were up 10% to over 915,000 units for a 5% market share and Toyota is forecasting 980,000 sales in 2005 (unlike some manufacturers, Toyota has a history of exceeding targets, so the actual figure could reach 1 million). The significance of these figures is that they blur the line between the traditional European "Big Six" and the rest of the industry. Once Toyota rise above 5%, it is within striking distance of Fiat which currently has just over 7% of the market. A Japanese company overtaking a major European manufacturer in its home region really would be a landmark.
Most models recorded record sales figures, but the biggest growth came from the Prius petrol electric hybrid. With sales up 847% to 8,000, it has gone from being a novelty item to a serious vehicle. If hybrids catch on in Europe as they have in the States where over 100,000 a year are sold, Toyota will be laughing - over half the hybrids manufactured worldwide are Toyotas.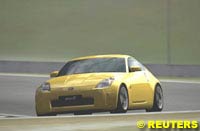 In a case of real life following virtual reality, Nissan is launching a limited edition, higher powered 350Z in association with the Sony Playstation game, Gran Turismo 4.
The car will go on sale on February 1 at, you guessed it, 3.50 p.m. It will be priced at £29,950 and will feature an uprated 300 bhp engine, 18 inch alloy wheels, cruise control, a complementary Sony PS2 with a GT4 game and a 240 watt Bose stereo with 6-CD autochanger. It will be available in either black or "Ultra Yellow" which uses a high-luminance pearl pigment along with three layers of top coat which apparently is "eyeball-wrenching".

More U.S.-Built Cars Headed for Europe
U.S. automakers plan to step up European sales of cars built in North America as a way to take advantage of the dollar's weakness against the euro, newspapers have reported.
It would mark a strategic departure for U.S. manufacturers, which traditionally have exported a negligible number of U.S.-built cars to Europe.
Germany's Automobilwoche industry paper said on Monday DaimlerChrysler would launch U.S.-based Dodge as an entry-level brand targeted at young people in Europe next month.
It quoted Thomas Hausch, international marketing director for Chrysler, as saying the group's U.S. arm expected to generate "up to 30 percent" of its global sales from Dodge in Europe by 2007. That would be around 30,000 cars at today's levels.
A DaimlerChrysler spokesman in Stuttgart said he could not confirm the report, which said Dodge would offer more than three model lines in Europe, including a compact car based on the Mitsubishi Lancer platform to replace the Neon model in 2006.
It also quoted General Motors product development chief Bob Lutz as saying the world's biggest carmaker planned to offer GMC brand sport utility vehicles in Europe in one or two years, expanding its range to seven brands. Automobilwoche said GM aimed to sell up to 15,000 GMC vehicles in Europe by 2010 in addition to boosting sales of U.S.-made Chevrolet cars.
Automobilwoche's sister publication Automobile News reported that GM may also assemble some Opel and Vauxhall vehicles in North America, then ship them to Europe. It said one could be built on GM's rear-drive Kappa vehicle architecture, which is shared by the two-passenger 2006 Pontiac Solstice and 2007 Saturn Sky roadsters.
A vehicle built on the redesigned front-drive Epsilon mid-sized car platform was another possibility, it quoted Hans Demant, GM Europe's head of engineering, as saying.
"I think we have some pretty good opportunities, and with today's exchange rate this might finally make a lot of sense," Demant said.
Mark Fields, the head of Ford's stable of European luxury brands, told Reuters at the Detroit car show last week that he would eagerly consider building cars in North America should he bump up against capacity restraints in Europe.

Mitsubishi Motors in Talks with Peugeot
Mitsubishi Motors says it is in tie-up talks with PSA Peugeot Citroen, but the French firm has ruled out a share deal and Japanese analysts doubted the negotiations would quickly boost the troubled Japanese car manufacturer's business.
Mitsubishi Motors, reeling from financial problems and a scandal over its cover-ups of defects, said on Tuesday it was studying the possibility of partnerships with the French manufacturer and others to revitalise its business as soon as possible.
"It is true that Mitsubishi Motors is studying the possibility of a business tie-up with PSA Peugeot Citroen," company spokesman Junji Nishihata said. "(But) there are no concrete details decided at this point."
Media reports at the weekend said that MMC had reached a basic agreement to provide Peugeot, Europe's second-biggest car maker, with some 40,000 vehicles annually. An official at Peugeot's Japanese sales arm, Peugeot Japon, declined to comment. PSA Peugeot Citroen in France said it was in contact with Mitsubishi but had not agreed on any cooperation project.
A company spokesman also said an exchange of stakes was not on the agenda.
"We are in contact with most international manufacturers as part of our cooperation policy. There are therefore no talks about an equity deal between PSA and other manufacturers," a PSA Peugeot spokesman said. "We have contact with Mitsubishi as we do with other global car manufacturers," he added.
A strategy of providing vehicles to other car makers is expected to form the centrepiece of MMC's revival plan, which will be unveiled by the end of this month, but analysts say limited production tie-ups would be disappointing.
"MMC certainly needs partners, as they will help raise its under-utilised production capacities, but that won't solve its fundamental problem of a sharp fall in sales," Nomura Securities analyst Shinya Naruse said.
"A production supply agreement of some 40,000 cars a year will hardly bolster the business of a car maker producing 1.3 million cars a year globally."
Deep Trouble
MMC, Japan's only unprofitable auto maker, is struggling to improve its fortunes after former majority shareholder DaimlerChrysler AG gave up on its rehabilitation in April last year.
MMC has also suffered one of the industry's worst-ever recall scandals after it was revealed in 2000 that it had been hiding safety records and secretly repairing vehicles for two decades in Japan. Its car sales dived 41 percent in 2004 but have yet to show any sign of bottoming out.
MMC and Japan's second-biggest car maker, Nissan Motor Co., are discussing a possible expansion of their tie-up in the minivehicle segment, such as through a new joint venture. The Yomiuri Shimbun newspaper reported on Sunday that MMC had agreed to build the minivehicle "eK wagon" under the Nissan brand, but the two parties had decided to continue talks on a joint venture plan.
Broadcaster NHK said Mitsubishi Motors would build 30,000 newly developed sport-utility vehicles and 10,000 trucks for Peugeot for sale under its brand.
Rich Gilligan, chief executive of the Japanese firm's North American operations, on Sunday declined to comment on a tie-up with Peugeot but said MMC would be "excited" to build products for any auto maker to fill its under-utilised Normal, Illinois plant's capacity.
Last November Peugeot Chairman Jean-Martin Folz told a Japanese newspaper it might expand its line-up by buying cars from MMC on an original equipment manufacturing basis. He denied there was any possibility of making a capital investment in MMC.