---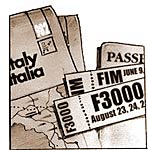 Elsewhere in Racing
Updates from the Rest of the Racing World
---
By Mark Alan Jones and David Wright, Australia
Atlas F1 Magazine Writers
Advice: The points tables for most series covered by Elsewhere In Racing are available here. Individual series are linked to their corresponding points table after each report.
Sportscars
Daytona Looms
The annual battle between American and European sports car philosophies will be held this weekend. The entry this year is as star studded as it has ever been, with stars of NASCAR, Champ Cars, IRL and ALMS well represented. The odds do have to favour the Daytona Prototypes however. With three years of solid racing development behind them now, they are lapping around eight seconds faster than the best of the GT cars, and have bragging rights over the best drivers too.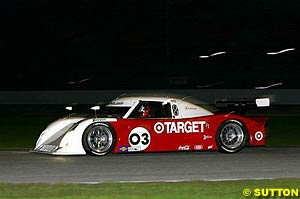 The recent test days revealed Riley-Pontiac racer Max Angelelli (Howard Boss Motorsports) at the top of the timesheets with a time of 1:48.770. 35 European-style GT cars will race against 29 of the locally developed Daytona Prototypes. Hollywood veteran Paul Newman was involved in a fiery crash in his Crawford-Ford but was not harmed. Randy Pobst set the fastest time (1:56.604) in the GT class in the TPC Racing prepared Porsche 996 GT3.
The strongest team on paper is the three car team fielded by US racing giant, Chip Ganassi Racing. The former champions of IRL and CART have entered three cars staffed by their NASCAR and IRL drivers, with Scott Pruett teamed with Luis Diaz and new IRL sensation Ryan Briscoe in #01. #02 has NASCAR hotfoot Jamie McMurray with sports car veteran Stefan Johansson and Cort Wagner with the #03 car staffed by IRL pair Scott Dixon and Darren Manning with Casey Mears finishing the trio.
Penske are also represented through an association with the Howard Boss Motorsports team of three Crawford-Pontiacs boasting drivers such as the Franchitti brothers Dario and Marino, Jimmie Johnson, Tony Stewart, Andy Wallace and Jan Lammers.
Doran Racing too look strong with the veteran Labonte brothers Terry and Bobby teaming with Bryan Herta and Jan Magnussen in the Pontiac-powered car while the Toyota Lexus-powered teammates have FIA GT racers Fabrizio Gollin, Matteo Bobbi and Didier Theys.
Ford have sent their drivers in the form of Kurt Busch, Matt Kenseth, Greg Biffle and Scott Maxwell to team up in the leading Multimatic entry. Elsewhere in the entry you can find Sebastien Bourdais, Paul Tracy, Buddy Rice, Cristiano da Matta, Dan Wheldon, Marcos Ambrose, Scott Sharp, Hurley Haywood, Guy Smith, Christian Fittipaldi, Max Papis, Butch Leitzinger, Karl Wendlinger, Roberto Moreno, Taki Inoue, Johnny Unser, Emmanuel Collard, Dieter Quester, Terry Borcheller, Ralf Kelleners, Lucas Luhr, Sascha Maassen, Timo Bernhard, Romain Dumas, Oliver Gavin, Jorg Bergmeister, Boris Said, Kevin Buckler, Milka Duno, Memo Gidley, Michael Valiante, Bill Auberlen, Paul Morris, Craig Baird and Wolf Henzler.
The result is that the race result will probably be undecided until well past the 20 hour mark, and maybe even deeper into the race.
Leading entries, Rolex 24 of Daytona:

Daytona Protoypes

No Drivers                                  Car
01 Scott Pruett/Luis Diaz/Ryan Briscoe      Riley-Lexus
 2 Milka Duno/Dario Franchitti/             Crawford-Pontiac
   Marino Franchitti
02 Jamie McMurray/Stefan Johansson/         Riley-Lexus
   Cort Wagner
03 Casey Mears/Scott Dixon/Darren Manning   Riley-Lexus
   
 4 Butch Leitzinger/Jimmie Johnson/         Crawford-Pontiac
   Elliot Forbes-Robinson
10 Wayne Taylor/Max Angelelli/              Riley-Pontiac
   Emmanuel Collard
20 Andy Wallace/Jan Lammers/Tony Stewart    Crawford-Pontiac
   
39 Jim Matthews/Marc Goosens/               Riley-Pontiac
   Guy Smith/Scott Sharp
44 Terry Labonte/Bobby Labonte/             Doran-Pontiac
   Bryan Herta/Jan Magnussen
49 Scott Maxwell/Kurt Busch/                Multimatic-Ford
   Matt Kenseth/Greg Biffle
54 Terry Borcheller/Paul Tracy/             Doran-Pontiac
   Christian Fittipaldi/Forest Barber/
   Ralf Kelleners
58 David Donohue/Darren Law/                Fabcar-Porsche
   Lucas Luhr/Sascha Maassen
59 Hurley Haywood/JC France/                Fabcar-Porsche
   Mike Rockenfeller/Timo Bernhard/
   Romain Dumas
66 Max Papis/Jorg Bergmeister/              Riley-Pontiac
   Oliver Gavin
67 Tracy Krohn/Nic Jonsson/                 Riley-Pontiac
   Buddy Rice/Boris Said
77 Fabrizio Gollin/Matteo Bobbi/            Doran-Lexus
   Didier Theys
79 Paul Newman/Michael Brockman/            Crawford-Ford
   Sebastien Bourdais/Cristiano da Matta
   
GT

No Drivers                                  Car
 0 Paul Morris/John Teulan/                 Porsche 996 GT3
   Marcos Ambrose/Craig Baird
21 Chris Gleason/Ian James/                 BMW M3
   Bill Auberlen/Joey Hand
51 Dieter Quester/Karl Wendlinger/          Porsche 996 GT3
   Johnny Mowlem/Vincent Vosse
52 Luca Drudi/Gabrio Rosa/                  Ferrari 360 Challenge
   Luis Monzon/Maria de Villota
65 Kevin Buckler/Marc Bunting/Andy Lally/   Porsche 996 GT3
   Carlos de Quesada/Hugh Plumn

Briefs
GP2 continues to marsh steadily towards its first ever race meeting with Durango announcing its driver line-up as British Formula 3 graduate Clivio Piccione and former AEZ Engineering Formula 300 driver Ferdinando Monfardini. New team at this level David Price Racing has added Formula Nissan racer Olivier Pla to Formula Renault V6 runner-up Ryan Sharp. Second generation racing Finn Nico Rosberg will be jumping from the F3 Euroseries into ART Engineering's GP2 Dallara. The final F3000 champs Arden Engineering had previously announced Heikki Kovalainen and Nicholas Lapierre.

In a fillip for the Champ Car Series, PKV Racing has signed former Toyota Formula One driver Cristiano da Matta. The Brazilian won the 2002 Champ Car World Series driving for the Newman-Hass Racing team, who are reigning champions this year through Frenchman Sebastian Bourdais. Da Matta spent the last two seasons in Formula One but was replaced towards the end of last season after he had struggled to assert himself against his older teammate Olivier Panis, and was replaced by Ricardo Zonta after the German Grand Prix. Da Matta will join team co-owner Jimmy Vasser in the team's driver line-up, replacing Roberto Gonzalez.

Audi R8 ALMS champ Pierre Kaffer will join the DTM for 2005, signing with Team Joest to race the Audi A4 DTM in the pan-European series. In other DTM news F3 Euroseries team Mucke Mootrsport have confirmed they will enter the DTM with a year-old Mercedes C-Class for lead driver Stefan Mucke.

Aston Martin has announced its driver line-up for 2005 for the new DBR9 GT racer. David Brabham, Tomas Enge, Peter Kox, Pedro Lamy, Stephane Ortelli and Darren Turner will share driving duties throughout the season which will begin with the Sebring 12 Hour in March, before refocussing on Le Mans in June. For Enge it will be a very busy year as he has already committed to an IRL campaign with Panther Racing as well as a partial LMES attack in Ferrari 550s.

MotoGP recent wrapped up an all-team test session at Sepang with Ducatis Loris Capirossi setting the fastest time ahead of Honda's leading 2004 rider Sete Gibernau. Yamaha lead rider Valentino Rossi was third quickest at the Malaysian venue with Colin Edwards adapting quickly to the M1 in his new team alongside Rossi, while privateer Yamaha riders Ruben Xaus and Toni Elias had more fraught tests. Nicky Hayden was the best of the factory Honda riders ahead of new teammate Max Biaggi who is back on a bike after breaking his leg late last year.
Upcoming Events Calendar
February 3 - Grand Am Sports Car Series Round 1, Rolex 24 at Daytona, Daytona International Raceway, Florida, Unites States
February 11 - World Rally Championship, Round 2 of 16, Swedish Rally
February 12 - NASCAR Nextel Cup, Budweiser Shootout, Daytona International Raceway, Florida, United States
February 17 - NASCAR Nextel Cup, Gatorade Duel at Daytona, Daytona International Raceway, Florida, United States
February 20 - NASCAR Nextel Cup, Round 1 of 36, Daytona 500, Daytona International Raceway, Florida, United States
February 26 - World Superbike Championship, Round 1 of 12, Qatar
February 27 - NASCAR Nextel Cup, Round 2 of 36, Auto Club 500, California Speedway, California, United States
---
© 2007 autosport.com . This service is provided under the Atlas F1
terms and conditions
.
Please
Contact Us
for permission to republish this or any other material from Atlas F1.