---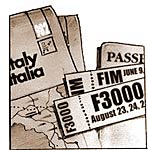 Elsewhere in Racing
Updates from the Rest of the Racing World
---
By Mark Alan Jones, Australia
Atlas F1 Magazine Writer
Rally
Richard Burns: Survivor, and World Champion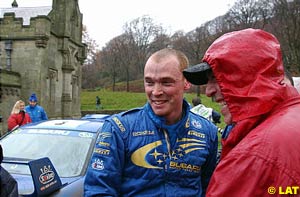 Marcus Gronholm, the outgoing World Rally Champion, won the RAC Rally of Great Britain, but the real battle was elsewhere in the field. Tommi Makinen, Colin McRae, Richard Burns and extreme outsider Carlos Sainz would fight out the World Championship in the closest finish in the history of the WRC. But like the TV series Survivor, one by one the rally voted the contenders out of the rally, and of the four only Burns made it to the finish. His prize wasn't a million dollars, it was better: the World Rally Championship.
On the opening stage of the rally Tommi Makinen broke the left front suspension on his Mitsubishi Lancer WRC and shed a wheel. Colin McRae had a huge accident on SS 4 destroying his Ford Focus WRC. Carlos Sainz was delayed by a puncture, stormed back into contention but then crashed off SS 11, hitting 15 spectators. All bar four of the spectators have been released from hospital, with only one of the spectators requiring any surgery. Stages 11 and 12 were cancelled and the distraught Sainz was withdrawn from the rally along with his teammate Mark Higgins.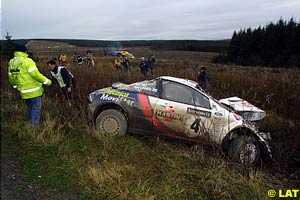 Fourth place would guarantee the title for Burns. Third was where Burns finished and on home territory he became Britain's second and England's first World Rally Champion. "It's great that it happened here. I had to change my focus completely after the first day. I've been trying and I've been close for the last three years," said Burns. "It's amazing, what else do you need to know? I'm ecstatic!"
"We've both been concentrating so hard and haven't had a chance to think about it. Now we've finished, it's absolutely amazing. I can't believe it." said Robert Reid. It's been a truly remarkable season.
Colin McRae made the initial running but it wasn't long before Marcus Gronholm had taken control of the rally. By the time McRae rolled, Gronholm was firmly in the lead of the rally. Burns was chasing hard, as was Didier Auriol. Harri Rovanpera was having handling issues with his Peugeot but still maintained touch with the top three. On Leg 2 Gronholm just moved further away, and as the weather deteriorated the gap become harder to bridge. Auriol spun off the road and had to wait for a group of spectators to arrive before the 206 could escape. Auriol dropped well down the order, but Rovanpera was now running cleanly and threatening Burns.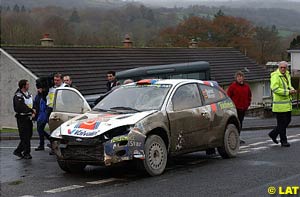 First and third were looking good for the manufacturers' crown, but the fight was over at the end of the day with Ford announcing that Carlos Sainz would not be continuing, confirming victory for Peugeot in the manufacturers' title chase. Rovanpera was the only mover on Leg 3, moving past Burns, but both Burns and Gronholm were making sure they'd finish to secure their respective victories. A 1-2 for Peugeot was the end result.
Subaru had the ultimate of highs, but it was not without concern after mechanical gremlins claimed both Markko Martin and Petter Solberg on the first day. Both Burns and Toshihiro Arai ran consistently, if a little slowly in Arai's case in the unfamiliar surrounds of the Welsh forests.
Hyundai had a brilliant rally. While they lost Piero Liatti on the first day with a broken clutch, Alister McRae had an almost clean sheet run. The only problem was the failure of the windscreen wipers on the unfortunately rainy final leg, and a loss of differential pressure on Leg 2.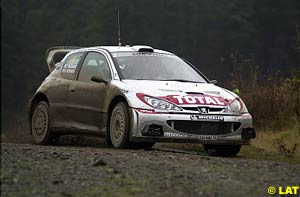 Fourth place was a sensational result, a great finish for McRae on his way to a new team, and a great fillip for Hyundai. Yet it got better as Kenneth Eriksson overcame the same wiper problem to finish sixth.
Skoda was not left out of the celebrations either as fifth place was taken by Armin Schwarz in a trouble free run. Bruno Thiry had rain leak into the car but claimed a top ten result nonetheless. Roman Kresta crashed out on Leg 2, providing the team's only disappointment.
Of the rest, Freddy Loix retired from his last event for Mitsubishi after his Lancer WRC gradually succumbed to differential and gearbox maladies. Mark Higgins had been taking it cautiously on his debut for Ford but was having some gearbox problems when Ford withdrew his car along with Sainz in the evening of Leg 2. Gregoire de Mevius snuck into the top ten in his privately entered Peugeot.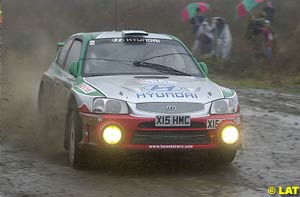 In the other classes, Sebastian Loeb made a clean sweep of the Super 1600 category with another class win in the Citreon Saxo. Andrea Dallavilla had second place until his Fiat Punto died with mere kilometres to go. Second was then claimed by another Saxo of Niall McShea. In Group N, David Higgins in a Subaru Impreza upset the Mitsubishi monopoly to win at home. Higgins only took the lead from Roman Ferreyros (Mitsubishi Lancer) in the final few stages.
Result of World Rally Championship, Round 14, Rally of Great Britain:

Pos  Driver                Car
 1.  Marcus Gronholm       Peugeot 206
 2.  Harri Rovanpera       Peugeot 206
 3.  Richard Burns         Subaru Impreza
 4.  Alister McRae         Hyundai Accent
 5.  Armin Schwarz         Skoda Octavia
 6.  Kenneth Eriksson      Hyundai Accent
 7.  Didier Auriol         Peugeot 206
 8.  Bruno Thiry           Skoda Octavia
 9.  Gregoire de Mevius    Peugeot 206
10.  Toshihiro Arai        Subaru Impreza

Standings: Richard Burns 44, Colin McRae 42, Tommi Makinen 41, Harri Rovanpera 36 and Marcus Gronholm 36, Carlos Sainz 33, Didier Auriol 23, Gilles Panizzi 22, Francois Delecour 15, Petter Solberg 11 etc.
Manufacturers' standings: Peugeot 106, Ford 86, Mitsubishi 69, Subaru 66, Skoda and Hyundai 17
Group N standings: Gabriel Pozzo 71, Gustavo Trelles 36, Manfred Stohl 23 etc.
Super 1600 standings: Sebastien Loeb 50, Andrea Dallavilla 30, Niall McShea 12 etc.
Formula 3
Sato Dominates the Intercontinental Cup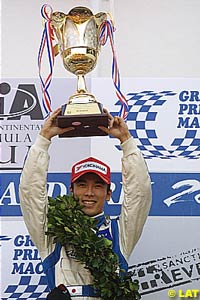 The last major open wheeler event for the year has ended with the result everyone expected. Takuma Sato has dominated Formula 3 this year in his Carlin Motorsport Dallara F301 Mugen, taking the blue ribbon series, the British Championship as well as the Zandvoort Marlboro Masters. Sato took the lead early in the first race and was not headed again for the day. Second for the event was Benoit Treluyer and Bjorn Wirdheim took third.
"I am totally happy now." said Jordan's new Formula One driver. "This is obviously my last major F3 Grand Prix race ever and I am so happy to come back here. It is always difficult to race here but in the end I drove so hard, enjoyed my racing and won."
Bjorn Wirdheim took pole position and held the early lead in Race One, but the race was red flagged after Derek Hayes and Sakon Yamamoto caused pile ups at successive corners. Sato pounced on Wirdheim at Lisboa corner after the second start and built a gap only to have it eliminated by the pace car after Ryo Fukuda crashed into the spun Jonathan Cochet at the end of the lap. At the restart Mark Taylor crashed at the final corner bringing the pace car out again. With a significant portion of the field eliminated the rest of the field was able to complete the race without further major blemish and Sato beat Wirdheim home by a second and a half. Third was Paolo Montin having taken Treluyer early in the race. Fifth was Kousuke Matsuura well clear of the close battle of Matteo Bobbi and Yuji Ide.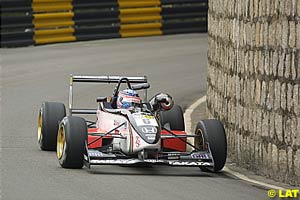 With the carnage inflicted on the field in Race One, Race Two was a much more tame affair. Sato, this time from pole position, beat Montin into the first turn and pushed the Dallara-Honda to the maximum to hold an incredible 1.5 second lead at the end of the first lap. Treluyer and Wirdheim battled past the fading Montin and pushed hard to catch Sato, but the young Japanese sensation was too far up the road and that was how the podium finished. Matsuura was fourth, well clear of the battle for fifth which was taken by Andy Priaulx from Tiago Monterio, Pierre Kaffer and Ide.
That gave Sato the win overall from Treluyer and Wirdheim. Japan dominated the event with Matsuura and Ide taking fourth and fifth ahead of Bobbi and Australian Champion Peter Hackett, having his first international F3 event.
Results of 48th Macau Grand Prix, Macau, China:

Pos  Driver                Car
 1.  Takuma Sato           Dallara-Mugen Honda
 2.  Benoit Treluyer       Dallara-Mugen Honda
 3.  Bjorn Wirdheim        Dallara-Spiess Opel
 4.  Kousuke Matsuura      Dallara-Spiess Opel
 5.  Yuji Ide              Dallara-Sodemo Renault
 6.  Matteo Bobbi          Dallara-Spiess Opel
 7.  Peter Hackett         Dallara-Mugen Honda
 8.  Heikki Kovalainen     Dallara-Sodemo Renault
 9.  Michael Ho            Dallara-Spiess Opel
10.  Lei Kit Meng          Dallara-Sodemo Renault

NASCAR
Robby Gordon Wins While Jeff Gordon is Crowned Champion (Again)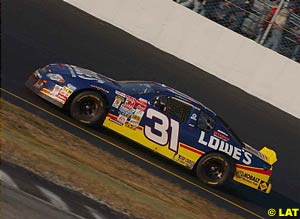 Robby Gordon broke through for his debut NASCAR Winston Cup victory in the final Winston Cup event of the year at Loudon's New Hampshire Speedway. He took the lead with less than 20 laps to go after Robby hit Jeff Gordon (Chevrolet Monte Carlo) from behind into turn 3 who then struck Mike Wallace (Ford Taurus), tapping Wallace's car into a spin, bringing out the yellows. NASCAR then assigned a one lap penalty to Jeff Gordon after Jeff ran into Robby in retaliation on the back straight as the pace car picked up the field.
Robby then went on to become a record 19th different winner this season, pulling a gap over Sterling Marlin (Dodge Intrepid) and outgoing series champion Bobby Labonte (Pontiac Grand Prix). Jeff Gordon had been the dominant performer in the New Hampshire 300, on a day when tyre wear became so crucial, with NASCAR calling two yellow flag periods to check tyre wear after the teams were forced to start the race on tyres of questionable durability, after cold weather was expected but warm weather arrived.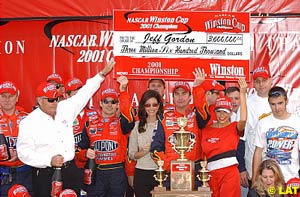 Marlin's second place lifted him to third place in the overall standings but fell just 22 points short of second place, Tony Stewart (Pontiac Grand Prix). Jeff Gordon wrapped up the championship at the NAPA 500 the previous weekend, becoming only the third four times NASCAR champion after legends Richard Petty and the late Dale Earnhardt.
The NAPA 500 at Atlanta Motor Speedway the previous weekend was not all good news for Gordon's team Hendrick Motorsports, as teammate Jerry Nadeau (Chevrolet Monte Carlo) cruelly ran out of fuel after dominating the second half of the race. Nadeau was coasting to victory when the car started coasting going down the back straight on the last lap of the race. Bobby Labonte flashed past to take the win. Second went to Sterling Marlin in his last minute charge up the championship placings with rookie of the year Kevin Harvick (Chevrolet Monte Carlo) in third. Nadeau ended up coasting across the line in fourth. Two spots back in sixth, Jeff Gordon clinched the real prize, the Winston Cup.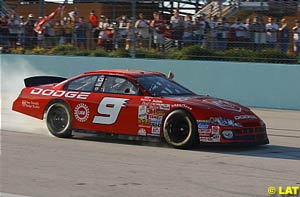 The week prior, Bill Elliott (Dodge Intrepid) scratched a seven year itch to take out the Pennzoil Freedom 400 at Homestead Miami Speedway. The win came at the expense of Elliott's rookie teammate, Casey Attwood who ran wide with only four laps to go letting Elliott through. Elliots last win was back in 1994 at Darlington. Michael Waltrip (Chevrolet Monte Carlo) also made it past Atwood on the last lap to take second leaving the rookie in third place.
Final standings: Jeff Gordon 5112, Tony Stewart 4763, Sterling Marlin 4741, Ricky Rudd 4706, Dale Jarrett 4612, Bobby Labonte 4561, Rusty Wallace 4481, Dale Earnhardt Jr 4460, Kevin Harvick 4406, Jeff Burton 4394 etc.
Briefs
It seems fairly likely that Marlboro Team Penske will be moving to the IRL next season. Gil de Ferran and Helio Castroneves have been the quickest team in CART this season, de Ferran taking the 2001 Championship with Castroneves fourth, and their defection would be a major blow to CART's long term credibility. Earlier this year Penske competed in the IRL Indy 500, Helio Castroneves winning the race with Gil de Ferran second, scoring a Penske 1-2. The team had to run without their customary Marlboro signage though, as US tobacco advertising laws only allow tobacco brands to sponsor one motor racing programme.

Meanwhile PacWest has bucked the recent rumour trend by committing to continue with CART for the foreseeable future. The team have confirmed the Rookie of the Year, Scott Dixon will be continuing with PacWest next season, while a switch to Honda engines seems likely.

Team Rahal have announced they will be returning to the Indy 500 in 2002 with a car backed by Miller Brewing for Jimmy Vasser. Vasser will also lead Team Rahal's CART assault after 2001 team leader Kenny Brack was signed by Chip Ganassi. Speculation continues over who will replace Max Papis in the second Team Rahal car, with Memo Gidley a favourite.

Finally, Team Forsythe has closed the single car satellite team they've run this year for Bryan Herta. Forsythe will continue with the two car Team Player's operation of Patrick Carpentier and Alex Tagliani.

The drivers' merry-go-round has finally stopped in the World Rally Championship. Hyundai have signed former Mitsubishi driver Freddy Loix and journeyman Armin Schwarz to drive their Accent WRC in all fourteen rounds in 2002, replacing Alister McRae and Kenneth Eriksson. Four time world champion Juha Kankkunen will support Loix and Schwarz on nine gravel rounds.

At Skoda, Finland's Toni Gardemeister and veteran Swede Kenneth Eriksson have been signed for the 2002 season, replacing Armin Schwarz and Bruno Thiry, while Czech driver Roman Kresta will again compete on a limited programme of events.

After a four event campaign this year, Citroen will step up their programme for 2002 and compete on seven events. Their drivers for 2002 will be 2001 Super 1600 champion Sebastien Loeb and the versatile Thomas Radstrom in seven events, with 2001 Citroen driver Phillipe Bugalski competing in three events. Jesus Puras, who was the only driver to win a round of the championship for Citroen this year, has been dropped, although he still has the chance to compete in three rallies with the team if he can't find a drive elsewhere.

All this news is bad news for 1994 World Champion Didier Auriol. The Frenchman has not been retained by Peugeot, and his long-time co-driver Denis Giraudet has joined Radstrom at Citroen, leaving him at this stage without a co-driver or a team for 2002.

However, there still may be one last move, in the shape of newly crowned World Champion Richard Burns. After signing for Peugeot a month ago, Subaru suggested that his move to Peugeot was not clear cut. Following the Rally of Great Britain, it is clear that Burns is unlikely to leave Subaru and join Peugeot next season without a fight.

Subaru's team principal David Lapworth has said that Burns has a contract with Subaru for next season, and will be discussing the contract with Burns this week. It is believed that Burns's contract with Subaru includes a clause that gives Subaru first refusal on his services if he won the 2001 title. At the time of negotiations, this seemed less than likely, but Burns's recent results may now cost him money, and possibly his Peugeot drive.

Subaru hope that they can convince Burns to stay with the team. When Burns originally told Subaru that he was joining Peugeot, Subaru reluctantly agreed, but only in return for a financial penalty. Since then, Burns has won the title, which has made his own position worse. However, Subaru realise that getting Burns to stay may not be possible. If this is the case, Subaru are likely to seek compensation from Peugeot and/or from Burns (and his management), depending on which party or parties were to blame, in return for releasing Burns from his Subaru contract. It is believed this compensation could run as high as seven million dollars.

Despite this, Peugeot team principal Corrado Provera recently reaffirmed his belief that Burns would be driving for his team next year, saying that no matter what Subaru is saying, that Burns will be a Peugeot driver in 2002.

Finally, Marlboro have left Mitsubishi after a three year association with the marque. However, they may not be lost from the series, and may follow Tommi Makinen to Subaru.

This week should see testing begin on Honda's new RC211V four-stroke Grand Prix bike with Valentino Rossi and Tohru Ukawa set to pound the pavement at Valencia in Spain. Joining them will be new MotoGP rider, 250cc Champion Daijiro Katoh, who will race the existing NSR500 next year for Honda. Katoh will be testing the old 500 bike in preparation for its final year of factory competition. Meanwhile Jurgen van de Goorbergh will also test his new factory NSR500 at Jerez.

Yamaha will also be testing at around the same time with Max Biaggi and Carlos Checa running the new Yamaha M1 four-stroke bike at Phillip Island.

Suzuki have bitten the bullet and committed to a four-stroke bike for the 2002 MotoGP season. The Suzuki XREO features a 990cc V4. Team riders Kenny Roberts Jr and Sete Gibernau will continue with the team in 2002 and will begin testing the new machine in January.

The dominant team in Formula 3000 this year, Coca-Cola Nordic Racing, has signed 21 year old Hungarian Zsolt Baumgartner to replace Tomas Enge at the team for 2002. Baumgartner raced in F3000 this year for the Prost Junior team.

In other F3000 team news, Petrobras Junior will continue with Antonio Pizzonia and Ricardo Sperafico. Red Bull will also maintain their existing squad of Patrick Friesacher and Ricardo Mauricio.

The Guia Touring Car Races at Macau were contested by Super Production Cars for the second time, the event being won by Dutchman Duncan Huisman. Tom Coronel (BMW 320i) won the first race from Huisman with veteran Steve Soper (Peugeot 306) third. Huisman won the second race after Coronel crashed at Lisboa Corner and Soper stopped with engine failure. Manabu Orido took second from Nattavude's Peugeot. Third was good enough to secure the Asian Touring Car Championship for the Thailand Peugeot driver.

Overall results of Guia Super Production Race:


Pos  Driver                Car
 1.  Duncan Huisman        BMW 320i
 2.  Manabu Orido          Toyota Altezza
 3.  C. Nattavude          Peugeot 306
 4.  Nobuteru Tanaguchi    Toyota Altezza
 5.  Henry Lee Jr          BMW 320i


Formula One's outgoing elder statesman Jean Alesi has eschewed a career in CART in favour of returning to the Touring Cars he used to race early in his career. Alesi will join the resurgent German DTM series for the next two years, racing for the factory D2 backed AMG Mercedes team running a C Class V8.

Subsequent to the canning of their British Touring Car Championship program with Peugeot, Vic Lee Racing has announced it will be moving to the ALMS next year where the plan to run a pair of the new Reynard 02S prototypes in the LMP675 Class. Drivers and engines for the Reynard customer cars have yet to be announced.
Upcoming Events Calendar
December 7 - Gran Canaria Race of Champions; Canary Islands, Spain
December 28 - Paris-Dakar Rally
---
© 2007 autosport.com . This service is provided under the Atlas F1
terms and conditions
.
Please
Contact Us
for permission to republish this or any other material from Atlas F1.