---
That was Then, This is Now
---
By Graham Holliday, Vietnam
Contributing Writer
In a sport rife with egos, elitism and a clique-like mentality, Kimi Raikkonen bypassed all the usual barriers to the hallowed Formula One paddock and promptly kicked the door down setting a blistering pace from the word go. Freelance Formula One Writer Graham Holliday reviews the young Finn's entry into Formula One, and predicts what to expect from him in the future

"The world will change if Raikkonen gets a super license. It will turn the whole driver market on its head," said Keke Rosberg, manager of double World Champion Mika Hakkinen this time last year.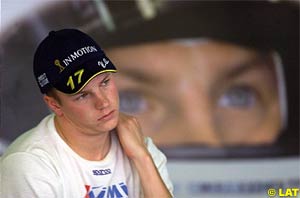 Raikkonen did get his super license and the rest, as they say, is history. But Rosberg's prediction still hangs over Formula One like an ominous cloud for the puritans. True, Raikkonen didn't climb through the ranks of Formula 3000 or Formula Three. It's well known that he'd only raced in 23 Formula Renault car races before he sat in an F1 car. The question now is - So what?
From the very beginning, FIA President Max Mosley was quite right in putting the young Finn on a race-by-race probation. Any slip up early on in the season and Raikkonen would have been discarded never to be heard of again. Only he didn't slip up, he excelled.
In a sport rife with egos, elitism and a clique-like mentality Raikkonen bypassed all the usual barriers to the hallowed F1 paddock and promptly kicked the door down setting a blistering pace from the word go. Peter Sauber was ebullient in last year's pre-season testing. "He seems to crank out fast lap times effortlessly. In comparison with other drivers, we never got the impression that he reached his limits," he said of the flying Finn.. All of a sudden the elitism, rules and traditions of Formula One were being challenged by a young upstart who made it count where it mattered - on the track.
Sauber's confidence and expectation were more than matched throughout the following season. For such a young and relatively inexperienced driver, the quietly spoken 21-year old displayed remarkable assurance both on and off the track. I remember watching that first race in Melbourne 2001. During the parade lap my eyes were fixed on the 13th placed figure in the Sauber. I was half expecting him to bounce his machinery against the barriers, but he didn't. He looked in control and the proof was in the points as he went on to finish the race in sixth place and score his first Championship points.
"F1 was easier than I was expecting," said Raikkonen last spring. "It is a big step from Formula Renault, but since the first race it has felt like I belong here at this level." It's debatable whether the same sentiments will be echoed by the time the F1 circus reaches Suzuka in 2002 for the Japanese Grand Prix.
Life with Sauber was a walk in the park compared to what he can expect as the new boy at McLaren in 2002, a top team with top standards. Arguably the biggest problem he faced during the whole of the 2001 season was Peter Sauber's Draconian 'sex ban' which held until the season hit Europe. West McLaren Mercedes team boss Ron Dennis might cajole the press with talk of letting Kimi grow into the team and not expecting too much too soon, but come Melbourne 2002 don't believe the soft talk. Messrs Dennis and Mercedes boss Norbert Haug will expect their new acquisition to push current driver David Coulthard hard the minute testing restarts in January. As the season unfolds Raikkonen will have to show that he can keep up with, maybe even surpass an increasingly determined Coulthard.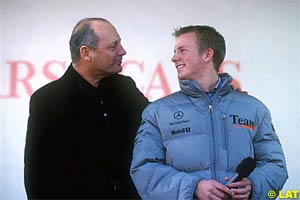 Dennis is unlikely to be gentle with Raikkonen if he consistently qualifies far behind his teammate. Less so, if his lackluster displays at the tail end of the 2001 season are repeated next year. Dennis is not one to mince his words even when he should keep his mouth shut. Dennis famously said at the Spanish Grand Prix: "I am afraid to say that David had a bit of a brain fade on his part," as his car stalled on the grid before the engineers confirmed that the real reason why the McLaren car fizzled out was mechanical. Dennis is unlikely to hold forth his fury should his new driver make any suspected unforced errors.
Realistically Raikkonen can expect to get close to Coulthard and on occasion surpass him. For the most part it looks like being Coulthard's year at McLaren especially if, as Jean Alesi thinks, the Scotsman is in with a sniff of the Championship: "Coulthard, with the departure of Hakkinen, will have the team to himself," said Alesi. "I do not expect much from Raikkonen. He will be a mature driver after two or three seasons, not immediately."
However, if everything does go Raikkonen's way we could be looking at a completely different line-up on the grid for 2003. And that wouldn't be such a bad thing.
For that is Raikkonen's most important legacy to date. His entry into Formula One set a precedent which could potentially open the floodgates to cash strapped teams over the coming seasons. The lesson being: you don't need to pay top dollars to get a top driver and that elitist talk from the elder statesmen of F1 could actually be seriously damaging the sport. How many other Raikkonens and Fernando Alonsos are there out there? For the likes of Minardi, Sauber and Arrows, signing up young talent is not only good for publicity and attracting sponsors, but it helps keep the overheads down. And should the young rookie shine as in the case of Button, Raikkonen and Alonso then their price tag likewise begins to glisten a little more brightly.
Much as the public enjoy watching the likes of Alesi and Eddie Irvine still giving it 100% into their late thirties perhaps it is time for the new crop of drivers to come in, kick out the old and herald a new era of Formula One racing. As Raikkonen says of his new employers: "They're waiting, they're expecting lots of things from me."
So are we Kimi, so are we.
---
© 2007 autosport.com . This service is provided under the Atlas F1
terms and conditions
.
Please
Contact Us
for permission to republish this or any other material from Atlas F1.