---
The Weekly Grapevine
---
This week's Grapevine brings you
information fresh from the paddock on:

Frentzen's Loose End
Bridgestone Focus on 2002

Frentzen's Loose End
Prost going into receivership has put Heinz-Harald Frentzen on the spot, and no mistake.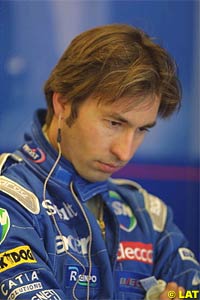 Arriving at the end of the Japanese Grand Prix weekend, Frentzen made it clear to Alain Prost that he could be retained through 2002 - just as soon as guarantees were made that the team could pay his salary, make a car, and take it to seventeen races next year. Since then, Prost's failure to pull in fresh sponsorship has led to their current, dire, financial situation.
At the US Grand Prix, there was talk of a return to Sauber, but that never seemed to get off the ground: not only was Peter Sauber committed to Massa, but Frentzen was settling in well at Prost. Indeed, the reason he wants to remain there is due very much to the way things started: despite getting almost no time in the car, Frentzen impressed the mechanics with his pace and feedback. Despite Alesi's racing acumen, earning all the team's results, he was not a happy competitor through 2001, making him difficult to work with. It's no surprise the team warmed quickly to the determined, likeable German.
Since then, despite hoping for the Prost drive, Frentzen has been talking to the other stalwarts propping up the grid: Tom Walkinshaw of Arrows, and Paul Stoddart of Minardi. The Minardi option is reputedly closed, unless he can bring funding: Yoong's backing won't pay a driving salary; and depending who you believe, this week when he visited Leafield, he has either "just had a chat with Tom," or signed a contract with Arrows. No-one has commented on who dislikes phones so much that only a face to face chat would do, but that's another matter altogether.
Of course, if he has signed for Arrows, then things are getting very interesting. As things stand, Jos Verstappen has been confirmed for next year, and Enrique Bernoldi is hoping to retain his seat for another year. Given Arrows have announced continued sponsorship from Red Bull - who came on board with the Brazilian - it's easy to make that connection.
So, if Walkinshaw has signed Frentzen, he is in the worrying position of either upsetting one of his key sponsors by failing to retain their driver, or reneging on his contract with Verstappen. Either way, the only sponsorship Frentzen would bring is his marketability. And one thing the back markers are all short of is cash.
On a slightly different note, Dietrich Mateschitz, the owner of Red Bull, is apparently on the prowl. Once he has sold off his holding in Sauber, he is expected to look for another team to invest in: and Arrows are topping that list. The downsides are, he wants some say in the running of the team, which he did not have at Sauber, and he is looking to bring on board a strong American influence, as he wishes to make inroads into the US markets. Given the broader picture, perhaps giving up Bernoldi, in the belief that Frentzen can help pull the team up the grid, and further into the spotlight, could be the answer everyone is looking for.

Bridgestone Focus on 2002
As BAR commit to Bridgestone for the next three years - being the currently accepted definition of "long term" it seems - there is speculation aplenty that the tyre manufacturer is gearing up to work harder in 2002 than at any time since entering Formula One.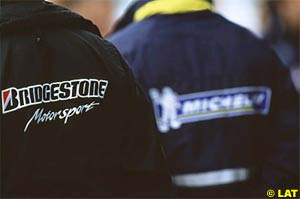 Over the off season, research and development has been split into two parts; with no road testing for November and December, early emphasis is on identifying new development paths - examining some of the more far out concepts in tyre construction, for which there was too little time to investigate during the season. Then, with almost continuous dedicated track time from the start of January until the season starts in March, tracks will be pounded, results analysed, and the research direction for the season firmly established.
Since Luciano Burti signed as a test driver for Ferrari, there has been some questions as to what he'll be doing there, as the team are intending to keep working with Luca Badoer, too. Badoer might not be the fastest driver, or much in demand on the grid, but his work is very well known by the team, and his feedback ties up with that of Michael Schumacher's. This in turn allows the team to continue developing the car effectively whenever the German is absent.
During the pre-season, that's quite rare; and although Ferrari are one of the very few who can effectively test on three fronts at once, even they are hard pressed to have enough new components in need of track time to run four cars.
Not so, Bridgestone. Michelin's debut season has, without a shadow of doubt, put the wind up the Japanese manufacturer; it is all too clear that unless a considerable amount of effort goes in to the new season, bridgestone are going to finish behind. Accordingly, for the eight weeks or so of permitted testing ahead of Melbourne, the company is planning to have three to five new tyres available to test, per week: with proper testing for a new compound or construction requiring a full day's running, that effectively requires a car to be available at all times.
The irony, of course, is that Bridgestone's development through 2001 was effectively tied by their commitment to McLaren. When the McLaren contract expired, the manufacturer was compelled to offer a less favourable renewal, as the original - which required them to supply McLaren with any development tyres offered to Ferrari - would have required twice as many of each new tyre to be produced, hamstringing development turnaround. Neither alternative - unfavourable contract, or limited development - was ever likely to be acceptable to McLaren, so they changed camp.
Now that the team is focussed on Ferrari, they can react faster to opportunities, and drive the progress of their tyres through the season. The other four teams - BAR, Jordan, Sauber and Arrows - should also benefit from the improved pace. Though they be compelled to react to any fundamental change in the construction, should, say, Ferrari require a wider front tyre to better balance their car!
On the other hand, with Michelin now supplying seven teams rather than the original five, and being compelled to consider the needs of Toyota and McLaren alongside Williams, Bridgestone are confident in predicting their development progress hampered - if only slightly - as they gear to the new situation.
All told, the fight for supremacy in the tyre wars doesn't look like letting up any time soon.
---
© 2007 autosport.com . This service is provided under the Atlas F1
terms and conditions
.
Please
Contact Us
for permission to republish this or any other material from Atlas F1.