---
The Point of Lauda
---
By Karl Ludvigsen, England
Atlas F1 Senior Writer
For about a year now, award winning writer Karl Ludvigsen has been wondering what, exactly, is the point of Niki Lauda. Following the recent events surrounding Newey-Jaguar-McLaren, Ludvigsen is back with the answer...

For a year or so now I've been wondering what, exactly, was the point of Niki Lauda. Here, to be sure, was a three-time world champion driver who was also capable of founding an airline and even flying its planes. That's pretty impressive by any standard. But what was the point of Lauda in motor racing today - and especially in his new job at Jaguar?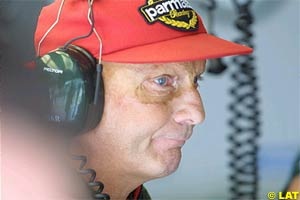 For a few years Niki was an advisor to Ferrari. Back in 1999, when Ferrari wasn't yet cutting it against McLaren, Lauda told a German newspaper that it was Jean Todt's fault that Ferrari wasn't winning. This was rubbished by Michael Schumacher: "There are many ex-drivers that speak without knowing what happens. Mr. Lauda is wrong and he said that because he thinks that Todt does not want him in Ferrari anymore. The truth is that Niki did his own business and his support for the team was not so fundamental." Schumi thus brushed off Lauda's contribution to Ferrari's progress. But, come to think of it, Todt readily takes the credit for Ferrari winning. So he also had to accept the blame when it was losing.
Then at the end of May of last year - exactly a year ago - Lauda issued a statement that seemed bizarre at the time. He said that Mika Hakkinen should quit McLaren at the end of the 2000 season in order to find fresh motivation in Formula One. "If he wants to carry on racing with full motivation," Lauda told Germany's Die Welt in an interview, "then he has to leave McLaren. I can speak from my own experience: I left Ferrari after four years because I got fed up." In 1978 Niki moved to the Brabham team and began his long subsequent association with sponsor Parmalat.
Hakkinen brushed off Lauda's suggestion. "Really, honestly, I have got no problems with my motivation and I think McLaren are doing a very good job at the moment," said Mika in May 2000. "What Niki Lauda has said, they are his personal views - but I don't know why he thinks that. I am confident with the team and about myself and I don't know why he is talking like this." At the time I felt the same way. Why should Mika move away from a team that had brought him two Championships? Now, however, I see Lauda's comments in quite a different light - and I'll bet Hakkinen does too. A year later, Niki's advice looks pretty good.
Then Lauda surfaced as the head of the performance operations of Ford's Premier Automotive Group, including Jaguar Racing, Cosworth and Pi Research. It was hard to see how he could add value in this job, working under former BMW development chief Wolfgang Reitzle. It seemed as if Ford had just exchanged one three-time world champion - Jackie Stewart - for another. What, exactly, was the point? Well, we are about to find out.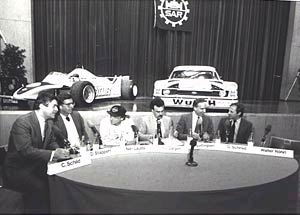 The battle over the contract of Adrian Newey is no minor tiff. Rightly or wrongly - and the record suggests rightly - Newey is seen as a man who can bring success to a Grand Prix team. Jaguar obviously felt they had struck a deal with the engineer, or they wouldn't have announced that he was joining them. The same must apply to McLaren, when they issued their statement to the effect that Newey would be staying. In the eye of this hurricane is the cold, aloof character of the engineer himself.
It reminds me of the fight between Volkswagen and General Motors over Jose Ignacio Lopez de Arriortua. The Basque "Superlopez" was seen as a genius whose skill in purchasing and sourcing could drastically cut the costs of a carmaker. He did this for GM, first in Europe and then in America. GM scheduled a press conference in 1993 to announce that Lopez would take over the whole of the company's North American operations - only to have the genius fail to show up and to leave his boss with a message that he'd joined Volkswagen instead. The courts are still arguing over the secret information about future GM models that his colleagues brought with them to VW.
Speaking of the courts, they'll be involved in the resolution of the future plans of Mr. Newey. We don't yet have a contract board for Grand Prix designers like the one we have for drivers, although the need for one was suggested by the sudden departure of Gustav Brunner from Minardi to Toyota. Now the Newey episode adds considerable fuel to that fire.
When this argument does get to the courts, we can be sure that Ron Dennis will be on one side of the case. We can guess that there is no great warmth between the head of McLaren and his highly paid technical director, especially after some years of working so closely together and in the midst of a troubled season. Ron Dennis will feel that Newey has been given too much credit for successes that in fact belong to the team that he has built since 1980. But the McLaren chief would not like to feel that Newey was stolen from him; Dennis would only like to have Newey depart when Dennis is ready to see him go. That is not the way he feels at the moment.
On the other side of the case will be Niki Lauda. We will begin to see, I think, the point of Lauda for the first time. It will be Lauda's job to oversee the strategy and tactics of the effort to win Newey to Jaguar. Bobby Rahal will carry on with the management of the team and its improving form, without having to worry about the court case. That will be Lauda's affair, and he will fight it very hard indeed.
Lauda and Dennis go back several decades. Ron coaxed Niki out of retirement for the 1982 season to drive for McLaren, leading to his third World Championship in 1984. But during that season Lauda soon realised that Dennis was favouring his bargain-basement new acquisition, Alain Prost, at the expense of his vastly more expensive Austrian. Lauda wrote that when he asked Dennis about his attitude, "he said that he felt a sort of love-hate toward me." When Lauda re-signed to race for McLaren in the 1985 season he did so at one-third less than his previous salary. "There I was," the driver wrote, "on the brink of the World Championship, and I had to accept the most swingeing salary cut of my entire career."
After enduring what he called "the long Ice Age at McLaren," Niki Lauda retired for the second time - and from race driving for good - at the end of the 1985 season. In his autobiography he summed up his feelings about his former boss: "There can be no question that Ron Dennis is a diligent professional. He is good at raising cash and he has the wonderful knack of giving his sponsors value for money. The team functions perfectly, and you can sense the perfectionist at the helm. To me, however, Ron's weakness seems to reside in a sort of chip-on-the-shoulder complex. It hurts him to be reminded that he started life as a modest mechanic at Cooper and Brabham. It is for this reason that he overreacts as team boss. His arrogance can be unbearable."
I'm only now beginning to realise how good a judge of character Niki Lauda is. This is not an attribute that always wins friends. A lot of people in Formula One want to be viewed on their own terms, flaunting a brave front that they think others should accept. Lauda is good at looking through that facade at the person behind it. Niki himself has very little "side"; he is ready to be taken as he is. Thus he can devote more time and energy to understanding and exploiting the strengths and weaknesses of others.
That's the point of Lauda, and his value to Jaguar. He is now facing the fight of his career over the Newey contract. No single action on his part will ever do more for his team than winning the battle with his old sparring partner Dennis and bringing the engineer to Jaguar. I, for one, would not want to bet against his success. There's only one question: are Jaguar and their owner Ford up to the job? Do they have the fortitude to back Lauda through what may be a nasty episode in the courts? If they do, I think he can and will win.

* Black and white picture shows a press conference in Zurich in January 1982, from left to right: FIA's technical official Curt Schild, BMW's racing director Dieter Stappert, Niki Lauda, the moderator, Karl Ludvigsen, and Gunther Schmidt, owner of the ATS Formula One team. In the background, Ludvigsen's racing Ford Capri.
---
© 2007 autosport.com . This service is provided under the Atlas F1
terms and conditions
.
Please
Contact Us
for permission to republish this or any other material from Atlas F1.