Rumours currently surround Jean Alesi's Formula One future and just as the struggling Prost team begin an upsurge in fortune, the Frenchman who was once set to be the new star of Grand Prix racing appears to be thinking of other options as plans to give up his hopes of Grand Prix glory begin to build. Right now he cannot be blamed for wanting to get out, but is the tide turning for him and his team?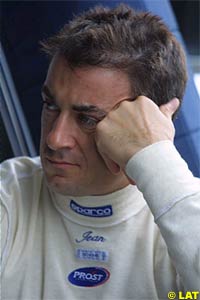 When he joined Alain Prost last year he had high hopes that, by teaming up with his friend, countryman and former Ferrari teammate, the pair could start a French revolution. But instead he witnessed the most dismal season of his Grand Prix career and finished the year with zero points for the first ever time. The season began with optimism again this year after impressive pre-season testing saw Alesi well on the pace and looking good to make the important step up to become a regular points scorer once more.
But until Monaco the potential had been far from fulfilled and things were looking grim for Alesi's future. Then, around the glittering harbourside circuit, buoyed by a much-improved aerodynamic package to go with the already powerful Ferrari-supplied engine which the team secured this year, Alesi's boat came in. It may have been just one point but to Alesi and to Prost it could well prove to be the most important point of their current careers.
As he heads to the Gilles Villeneuve circuit, which witnessed his only ever Grand Prix victory, it would be difficult for most not to muse on the past rather than think of the future. The fiery French-Sicilian already had 90 races under his belt when he secured the long-awaited victory in Canada 1995, and even then there were mumbles of 'why had it not happened sooner'. But for Alesi, it seems to have been a case of right place but wrong time throughout his career and now, almost 37-years-old and with 192 Grands Prix to his name, he could be forgiven for thinking of where to go next.
His 200th race is scheduled to be run at the United States Grand Prix at Indianapolis in September and although well short of Riccardo Patrese's record of 256 races, Alesi has suddenly been given a new lease of life by his team's return to form. And if things continue it could be the building of a new step in the temperamental driver's career rather than a final season of making up the numbers.
Monaco may not have been spectacular for Alesi, but the securing of a single and priceless point for sixth place in Monte Carlo last month was a breakthrough which Alesi and his current team chief believe could be significant.
"It is like a new start for everyone in the team," he said. "We have all worked so hard for this. To find a platform, to achieve some kind of success to start again. It is truly, truly a great feeling for me and for all of us.
"It was also very special for me to get this result at Monaco and to score my first point for the team there because I have always felt something extra about that race," he added, drawing attention to the fact that he had failed to score a solitary point throughout the whole of last year, his first season with the team.
"We knew the car could run reliably, but we know too that it needs some extra performance. Henri (Durand) had been working so hard to bring improvements, but these things cannot happen in one big push. It always takes so much time. Yes, it can be frustrating, a little, but I am used to Formula One now."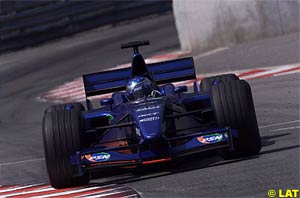 Last year, in Montreal, Alesi took the opportunity when he was stopped briefly out on the circuit to throw his helmet and his gloves to the crowd in what many interpreted to be a theatrical gesture signalling his intention to retire. The theorists were wrong. Instead, Alesi was merely thanking one of his favourite crowds - at the Circuit Gilles Villeneuve, it is always packed to capacity with enthusiasts - for their great support and their affection, shown so obviously when they invaded the circuit following his win in 1995.
"That was such a wonderful day for me, I will never forget it," he said. "It is always very special for me to go back. There is no doubt the car is improved, but we have to keep working to find the best from it."
Now, with a car that has improved, and with a result behind him, he is dreaming of more special days to come on the Ile Notre Dame where this time he will be hoping to celebrate in the blue of France instead of the racing red of Ferrari and Italy.
On the evening of his greatest Grand Prix moment, on June 11 1995, he celebrated his 31st birthday with a dinner party, in the company of Prost, at a packed Italian restaurant where they presented him with a vast cake and every diner in the establishment stood to sing and toast him in the time-honoured fashion.
He is a popular driver and yes he has made some mistakes, but he knows he will always have great neutral support from within the paddock and, particularly around the Circuit Gilles Villeneuve, from outside in the grandstands. His driving style is dramatic and his temperament occasionally explosive, but few men in the sport are as popular or as admired as Alesi.
"Jean has always had such a special talent and such great speed that it is a shame he has only won one race," said his former long-serving teammate at Ferrari and Benetton, Gerhard Berger. "He is such a great man, a friend and a racer that he can continue for a long time. I just hope he does know when to stop!"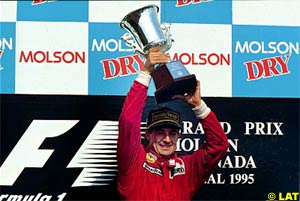 But based on recent results it appears that Berger may be hinting that the time is now. Alesi and Prost must prove that their Monaco result is no flash in the pan, and the pair both know that only too well. Prost himself drove 199 races during his career and as a four-time world champion he knows what it takes to score a win. But not as a team manager. Not yet, anyway.
The pair are out to change that and after struggling to build an all-French squad with Peugeot engines Prost has ditched his hopes of patriotic glory and turned to seek success with the pair's former team Ferrari. Alesi acknowledges that the engine is not the problem, and with Henri Durand now getting to grips with the design of the car his optimism for the future has taken on a new climb.
But sadly it is unlikely to be a rapid enough ascent for Alesi to do anything more than become a regular points scorer again, and as he heads for Montreal memories are sure to float back to 1995. He cannot expect to reach those heights again, and as Berger questioned, will he know when to call it a day?