---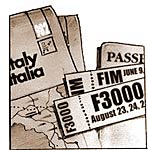 Elsewhere in Racing
Updates from the Rest of the Racing World
---
By Mark Alan Jones, Australia
Atlas F1 Magazine Writer
Indianapolis 500
Helio Castroneves Leads Team Penske to Victory Lane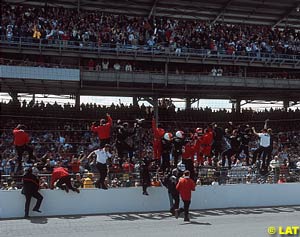 There was an air of reconciliation about the Indy 500 this year. So many of the big names divorced from Indy by the CART/IRL split were back. The Andretti family returned, with Michael running for Team Green, while legendary team owner Roger Penske was back with his CART team in IRL guise and Chip Ganassi had four cars at his disposal. Qualifying highlights had been provided by the IRL racers, with the returning CART stars taking ever so slightly a back seat. In such an environment, it was perhaps fitting that the winningest team in the history of Indy would return to the winner's circle with their young Brazilian rookie.
For Helio Castroneves it was a defining moment in a still young career to lead across the bricks on lap 200. Castroneves stopped after completing his cool down lap, leapt from the car, and dashed across the front straight for his now familiar fence climbing victory ritual. And such was the joy of the occasion, Castroneves's Team Penske pit crew raced across the track and joined him, looking like gaudily coloured Marines on a cargo net. Two more laps of honor later Castroneves finally got the Penske Dallara-Aurora into victory lane for the drink of milk. It had been a great race.
It was a dramatic start to say the least. There were four attempts to start the race, so it took until lap 19 before a lap could be completed under a green flag. It was a cold day, not quite as cold as when the field was decimated back in 1994, but comparisons were made. On the opening lap, polesitter Scott Sharp leaped away from the field, but lost the front end of the car travelling too low on the track for the cold tyres to maintain adhesion and Sharp spun sorrowfully into the Turn 1 wall. On lap 6 the race was restarted, only for Sarah Fisher to repeat Sharp's error, except as Fisher spun across Turn 2 Scott Goodyear had nowhere to go and was pinned against the wall by the now airborne Fisher. Some care was taken removing Goodyear, and he was taken to hospital for X-rays on a sore back. It was later revealed that Goodyear had suffered fractures in his back.
By now some of the more experienced drivers were complaining over the radio of the rookies track positioning, and was seemingly confirmed when Sam Hornish Jr spun across Turn 4 on the third restart. Hornish managed to miss everything as he fishtailed across the front straight, but one final flick of the car saw Al Unser Jr flick his own mount to the right in avoidance and struck the wall. Also out of contention was Buddy Lazier in the pits with only seven cylinders firing, the team stripping down the injectors to get him back into the race.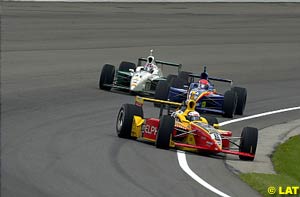 After 22 laps of yellows, Robby Gordon led the field across the yard of bricks only to have Greg Ray sweep by into the lead at Turn 1. But there were pitters already, Michael Andretti with a deflating tyre and Sam Hornish Jr was in after to have his seat belts refastened after his earlier incident. Ray and Gordon were gapping the field with Dismore looking at Penske's Gil de Ferran, with a larger gap back to Arie Luyendyk. The twice-former champion would not last though, with Jeff Ward and Robbie Buhl quickly past.
The first crucial pit window arrived. Eddie Cheever was in first on lap 39, Gordon on 41, Dismore 42, Eliseo Salazar 43, Ray 45 and Tony Stewart on 47. Despite the long period of yellows it was clear a lot of cars would not be able to finish the race with only four stops. Gordon, Nicolas Minassian and Luyendyk were delayed with poor pit stops. Andretti was the last to pit, although he'd already pitted early for a puncture. That puncture would cost Andretti dearly.
By lap 70 they were pitting again, the race pace taking its toll on fuel economy figures. Dismore led on and off for a lot of this period but after his stop on lap 73 he would lose fifth and sixth gears. Tony Stewart stalled twice during his pitstops while teammate Minassian would provide Ganassi with their first retirement with a broken gearbox. Despite his handicap, Dismore was leading again by the mid 80s but when testing the gearbox at the team's instruction during a brief yellow lost all gears completely. Jeff Ward was also gone, victim of a broken input shaft.
Ray was now leading from Andretti, de Ferran, Buhl and Castroneves. Clouds were gathering overhead and Ray and Andretti drove a desperate battle for the lead. If it rained and the race was declared anywhere past lap 101 the leader would win. And lap 101 was fast approaching. Andretti hadn't passed Ray when lap 101 flashed by. A lap later though and the lead was his. Ray backed off in turn 4 after the back end touched the wall exiting turn 3. The man who'd been near the front from the start was out. On lap 107 Jon Herb hit the slowing Greg Ray from behind and Herb was launched at the wall bringing out the yellows. Thirty laps later, Cory Witherall spun across turn 4 for more yellows. And still the rain held off. As the cars exited the pits from the yellows, Stewart backed off quickly to avoid a Penske exiting a pit bay, causing Andretti to run into the back of the Ganassi GForce, damaging his front wing.
Finally, on lap 145, the weather gods could do no more and rain began to fall. Two laps later Beechler's engine blew, oiling down the now damp circuit. It was all too much and the race was red flagged while all waited anxiously for the weather to clear. None more so than Tony Stewart, who had to be on a helicopter by 3pm to make his NASCAR commitments at Charlotte. After 16 minutes substitute driver Richie Hearn started suiting up, but the drivers were recalled and Stewart remounted his GForce. On lap 159 the race was green again with the Penske Dallaras first and third. Helio Castroneves and Gil de Ferran had progressed steadily through the field and were looking good for the finish on fuel. In between was Robbie Buhl who immediately attacked Castroneves.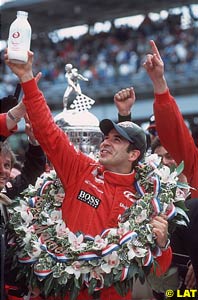 Almost as suddenly as it had begun, the threat to the Penskes was gone; Buhl had spun in Turn 2 and whacked the wall on the inside, ending the threat of the Nissan Infiniti powered cars. The entire field dived to the pits for the subsequent yellow. Things went horribly wrong in the Ganassi bay, both Vasser and Stewart stalling. On lap 172 the race went green for the final time with Castroneves leading de Ferran and the ever-present Andretti. With the wing repaired, despite all the Andretti luck he had suffered, Michael was there.
At the restart de Ferran ranged up on the outside of his teammate, but Castroneves held the line and the position, and the two Penskes started slowly gapping the field. As the final laps wound down de Ferran dropped back towards Andretti and Robby Gordon blew his engine. There would be no stopping Roger's boys though, and Helio led Gil across the yard of bricks. Andretti survived to finish third. Chip Ganassi got his three remaining cars to the line, Jimmy Vasser leading line astern Bruno Junqueira and Tony Stewart, with Stewart immediately dashing for his helicopter to get to Charlotte for the Coca-Cola 600. Eliseo Salazar claimed seventh in a steady run while Airton Dare was the first IRL driver home.
Results of 85th Indianapolis 500, Indianapolis Motor Speedway, Indiana, USA:

Pos  Driver                Car
 1.  Helio Castroneves     Dallara-Aurora
 2.  Gil de Ferran         Dallara-Aurora
 3.  Michael Andretti      Dallara-Aurora
 4.  Jimmy Vasser          GForce-Aurora
 5.  Bruno Junqueira       GForce-Aurora
 6.  Tony Stewart          GForce-Aurora
 7.  Eliseo Salazar        Dallara-Aurora
 8.  Airton Dare           GForce-Aurora
 9.  Billy Boat            Dallara-Aurora
10.  Felipe Giaffone       GForce-Aurora

Formula 3000
Webber Takes Monaco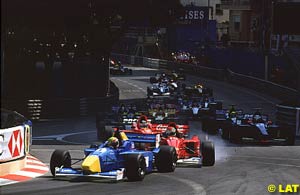 Mark Webber got his Formula 3000 title chances back on track with a dominant performance on the streets of Monte Carlo to take the biggest win of his career.
On pole by two tenths of a second, he motored away from the field and quickly built a gap. Twice the pace car came out to reduce that lead to naught, and twice more Webber's Super Nova prepared Lola pulled clear, going on to win by four seconds. While Webber reversed his luckless run, series leader Justin Wilson maintained his run, with the bright red Coca-Cola Nordic car coming home second to maintain his presence at the top of the F3000 leaderboard.
Always the potential for a grid pile-up at Monaco, these fears were almost realised for front row qualifier Wilson, who felt a solid thump from the rear entering Ste. Devote the first time. While Webber was away up the hill, Wilson struggled but maintained second, though the fast starting Darren Manning was pit bound for a new nose cone. Wilson's slightly damaged suspension may have slowed him slightly, and Monaco being Monaco meant it was easier for Wilson to keep the field at bay, but the way in which Webber galloped away from the field, it's doubtful Wilson could have stayed with him.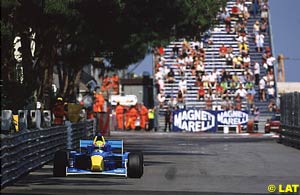 One-off returnee Stephane Sarrazin slotted into third in company with Sebastien Bourdais and Ricado Sperafico. The feared Ste. Devote pile-up occurred at Loews instead, with a coming together between Jaime Melo Jr and Andrea Piccini briefly backing up the field. Four cars following concertinad into the incident, with Derek Hill and Piccini subsequently retiring. Elsewhere at Mirabeau, Gabriele Varano was in the wall. A pace car was called for to clear the mess.
At the restart Webber bolted into the middle distance. Retirements continued to dog the race as Giorgio Pantano wrecked his nose against another car, Dino Morelli pulled to a halt in the tunnel and a collision at the swimming pool involving Darren Manning and Antonio Pizzonia brought out the pace car again, again deleting Webber's lead. At the restart Webber again cleared away from Wilson and the static upper midfield. Late retirements removed Joel Camathias, Bas Leinders and Mario Haberfeld in a typical Monaco result. And in a typical Formula 3000 result the running order of the point scorers was unchanged almost from the first lap, with Sarrazin claiming a year-best third place for Prost in his one-off drive.
Point-less drives for Tomas Enge and Bas Lienders have allowed Webber to leap frog to second in the championship, but he is still 11 points shy of Wilson. After five races, there have been three race winners from two teams.
Results of International Formula 3000 Championship, Round 5, Monaco:

Pos  Driver              Team
 1.  Mark Webber         Super Nova
 2.  Justin Wilson       Coca-Cola Nordic
 3.  Stephane Sarrazin   Prost Junior
 4.  Sebastien Bourdais  DAMS
 5.  Ricardo Sperafico   Petrobras Junior
 6.  Ricardo Mauricio    Red Bull Junior
 7.  Tomas Enge          Coca-Cola Nordic
 8.  Fabrizio Gollin     Coloni F3000
 9.  Rodrigo Sperafico   Coloni F3000
10.  Viktor Maslov       Arden Team Russia

Standings: Justin Wilson 31, Mark Webber 20, Tomas Enge 18, Bas Leinders 12, Sebastian Bourdais 10, Jaime Melo Jr 8, Antonio Pizzonia 7, Darren Manning 6, David Saelens 5, Stephane Sarrazin 4 etc
Moto GP
Rossi Unrewarded as Barros Steals Flooded Mugello
Valentino Rossi lost ground mathematically in his quest for the world championship. Yet his authority over the 500 class was increased after an awe inspiring ride through the pack on his spare bike after a rain interruption was ended with only a few corners to go with his name engraved on the second placed trophy. The fact that Alex Barros returned to the winner's circle seemed to go by unnoticed in the drama, especially as he was second on the road behind Haruchika Aoki who rode brilliantly to win the second, wet part of the race on the venerable Honda V Twin.
Kenny Roberts Jr, not for the first time this year, got the holeshot at the start on the underpowered Suzuki RGV. The never-ending Mugello front straight saw horsepower take over and Capirossi lead across the line the first time in front of a huge crowd of screaming Italians. Strung out behind on the long straight were Roberts, Max Biaggi, Valentino Rossi, Alex Barros, Alex Criville, Tohru Ukawa, Shinya Nakano, Norick Abe and Carlos Checa.
Biaggi and Roberts weren't done, and over the course of the long Mugello lap got the better of Capirossi as Roberts used the slipstream to take the lead down the long front straight. Alex Barros loomed up to threaten his teammate, as Biaggi used the power of the Yamaha to end Roberts' chances, blowing the second generation World Champion away down the chute. At this stage Roberts started his now compulsory drop down the field, falling victim first to the two West-backed Sito Pons run Hondas. The crowd had come to see the three big Italians, and now Biaggi was leading Capirossi. The third Italian, Valentino Rossi, was fourth and threatening Barros to make an all-Italian top three at the Ferrari-owned circuit. Rossi claimed third, but it was from Capirossi as Barros had taken second, the Brazilian finally kicking his season off to a belated start.
As the field started lap 8, a downpour washed across the circuit and the race had to be red flagged. After 20 minutes the field regridded still in very wet but supposedly raceable conditions. While the race would effectively became two heats, the times from the two races would be added together to create a definitive final order. As the grid formed there was a bike missing. On an installation lap Rossi had fallen hard. The bike was no longer raceable, however Rossi was able to get on his spare bike and get onto the grid for the start.
The field moved gingerly away under lighter but still falling rain with Capirossi leading from Biaggi, Roberts, Norick Abe and Noriyuki Haga. The big mover would be Alex Barros. Always a talented if occasionally wayward rider, Barros's bike control came to the fore and he cut through the pack to lead by the end of the second lap and motored away from the field. Other wet weather riders came up through the field, as Biaggi and Roberts dropped away, with Haga and Abe stepping up to the plate in the early running, bringing with them the last of the 'Fireball Brothers'. Sensations in the lower formulae a few years ago, the three Aoki brothers looked set to create a Japanese dynasty in Grand Prix motor cycle racing. That reputation had faded markedly after Takuma was paralysed in a fall two years ago. Nobuatsu also retired, far too early. Haruchika Aoki is now running a superannuated privateer Honda V-Twin, and in the wet where the power wasn't really an issue, rode through the field.
By the combined lap 15, Roberts had returned to the front, showing the mettle which won him the World Championship, ahead of Barros, Abe, Aoki, Baiggi and Capirossi. Roberts ran out of bike speed again though and slipped down the order while the green and white V-Twin climbed to second behind Abe. Barros fought briefly with Aoki, but succumbed. The rain got heavier and the Aoki seemed even more surefooted. Abe was not, and fell, handing the lead to Aoki. Moments later Roberts fell. Aoki now led from Capirossi and Barros with a big gap to Biaggi, Criville and... Rossi. From the rear of the field Rossi had picked off bike after bike and in impossible conditions was a man apart from even Aoki. Biaggi ran out of abiity to cope and lost positions to Criville and Rossi, while Criville couldn't hold Rossi for long either. Rossi was climbing rapidly through the combined order also.
Aoki and Barros had a huge gap on Capirossi who'd had a moment and would be another scalp claimed by the webbed feet of Rossi. Now third on the road, Rossi was also second overall in an incredible ride. It was all to end in tears though as on the last lap Rossi hit a puddle next to a rumble strip and fell, wrecking the bike beyond its ability to finish. Rossi and the bedraggled spectators were robbed of the reward they had fought and cheered for. Worse still, up at the front Aoki took the chequer to an ecstatic pit crew while Barros claimed the strangest race win of the year. Capirossi's ride was good enough to grab second and Biaggi hung on to third. Criville's climb through the order to third gave him fourth overall, while the incredible Haruchika Aoki finished fifth ahead of Sete Gibernau on the surviving Suzuki RGV.
Results of World Motorcycle Championship Round 5, Mugello, Italy:

Pos  Rider                 Motorcycle
 1.  Alex Barros           Honda NSR500
 2.  Loris Capirossi       Honda NSR500
 3.  Max Biaggi            Yamaha YZR500
 4.  Alex Criville         Honda NSR500
 5.  Haruchika Aoki        Honda V-Twin
 6.  Sete Gibernau         Suzuki RGV500
 7.  Tohru Ukawa           Honda NSR500
 8.  Shinya Nakano         Yamaha YZR500
 9.  Norick Abe            Yamaha YZR500
10.  Noriyuki Haga         Yamaha YZR500

Standings: Valentino Rossi 91, Max Biaggi 70, Loris Capirossi 65, Norick Abe 64, Alex Barros 60, Alex Criville 57, Shinya Nakano 50, Kenny Roberts Jr 37, Tohru Ukawa 36, Sete Gibernau 29 etc
Rally
McRae Back to Back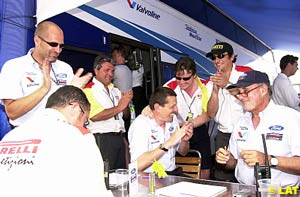 Ford has, after many years of trying, finally stamped its authority on a World Rally Championship. Colin McRae backed up his superb win in Argentina with another rough course win in Cyprus. The win brings McRae's championship chances back in focus, and the car's incredible reliability has brought Carlos Sainz another podium spot in third. At the end of Leg One, Sainz, McRae and Francois Delecour were all well placed; surely the win would go to one of them with only Richard Burns available to fight them. While Delecour retired early on Day 2, Sainz and McRae ploughed on for Ford's best result of the year.
It was a good rally too for Subaru, with Richard Burns taking a solid second in his tail chase of the singing Focii. Burns made steady progress as the French contingent one by one faded to the side. As at Argentina, he had no answer to McRae on the final day, but finished ahead of the ever consitent Sainz. Some way back in fourth was rough event specialist Toshihiro Arai. Well behind Sainz, Arai still put in a great drive for Subaru, although unfortunately for Subaru the other nominated points scoring driver apart from Burns was Petter Solberg, whose Impreza burnt to the ground on Day 1 after setting a pair of fastest stage times.
For championship leader Tommi Makinen, a DNF was recorded after crashing in Special Stage 4. He retains the lead, but heads into July wondering if speed alone can overcome the Ford. Teammate Freddy Loix had problems on day 2 with a broken driveshaft, but still managed to salvage fifth.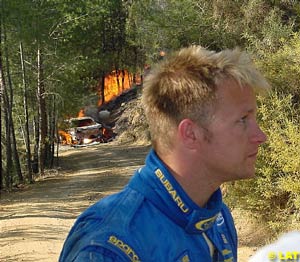 The bottom half of the top ten looks strange with a Hyundai, the two Skodas and a pair of Corollas. Where were the Peugeots? Harri Rovanpera parked his silver 206 on SS2 with suspension failure. Didier Auriol's engine overheated on Day 2, and Marcus Gronholm, who'd led for almost all the first day and was a front runner on the second, had fuel pressure problems rob him of a desperately needed pointscoring finish.
Of the rest, Kenneth Eriksson rocked the establishment, placing his Hyundai Accent second early on Day 1 before retiring. Only Alister McRae made it to the finish in seventh, behind the privateer Corolla of Pasi Hagstrom, but the signs point towards the Hyundai being a threat in the near future. The generally luckless Skodas survived to finish in eighth and ninth. Points beg for the two small teams come Acropolis.
After wins in the tough conditions of Argentina and Cyprus, not many are giving long odds on the Fords at the moment. Sooner or later Sainz has to claim a win, why not in the rocky Acropolis?
Results of World Rally Championship Round 6, Cyprus Rally:

Pos  Driver                Car
 1.  Colin McRae           Ford Focus
 2.  Richard Burns         Subaru Impreza
 3.  Carlos Sainz          Ford Focus
 4.  Toshihiro Arai        Subaru Impreza
 5.  Freddy Loix           Mitsubishi Carisma
 6.  Pasi Hagstrom         Toyota Corolla
 7.  Alister McRae         Hyundai Accent
 8.  Bruno Thiry           Skoda Octavia
 9.  Armin Schwarz         Skoda Octavia
10.  Abdullah Bakhashab    Toyota Corolla

Standings: Tommi Makinen 27, Carlos Sainz 26, Colin McRae 20, Richard Burns 15, Harri Rovanpera and Didier Auriol 10, Francois Delecour 9, Freddy Loix 7, Thomas Radstrom and Gilles Panizzi 6 etc
CART
Brack Scores Win Number #2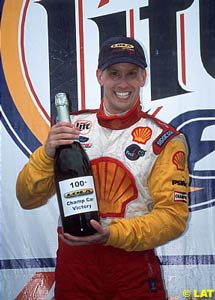 Kenny Brack stamped his authority on the FedEx CART series with a second victory in as many races at the Miller Lite 225 on the famous Milwaukee Mile oval. Right from the start it was a race in two as Michael Andretti and Brack swapped the lead in the race between pit stops and happenings on the track. After the final pace car restart, Brack simply had too much for Andretti and pulled away to win.
The race start was not very pretty for Brack. With qualifying rained out the cars gridded in championship order. Both Brack and Helio Castroneves got sideways in the first corner of racing and touched. Brack caught the slide, but Castroneves did not. It was back to earth with a thump for the new Indy 500 champion as Castroneves was then hit by Cristiano da Matta. Both were out on the spot, causing the yellow flags to come out. At the restart Brack led Paul Tracy, Gil de Ferran, Jimmy Vasser and Andretti, only for Tracy to lose control in Turn 1 impacting the wall. It was shades of Indy all over again.
With the yellows still out, Dario Franchitti sneaked in to top off his fuel, but stalled, losing a lap. Brack led away for the first green flag on lap 20 from de Ferran, Andretti, Vasser and Bruno Junqueira. By lap 50, Andretti was up to second and looking for a way past Brack, but the Swede was having none of it. The running order had settled with de Ferran, Vasser and Tony Kanaan roughly comfortable in their postions. Elsewhere, Bryan Herta was in the pits with the engine cover removed, and Herta would go no further. On lap 81, Brack was boxed in behind Michel Jourdain Jr, allowing Andretti to take the lead for the first time. A few laps later, the first pitstops began with Brack leading the way into the pits. With Andretti pitbound a few laps later, Jimmy Vasser briefly assumed the lead. In subsequent laps Tony Kanaan, Scott Dixon, Alex Tagliani, Patrick Carpentier, Michel Jourdain Jr and Adrian Fernandez each led briefly before pitting. On lap 108 the yellows came out as Alex Zanardi had a big lose in Turn 4.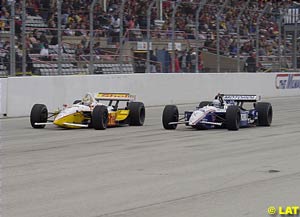 At half distance, Andretti had assumed top spot with Brack half a second back, then Vasser, de Ferran and Junqueira. Lap 129 and Brack made a successful run on Andretti and retook the lead. Next lap around and the yellows are out for Jimmy Vasser, crashed gently in Turn 1 after a touch with Tora Takagi. Takagi was immediately black flagged by the stewards for his part in the incident and removed from the race. The field took the opportunity to pit and Andretti led the field out from Brack, Dixon and Christian Fittipaldi. Lap 191 and Brack regained a lead he was never to lose. A consistent run by New Zealand rookie Scott Dixon saw him in third ahead of fellow rookie Bruno Junqueira.
Brack now has a 23 point lead over Helio Castroneves with a gaggle of drivers grouped closely behind as the circus moves next to Belle Isle in Detroit, Michigan.
Results of Miller Lite 225, West Allis, Wisconsin:

Pos  Driver                Car
 1.  Kenny Brack           Lola-Ford
 2.  Michael Andretti      Reynard-Honda
 3.  Scott Dixon           Reynard-Toyota
 4.  Bruno Junqueira       Lola-Toyota
 5.  Adrian Fernandez      Reynard-Honda
 6.  Tony Kanaan           Reynard-Honda
 7.  Gil de Ferran         Reynard-Honda
 8.  Max Papis             Lola-Ford
 9.  Dario Franchitti      Reynard-Honda
10.  Mauricio Gugelmin     Reynard-Toyota

Standings: Kenny Brack 70, Helio Castroneves 47, Cristiano da Matta, Paul Tracy and Jimmy Vasser 40, Scott Dixon 38, Gil de Ferran and Michael Andretti 36, Tony Kanaan 34, Bruno Junqueira 23 etc.
Superbikes
Home Town Hodgson and Italian Chili Share Donington Honours
At Donington Park, a repeat of Sugo threatened with wildcard riders well up the order, with most notably an Isle of Man legend, the mercurial Steve Hislop planting his Ducati on pole position. John Reynolds also had his privateer Duke well up the order in sixth. With Neil Hodgson, the Brits had a strong presence, but it was series leader, Aussie Troy Bayliss who led the Race 1 start away briefly on a damp but drying track before Colin Edwards and Ben Bostrom took over the running. Bayliss was soon by Bostrom to be second behind Edwards after lap 1. Following Bostrom were Hislop, Hodgson, Troy Corser and Pierfrancesco Chili.
Hodgson lit the wick and exploded through the order, picking off first Hislop then Bostrom and Bayliss by lap 4 and quickly hunting down Edwards. After an up and down season, Hodgson was not in the mood to take prisoners. Further back Bostrom gradually faded down the field, while Ruben Xaus and Tadayuki Okada came up through the running order. On lap 7, the huge crowd at Castle Donington went berserk as Hodgson took the lead. Hislop was now third leading a fierce battle with Bayliss, Xaus and Okada, with Chili closing in having disposed of Bostrom. Xaus took Bayliss to be the leading factory Duke runner and Chili picked up another spot from the Japanese Honda rider. Hislop started to gap the intense fourth to eighth battle which had added Corser and Lavilla. Bayliss was well and truly fading now with poor tyre choice.
Up front and Hislop took Edwards for second briefly before running off the track, dropping back to fourth as Edwards and the flying Xaus picked up spots. Chili had also closed and would take Hislop a lap later. Soon it would be Xaus's turn to fade as Chili led Hislop on a charge back towards Edwards. First Hislop, then Chili passed the world Champion. As the last lap began Hislop held the advantage as the two veterans of motorcycle racing thrilled the crowd. Hislop made a mistake on the last corner and the Suzuki sneaked through to second in the sprint to the line. Hodgson was already waving to the crowd and heading for the pits to prepare for Race 2. The battle for fourth would by won by a Honda, Okada claiming the spot from his fading team leader in the dying laps as a resurgent Bostrom hunting down the two Hondas, while James Toseland didn't quite catch Xaus.
Race 2 again saw Edwards lead the way and was pursued by the Ducatis of Hodgson, Bayliss and Bostrom. Over the line, Edwads led from Hodgson, Bostrom, Bayliss, Hislop, Corser, Reynolds, Chili, Yanagawa, Lavilla, Xaus and Okada. After a disappointing race 1, Troy Corser was a man ablaze on the Aprilia and was up to third by the end of the third lap in an amazing ride. Hodgson had taken the lead and was gapping Edwards again, like he did in Race 1. Bayliss tucked behind his namesake Corser but had an off on lap 4 dropping him down the order. Corser took Edwards at Redgate and set off after Hodgson with the flying blue Suzuki of Chili chasing hard. The excellent run of Steve Hislop ended with retirement at Redgate. Corser briefly took the lead from Hodgson, only for the orange-painted Ducati to reassert its lead. Corser soon dropped to third, while Chili wanted his Monza win very badly. It wasn't Monza, but it was due to him.
Bostrom led the distant battle for fourth ahead of Reynolds, Edwards, Okada and Yanagawa. With three laps to go Chili took the lead for the first time. Hodgson soon had it back, and the pair swapped it over the dying laps, with the menacing black presence of Corser right behind them. It went down to another drag race to the finish line, and Chili won it again, this time taking the race win. Bostrom led Reynolds home for fourth ahead of the two Hondas, Yanagawa and the two Infostrada Ducatis and Regis Laconi.
From the familiarity of Donington to the newness of the Lausitzring. Who will be favoured by the new circuit? The two Troys and Colin Edwards had their supriority in the series seriously threatened at Donington and Chili has closed the gap considerably.
Results of World Superbike Championship Round 6, Donington Park, Great Britain:

Race 1

Pos  Rider                 Motorcycle
 1.  Neil Hodgson          Ducati 996 RS
 2.  Pierfrancesco Chili   Suzuki GSX-R750
 3.  Steve Hislop          Ducati 996 RS
 4.  Tadayuki Okada        Honda VTR1000 SP2
 5.  Colin Edwards         Honda VTR1000 SP2
 6.  Ben Bostrom           Ducati 996 R
 7.  Ruben Xaus            Ducati 996 R
 8.  James Toseland        Ducati 996 RS
 9.  Stephane Chambon      Suzuki GSX-R750
10.  Gregorio Lavilla      Kawasaki ZX-7RR

Race 2

Pos  Rider                 Motorcycle
 1.  Pierfrancesco Chili   Suzuki GSX-R750
 2.  Neil Hodgson          Ducati 996 RS
 3.  Troy Corser           Aprilia RSV1000
 4.  Ben Bostrom           Ducati 996 R
 5.  John Reynolds         Ducati 996 RS
 6.  Colin Edwards         Honda VTR1000 SP2
 7.  Tadayuki Okada        Honda VTR1000 SP2
 8.  Akira Yanagawa        Kawasaki ZX-7RR
 9.  Troy Bayliss          Ducati 996 R
10.  Ruben Xaus            Ducati 996 R

Standings: Troy Bayliss 160, Troy Corser 143, Colin Edwards 141, Pierfrancesco Chili 119, Neil Hodgson 103, Ben Bostrom 97, Akira Yanagawa 89, Gregorio Lavilla 77, Regis Laconi 63, Stephane Chambon 61 etc
Upcoming Events Calendar
June 10 - World Superbike Championship, Round 7; Lausitzring, Germany
June 14 - World Rally Championship, Round 7; Acropolis Rally, Greece
June 16 - Le Mans 24 Hours, Le Mans, France
June 17 - World Motorcycle Championship, Round 6; Catalunya, Spain
June 17 - FedEx CART World Series, Round 7; Belle Isle, Michigan, USA
June 23 - International Formula 3000, Round 6; Nurburgring, Germany
June 24 - European Formula 3000, Round 4; Monza, Italy
June 24 - World Superbike Championship, Round 8; Misano, Italy
June 24 - FedEx CART World Series, Round 8; Portland, Oregan USA
June 30 - International Formula 3000, Round 7; Magny-Cours, France
June 30 - World Motorcycle Championship, Round 7; Assen, Netherlands
July 1 - FIA Sportscar Championship, Round 4; Brno, Czech Republic
July 1 - European Touring Car Championship, Round 6; Hungaroring, Hungary
July 1 - FedEx CART World Series, Round 9; Cleveland, Ohio, USA
---
© 2007 autosport.com . This service is provided under the Atlas F1
terms and conditions
.
Please
Contact Us
for permission to republish this or any other material from Atlas F1.