---
The Adrian Newey Saga:
Why it Really Matters
---
By Roger Horton, England
Atlas F1 Senior Writer
Friday, June 1st 2001, will most likely go down into the Formula One books as one of the most dramatic and action-packed Fridays in the sport's history. And that's without a single lap run, and on a non-Grand Prix Weekend! The affair which saw Adrian Newey signed at Jaguar in the morning, and re-signed at McLaren in the evening left many puzzled. Roger Horton explains just why this affair is so important for the Formula One paddock

At Monaco I was discussing with a senior member of a mid-field team, just what it was going to take for his outfit to run at the front on a regular basis. Sign Adrian Newey, I half joked as our discussion went around in circles, always returning to the enormity of the task ahead. "No chance" he replied firmly. "Ron Dennis has the deepest pockets in the pitlane when he needs them, and no way could Newey ever be prised away from Woking."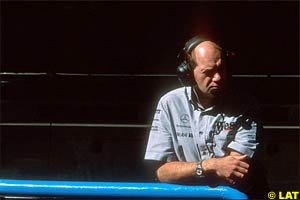 I thought back to this comment as the speculation mounted last week over Newey's future. For a few hours it seemed to have been wide of the mark when the Jaguar press release made the headlines. Then, shortly afterwards, it turned out to be deadly accurate.
The bare facts of what has become known as the 'Newey Saga' are now well known. Sometime between leaving the Monaco Grand Prix on Sunday evening, and the appearance of the Jaguar press release on the following Friday morning, Adrian Newey signed some sort of agreement with the Ford-owned Jaguar team. But, by late on Friday afternoon he had changed his mind, and McLaren were able to announce that their star technical director was staying with them after all.
From here on the lawyers from both sides in this dispute will be calling the shots and it may be a while yet before the complete story sees the light of day. The casual fan might well be forgiven for wondering just why it matters so much where Newey works anyway, and why this story has monopolised the F1 headlines for the past week.
It matters because Adrian Newey is the single most influential man in any of the eleven Formula One teams currently engaged in the business of Grand Prix racing. Over the last decade it has consistently been shown, that cars he has designed, or cars that have had the benefit of his aerodynamic touch, have been the fastest on the grid. Teams with the resources of Williams or his current employer McLaren, can always make a fast car reliable, but giving a fast car that little bit extra to make it a winner is a Newey trademark.
Such has been his ability to work his magic time after time, that his genius has become bankable. Having Adrian Newey design your car has been just about the surest way to guarantee success in a sport where capturing that winning formula is so elusive it can drive a sane man to distraction. For a few hours it had looked to be Jaguar team boss Bobby Rahal's biggest coup, the one masterstroke that really could change his team's fortunes in the years ahead.
Rahal's friendship with Newey is well known in motor racing circles. The two worked together in IndyCar racing in the mid eighties. Indeed one of the first questions Rahal was asked when his appointment to his current job was announced at Indianapolis last September, was whether he had had time to talk to Newey, and if he had offered him a job already.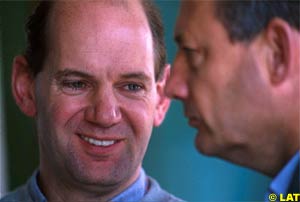 Bobby Rahal has already confirmed that he had been talking to his friend for some six months, almost from the moment he arrived in the UK. Clearly he understood, soon after joining Jaguar, just what was lacking in his new team and just what Newey could do to fix it. Eddie Irvine has been very outspoken concerning the shortcoming in Jaguar's infrastructure, and after having spent four years at Ferrari, Irvine knows all about just what it takes to become a serious contender.
Rahal's plan, to put Newey in charge of all things technical, together with Ford's financial backing to ensure that the infrastructure required to make it actually happen was put in place, was the nearest thing to a sure fire winner you can get in this business. Newey would have been the nucleus around which a new group of engineers would have been built. It would have been much easier to recruit the mid level talent so crucial in Jaguar's rebuilding process if Newey had been the man at the helm guiding the ship.
So too with drivers. If Newey had joined in August 2002 as intended, the first car that would have had the real benefit of the Newey touch would have been racing in the 2004 season. By the end of the 2003 season a number of crucial driver contracts come up for renewal. There is the three into two situation amongst Jenson Button, Juan Pablo Montoya and Ralf Schumacher at Williams for a start. A Jaguar penned by Adrian Newey and built with the aid of proper facilities constructed in the meantime would have been a pretty attractive proposition to many drivers on the grid.
Over the years, McLaren boss Ron Dennis has pulled off some of the sports biggest deals. He brought into his team two of the legends of F1 in Alain Prost and Ayrton Senna in the late eighties, and kept them winning for two tempestuous years. He shrugged of the loss of the Marlboro sponsorship and brought on board his current backer, West, on his terms and for more money. In '95 he joined forces with the bluest of blue chip names in Mercedes-Benz, and has made the partnership an outstanding success.
Dennis can be a difficult man to deal with. He is obsessive about winning and understands what it takes to get the job done. No wonder he got all his powers of persuasion at work on Newey as soon as it became known that he was intending to leave. It wasn't just about keeping him at McLaren; it was about preventing Newey working for another team. Dennis was clearly prepared to do whatever it took to achieve this, and speculation ranges from an offer to Newey of shares in McLaren international, to the revival of one of Dennis's long held ambitions, to make an attempt on the land speed record.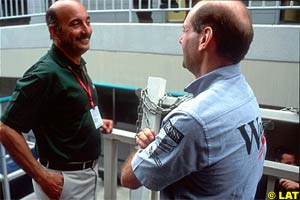 This sort of technical challenge, free from the FIA's constant regulation changes that so contain the modern F1 designer's freedom of thought and action, might just have proved attractive enough to make Newey have second thoughts. Whatever it did take to finally change his ace designer's mind, it will have been money well spent if it keeps him away from rival F1 teams, but only the future can confirm this.
Almost certainly all the publicity surrounding the Jaguar - McLaren tussle over Newey's services may well see the FIA mandate the extension of the contract recognition board to cover top technical team members in addition to the drivers contracts which it already handles. Minardi owner Paul Stoddart, who recently saw his designer Gustav Brunner poached by Toyota, has been pushing for this, although he could not have foreseen the circumstances that might well make the powers that be decide his idea is worth taking up.
Whichever way this story ends, it would appear that there will be a couple of major casualties before it is all over and forgotten. One is Adrian Newey's credibility, which has taken an enormous hit. This is a shame, as he is one of the most respected men in the paddock and not a man who normally seeks to put himself at centre stage. The second is the friendship between Rahal and Newey. The Jaguar team has taken a tremendous blow, and the consequences for them are all negative. Rahal has extended his hand and it has been publicly rebuffed. With friends like that, you are entitled to ask, who needs enemies?
---
© 2007 autosport.com . This service is provided under the Atlas F1
terms and conditions
.
Please
Contact Us
for permission to republish this or any other material from Atlas F1.