Car Briefs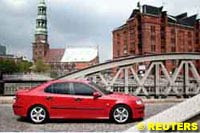 General Motors is close to deciding what to do with Saab, its perennially loss-making Swedish subsidiary.
Bob Lutz, GM Vice President and so-called "product czar" of GM has said in an interview, "We like the brand and we want to retain it [but] you cannot make a business case under 200,000 to 250,000 annual volume - that is almost impossible," Saab production is now around 120,000 cars per year.
It seems likely that Saab will no longer design unique models. Instead, it will have to take GM models and modify them to inject some Swedish character. The Saab factory, if it is to survive, may become a GM assembly plant making both Saabs and other GM brands. Already, a small Cadillac, called BLS, is planned to go into production at the Saab factory.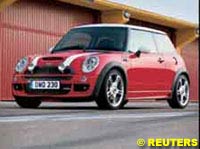 BMW has announced more details of the engine range that will soon be fitted to the Mini.
Initially, there will be two new 1.6 petrol versions - 115 bhp and 143 bhp turbo. Eventually the engine range will run from 75 bhp to 170 bhp, with a new diesel engine as well.
It had been thought that the new engine would be fitted only to the next generation Mini, due at the end of 2006. However, it appears that the new engines may appear at the end of this year for the last year of the current model. There are some advantages to this approach: introducing the engine before the rest of the car spreads the workload and it gives customers more reason to buy the current model in the last year of its life.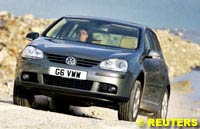 Volkswagen has launched 4MOTION four-wheel drive versions of the Golf.
The 4MOTION models use an electronically controlled Haldex transmission, mounted on the rear axle, to split the drive between the front and rear wheels. In normal driving 90 per cent of the engine's power is delivered to the front wheels, with 10 per cent going to the rear. As the system senses loss of traction, the transmission transmits power to the wheels with the most grip; as much as 100 per cent of the engine's power can transfer to the rear wheels if necessary.
The Golf 4MOTION is available either as a 2.0-litre GT FSI 150 PS or 2.0-litre GT TDI 140 PS. Trim levels mirror those of the front-wheel drive GT FSI and GT TDI models, with standard equipment including 2Zone climate control; rain sensor and automatic dimming rear view mirror; 16" alloy wheels; CD player; and ESP (Electronic Stabilisation Programme). Prices start at £18,950 for the GT FSI 3 door, rising to £19,780 for the GT TDI 5 door.

Toyota Likely to Build More Plants
Toyota will probably add two more assembly plants in North America by the end of the decade as part of a strategy to capture a larger share of the world's biggest auto market, the Wall Street Journal says.
Toyota, already the world's most profitable auto maker and vying to become the biggest, plans to announce the site of its seventh assembly plant in North America by the end of the year, Tuesday's newspaper reported from Detroit.
The search for an eighth plant will begin soon after, the Journal reported, citing senior company executives. Toyota said it was planning to build more plants but no concrete decisions had been made, reiterating previous comments.
"More plants will be necessary for us to expand our sales," said Tomomi Imai, manager of the auto maker's international communications department. "We have a policy of manufacturing where we sell, so we are considering North America," he said.
Toyota's shares were down 1 percent in early afternoon trade compared with a 0.31 percent decline in Tokyo's benchmark Nikkei average.
Toyota expanded U.S. sales by 10 percent in 2004, selling over 2 million units there for the first time and giving it a 12.2 percent share of the world's richest car market.
With its North American sales beating projections, Toyota is closing in on General Motors's position as the world's biggest auto maker. Currently, Toyota has five North American final assembly plants in operation. A sixth is being built in Texas.
Toyota, which is investing heavily in plants and technology, reported a 5.3 percent rise in third-quarter operating profit as it cut costs and boosted its share of every major car market.
Apart from its North American expansion, it is also starting production at a new plant in the Czech Republic this year while building more cars in China, Argentina and South Africa.
Toyota has said it will aim to at least match last year's record operating profit of 1.667 trillion yen in its current business year ending on March 31.
Driven by brisk demand, Toyota has nudged up its global sales forecast for the business year by 70,000 units to 7.29 million for the group, which includes minivehicle maker Daihatsu Motor and truck maker Hino Motors.

Ford to Scrap Cars for Free
Ford has signed the first agreement between a car maker and the scrap industry to take back old cars free of charge at the end of their lives.
Ford, among the biggest car makers in the UK, said on Friday it is setting up a network of centres with a subsidiary of the UK Shredders consortium, including 11 scrap yards, to take junk cars from the start of 2007. From that year the disposal of all ELVs (end-of-life vehicles) -- regardless of when they were first registered -- will become the responsibility of the car maker.
The move is in response to the ELV directive from the European Union that requires car makers to take responsibility from 2007 for recycling defunct cars, recovering 85 percent of a vehicle by weight. The target is set to increase to 95 percent by 2015.
Ford estimates it has some eight million cars on the road in the UK.