---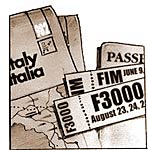 Elsewhere in Racing
Updates from the Rest of the Racing World
---
By Mark Alan Jones and David Wright, Australia
Atlas F1 Magazine Writers
Advice: The points tables for most series covered by Elsewhere In Racing are available here. Individual series are linked to their corresponding points table after each report.
NASCAR
Jeff Gordon Wins Daytona 500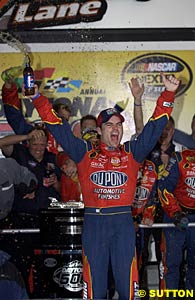 For the second year in a row, Tony Stewart led the most laps of the Daytona 500. And for the second year running, he was not the winner. This time, a late race battle between several drivers saw him finish seventh after leading as late as lap 196, having shortly before spent a 31 lap stint at the front on the way to leading 107 laps. Dale Earnhardt Jr looked like winning after not looking like contending for the first three-quarters of the race. But it was Jeff Gordon who passed Earnhardt Jr in the closing laps, and then held off the field despite a green-white-chequer finish. Gordon's win was his third Daytona 500 triumph, following wins in 1997 and 1999. Ironically, Gordon's last win before Daytona also came with a green-white-chequer finish at Indianapolis last year.
Dale Jarrett and Jimmie Johnson sat on the front row, with Jarrett leading at the start before being passed by Johnson before lap one was over. Lap three saw Tony Stewart take over the lead as Jarrett fell back as a combination of poor handling and a bump from Dale Earnhardt Jr saw him move his car temporarily to the apron. Stewart was still leading when the first caution came out on lap 15 when his teammate Bobby Labonte lost an engine. In came the field for stops, and with some drivers taking two tyres instead of four, Scott Wimmer led Johnson, Mike Skinner, Stewart and Jeremy Mayfield as the race restarted on lap 19.
With some help from Stewart, Michael Waltrip took the lead on lap 20. The next caution wasn't far away, coming out on lap 27 when Ricky Rudd lost a tyre and spun, Boris Said, Elliott Sadler, Kyle Busch, Carl Edwards and Mike Wallace suffering some damage in the resulting chaos. The field headed to the pits again, with Waltrip, Stewart, Jeff Gordon, Kurt Busch and Scott Riggs, who was having a stellar run, leading the field as the race restarted on lap 31, the leaders running single file as they pulled away from the main pack. Lap 35 saw Matt Kenseth out with a blown engine, making the race's first two retirements both series champions.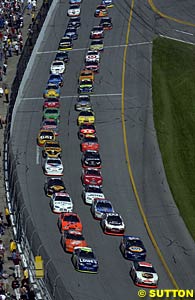 Around lap 50 a small pack caught the leaders but Waltrip continued to lead as the field made green flag pit stops just after lap 60. During these stops eleven cars were caught speeding in pit road and took a drivethrough penalty, the eleven including frontrunners Kurt Busch, Mark Martin and Jimmie Johnson. Dale Earnhardt Jr also lost ground after getting half spun by Jeff Burton when he made his pit stop. After the stops Jeff Gordon was the new leader, with Stewart, Waltrip and Ryan Newman the lead pack. Debris brought out the next caution on lap 86, which was great news for those who had been caught speeding and were getting closer and closer to being put a lap down.
Back to green on lap 90, Stewart leading Waltrip, Gordon, Greg Biffle and Riggs. Lap 96 saw Biffle pit with a loose wheel, putting him a lap down. Caution for debris again on lap 105 of 200, just past halfway, with Biffle getting the lucky dog pass back on to the lead lap. The field pitted once more, Wimmer beating Stewart, Waltrip, Martin Truex Jr and Gordon out of the pits. Back to green on lap 109, and before the lap was over, Wimmer was freight-trained out of the lead by the rest of the leaders, Stewart taking over at the front. Green flag pit stops took place for the second time at lap 136 to 139, Stewart leading the way after the stops from Gordon, Johnson, Waltrip and Martin.
Debris brought out the caution on lap 144, only some cars making stops. Stewart led Gordon, Johnson, Waltrip and Martin as the race resumed on lap 148 but debris again brought out the caution on lap 155. This time all the field came in, differing strategies seeing Jeff Burton, Wimmer and Carl Edwards out ahead of Stewart and Martin. Back to green on lap 159 but the caution was back out three laps later when strong contender and twice Daytona 500 winner Michael Waltrip blew an engine. Once more the field headed to pit road, but having stopped just a few laps earlier, most drivers took fuel only.
The race restarted on lap 166 with Stewart leading Martin, Kevin Harvick, Gordon and Johnson, Martin losing several places soon after the restart, but was back to caution three laps later again after contact between John Andretti, Travis Kvapil and Jason Leffler. Back to green on lap 173, Stewart leading Gordon, Kurt Busch, Johnson and Riggs, the racing now beginning to get serious as everyone raced to the end. Lap 178 saw Gordon move to the outside of Stewart into turn three as Dale Earnhardt Jr moved up the top ten, as he moved into serious contention for the first time all day. The field now ran two wide but Stewart still led while Gordon led the runners on the outside line but slowly began to lose a couple of positions.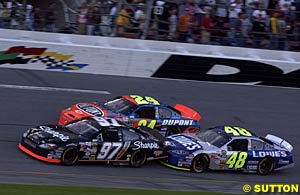 Another caution on lap 184 as Greg Biffle got loose in turns three and four, bouncing off Scott Riggs, with Kevin Harvick, Scott Wimmer and Jamie McMurray subsequently involved among others. Harvick suffered major front-end damage while Wimmer suffered the most as his car rolled several times, then piroutted on its nose before landing on its wheels. The leaders stayed out on the track as those further back pitted. Tony Stewart now led Gordon, Earnhardt Jr, Kurt Busch and Johnson as the race restarted on lap 188. But it was immediately back to caution as cars went spinning at the restart as cars got into each other, Skinner and Andretti suffering race-ending damage in the melee.
Back to green on lap 195, six laps to go, the top five the same as the last restart as the race really hotted up. Down the backstretch Gordon went to the outside but no-one went with him. As they came around to complete the lap Earnhardt Jr pulled out from behind Stewart and almost got far enough in front to pull down in front of Stewart. making the move pretty much all by himself. This 'power' move came less than a week after Earnhardt Jr said "we're way, way down on horsepower"... Now it was Stewart with Busch behind him versus Earnhardt Jr and Gordon on the outside. Four to go and Stewart had his nose back in front as they continued to battle side by side.
With some help from behind from Gordon, Earnhardt Jr pulled down in front of Stewart on lap 197 as they entered turn one, sending the crowd into a frenzy. As Earnhardt Jr moved up and down the track as they crossed the line with three to go, Stewart moved up into Gordon and got a little unsteady, allowing Busch to sneak up Stewart's inside into turn one. Now Gordon looked to Earnhardt Jr's outside, and with better momentum off turn two, took the lead down the backstretch just before the caution came out for debris from Kasey Kahne's car after it bounced off the turn two wall. The order now was Gordon, Earnhardt Jr, Johnson, Busch and Riggs, Stewart having been forced down to sixth.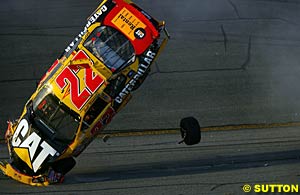 The problem now was that it was nearly lap 200 but the race was under caution. Because of this, a green-white-chequer finish was used, a two lap race to the finish, hopefully all under green. The race restarted on lap 202, Johnson taking half a look to the outside just after the restart and getting trapped there as Gordon and Earnhardt Jr ran nose-to-tail. Down the backstretch Busch pulled out from behind Earnhardt Jr, passing him. As Busch pulled out Gordon moved up to prevent any chance of Busch taking the lead, getting a little bump draft from Busch along the way as they both pulled down in front of Earnhardt Jr going through turn three.
One lap to go and the top three were single file, Johnson best placed of the rest on the outside. Through turns one and two he moved past Earnhardt Jr and alongside Kurt Busch, but down the backstretch Gordon, Busch and Earnhardt Jr combined to move him back behind them, Busch looking to pass Gordon, Gordon defending any move he made. Through turn three Johnson looked a chance to pass Earnhardt Jr until he saw Stewart in his mirrors, Johnson then moving up the track to prevent Stewart going around the outside.
With the top three settled, the battle between Stewart and Johnson was where the excitement was. Coming off turn four, Stewart dived to the inside of Johnson, contact ensuing as he was squeezed between Johnson and Riggs. As Gordon took the chequered flag ahead of Busch and Earnhardt Jr, Stewart ran high towards Johnson approaching the line. All this allowed Riggs to beat both of them, taking fourth ahead of Johnson, while Martin edged out Stewart for sixth place. Stewart was unhappy, making contact with Johnson after the finish in turn one, which then saw Johnson's car rebound into him, the cars making light contact.
Result of NASCAR Nextel Cup, Round 1 of 36, Daytona 500, Daytona International Raceway, Florida, United States:

Pos  Driver              Car
 1.  Jeff Gordon         Chevrolet Monte Carlo
 2.  Kurt Busch          Ford Taurus
 3.  Dale Earnhardt Jr   Chevrolet Monte Carlo
 4.  Scott Riggs         Chevrolet Monte Carlo
 5.  Jimmie Johnson      Chevrolet Monte Carlo
 6.  Mark Martin         Ford Taurus
 7.  Tony Stewart        Chevrolet Monte Carlo
 8.  Sterling Marlin     Dodge Charger
 9.  Kevin LePage        Dodge Charger
10.  Rusty Wallace       Dodge Charger

Standings: Jeff Gordon 185, Kurt Busch and Dale Earnhardt Jr 170, Scott Riggs and Jimmie Johnson 160, Tony Stewart 156, Mark Martin 150, Sterling Marlin 142, Kevin LePage 138, Rusty Wallace 134 etc.
MotoGP
Rio Grand Prix Dropped, Istanbul To Make Debut
The Rio Grand Prix has been dropped from the MotoGP calendar for the 2005 season and replaced by the first Turkish Grand Prix, the International Motorcycling Federation (FIM) said on Friday.
"Following the lack of a signed contract, the Rio Grand Prix is cancelled," said an FIM statement released on Friday. "The Turkish Grand Prix will take place on the new circuit of Istanbul on October 23."
The Portuguese round of the 17 race championship at Estoril has been moved back from October 30 to April 17 to replace the Rio race.
A Brazilian race has been on the grand prix world championship circuit intermittently since the late 1980s and in recent years has been held at the Nelson Piquet circuit in Rio de Janeiro.
Last year's Rio race was the only grand prix in the Americas but this year the championship returns to Laguna Seca in the United States for the MotoGP class only.
The new Hermann Tilke-designed circuit on the Asian side of Istanbul was already scheduled to host a Formula One Grand Prix for the first time on August 21.
Report provided by Reuters
Superbikes
Ready To Roll
The world's second two-wheeled circus gets under way this weekend at the Qatar circuit of Losail with the opening round of the World Superbike Championship. The final pre-season test in Qatar has seen the factory Suzuki team make a statement against the dominance of Ducati with its two riders, Japanese rider Yukio Kagayama and 1996 World Superbike Champion Australian Troy Corser topping the timesheets on their GSXR1000s.
The best of the Ducatis was Regis Laconi's 999F05 who was fourth fastest, three tenths behind Kagayama, and three hundredths behind the DFXtreme Yamaha of Jose Luis Cardoso. James Toseland on the second Ducati was tenth fastest with three Yamahas in the top six, Chris Walker next on the leading Kawasaki. The leading Honda is ridden by 40 year old Italian Pierfrancesco Chili in fourteenth, just under a second and a half from the pace. Steve Martin on the leading Foggy Petronas set times three seconds off the pace.
Leading entries:

No  Rider                 Motorcycle
  1 James Toseland        Ducati Xerox Ducati 999F05
  3 Norick Abe            Yamaha Motor France-Ipone Yamaha YZF R1
  6 Mauro Sanchini        PSG-1 Kawasaki Corse Kawasaki ZX10
  7 Pierfrancesco Chili   Klaffi Honda Honda CBR 1000RR
  9 Chris Walker          PSG-1 Kawasaki Corse Kawasaki ZX10
 11 Troy Corser           Alstare Suzuki Corona Extra Suzuki GSXR1000 K5
 17 Miguel Praia          DFXtreme Sterilgarda Yamaha YZF R1
 20 Marco Borciani        DFXtreme Sterilgarda Yamaha YZF R1
 24 Garry McCoy           Foggy Petronas Racing Petronas FP1
 30 Jose Luis Cardoso     DFXtreme Sterilgarda Yamaha YZF R1
 31 Karl Muggeridge       Winston Ten Kate Honda Honda CBR 1000RR
 32 Sebastien Gimbert     Yamaha Motor France-Ipone Yamaha YZF R1
 41 Noriyuki Haga         Yamaha Motor Italia WSB Yamaha YZF R1
 55 Regis Laconi          Ducati Xerox Ducati 999F05
 71 Yukio Kagayama        Alstare Suzuki Corona Extra Suzuki GSXR1000 K5
 77 Chris Vermeulen       Winston Ten Kate Honda Honda CBR 1000RR
 88 Andrew Pitt           Yamaha Motor Italia WSB Yamaha YZF R1
 99 Steve Martin          Foggy Petronas Racing Petronas FP1

Upcoming Events Calendar
February 26 - World Superbike Championship, Round 1 of 12, Qatar
February 27 - NASCAR Nextel Cup, Round 2 of 36, Auto Club 500, California Speedway, California, United States
---
© 2007 autosport.com . This service is provided under the Atlas F1
terms and conditions
.
Please
Contact Us
for permission to republish this or any other material from Atlas F1.