Car Briefs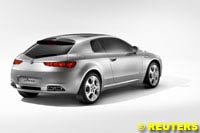 Alfa Romeo will launch the new Brera Coupe at Geneva in March, with sales starting towards the end of the year.
Based on the 2002 Brera concept car, the production model has inevitably been toned down, but it is still a very stylish car. It will sit above the recently launched Alfa GT and will effectively be Alfa Romeo's flagship model. It will have a choice of three engines: 2.2 petrol (185 bhp), 3.2 petrol (260 bhp) or 2.4 diesel (200 bhp).
Prices and final specifications will be announced later in the year.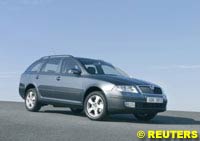 Skoda has announced a 4x4 version of the new Octavia estate.
Available in the UK from March 2005, Skoda calls it, "the perfect answer to the 4x4 backlash": within compact overall dimensions, it offers carrying capacity of 580 litres (seats up) rising to 1,620 litres with the rear seats folded.
There are two engine options: 1.9 TDI PD 105bhp, priced at £16,150, whilst the 2.0 FSI 150bhp is available at £16,745. Equipment is based on the Octavia Ambiente with the addition of climate control, leather steering wheel and front fog lights.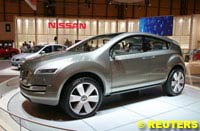 Nissan has announced that a new "crossover" model will go into production in Sunderland, England in December 2006.
Codenamed P32L, it will be based on the Qashqai concept car unveiled at the Geneva Motor Show in 2004. It is intended to be part people-carrier, part hatchback with all-wheel drive available on at least some versions.
It is a big boost to the Sunderland factory, which has been worried about the adverse pound/euro exchange rate. There are rumours that the next-generation Primera will move from Sunderland to a French factory where it could be built alongside the next Renault Laguna.

Mercedes B-Class U.S. Launch Delayed
DaimlerChrysler has temporarily delayed the U.S. launch of its new Mercedes B-class compact crossover vehicle, given the dollar's weakness against the euro, a company spokesman has said.
"It is correct that on account of the current dollar/euro rate we have delayed for the time being the launch of the B-class in the United States," he said on Monday, confirming a report in the Automotive News industry paper.
But he stressed the delay was only temporary. "As soon as the exchange rate basis is substantially better for us, we will launch the B-class in the U.S. as planned," he said.
No other models are affected and there will be no delay to launching the B-class car in Canada and Mexico, he added. The launch in Europe is also not at risk.
The B-class, made in Germany and due to be presented at next month's Geneva car show, is a roomier version of the A-class compact. It aims to compete against rival compact premium cars like the Audi A3 and BMW 1-Series.
Former Mercedes Car Group division head Juergen Hubbert told reporters at the Paris car show in September that Daimler expected to sell some 100,000 B-class cars each year around the world once production was fully ramped up.

BMW Car Sales Up 10 Pct
Germany's BMW boosted global group car sales by 10 percent in January as its ambitious new model offensive continued to pay off, especially in the key U.S. and German markets.
Sales of its core BMW brand gained 9.5 percent to 64,785 units, while deliveries of the Mini compact advanced 11.9 percent to 16,987 units, the maker of premium cars said on Monday. The BMW numbers were flattered by interrupted production at a Munich plant a year earlier.
Rolls-Royce delivered 32 Phantoms in January, a decline of 36 percent.
The Munich-based company has forecast another year of record sales for all three brands in 2005, driven mainly by the launch of its revamped best-selling 3-Series saloon next month.
"We have set high targets for 2005. The figures we have produced in January show that we have made a good start," said BMW's head of sales and marketing, Michael Ganal.
Together with the expected 120,000 to 150,000 units in added sales from its new 1-Series hatchback, entering its first full production year after its premiere last September, BMW stands a good chance of unseating Mercedes-Benz as the world's most popular premium brand.
Mercedes does not seem to be putting up much of a fight.
On Friday, the luxury arm of DaimlerChrysler said sales of its flagship brand dropped 12.1 percent to 61,300 cars in January, but has also forecast sales would pick up as new models arrive.
BMW's arch-rival blamed last month's weak figure in part on a delay in deliveries caused by faulty diesel fuel-injection pumps from Bosch, which were also supplied to BMW. Both BMW and Mercedes have announced temporary unscheduled production stops this week as a result.
Overall, the Mercedes Car Group, which includes the Smart line of compacts and the super-luxury Maybach marque, recorded a 6.4 percent decline in January deliveries to 71,900 units. BMW group sales already edged out Mercedes group sales in 2004 by some 8,232 units, after posting a 9.4 percent rise in deliveries to nearly 1.21 million vehicles.
Boosted by its largest-ever model offensive, BMW expects record 2004 earnings on a 6.8 percent rise in group revenue.