---
Ken Tyrrell: Fallen Titan
---
By Karl Ludvigsen, England
Atlas F1 Senior Writer
Last Saturday, the Formula One fraternity lost one of its most respected members. 'Uncle Ken' Tyrrell - The Lumberjack - succumbed to cancer of the pancreas. Karl Ludvigsen pays homage to the legend

Although Ken Tyrrell is best known as the "discoverer" of Jackie Stewart and the employer of his considerable skills through three World Championships, Ken was also one of the major movers and shakers in the Grand Prix world and a pioneer as well in the building of successful racing cars in Britain. He was a stalwart for Ford and the Cosworth V-8 in the "Ford Formula" years in Formula One racing and founder of the team that provided BAR's point of entry into F1.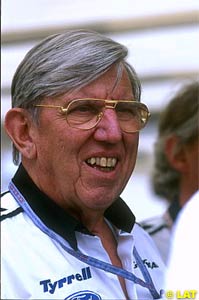 R. Kenneth Tyrrell was the son of a gamekeeper on an estate at West Horsley, Surrey. Not far from there, he and his brother founded a timber business, Tyrrell Brothers Ltd., that cut and hauled trees that were sold on to lumber yards. An early sporting interest in soccer saw his football team spectating at Silverstone on an outing in 1950. When he saw the racing, Ken was hooked for life. Tyrrell started racing in the 500 cc Formula Three and moved up to the 1½-liter Formula Two in a Cooper. He was in line for a factory drive with Aston Martin when a certain S. Moss came along and took his place.
"I had a bad accident at Goodwood in the 1950s," Ken said, "and after that I never seemed capable of reproducing the sort of form I had shown previously. By accident almost I loaned the Formula Two Cooper I was using at the time to a friend who did very well in it. That pointed the way for me as an entrant of race cars rather than as a driver." He started out with John Surtees in Formula Junior and in 1964 moved to its successor, Formula Three. The Formula's rules barred graded drivers so, as Tyrrell said, "the conditions we operated under forced us to search for new drivers all the time and really it only takes a degree of common sense to see who is good and who is not." Tyrrell had common sense aplenty.
For obvious reasons his most famous discovery was Jackie Stewart. "It was while discussing drivers with Robin McKay, the Goodwood track manager, that Stewart's name was raised," wrote Doug Nye. "McKay had seen him equalling the Sussex circuit's sports car record in a tired old Cooper Monaco belonging to Ecurie Ecosse." Ken invited Jackie to a test at Goodwood early in 1964. John Cooper himself was on hand with works driver Bruce McLaren, who was to check and validate the new Cooper Formula Three chassis and set a bogey time, which he did with his usual confident skill.
Then it was Stewart's turn. He listened closely to the guidance, indeed warnings, he was being given by Ken Tyrrell. He knew Goodwood well, and after only three laps he was still getting settled when Tyrrell flagged him to stop. What was the matter? Stewart had already equalled Bruce McLaren's lap time! "I was frightened, so I called him in," said Tyrrell, fearful that the youngster was driving well over his head and heading for a smash. While the team manager lectured the recruit, McLaren in a "this is ridiculous" frame of mind returned to the track and carved two seconds off his time. "Then blow me, Stewart went out and beat those times too," recalled an astonished but delighted Tyrrell.
Encouraged by an equally impressed John Cooper, Ken Tyrrell signed the young Scot for the 1964 Formula Three season. He had a shrewd plan as well. If Jackie would agree to allocate ten percent of his future earnings to Tyrrell, the latter suggested, he would advance the substantial sum of £10,000 to Stewart. Ken was nothing if not a businessman. During 1964 Stewart had confirmation that Tyrrell and money were not easily parted. "The only real drawback to working with Ken," he said later, "is his unerring aptitude for picking the worst hotels in the world. In our Formula 3 days we stayed in one for a race at Rouen which had naked light bulbs and the plaster falling off the walls. I spent the entire night throwing rocks at the rats in the courtyard."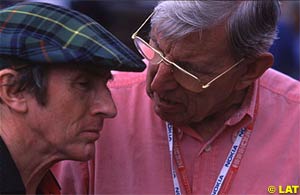 Their first race together was at Norfolk's Snetterton on a rainy March 14, 1964. It was early days for a new racing formula; no one knew the form. And here was one of the most desirable rides going, in a Tyrrell Cooper, snagged by a cheeky upstart from Scotland of whom few had even heard. At flagfall Stewart rocketed into the distance and at the end of the first 2.7-mile lap had a fourteen-second lead. "He just vanished in a cloud of spray," said Tyrrell. "Most of the time he seemed to spend looking back to see where the others were. He won by about half a minute." Actually it was 44 seconds. Stewart and Tyrrell went on to win eleven out of their thirteen Formula 3 entries in 1964.
Tyrrell would later say that he had no intention of moving up to Formula One. He did so in 1968 when he held the winning hand of Jackie Stewart, a Ford V-8 and a chassis built by Matra, whose cars he had raced successfully (to his own considerable surprise) in Formula Two. That first F1 year saw three wins by Jackie, followed up with six in 1969 and a first world championship. They achieved the double in 1971 with another half-dozen Stewart wins plus one for Cevert to win both the drivers' and constructors' cups. Jackie won the world title again in his final year, 1973.
Never again would the Tyrrell Racing Organisation Ltd. at Ockham near Woking, Surrey reach such heights. In 1974 Jody Scheckter scored two wins for Ken but that was the last season that would see more than a single victory. One-off successes were scored in 1975 and '76 (Scheckter again), 1978 (Patrick Depailler) and in 1982 and '83 (Michele Alboreto). Total wins to the account of the Tyrrell team added up to 33. Other top drivers who raced for Ken were Ronnie Peterson, Jean Alesi, Didier Pironi, Eddie Cheever and Martin Brundle. Tyrrell helped bring an American into Formula One with his engagement of Danny Sullivan.
Tyrrell himself accepted responsibility for the team's decline, which he described as follows in 1987: "Once you are no longer capable of winning sufficient races to be a contender for the world championship, then there is a drastic decline in the amount of sponsorship you can attract. Which in turn means you don't have enough money to pay the best drivers and you haven't the money to spend on the development of the car. It's a vicious circle we've got ourselves into. If the team doesn't have the funds to do the job then it's a failure of management by the team manager. So you see I'm taking all the blame for our decline in sponsorship." Some of today's team principals might like to be as forthright about the consequences of their actions.
Nicknamed "Chopper" for his prominent dental equipment, the tall, bespectacled Tyrrell was respected for his ability to put his case forcefully and eloquently. Ken's fearsome verbal assaults were famously dubbed "froth jobs" by his awed interlocutors. One of these was Jackie Stewart, who felt he had "a unique relationship" with Ken Tyrrell: "He made a great many decisions - but we were great arguers. I had his respect so I could argue with him, because I had won all these races.
"To me Ken is the complete team manager," Stewart elaborated. "He is full of sympathy when necessary, has all the dynamic attributes when required and is respected by other people in the sport. He has a bit of a temper too which is a good thing because you can be too nice and too soft with people. He puts himself one hundred percent into the job and expects the same from everyone else, allowing no excuses for failure because there's always a good reason for a failure which could therefore have been avoided."
The respect of his peers helped Tyrrell in his political involvement with the sport. In 1980 he was one of the key players in the founding of FOCA to represent the teams, an act that established the structure of the sport as we know it today. He was always active in the development of new regulations and a consistent advocate of measures that would help reduce costs. Ken was a pioneer as well in the establishment of the British motor sports industry, now a world leader. He was listed among a "new breed of entrepreneurs, men who had worked in the motor-racing business and loved it, who formed partnerships and put together the money and the expertise to create small, flexible teams."
The 1998 season was Tyrrell's last in Formula One with Toranosuke Takagi and Ricardo Rosset as drivers. Tyrrell had sold his team to British American Racing in November, 1997 and it was doing little more than going through the motions. Not long after the sale both Ken Tyrrell and his son Bob resigned their posts, Ken finally retiring at the age of 73. He remained a keen observer of the sport whose opinions were widely sought and appreciated. In 1999 Tyrrell was diagnosed with pancreatic cancer, to which he succumbed on August 25th at the age of 77. The sport has lost a true titan.
---
© 2007 autosport.com . This service is provided under the Atlas F1
terms and conditions
.
Please
Contact Us
for permission to republish this or any other material from Atlas F1.