---
Alain Prost: Keeping the Faith
---
By Timothy Collings, England
Atlas F1 Associate Writer
He may no longer be the young man of pure fitness, effortless speed and great grace in movement in a racing car, but Alain Prost is still a man of integrity and energy, devoted to his team, and committed to succeed after what has become a long struggle for survival. In an interview for Atlas F1, Timothy Collings talks to The Professor, about his team, about the Alesi/Frentzen affair, and about a life that is consumed by his job

After all these years, after all these races, Alain Prost is, at last, starting to show his age. The wafer-like one-time driver who used to keep fit for fun, ride bicycles up mountains as a hobby and enjoy life in the spotlight is being overtaken by time. The impish humour remains, but grey hair is appearing, too. And that record, the one that established his reputation as the sport's great professor of cool-and-calculated, is about to be dashed aside by Michael Schumacher.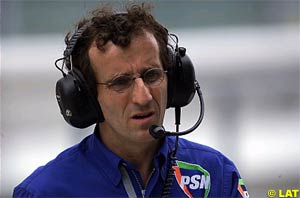 Prost, of course, welcomes the march of the years and months. Schumacher's progress and success, particularly if the newly-crowned four-times World Champion scores his 52nd victory at Spa-Francorchamps on September 2, will be a relief. The driver who became a hero of French sport will be able to retire that reputation and live on as a team owner, a man facing a struggle to keep his outfit on the road and in the races, according to the rumour mill.
More than anyone else in the modern arena of Formula One, Prost has seen it all. He has raced for McLaren, Ferrari and Williams. He has won titles, battled with Ayrton Senna and endured a decade of mass media exposure as one of the most easily-recognised men on this sporting earth as well as the ignominy of a sacking at Ferrari for comparing their cars to freight-carrying trucks. Beyond that, he has rescued and rebuilt the only Formula One team left in France, albeit that he preferred not to jump on the bandwagon that referred constantly to the team as the national blue machine.
For Prost, the horizons are international and the only restrictions are those imposed by realism and budget. He believes he will retain Ferrari engines next year, but the bad taste left by his recent professional spat with old friend and fellow Frenchman Jean Alesi, his one-time teammate at Ferrari, has left a certain taste in the mouth. The bad vibes also gave the critics, beyond the boundaries of France, a field day when the story emerged during the long-awaited Formula One summer break.
But Prost has seen enough in this business down the years to know this is just another episode in the long-running soap opera side of the job that has kept him drawn to it, instead of leaving for a vineyard or a football club, for virtually all of his adult life. Sensible men, without heart of passion for motor racing, would have gone years ago. Many have. But Alain has stayed, through a sense of duty and purpose, working diligently to keep his own and France's participation in Grand Prix racing alive.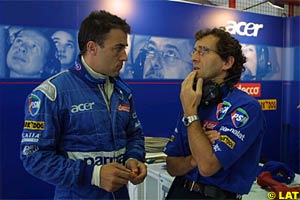 "You know, when I became a team owner, I knew there would be a lot of pressure and a lot of people wanting a French team, and I always said we would be, in fact, we are, an international racing team, but based in France," he explained. "That is the way it is. It has not changed. I want to have a strong and successful team, but it is a very big job and the competition and the challenge in Formula One is incredible. That is why it has been so difficult. There is no special magic, you know, to make this a success."
The disappointment felt by Alesi, and those who wanted to see the special French partnership of Alesi and Prost working together successfully, when the pair split shortly before the Hungarian Grand Prix was felt acutely by Prost, too. He had known Alesi since his first days in the Formula One paddock as a fresh-faced young hopeful, he had known his volatile temperament personally and had done his best to groom him for the future when they worked together at Ferrari. But he could not allow Alesi, in his veteran years, to abuse the team.
"We sent him a letter for a good reason," said Prost, by way of explanation for his own actions after Alesi had talked freely and critically of the team around the time of the French Grand Prix at Magny-Cours. "I was just doing my job in this case. But I am sure it is not the first one he has received in his career. Normally it should not be a problem. If you don't want to make a problem, it shouldn't have been a problem...."
The remark was allowed to hang in the air. In the intensely complex world of modern driver politics in Formula One, when drivers' contracts appear to be traded by clandestine developments during the Mediterranean's high season for yachting and summer-time frolics, it is difficult to make predictions. The uncertainty creates anxiety and that, in turn, is reflected in the biting of the fingernails. It is a Prost trait, like the knowledgeable approach to the business and interest in all things around him, including statistics, records and the rest.
"I was looking at that (statistical data) a little bit (when I was racing). It's always a challenge and obviously the most important thing is that when you have a car like he (Schumacher) has, and like I had at one stage, and you are able to win every race, obviously you don't look at the statistics. You just think 'okay, I am going to win this race. Then, after the race is when you look at the statistics. That is what he thinks, I am sure. I had the same thing. When you drive you don't think you are going to win, then you do and think, oh wow, I broke the record."
Alas for the team owner, running the Prost Grand Prix team permits him little time for contemplating much more than the balance sheets of problems and possibilities he faces on a daily basis. He moved for Heinz-Harald Frentzen, when he did, to resolve his problems and, in doing so, has discovered he has signed a sensitive and personable man of integrity and talent. "I was so proud to see him in the car for the first time," he said. "Our car is normally a little less good than the Jordan, so for him it may have been a bit difficult psychologically, but he showed no problems. He did a good job and we have great hopes.
"For me, he is one of the top drivers and he has brought something special with him to the team. It is a new challenge for us on both sides. He wants to prove that Eddie (Jordan) was wrong to sack him. We have the same kind of motivation. People have written a lot of bad and wrong things about the team and we are deciding what has to be done about that. But the truth is that we are working well and that the team will be okay. It takes time.
"We may not be able to compete on equal terms with the top teams, but we can with the others and we are going to do our best. Personally, it is very tough. It is tiring and wearing. I have not had any real holidays at all. I no longer have the time. I am working all the time and my life is consumed. I used to ride my bike and I wanted to ride a stage on the Tour de France again, but it was impossible. I could not do it.
"I used to ride in five, or six, or even up to 10 long-distance cycling races each year. But not anymore. This year, I did two at the start of the year and that was it. I stopped. The team takes all my time. We have restructured the management team, we are building carefully and we know what we are doing. It does not matter what people think from the outside, but they should ask for the truth before they write things that are not right."
He may no longer be the young man of pure fitness, effortless speed and great grace in movement in a racing car, but he is still a man of integrity and energy. He has ambition enough to run a team without fuel, if it were a legal product, but has to train it to work to his and his fellows' ends. The passing of the records will not hurt him or worry him. It will be a relief. But the passing of time without Prost registering successful results hurts and that is now the motivation that keeps the professor studying the data through his reading spectacles.
---
© 2007 autosport.com . This service is provided under the Atlas F1
terms and conditions
.
Please
Contact Us
for permission to republish this or any other material from Atlas F1.