---
The Weekly Grapevine
---
This week's Grapevine brings you
information fresh from the paddock on:

Michelin open Pandora's Box
Frentzen working Prost

Michelin open Pandora's Box
Toyota went testing at Spa. Not much to talk about there, you would think, except that they did so during the month ahead of the Grand Prix to be held there. Even so, considering they are not due to race there this year, there is little complaint. Except, of course, that they were testing with Michelin rubber.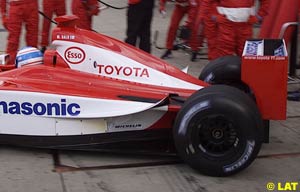 Bridgestone, naturally, have complained. From their point of view, it hardly seems fair that their only competition is able to get track time when they cannot. Even an off the pace Toyota can provide valuable data. Indeed, the very nature of testing means that understanding how the tyres are interacting with the track is critical.
When they went to Spa, Toyota took Michelin control tyres with them. In theory, as they should already know how the tyres work with their suspension, they should have been able to set the car up, mechanically, without using their Michelin technicians. However, whenever tyres come off the cars, even during regular testing, they are analysed. Tyre pressures and running temperatures are then plotted against lap times and wear rates, producing a profile of how the tyres operate against the setup of the car.
Although this information is being derived against control tyres, and for Toyota, rather than Michelin's development rubber on a Williams, the data is almost directly applicable to the forthcoming Grand Prix. They have established a good idea of what the surface will have to offer in terms of both grip and wear. They know how Williams uses their tyres, when on the same rubber as Toyota. So identifying which tyres to take to Spa is suddenly a far easier task.
The teams have yet to be heard on the subject, publicly at least. Ferrari have already won all the honours for this season, and have little to gain from making a fuss. Williams and McLaren are both flying the "racing comes first" banners, and are looking for a good clean fight to clinch second place overall: and anyway, Ron Dennis does not believe Williams have any influence over whether or not Michelin use Toyota's information when selecting tyres. Besides which, Michelin have not run a race there in recent years, and Bridgestone have...
In private, however, there is some concern. Not with Michelin specifically, but with the precedent being set: after all, it appears there is a whole Pandora's Box for circumventing testing restrictions that has just been opened...
There was talk, earlier in the year, of teams looking for ways around the testing ban between the end of the season and January. Some said that leading teams would be putting key components into GT and touring cars, putting mileage on and proving reliability, if not outright performance. The talk died a death, however, as it was made clear that the practical considerations attempting this course would be problematic, to say the least. After all, placing a braking system or engine into a GT car for track time just is not the same as putting it into an F1 car. That said, there are some things that can be tested in this fashion. Sensors need mileage, and provided the environment is at least something like comparable, this is a way of achieving it.
However, with Toyota setting the example, there is now scope for would-be Formula One teams to put together a car, and test it, at any time. Obviously, they would have to appear pretty serious, and be set up accordingly. So, "someone" setting up a new team, say "Lotus", and promising to try and buy in to the circus in the next five years, is entirely feasible...
You can see where this is going. As, of course, have the teams.

Frentzen working Prost
Coming away from Hungary, Heinz-Harald Frentzen was feeling quite pleased with himself. He had finished Friday 1.8s ahead of Burti. Not a bad day's work, considering it was his first full one in the car. After qualifying, he was still over 1.1s and three places ahead, and rejoiced in a solid, if unspectacular, race performance, before his only real mistake sent him spinning off the circuit.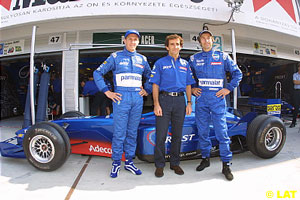 It's hard to imagine his response, however, to being told that Prost will not be testing ahead of Spa. Of course, if he'd been way off the pace and struggling to match Burti, then the team would have little choice but make track time, and let him get sorted out. However, he was right on the pace the team predicted the car is capable of, so he clearly doesn't need more track time. Furthermore, there are no developments to test, so there is no point in dragging out the test team. Indeed, the only thing that Prost can offer Frentzen to continue easing his way into the team, is a new, and better fitting, seat.
So, what's going on there? Well, the team have Frentzen on the simplest of retainers for now, amounting to little more than a handshake. Depending who you ask, he's racing for somewhere between nothing, and a token amount per race, and it will stay that way whilst details are being worked out with Jordan and the termination of his contract there. In the meanwhile, he's looking for a drive, and has set about ensuring that Prost is one of his options: so he's been impressing the natives.
On day one, or rather, the 50km "shakedown," Frentzen worked at understanding the car, which is a very different beast. Luckily for him, not only is the car basically well balanced, but Jean Alesi hates understeer, and has put a lot of effort into ensuring it can be dialled out. Frentzen has less problem with it, and immediately gained ground with the troops by being happy to live with it in some corners, to achieve a better balance for the whole circuit. Furthermore, given a few laps, he was already able to bring his considerable experience to bear with useful feedback on the characteristics of the chassis.
After his first weekend in the car, Alain Prost now knows that Frentzen is the real article. He is quick – probably as quick as Alesi, though less passionate, but potentially a better qualifier – and capable of giving good feedback for developing the car. Beyond that, he has worked well with the mechanics so far, and general feedback is very good: they like him. Coming to an agreement on salary could be a sticking point, but otherwise, Prost is now keen to retain the German into 2002.
---
© 2007 autosport.com . This service is provided under the Atlas F1
terms and conditions
.
Please
Contact Us
for permission to republish this or any other material from Atlas F1.