The official press release, when it came, was as bland as it was business-like. "Williams and Alex Zanardi announced tonight a joint decision to terminate their Formula One relationship, with the effect that Alex Zanardi will not drive for the BMW Williams team in 2000.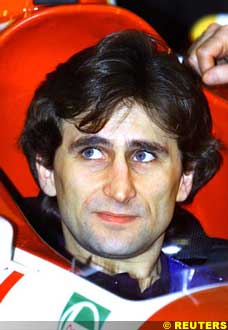 This decision follows a difficult 1999 season for Alex and Williams." The statement then went on to wish their former employee well, "We would like to thank Alex for his efforts for the team in 1999 and wish him every success for the future."
So one of the longest running recent Formula One sagas has come to an end, and although the news has been an open secret for some months, it was still greeted with a modicum of sadness in many circles. Formula One desperately needs the type of media-friendly open personality like Zanardi, who is attuned to the fact that racing must be a 'show', and that the fans matter.
No driver in CART has ever been more highly rated and his former team boss Chip Ganassi was always quick to sing his praises "Alex embodies the total package. On the track and away from it he is thinking about the car and how to improve it. He can be as technical when describing a car as anyone I know. On a Saturday night he can call for a change that can win the race on Sunday. He will work to get the car right but, if it isn't, he'll drive round the problem." That ability saw him win 15 races from 51 starts and back-to-back Cart championships.
So just what went wrong?
Critics point to his only average performances in Formula One during his first stint in the early nineties. "He didn't sparkle alongside Johnny Herbert at Lotus. He was stronger on the technical side, but he was slower and never raced particularly well. He tries some outlandish overtaking maneuvers," was the view of one insider with a team who once considered hiring him. Others point to the recent arrival of his son Nicolo and wonder whether with his new found wealth and growing family the fire still burns as brightly as before. Then, there are those who simply mention the 'Andretti' factor.
Despite the six-year gap between the attempts by these two ex Cart champions to move to Formula One, there are some striking similarities. Both had dominated in Cart prior to making the transition. In 1991 Michael Andretti won his title in commanding style, setting a new Cart record with eight wins and scoring 234 points. He led all but one of the 17 races. The following year he was clearly the dominant driver and only reliability issues cost him his second straight title.
When McLaren team boss Ron Dennis hired Andretti, he opined: "I think Michael is probably in that small band of perhaps five drivers in the world who have the necessary aggression in traffic and the desire to win." Again the comments have an eerie ring to them, being so like the comments that preceded Zanardi's arrival In F1. The aggression - all those comeback drives - those outrageous passes.
Both failed to make the grade in the sport's premier category, Andretti was often criticized for still living in America and commuting to the races. He was said to be insular and out of his depth in Europe. Zanardi had to bear the cross of grooved tires and cars that had handling characteristics that were an anathema to him and a package that was unreliable. Add the fact that he was saddled for much of the season with an inexperienced engineer who was unable or unwilling to push to get his driver the latest go-faster bits and a fuller picture of a season from hell emerges. Both tried and failed in Formula One and both have had to deal with the consequences.
It was in the parting that the similarities ended. Ron Dennis took the trouble to journey to Nazareth, Andretti's hometown to back his ex driver at a news conference to discuss his driver's departure from the team. There, Michael was able to announce his acceptance of an offer to return to the Cart series with Chip Ganassi's outfit (where he would score Reynard's debut win in Australia) and start the process of rebuilding his shattered career and morale.
Alex Zanardi now has the dubious distinction of being the first driver ever to be dismissed from the Williams team prior to the end of his contract. No doubt the reported US7 million in severance pay will go some way towards easing the pain, but Zanardi's racer's pride will have been severely dented by his treatment at the hands of the Williams team and it will only fester further with his enforced inactivity.
So into the hot seat at Williams - literally - jumps F1's hottest new star Jenson Button, just 20 years old and a driver with confidence and talent to burn. After enduring day after day of mechanically induced frustrations one wonders perhaps if he ever wondered, even fleetingly, just what he was about to sign up for. Few doubt that eventually the new BMW-Williams partnership will hit pay dirt, but when? What Button most needs, facing unfamiliar circuits and limited track time to learn them, is reliability, without it Button's season could well turn into a nightmare.