What do Alex Zanardi and Yogi Berra have in common? As Alex Zanardi nestles into the cockpit of his Williams on March 7, 1999 at the Grand Prix of Australia in Melbourne, the wit and wisdom of the legendary New York Yankee catcher will take hold: it will be deja vu all over again.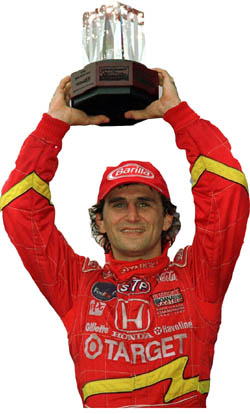 Surrounding Zanardi on the grid will be The Ghosts of Races Past: in the lead Ferrari, he will recognize Michael Schumacher as his Jordan teammate once-removed from the 1991 season, when Michael and Alex were both aspiring rookies and Zanardi took over one of the Jordan seats for the last three races of 1991 after Michael had jumped ship to Benetton and Jordan's other driver, Bertrand Gachot, found himself locked up in jail in the UK for spraying tear gas on a London cabbie. Michael scored a fifth and two sixths in the Benetton that year; Zanardi managed two ninth place finishes in the Jordan, one of them in the Spanish Grand Prix at Barcelona, where he impressed all concerned with his skill in the damp conditions.
In the 1992 season, however, Eddie Jordan had hired Mauricio Gugelmin (later to race against Alex in the Indy Cars) and Stephano Modena to drive the Jordan-Yamaha and Alex was out in the cold without a ride at 26 years-old after only one season. (Zanardi did have one race with Minardi-Lamborghini at Hockenheim in 1992 where he qualified 24th but he was out after Lap 1 with clutch failure.) With no permanent ride for 1992, Zanardi ultimately ended up as Benetton's test driver, where he worked with the principal Benetton drivers, Michael Schumacher and Martin Brundle. So, importantly, Alex knows Michael and his ways and has doubtless been itching to get back to where it all started for him and Michael back in 1991, when things went well for Michael but went awry for Alex. Indeed, Michael seems to sense that Alex knows his bag of tricks and has already been vintage Schumacher the Psychological Warrior in being dismissive of the certain rivalry that Zanardi presents for 1999, saying of Zanardi that he will "have to learn . . . he shouldn't be in a hurry . . . I don't know if he will become great in Europe as well." Who ever heard of a Grand Prix driver who is not in a hurry!
Also on the grid with Alex at Melbourne in 1999 will be another friendly face, Johnny Herbert in the Stewart-Ford, along with Rubens Barrichello, the other Stewart driver. Barrichello was in his rookie year with (you guessed it) Eddie Jordan, in the Jordan-Hart back in 1993. Herbert and Zanardi were teammates at Lotus-Ford in 1993 and probably have the sunniest personalities amongst the Formula One drivers. But it was an indifferent season in 1993for Herbert and Zanardi in their Lotuses, with the highlight being the Brazilian Grand Prix at Interlagos where Herbert finished fourth and Zanardi sixth; in all, Herbert was in the points four times, Zanardi only once. In addition, Alex was no stranger to accidents that first full season in Formula One, having survived a big shunt at Spa at Eau Rouge (after which Pedro Lamy replaced him for the rest of the 1993 season), and retiring from three other races that year due to accidents or a spin. Zanardi scored only one Championship Point and finished 20th and last in the World Championship, dead even with Eddie Irvine, another familiar face still on the current Formula One grid, who had run only two races in 1993 in (of course) a Jordan.
As unpromising as 1993 was for Zanardi, 1994 was to prove even worse for the struggling Italian. While Zanardi won his seat back from Lamy in the Lotus-Mugen Honda team as of the Spanish Grand Prix at Barcelona, his best finish in 1994 was ninth; in truth, the Lotus team was (as usual) short of funds and Herbert too had a lackluster year, finishing seventh on three occasions before exiting Lotus to join Schumacher at Benetton towards the end of 1994. It must still rankle a proud, determined and talented man like Zanardi after all these years that fellow ex-Jordan driver and fellow 1991 rookie Michael Schumacher took his first World Championship in 1994 with Benetton while Alex was being given his pink slip out of Formula One that same year.
The final box score for Zanardi's first four years in Formula One: 25 Formula One races contested from 1991 - 1994; best qualification position was 12th and best finish was 6th, which he managed only once. The final insult: no ride for 1995, which led ultimately to his joining the Indy Car Series in 1996, where his career has been just the opposite of his first years in Formula One. Zanardi's success in Indy Cars has been immediate, meteoric and spectacular, winning back-to-back CART Championships in 1997 and 1998 and outclassing by far both the regular Indy Car drivers and the ex-Formula One drivers now in the Indy Car Series like Gugelmin, Mark Blundell and Christian Fittipaldi who were his betters way back then.
Upon his triumphant return in 1999 to Formula One as the 1997 and 1998 Indy Car Champion, he will also be reunited with newly-minted Formula One World Champion Mika Hakkinen, who was another rookie with Alex in the distinguished rookie class of 1991. Indeed, in 1993, Alex had, in effect, replaced Hakkinen at Lotus, when Hakkinen made what proved to be his pivotal shift to McLaren, Ron Dennis et al. for the 1993 season, a collaboration that five years later would lead to the 1998 World Championship for McLaren and Hakkinen. It is ironic that unremarkable as Zanardi's Formula One career has been thusfar, he turns out to be the one driver that in a sense succeeded to the seats of Schumacher (at Jordan) Hakkinen (at Lotus) and now Villeneuve (at Williams), all the current luminaries of the sport: I am sure the Delphic Oracle would make something of that coincidence as a harbinger of the Future. Indeed, Alex's whole career in Formula One has been watching others go forward chasing their dreams while he struggled simply to stay in the game: Schumacher and Herbert graduated to Benetton, Irvine to Ferrari and Hakkinen to McLaren while Alex was passed over again and again and headed back to the unemployment line.
Rounding out the group of drivers still in Formula One in 1998 that Alex raced against in his first F1 rite of passage is Damon Hill who, in some ways, has had an up and down career in Formula One similar to Zanardi's: an abysmal rookie year in a Brabham-Judd, followed by test driving and finally a ride in the dominant Williams-Renault that ultimately made him the 1996 World Champion. And of course, like virtually everyone else now in the front part of the grid in Formula One, Damon Hill and Alex Zanardi are both members of the long list of distinguished Jordan Alumni in Formula One which seems to be the Rosetta Stone for successful drivers: Schumacher, Irvine, Barrichello and now Zanardi and his new Williams teammate, Ralf Schumacher.
David Coulthard, now of the McLaren-Mercedes team, was just beginning his rookie year in 1994 as Alex was suffering through his last season of Formula One. By comparison to Zanardi, Coulthard has been born in Formula One with a silver spoon in his mouth Unlike Zanardi, Coulthard in his very first season joined a top team, Williams-Renault, something it took Alex nearly eight years to achieve. But Coulthard, who has now had the good fortune to be with two top teams, Williams and McLaren, has yet to prove that he knows what to do with the first-rate equipment with which he has been blessed. By contrast, Zanardi has shown by his brilliance in the oh-so-competitive Indy Cars that he was a diamond in the rough all along: he just needed a decent car to prove he was Championship material. Not even the greatest driver-picker of them all, Eddie Jordan, saw that genius in Alex back in 1991.
Heinz-Harald Frentzen, Oliver Panis, Mika Salo and Jean Alesi are the final members of the group that Alex will join on the grid at Melbourne in 1999 that were with him the last time Zanardi raced in Formula One, ironically also in Australia, at Adelaide on November 13, 1994. That day, Mika Salo was Zanardi's teammate in the woebegone Lotus Mugen-Honda; for Salo it was only the second race of his rookie season. Both Salo and Zanardi were out at half distance with mechanical problems. Panis was also in his rookie season with Ligier-Renault and finished fifth that day, his best place that year. Frentzen was also a rookie in 1994 and finished seventh in his Sauber-Mercedes and scored seven Championship Points in his first season. In time, all these drivers have proved themselves in Formula One since they last raced with Alex, all but Salo having won a Grand Prix.
But it is fellow-Italian Jean Alesi's career that may in the end pose the most dangerous precedent for Zanardi. Like Zanardi, Alesi (now one of the eldest members of the group in career terms having been a rookie in 1989) has a heavy foot and a volatile artistic temperament that has sometimes been his undoing. Like Zanardi, Alesi started off his Formula One career in an underpowered Tyrrell-Ford in which he did better than expected, finishing second to Senna's McLaren-Honda at Phoenix and at Monaco in 1990. But having graduated in 1991 to a "real" team, Ferrari, and in 1996 to Benetton, Alesi developed the double-edged sword that marked the career of Stirling Moss: the ability to drive slower cars fast (the Tyrrell, and now, impressively, the Sauber) but the bad luck to move to formerly good Formula One teams just as they were about to go into decline. (Ferrari and Benetton in Alesi's case). For Alex Zanardi's sake, let us hope that he stays out of Alesi's way on the circuits this season and that he has not jumped to Williams when he should have joined ex-Jordan, ex-Benetton teammate Michael Schumacher at Ferrari or even re-joined Eddie Jordan to make it a real deja vu experience.
Finally, Jacques Villeneuve, the other ex-Indy Car Champion in the group and ex-Williams team leader is bound to be a challenge for Zanardi. To begin with, although they both raced in the Indy Car Series they did so at different times, so have not raced against one another: knowing their aggressive styles and the musical chairs that led to Zanardi taking Villeneuve's seat at Williams, you can be sure that these two opportunistic drivers, with similar "educational" backgrounds in the rough and tumble Indy Car Series will be at each others throats whenever possible.
Zanardi's new teammate at Williams, Ralf Schumacher (who was a sixteen year-old when Alex had his rookie season in Formula One), will present Zanardi with the most measurable of challenges and raises the question of who is or if there is a "Number One" driver at Williams. During December 1998 and January 1999 testing sessions at Barcelona, Ralf has been somewhat quicker than Zanardi, but Zanardi has steadily closed the gap as he comes up the learning curve.
Zanardi's presence also means that the front rows of the grid will now have four Formula One World Champions and two Indy Car Champions week after week which will begin to re-introduce the sacrosanct issues of which series and which group of drivers is "better," an intriguing question that remains unanswered (and thus all the more delectable) except by the few men who have performed in both formulas. Although a "merger" of the two series would be anathema to Bernie Ecclestone, it is in fact happening by virtue of the Zanardi/Villeneuve cross-pollination and those who support either side of the issue will no doubt be keeping score while the rest of us simply enjoy the fireworks.
No matter how it all turns out, Zanardi will be a kind of culture shock for the relatively genteel world of Formula One. Alex is candid, direct, voluble, quotable and fan friendly , known to delight in thanking his fans profusely for allowing him to come to America and live the American Dream in such full measure. In short, he is the antithesis of the standoffish nature of Formula One, where fan-friendly means a driver giving an interview to Fox Sports reporter Peter Windsor on the run between the motorhome and the paddock as if the driver was Madonna!
I am expecting any day now to read that Formula One has promulgated a rule prohibiting Alex from doing his trademark "doughnuts" if and when he wins a race. Who would not pay good money (and ever contribute to Alex's fine) to see Frank Williams and Patrick Head wince when Alex pops the clutch and does a few figure eights in the half-a-million dollars worth of Williams! Whatever the rules and whatever kind of season awaits Alex, he is sure to be a contender amongst his former classmates in the rookie class of 1991 - Schumacher and Hakkinen - and a breath of fresh air for the fans, at long last in a decent Formula One car as he should have been all along.