It was supposed to be just another testing session at Jerez in Spain. An opportunity to evaluate two new drivers, gather some more data on a still new package. Just a routine test. Yet one of these new drivers was a 19-year-old kid Jenson Button, with just one season in fully professional single seater racing under his belt and the team was BMW-Williams. For the record, the other driver was the team's Brazilian test driver Bruno Junquiera. But Button and Williams, a mismatch surely?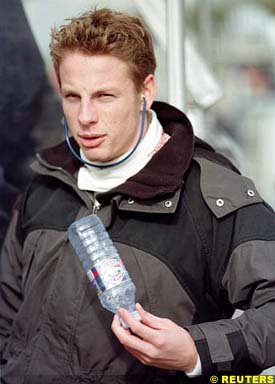 For the first two days it was the weather and the car that failed the test. For Button it was more of a test of his nerves and temperament than of his driving. He passed. On the third day he was finally released onto a dry track with the car on song and Jenson Button did what he has obviously been put on this earth to do, drive a Formula One car smoothly and quickly and impress the hell out of everyone.
Patrick Head, the Williams technical director, said after the test, "Jenson is remarkably mature for a 19-year-old and is definitely a star of the future. He has done a good job." The fact that Head was addressing a media contingent many times larger than is normal for such a supposedly routine event said it all. Jenson Button is clearly no ordinary young driver and the word had spread. Perhaps more importantly, for the British media in particular, he could easily be the next great British hero.
With Nigel Mansell just a distant memory, and Damon Hill now at home with his feet up, a new hero is desperately required. Who could fit the bill better than a clean-cut young man from Somerset in southern England who does not look old enough to drink, let alone race wheel to wheel with some of the hard men of Formula One. Despite Head's encouraging words, his promotion into the top flight of world racing is not yet a done deal, he must wait at least a week and come through another three day test at another Spanish track before any deal is inked in. But the smart money is already betting that we are witnessing the arrival into Formula One of another great talent, and even if it is not immediate, it can't be long delayed
Despite his tender years his racing pedigree is impressive. He started racing Karts when he was just nine years old. When he was eleven he entered 34 races and won them all, winning the British and open titles two years in a row for his age group. At 17 he became the youngest, and first British driver ever to win the European Super A title. Along the way he was awarded the Ayrton Senna Memorial Cup for his performance in finishing second at the Japanese World Cup in '97 by the President of the FMK, Mr. Ernest Buser, "With his smooth style and ability to pass anywhere," remarked President Buser, "Jenson reminds me of Senna."
The comparison of Button with Senna was an echo of an earlier comment by Paul Lemmens, of GKS Tecno, who ran Jenson for two years in Karting and had this to say about the young Briton: "In my 25 years in Karting there have only been two drivers of such outstanding ability, one was Ayrton Senna and the other, Jenson Button." Like Senna, Button commenced his car-racing career in Formula Ford and like Senna he won the championship in his first year. Button then raced in the British F3 championship scoring three wins and finishing in 3rd place in the standings behind Luciano Burti and champion Marc Hynes.
It is here that the questions start. Is it a good idea for Jenson Button to join BMW-Williams at this stage of his career, and who has most to lose? Most drivers on their way up spend at least two years in what is universally acknowledged as the toughest F3 championship in the world. Some who have progressed into Formula One have spent three. It is the place to hone your skills and match yourself against the best young chargers around. In '99 Button showed that he was fast but raw, prone like any inexperienced driver to make mistakes under pressure. Button had already tested an F3000 car, but looked all set to stay another year in F3 with the French team Promatecme and gain Formula One experience as a test driver with the Prost team for whom he had already tested and impressed, and then Frank Williams called.
Frank Williams runs one of the most successful Grand Prix racing teams of all time. He is also one of the hardest men in the pitlane who is totally committed to anything that benefits his team. His interest in Jenson Button has nothing at all to do with assisting the career of a young British hopeful, it's purely business, just as it should be. The Williams team is currently, by their high standards, at something of a low ebb. Last year they finished fifth in the Constructors' standings and will struggle to improve this year as the partnership with BMW kicks in. Whoever drives the number two Williams is going to have Ralf Schumacher as a teammate. Schumacher is young, relatively experienced, fast, super confident, and not looking to help anyone but himself. Racing the FW22 in this environment will be no easy task.
For a driver in Button's relatively weak bargaining position, trying to get a foot on the bottom rung of the Formula One ladder, the contract options will almost all be on Frank Williams' side. Lurking just a year away is the availability of Juan Pablo Montoya, a driver Frank Williams rates highly and has under long term contract. When he is free of his ties to his CART employer, Chip Ganassi, Montoya will surely want to return to continue his Formula One quest. Even the experienced and more worldly wise Olivier Panis turned down a Williams offer, preferring to rebuild his stalled career as a test driver with McLaren rather than commit himself to becoming yet another statistic in Frank Williams' seemingly endless 'Revolving Door' of discarded drivers.