What does Heinz-Harald Frentzen have in common with Nelson Piquet, Nigel Mansell, Riccardo Patrese, Damon Hill, Alain Prost, David Coulthard and Thierry Boutsen? Yes, they all drove Williams Grand Prix cars in Formula One and won races in them too, but the key connection is that they were all shown firmly to the door by Frank Williams, or left the team somewhat under a cloud. As between them these drivers have no less than eight World Drivers' titles you could be forgiven for thinking that perhaps Frank has been a mite careless with his Champions.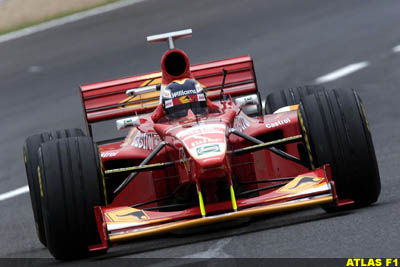 Frentzen has no Championships to his credit and only one victory to show for his two years with the Grove based outfit, but following his release from the team after the recent Japanese Grand Prix he was quick to air his opinions regarding his treatment at the hands of the Williams team's two principles, Frank Williams and Patrick Head. "I always did my best for the team but, at times, it didn't seem to matter. It was never good enough," he was widely quoted to have told the British tabloid "The Sun". He continued by blasting Head further: "Patrick is a brilliant engineer, but he has no idea of man-management." He finished off by claiming that after his first test with the team, Head told him that he "should take a good look in the mirror and ask yourself if you really are a professional racing driver". Patrick Head has denied making this last comment.
Now you could make a case for writing off these comments by Frentzen as sour grapes if it wasn't for the fact that they have a very familiar ring to them. At one time or another nearly all the drivers that have driven for Williams have had very public rows with the team.
In 1992 we had Nigel Mansell wrapping up the World Championship after 11 of the 16 rounds, quitting the team and Formula One in a dramatic Monza press conference. Later, in the tragic aftermath of lmola 1994 he was to return for some races at the insistence of Renault, but Frank "squared the ledger" by dropping him for the 1995 season in favour of the youthful Coulthard. Next to go was Alain Prost, who would last just one year, his Championship win counting for little when Frank Williams found he had the opportunity to fulfill a long time dream, to get Ayrton Senna's signature on a Williams driver contract.
If David Coulthard had visions of a long term home at Williams his dreams were to be quickly shattered. After what Frank Williams considered to be a below par first half of the season, he was advised that he was surplus to requirements and following an impressive test arranged by Fl boss Bernie Ecclestone, Jacques Villeneuve was signed for 1996.
The revolving door was well oiled and spinning nicely.
On Wednesday the 28th of August 1996 Damon Hillís solicitor Michael Breen received a call from Frank Williams. Damon could, said Frank, "look elsewhere for a drive in 1997." At the time of that call Hill had 81 World Championship points, his two closest challengers were Villeneuve on 68 and Michael Schumacher on 42. Hill had also won eight of his last 14 races (including Adelaide in 1995). He would go on and take the world Championship and so become the third title holder in five years to leave the team amidst controversy and acrimony.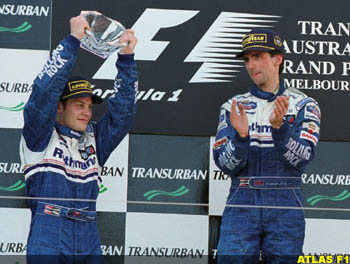 So just what is it that constantly drives this team to break one of sport's seemingly golden rules, that of not changing a winning team? Like all sportsmen at this level, racing drivers perform under enormous stress. Mistakes are inevitable, but it is not only the drivers that make mistakes. Cars break, pit stops go wrong and engines explode. The motto "win together lose together" is often mouthed up and down the pit lane, but it rings truer for some teams than others. So often the impression that is given out from the Williams team is that it is Williams that does the winning and the drivers that do the losing.
The business of man-management can sometimes be a subtle art. People react to situations in different ways as do drivers. Bawling out a driver after a bad race is seldom very productive, nor is calling him a "prat" as Frank Williams was widely reported to have done to Damon Hill after his collision with Michael Schumacher in the 1995 British Grand Prix. Contrast this with, the way the Ferrari team closed ranks around Michael Schumacher after this year's races at Spa and Suzuka and the difference in management style becomes quickly apparent.
Williams insiders point to events of some twenty years ago to explain away the reason for this somewhat tough and uncompromising approach to the handling of their drivers. In 1978, the fledgling Williams team, who at that time had just 21 employees, hired a no nonsense and aggressive Australian driver by the name of Alan Jones. Jones was not their first choice driver, indeed many above him on the list never bothered to return Frank's calls, such was the reputation of this struggling team then. But the FW06, penned by Patrick Head was a neat and simple car and the arrival of sponsorship money from Saudia Airlines enabled the team to go F1 racing in a professional way for the first time.
Over the next four years the team won 17 Formula One races and Alan Jones clinched the Drivers' title in 1980 and was close in both '79 and '81. Jones though exemplified just what Frank Williams thought a racing driver should be like. He oozed aggression both on and off the track and brought to his driving the straightforward will to win which is so much the hallmark of many Australian sportsmen. When Alan Jones quit abruptly at the end of the '81 season he left behind him a legacy that Frank Williams would struggle with for many years to come, where to find another Alan Jones?
That all drivers are not as mentally tough as Jones, or as precise in their feedback, clearly irks him even after all these years. For a man like Frank Williams, who has shown enormous strength of character to continue at the helm of his beloved team, despite becoming a quadriplegic as the result of injuries suffered in a car crash in early 1986, it must be hard indeed to "nurse" a driver with problems. But drivers are not like cars, they cannot be adjusted and developed by white coated technicians with the aid of the latest computer technology, sometimes they need the unqualified support of their team, a sanctuary to lick their wounds away from world's constant prying gaze.
For the 1999 season the Williams team will be starting out with two new drivers, double Champ Car Title winner Alex Zanardi and the error prone but improving Ralf Schumacher, both the 1998 incumbents having departed. As the Williams team gears itself towards returning to its winning ways, the clock will be ticking for both its new drivers. The door marked exit is always brightly lit.