Atlas F1 is proud to present a series of features on the all-time greatest drivers of Formula One, written by veteran journalist Barry Kalb.

This week's feature: Conclusion and Statistical Tables

Is there one greatest driver of all times? Alfred Neubauer said Caracciola was the best. Enzo Ferrari named Nuvolari and Moss, Moss says it was Fangio, Niki Lauda and not a few journalists have said it was Senna. But such statements are meaningless. What possible comparison could be made of drivers from different eras, in cars employing different technologies, offering vastly different levels of handling characteristics, over a period of 60 or 70 years?

The answer, of course, is none. There is no way to make a valid comparison between, say, Nuvolari and Clark, between Moss and Senna, or even between such contemporaries as Moss and Fangio, Senna and Schumacher. Was Moss, who was rising as Fangio's career was fading, ultimately as good as Fangio? Would Clark, whose career began as Moss's ended (and who was already beginning to worry Moss in 1961), have begun beating Moss in one-to-one battles? Would Schumacher, whose career was just starting as Senna's ended (and was already beginning to worry Senna), have beaten the Brazilian in equal cars?

There is this to consider. The driver one happens to follow, the driver one happens to see in an actual race, is the driver likely to make the greatest impact on a spectator. Senna, whose career coincided with the advent of live, world-wide broadcasting of Formula One, who raced in Formula One for ten years, who became one of the best-known sports figures in the world - who died so tragically and so spectacularly on live television - is the name many people now alive identify with. In fact, Senna and Schumacher are the only great drivers a very large percentage of today's Formula One fans ever saw in a race. Those who saw Jimmy Clark race, or Stirling Moss, or Juan Fangio, tend to be more measured in their assessment of "the greatest."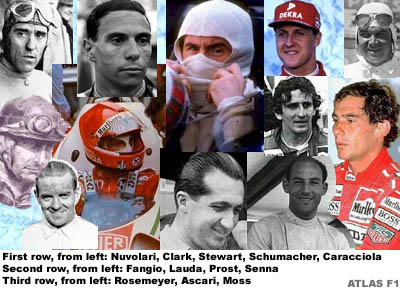 If only it were possible to stage a race around the old 14.2-mile Nurburgring track: Nuvolari, Caracciola, Rosemeyer, Fangio, Moss, Clark, Stewart, Senna and Schumacher; throw in Ascari, Prost, Lauda, Mansell, perhaps Nelson Piquet and Emmerson Fittipaldi for good measure; all in their prime, all in identical 1955 Mercedez-Benz W196s, say, or 1957 Maserati 250Fs-cars that had no wings, no traction control, no active suspension, no on-board computers, no automatic gearshifts, cars in which the driver sat upright and worked his magic with the steering wheel for all to see, cars that drifted through a curve with the rear end hanging out and the front end pointing across the apex and perhaps the front wheels on opposite lock to correct for oversteer, cars that really gave the spectator a feel for the incredible speed and danger of Formula One motor racing and the incredible ability of the men who drive in it. If such a race were possible, then one might be able to say who was the greatest.
But that is the stuff of fantasy.
* * *
If nothing else, statistics tell the story. In the matter of wins per start, poles per start, points per start, podium finishes per start, some men stand at the pinnacle of their sport. They are, to a large extent, The Best of the Best. Here are their achievements, in the numbers:
TABLE 1 - Driver statistics, 1950 to Brazil 1999.
TABLE 2,3,4 - Drivers with 20 or more wins; Drivers with 10 or more wins, or world champion; Other notable drivers.
TABLE 5 - Ranking of top drivers in major categories.