by Dieter Rencken, South Africa
Atlas F1 Magazine Writer
This week's rumours and speculations
Fresh from the Formula One paddock

SAVING ON ENGINES
Somehow, in December, FIA President Max Mosley – a man to whom a miracle is seemingly a mere obstacle to overcome – achieved the absolutely impossible: he persuaded Mercedes, BMW and Honda to accept V8, 2400cc engines from 2006 onwards, and drop any planned litigation against the governing body for alleged breach of Formula One's controlling document, the Concorde Agreement.
Quite how he achieved these tasks lies hidden from general knowledge, but it is a fair bet that he persuaded the trio of motor manufacturers, all of whom have won F1 championships, that litigation may win them the war, but lose them the battles. To wit, it is suggested he proved how far along the road the likes of Ferrari and Renault were into development of units to suit the proposed regulations, and that further obstinacy would entail plural engine developments for the rebels.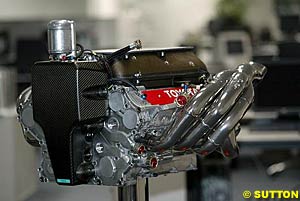 In short, they could go to court and maybe retain V10s for two further years, but, as contingency against loss, would still need to develop V8s for 2006 should they wish to remain in the sport. Acquiescence to the new rules would enable them to begin development immediately without costly long-term V10 projects, thus saving them the costs of dual-stream development.
Whatever his modus operandi, he achieved his objectives, and V8s, 2400cc are reality from Melbourne 2006, and a taster of what can be expected was provided by Luca Marmorini during Toyota's TF105 launch. It was not just a matter of slicing two cylinders off a V10 to achieve the required configuration and capacities as had been suggested when the concept was first mooted. The difference in geometry was such, he said, that, where 90° V10s are almost perfectly balanced, the V8s were out of balance in secondary harmonics, particularly when it came to single-plane crankshafts designs, which are the norm in competition engines.
The imbalance could be negated, the Toyota Technical Director Engine explained, but only via counter-balance shafts, and he grinned broadly before continuing. "These shafts run at double engine speed, so would have to run at 38,000rpm if we achieve 19,000 rpm in our engines. The technology of the balance shafts would be more of a challenge than probably the rest of the engine.
"But, I tell you what," he continued, "they will make a lovely sound. The engines Toyota used in the States, in CART and IRL, ran to 16,000rpm, and the sound is beautiful."
The vibrations, though, are sure to impact on overall car design, according to the Italian, who admitted that the team had started engine design "some time back" and that "long lead-time items" are already on order. "At the moment, with V10s, we can mount electronic boxes and components on the engine without fear of failure; with V8s that will not be the case, so we will have to mount more items on the chassis."
Are the vibrations such that cars will need to be beefed up? "Yes, a lot of parts will have to strengthened, rear wings, items like that."
What about the weight of the engines, compared to 2005 units, the best of which are estimated to weigh in at 88 kilograms? "Well, we should be able to build engines weighing under 80, but here is the funny thing. They are talking about an engine weight limit of 96 kilos, so we will build an engine as light as possible, then have to ballast it.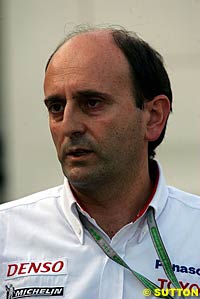 "Obviously, you make the reciprocating parts as light as possible, to increase revs, and the upper engine parts you make light to reduce centre of gravity, so the only place to add heavy parts is at the sump. And the regulations say the sump has to be out of aluminium, so I don't know what we will do there."
Seems F1 will again be spending money to save weight, then spending more money to negate the savings. Sounds a bit like the lady who spends her mornings plucking eyebrows, and the afternoons painting them back. Who would ever have said that about F1?
* * *
But if Toyota are pretty clear on the basics of their V8, it seems less so about the logistics of their supply of engines to Jordan this year. When asked about engine supply to the team, Marmorini stated, "They have blueprints and a mock up unit, and will get there first motor next week sometime. But it is not really my department, I just have to make sure they (the engines) are ready for the team."
However, John Howett, president of Toyota Motorsport, gave a different version when approached. "They have had drawing and a dummy engine for sometime now, but get their first running engine at the end of the month."
So, end of January, then?
"Yes, end of January," affirmed Howett.
At that stage less than four weeks remain before cars and kit are packed for Melbourne on 6 March, so matters are really being cut fine for Jordan, who plan just two weeks of testing in February. Any wonder the yellow team have warned not to expect "miracles"?
---
© 2007 autosport.com . This service is provided under the Atlas F1
terms and conditions
.
Please
Contact Us
for permission to republish this or any other material from Atlas F1.