---
The Low-Key Approach
---
By Dieter Rencken, South Africa
Atlas F1 Magazine Writer
Continuing with their tradition, Toyota were again among the first Formula One teams to unveil their car for the new season. This time, however, the launch was extremely low key as the Japanese squad seem to begin a new period in which they expect the results to do the talking after three years of struggle. Atlas F1's Dieter Rencken reviews Toyota's launch and analyses their chances for the year ahead

Panasonic Toyota Racing may be Formula One's latest entrant, but, for four years now, they have maintained a tradition of being first to launch. Unlike previous unveilings, though, the TF105 launch, held in Barcelona's historic Estacion de Franca, was totally devoid of glitz and glamour. That the halls of the downtown station serve as Monday – Friday commuter junctions sent out loud messages: the German-based squad are serious about this Formula One business.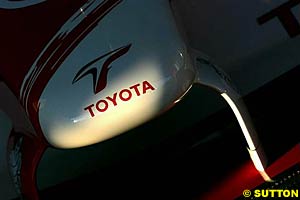 Prior to their first start in Melbourne 2002, Toyota Motorsport GmbH, to give the operating company its full name, held not one, but two media launches: the first, immediately before the 2001 Belgian Grand Prix, served to present to the international media their massive 30,000 square metre base a few kilometres outside Cologne; the second, in December of that year, launched the TF102, the only recent Formula One car designed and built entirely under one roof.
Only Mika Salo scored that season, with two points via a duo of sixth places in the opening three races, and, beating only the cash-strapped Arrows in the constructors', Toyota admitted they needed to try much harder. "Basically we underestimated the challenges of Formula One," explained Team Principal and Chairman at the time, Ove Anderson.
For 2003 the media trekked to Paul Ricard for the dynamic introduction of the TF103 and a revised driver line-up. That TMG dropped Mika Salo and Allan McNish (in favour of Olivier Panis and Cristiano da Matta) after just one year drew criticism from respective partisan quarters, but proved one thing: the company was not afraid of taking decisions. Still, Toyota languished in the bottom quarter of the standings despite some sunshine moments, not least da Matta's P1, albeit briefly, at Silverstone. So, for 2004 it was sweeping change again, this time at management level.
Anderson had chosen retirement – he was above Toyota's policy age in any event – and John Howett, previously Vice President of TMG, stepped up, whilst Tsutomu Tomita took over as Chairman and Team Principal. Gustav Brunner, the Austrian free-thinking Chief Designer, was, from late 2003, put under the direction of the much-rated ex-Jordan, ex-Renault designer Mike Gascoyne, who joined the team as top technical man on the chassis side after much wrangling and denial from the French squad. Ex-Ferrari man Luca Marmorini, previously General Manager of the Engine Department, stepped up to Technical Director Engine after a superb run of powerful reliability from his RVX range of V10s.
So all set, then, for the TF104, lavishly launched in Cologne as part of an open-house. Again it was meagre pickings (eighth, ahead of just Jordan and Minardi in the constructors' standings), and by Hungary da Matta was gone, replaced by tester Ricardo Zonta. Then Jarno Trulli, suddenly released by Renault after signing with Toyota for 2005 after being dumped by Renault within months of winning Monaco, eased into Zonta's seat.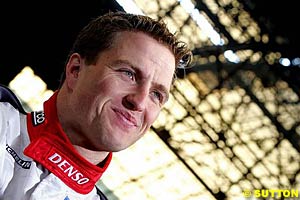 Ralf Schumacher, of course, had agreed terms with the team after an open courtship, so, for the first time in their history the team would have three Grand Prix winners on their driving strength, for Panis would remain as tester. Then, come Brazil, Panis stood down in favour of local hero Zonta amid rumblings from the East that "podiums were demanded in 2005". As one wag put it, each of Toyota's 2004 points (nine) had cost an estimated $35m...
Then, in November, came signs of introspection. The 2005 launch would be a tight-knit function, not at all glitzy, allowed one TMG source, though another did admit that it "would be in Spain" and "early in the new year".
For security reasons the venue – a public place, remember – was kept secret until just 48 hours before the unveiling, and lunch was not a lavish affair, and 'goody' bags contained necessities: press releases, a presentation pack and a pen. Only 150-or so journalists were invited, and, for hacks used to rugby scrums at launches straining to hear each sideways word, interviews were almost a stroll in the park - all the better for gleaning information.
Marmorini, for example, appears convinced that the RVX-05 would not only deliver the 1,500 kilometres or so demanded of 2005 F1 engines in terms of the two-weekend rule, but do so without any discernible shortfalls in power over RVX-04, which, Toyota's documents suggest has "over 900 bhp". "Plus," he added, "we are extremely proud of the fact that, in 51 Grands Prix since 2002 (102 starts), we have only suffered four engine failures. That is promising for us, but our target is always zero failures."
Had the two-race regulation not been introduced, F1 engines would be in the region of 1,000 horsepower, the Italian graduate engineer (he holds a Ph.D in mechanical engineering) believes. And, such is Toyota's capacity that it is already hard at work on the V8 2400cc unit required for 2006.
Gascoyne was equally bullish about 'his' TF105 and the season, for, although its technology appears conservative – it retains, for example, a titanium gearbox housing where sharp-enders are running composite casings – the team have put their enormous closed-loop wind tunnel to good use and overcome the calibration problems which led to inaccuracies in readings done on its predecessor. And, forget not: Gascoyne is not only a proven leader of men, but a highly-respected aerodynamicist, too.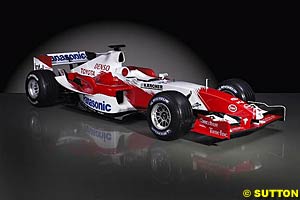 He believes that racing in 2005 will "be closer to what we saw in 2003 than last year". "The new regulations require trade-offs between engine conservation, fuel weight and tyre preservation during qualifying and race, and that makes for more of a challenge."
Effects on strategies? "You will still have fuel stops, but probably one less than at the moment. So, the norm will be one or two stoppers, because you have to trade off that all-important weight for grid position." He would not be drawn on fuel capacity, but indications are that TF105 runs a 120 litre tank, thus providing flexibility.
With rubber wear being critical in 2005, and mindful that the TF104 had been hard on rear tyres due to aerodynamic deficiencies, the team have honed TF105 within the 2005 regulations. "We lost approximately 25% of downforce when we implemented the new requirements in our wind tunnel, and the challenge is to limit this loss as much as possible in the run-up to the first race," said Gascoyne. He estimates that 5% has been found, and makes no secret of that fact that the car which lines up in Melbourne will show substantial signs of aero evolution.
All four drivers – Zonta is reinstated as Man Friday after his brief 2004 sojourn as racer - were equally enthusiastic about TF105's potential, with six-time Grand Prix winner Schumacher in particular being careful to seek a balance between downplaying its chances and appearing bullish, and, having been confirmed as initial driver tester of the car, was looking forward to its first runs at Jerez on Tuesday. Thereafter, Panis is expected to steer most of its early running. Once the season is underway the Grenoble resident will concentrate on regular tests at (reasonably) close by Paul Ricard, with Zonta doing duty as roving tester in addition to Friday duties.
Of course, as first of the 2005 breed to be launched, the TF105 appears gawky, but, with regulations demanding high noses, extended rear wing sideplates and cropped diffusers, no less is expected of any of the new designs. Once in the company of its competition, it will appear normal - remember when first narrow tyres were introduced, how weird cars looked? So it will be with 2005 cars by, probably, Bahrain.
For the first time since their inception in 2002, Toyota have reason to feel genuinely confident about a season: 2002 was about learning the ropes, 2003 learning from mistakes, 2004 about finding continuity. Now, though, they go to Melbourne with two proven winners, two testers - both of whom have experience of the team and their cars - and an engine with a 97% reliability rate. Much hinges, then, upon the TF105 chassis, which represents Gascoyne's first Toyota. He has directed winning cars in the past – both recent Renault winners were penned by teams under his command – and has worked with Schumacher (at Jordan) and Trulli (at Renault).
He and Marmorini, Howett and Tomita were impressively low-key at the launch – and that, in F1 circles, bodes well, for too often the more lavish the launch, the lower the performance of the package. The quartet knows that Japan is "demanding podiums", that 2005 is the most crucial in TMG's existence for it no longer has the luxury of excuses. But, based upon quiet confidence in the Estacion de Franca last Saturday, they won't need any.
---
© 2007 autosport.com . This service is provided under the Atlas F1
terms and conditions
.
Please
Contact Us
for permission to republish this or any other material from Atlas F1.