Car Briefs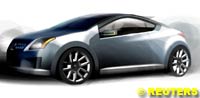 Nissan's stunning Azeal Coupe is set to debut at the 2005 North American International Auto Show in Detroit in early January.
The 2+2 concept is a fresh interpretation of the pocket rocket - an affordable, high performance entry-level coupe with an emphasis on personality and aggressive styling. Azeal is also the first concept car created at the new Nissan Design America studios in Farmington Hills, Michigan.
Nissan will also use the show to highlight its line-up of trucks and SUVs built off the advanced F-Alpha platform, the Titan, Armada, Pathfinder, Frontier and Xterra. The Pathfinder will be offered on sale in Britain for the first time in 2005.
The long-serving Renault Espace will be overhauled for 2005 to give it extra appeal for family buyers.
Originally launched in 1984, the latest generation model this year celebrated the Espace's 20th anniversary. Renault is now offering a new version to help consolidate on a 12 percent rise in sales in 2004.
The all-new Dynamique model provides better value for money, while the rest of the range is revised with new interior trim, option packs and improved engine choices. Dynamique trim level gives the range a more sporting look, with features that prove popular on other Renault models.
It will be available in a choice of two petrol and three diesel engines, including the 3.0-litre V6 dCi Auto and 3.5-litre V6 Auto, which were only previously available on top-of-the-range Privilege and Initiale trim.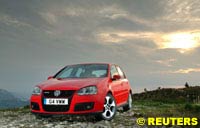 Volkswagen has confirmed it will launch an all-new Bora saloon in 2006. The car will make its public debut at the Los Angeles Motor Show in January. Based on the Golf hatchback, the car will go on sale as the Jetta in America next year. However, European buyers will have to wait longer.
While it has the same suspension and front-wheel drive layout as the Golf (pictured), the Bora boasts a large chrome grille and new front bumpers. Overall size is up to - a full 65mm more than the current model. Engine options will include 1.6-litre 115 bhp and 148 bhp 2.0-litre petrol units, plus 103 bhp 1.9-litre and 138 bhp 2.0-litre TDI diesels.

Jaguar Seeks Capital Boost from Ford
Luxury carmaker Jaguar says it expects a further injection of capital from its owner Ford after reporting heavy losses for 2003.
Jaguar said it took a 534 million pound charge to cover a writedown on the company's investments after losing 601.1 million pounds in 2003, double the previous year. The previously-undisclosed figure, lodged with regulators late last month, left Jaguar with a "negative net worth" of 322 million pounds, a Jaguar spokesman said, confirming a Financial Times report.
"The Jaguar business was recapitalised in 2003 and a programme of future recapitalisation has been agreed," the spokesman said on Tuesday.
The writedown, reflecting Jaguar's plans to scale back production after worse-than-expected sales, would only impact Jaguar's UK accounts and would not impact U.S.-based Ford's earnings.
The spokesman refused to comment on how the recapitalisation would be carried out. The FT said one option would be for Ford to convert some of the 490 million pounds Jaguar owes to other Ford companies into equity. Jaguar announced plans last year to cut 1,150 jobs as it scales back production and shifts car production from a plant in central England to a second factory.
Ford bought Jaguar in 1989 for 1.6 billion pounds. Jaguar has been unable to keep pace with larger rivals in the premium car sector amid a slump in U.S. car sales. Jaguar Chief Executive Joe Greenwell said in November the brand would lose hundreds of millions of pounds this year and not break even until 2007.

Volkswagen Considers India Plant
Volkswagen says it is considering India as a site for assembling cars for fast-growing auto markets, although it has not yet made a decision on whether to open a plant there.
"Basically one can say that India is among the markets that we are studying for a potential engagement, but no decision has been made at this time," a VW spokesman said on Monday. The industry minister of India's Andhra Pradesh state said on Sunday that a team of Volkswagen officials was due within weeks to address plans for an automobile assembly plant.
"They are expected here in a few weeks to sign a memorandum of understanding with the state government," B. Satyanarayana told Reuters in Hyderabad, the capital of the southern state.
Several foreign carmakers, including Hyundai, Toyota, Suzuki and Ford, have Indian units to tap growing demand for cars in Asia's fourth-largest economy, where GDP expanded by 6.6 percent in the year through the July-September quarter.
Volkwagen's proposed plant, which would initially assemble cars from completely knocked down-kits, would be set up in the port city of Visakhapatnam on India's eastern coast. The company had already approved a factory site measuring 250 acres in October, a state official said.
Volkswagen aims to boost car sales in Southeast Asia, India and Russia as it diversifies from reliance on saturated western markets and as a boom in China slows. VW and Malaysia's Proton last month unveiled an accord to assemble Volkswagen cars in Malaysia for sale in southeast Asia.