By Thomas O'Keefe, U.S.A.
Atlas F1 Senior Writer

I am sure you have noticed that all of a sudden we are beginning to see much more of Luca Cordero di Montezemolo, Chairman of the Board of Fiat S.p.A., parent company of the Ferrari-Maserati Group, at the races. Until this season, di Montezemolo seemed to follow his mentor Enzo Ferrari's policy of only coming to Monza; indeed, three years ago he was quoted as saying that he did not like what he saw when he visited the paddock these days: "to be honest, when I come in the paddock now the pits are different. There is no fun anymore and I think it's time to think of this."
But this season he was not only at Monza but showed up on the podium to accept the winning Constructor's trophy at the Inaugural Grand Prix of China, getting doused with champagne by Messrs. Barrichello, Button and Raikkonen and joyously jockeying for position in the post-race photo ops. He even attended a Ferrari test session in October in the run-up to the final races of the season at Japan and Brazil.
Has di Montezemolo become a rabid race fan all over again as he was in his early days at Ferrari in 1974 - when he was Sporting Director and in charge of turning Niki Lauda into a Ferrari Champion - which he did successfully in 1975, and then again in 1977? Or, now that he is alone at the top of Fiat and Ferrari with the senior Agnellis gone and before them Enzo Ferrari, perhaps he is spreading his wings a bit or goes to the races to show the flag and to be the visible presence of Fiat as its Chairman?
We are also hearing a lot more from di Montezemolo recently as titular head of GPWC Holdings N.V., the group set up by Ferrari and most of the other manufacturers (Mercedes-Benz, BMW, Renault and Ford [an ex officio member now, presumably] that has threatened to set up a rival series when the Concorde Agreement expires on December 31, 2007.
Most recently, di Montezemolo told a media group on December 17, 2004, that the future of Formula One will be decided in 2005 and that "whoever rules over Formula One must know that there must be big changes to profit sharing and the say of the teams and the manufactures," with his goal being that 80% of the sport's revenues be shared among the teams, compared with about 25% currently. His warning to Bernie Ecclestone and the banks that hold shares in the company that owns the commercial rights to Formula One is crystal clear: "if there's no solution then from 2008 there will be a new series organized on our behalf."
While I am not certain I know all the reasons for di Montezemolo popping up here and there at the races and in print and keeping up a steady rat-a-tat-tat with Bernie and the banks, a look at the desperate state of affairs in his own shop - both Fiat and the Ferrari-Maserati Group - would explain why he wants to get out of the office more than usual. Red cars on the racetrack are easier on the eyes than the red ink that must pile up on his desk everyday in everything he reads as he and the 150,915 employees of Fiat struggle through extremely difficult economic times at the industrial giant that is so critical to the economy of Italy.
Going back a few years, di Montezemolo was a rebel with a cause within Fiat, and urged the Agnellis and the rest of the Fiat Board of Directors in 2000 to capitalize on Ferrari's success in Formula One and in selling road cars by arranging an Initial Public Offering ("IPO") of Ferrari stock, to broaden the ownership of Ferrari and to tap into new sources of capital which could be used by both Ferrari-Maserati Group and Fiat (See The Tifosi IPO.)
But the Fiat Board did not listen to di Montezemolo, 9/11 happened, the economic climate for IPO's worsened and the Fiat Board ended up in July 2002 squandering that opportunity and instead sold 34% of Ferrari's stock to a consortium of banks led by Mediobanca in exchange for $775 million used to reduce Fiat's crushing debt. It is hard to believe it but the Fiat Board hocked 34% of Ferrari's stock without even telling di Montezemolo, who was then President of Ferrari and there that block of stock sits, parked, until Fiat buys it back or the banks sell it to someone else.
Soon thereafter, not wanting to lose di Montezemolo or alienate him further after the sale of Ferrari shares to the banks, di Montezemolo was nominated as a member of the Fiat Board of Directors and awarded a sizeable $19.3 million bonus. And then on May 31, 2004, after the deaths in close succession of both Gianni and Umberto Agnelli, the rebel completed his transformation to ruler as the Agnelli Family turned to di Montezemolo to stabilize the company and promoted him to Chairman of the Board of Fiat.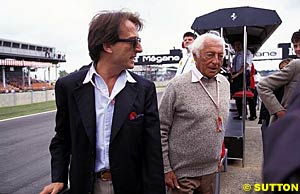 Notwithstanding the precariously balanced nature of Fiat, which is engaged in an ongoing program of belt tightening and divestiture of key non-core assets called the Relaunch Plan, and raising funds in as many ways as its financial advisors can think of to keep factories open, to keep employees working and to keep the banks at bay, di Montezemolo felt that it was his duty to assume the Chairmanship of Fiat. As he said at the time:
"The sudden [death] of Umberto Agnelli has thrust a heavy and unexpected burden on my shoulders, one that I could not in good conscience refuse out of a sense of duty and service.

"This obligation arises from my friendship with Gianni, Umberto Agnelli, and their family, and my sense of responsibility towards everyone who works at Fiat, the banks, the city of Turin, and the Italian economic and business world.

"I am certain that for what Fiat represents in the national economy, I can count on the spirit of positive collaboration of the Italian system: from the Government to the political world, from the financial system to the labor representatives. Together we shall carry on with the heavy responsibility of continuing the work of Umberto Agnelli.

"I hope that my fellow businessmen, who chose me as their Chairman and towards whom I reaffirm my full commitment to my task, will comprehend the exceptional nature and the significance of my choice."
Luca di Montezemolo was not exaggerating the severity of the financial straits Fiat finds itself in. The latest Fiat Group financials filed with the Securities and Exchange Commission on October 28, 2004 for the quarter ended September 30, 2004 (a legend accompanying the report states that "this report is published in Italian and English. Italian version is binding"), disclosed a Fiat Group consolidated net loss of 554 million euros and a gross indebtedness of 20.6 billion euros. Fiat Group has a negative financial position of 5.5 billion euros, all fairly chilling numbers.
Even the Ferrari-Maserati Group has not been immune to the difficult economic environment. Says the third quarter 2004 report: "Ferrari-Maserati had third quarter revenues of 322 million euros, 8.4% more than in the same period of 2003, thanks to higher sales by Maserati, driven by the success of the new Quattroporte model, while the coupe and Spyder suffered from competitive pressures.
"On the other hand, sales of Ferrari models slowed due to the phase out of the 360 Modena, which was practically offset by the positive sales performance of the 612 Scaglietti model. The first cars are due for delivery in August 2005. The highlight of the third quarter was the launch of the new F430 model [the 2 seater coupe with a 490 bhp V8], which has already attracted a high number of orders."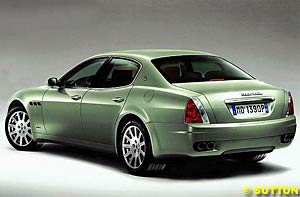 The current plans are to hold Ferrari production in short supply, 4,000 units annually, but build Maserati sales up to 10,000 cars per year, and much hangs on the success of the $90,000 Quattroporte.
In another portion of the third quarter report, it is noted that the Ferrari-Maserati sector "had to struggle with the negative foreign exchange effect and higher research and development costs for new models." After reading all this grim financial detail, it is refreshing to come across one positive sentence in the Fiat Group financials about Ferrari's success in Formula One that some Deloitte & Touche auditor let slip by: "The high points of the quarter were the introduction of the F430 and the outstanding results of the F1 racing team (Sixth Constructors' Championship and Fifth Drivers' Championship in a row.)"
So financially strapped is Fiat that it is engaged in a major dispute with General Motors to hold GM's feet to the fire in a deal GM perhaps improvidently made with Fiat in 2000. In this major transaction, GM bought 20% of Fiat's stock for $2.4 billion dollars. GM paid for the Fiat stock by transferring to Fiat 32 million shares of GM's stock, along with a put option retained by Fiat, which was the right of Fiat to force GM to buy the other 80% of Fiat at fair market value exercisable during a certain period, now January 24, 2005 to July 24, 2010.
When the Master Agreement dated March 13, 2000 between GM and Fiat (the "Master Agreement") was entered into, both companies were on a more solid financial footing, as was the world economy and the market for automobiles. It was thought that this Master Agreement would be the beginning of a strategic alliance between the two companies in Europe and South America. GM's stock at that time was $80 per share and Fiat's was $30; today, GM is trading under $40 and Fiat has tumbled even further percentage-wise, as low as $6.25, so the economics are not what they used to be.
As a result of these and other factors, which include GM's Europe's announced intention to reduce its workforce, the two auto giants today have entirely different views as to the value of the put option and how the put option was supposed to work. GM's position is that it never agreed to go along with Fiat's 5 billion euro recapitalization/Relaunch Plan (which involved not only tightening up the budget but also selling off major assets like Toro Assicurazioni Group, Italy's third largest insurance group), and that disposal of the assets by Fiat obviously reduced the value of Fiat and diluted GM's shares. Fiat for its part wanted GM to chip in to help capitalize the Relaunch Plan and because GM declined to do, Fiat has deemed GM's ownership of Fiat to have been reduced from 20% to 10%.
In the 10-K filing GM makes with the Securities and Exchange Commission in Washington, D.C., GM describes its position as follows:
"As discussed in GM's Annual Report on Form 10-K for the period ended December 31, 2002, the Master Agreement provides that, from January 24, 2004 to July 24, 2009, Fiat may seek to exercise a put option (the "Put") to require GM to purchase Fiat's FAH shares at their fair market value. Whether and when Fiat may seek to exercise the Put is unknown, although Fiat stated in its 2002 Annual Report on form 20F, filed with the SEC, that it views the exercise of the Put only as a secondary possibility. Fiat also stated in its Form 20F that it believes that the Put is enforceable in accordance with the terms of the Master Agreement.

"GM has, however, asserted to Fiat that the sale of certain assets of the financing business of Fiat auto and the recapitalization of FAH represent material breaches of the Master Agreement, with the result that the Master Agreement, including the Put, is terminable by GM. Notwithstanding these different views, GM is continuing to build on the cooperation the parties have worked on for the past several years in the joint ventures and other cooperative contractual arrangements they have entered into that are independent of the Master Agreement, and is pursuing a resolution of these different views.

"If the Put were implemented, the fair market value of FAH shares would be determined by the averaging of the three closest of four valuations that would be prepared by four investment banks after conducting due diligence under procedures set forth in the Master Agreement and based upon terms and conditions to be incorporated in a purchase agreement which, at this time, the parties have not prepared. Unless such a process and valuation is completed, the amount, if any, that GM might have to pay for Fiat's FAH shares if there were to be a valid exercise of the Put, is not quantifiable.

"If there were a valid exercise of the Put, GM would have the option to pay for Fiat's FAH shares entirely in shares of GM $1-2/3 par value common stock, entirely in cash, or in whatever combination thereof GM may choose. Under such circumstances, if and to the extent GM chose to pay in cash, that portion of the purchase price could be paid to Fiat in four installments over a three-year period and GM would expect to fund any such payments from normal operating cash flows or financing activities.

"GM has discussed with Fiat potential alternatives to the Master Agreement, and expects to have further discussions regarding the relationship between the parties."
Fiat, on the other hand, takes a more aggressive stance, to the effect that it can exercise the Put as of now and force GM to buy the 90% of Fiat that GM does not already own. And given its difficult financial situation, Fiat, ever resourceful at raising cash, has apparently already used the 32 million shares of GM stock it received in 2000 to keep Fiat afloat. In a press release date April 23, 2004, Fiat states that:
"In the past months, Fiat has identified opportunities for capital gains on non-core assets to offset the restructuring expenses for the current year and not included in the Relaunch Plan."

* * *

"In light of the positive performance of the GM stock, Fiat has unwound the Equity Swap of 32.05 million General Motors Corporation shares, which had been sold to Merrill Lynch International in December 2002. The transaction generated a pre-tax gain for the Fiat Group of approximately 380 million dollars (about 205 million euros), improving the Fiat Group net financial position by a corresponding amount.

"As provided by the Equity Swap Agreement, Fiat received proceeds equal to the price difference between the average price of the transaction and the initial reference price of the GM shares, which was 36.11 dollars per share. In addition, Fiat repurchased on the market 540 million dollars (notional value) out of a total of 2.2 billion dollars of the bond exchangeable into GM shares ("Exchangeable"), for the purpose of cancellation.

"Fiat had entered into the Equity Swap Agreement to hedge the risk exposure implicit in the Exchangeable following the sale of GM shares. This hedging, for the portion of the Exchangeable still outstanding on the market and equivalent to approximately 1.7 billion dollars, has been provided through the purchase of call options on GM shares."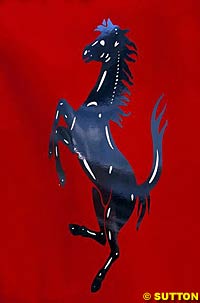 With all these high finance stratagems going on to raise cash to pay down debt and to stop the hemorrhaging of cash from Fiat, it would be satisfying if the financial community gave Fiat some "credit" for the sacrifices it is making as part of the Relaunch Plan, but the external bean counters – the rating agencies who evaluate the quality of a company's debt – are implacable. On August 10, 2004, pursuant to the disclosure rules of the Italian Stock Exchange, Fiat informed the public that Standard & Poor's Rating Services "has affirmed yesterday its "BB-" long term and "B-" short term corporate credit ratings on Fiat, revising the outlook to negative from stable."
According to Standard & Poor's rating system, BB- Long Term and B-Short term come down to this: the holder of a Fiat note or bond must bear in mind that the company "faces major ongoing uncertainties and exposure to adverse business, financial, or economic conditions, which could lead to the obligor's [Fiat's] inadequate capacity to meet its financial commitments." To be fair about this, GM paper is rated BBB- by Standard & Poor's, only one notch or so higher on the credit rating ladder than Fiat, and GM doubtless lives in fear of a further downgrade. This does not exactly make you head for the telephone to buy either Fiat or GM stock.
On December 14, 2004, both companies – represented at the highest levels by Fiat CEO Sergio Marchionne and GM's President Richard Wagoner – met in Zurich to attempt to resolve the Put Option matter but this attempt was an unsuccessful formality. On December 15, 2004, GM notified Fiat that it is requesting mediation under Section 10.08 of the Master Agreement, a process which involves direct dialogue between the two CEO's within twenty (20) days of the notice of mediation and in a neutral setting and is designed to allow the parties to resolve the dispute before resorting to other means, including litigation.
Just before Christmas 2004, Fiat's workers made their presence known on the Fiat/GM Put matter. On December 23, 2004, workers from Fiat's Mirafiori plant gathered outside the Fiat Group's Executive Offices in Turin where the Fiat Board was meeting, demanding to speak with Fiat executives, a plea that went unheard and unsatisfied. The workers fear job losses and factory closures associated with the Relaunch Plan and any possible GM buyout of Fiat.
It should be noted that Fiat is involved in the same kind of put option dispute with a French company, Electricite de France (EDF), where Fiat Energia has the right to sell its stake in EDF in exchange for 1,147,377,891 euros, and that matter is also subject to arbitration between the parties with Fiat again sensing that its counterparty is attempting to wiggle out of the deal. As with the GM/Fiat case, on December 17, 2004, Fiat announced that it "intends to fully protect its rights in whatever proceedings EDF invokes under the Put Option Agreement and to monetize its rights under the terms and conditions of such Agreement."
* * *
It almost sounds as if Fiat intends to make more money out of trading its various stock option plans than in selling cars! So if you were Luca di Montezemolo and had all these headaches to deal with at the Fiat Executive Office in Turin or Bologna, wouldn't you take every conceivable opportunity to jet off in the Piaggio to a Grand Prix, and revel in the success of the Ferrari team he has nurtured since he was in his 20's and that is today everything Fiat isn't: on the cutting edge of technology, awash in cash and in talented and dedicated men and woman, the envy of its peers, excellence personified, the top of the tree.
But how long can di Montezemolo go on walking the tightrope: celebrating the worldwide success of Ferrari as a race team and car manufacturer but not drawing on the embedded value of the Ferrari brand by some means to help rescue Fiat from its financial doldrums?
What is Ferrari worth? Based upon the fact that in July 2002, a consortium of banks advanced $775 million to Fiat in exchange for 34% of Ferrari's stock, an optimistic investment banker might argue that the entire Ferrari-Maserati Group might be worth as much as $2.4 billion, allocating an ample amount to the merchandising value of the Ferrari name. No less an asset than Toro Assicurazioni, Fiat's important insurance subsidiary which was valued comparably at 2.4 billion euros, was jettisoned by Fiat in March 2003, and the proceeds went to the Relaunch Plan, paying down debt, etc. When Toro Assicurazioni was sold, the Fiat press release described the sale of the distinguished company to outsiders as "a great but necessary sacrifice."
If it could happen to Toro Assicurazioni, it can happen to Ferrari. It is conceivable that in the Fiat Board's constant Pac-Man-like search for more assets to sell that the Directors and their financial advisors will ultimately turn their attention to its delectable stand alone asset – the Ferrari-Maserati Group – and cash it in to fend off the creditors for a year or so as they did with Toro.
How would Luca di Montezemolo vote on such a divestiture? Before Luca di Montezemolo got into this hyperactive phase of his career where in the private sector he is Chairman of Fiat and head of an Italian industry group association called Confindustria, while simultaneously being courted in the public sector by Italian President Silvio Berlusconi to join his cabinet and ultimately succeed him, the now 58-year old talked wistfully of taking a sabbatical from his weighty responsibilities, saying after Michael Schumacher achieved his second Championship in Ferrari in 2001:
"I have achieved the objective. At times, I had thought they were dreams. Ferrari has left its mark on the last year of the old millennium and the first of the new one. It has won against BMW, Mercedes, Renault, Ford, against the world's great powers.

"Now I ask myself: but is it really worth it? I can only lose. In the best case scenario, you can win again. I am thinking a lot about this. They have been 10 years of total and absolute dedication. It is a job that involves you totally and life goes by so quickly. The ideal would be a year's sabbatical. I think my colleagues but also my family has paid a high price."
But then the Agnelli brothers died and more, not less, responsibility came his way, to the point where going to the Formula One races is probably the only remnant of fun he has left to him and the explanation for his more regular appearances at the races might be as simple as that.
But if the Fiat Board ultimately concludes that Ferrari is too valuable a bauble for Fiat to afford to lay fallow and unexploited, you can be sure di Montezemolo would resign from Fiat and revisit his sabbatical plans rather than preside over a Toro Assicurazioni-like Great Sacrifice of Ferrari, the company that di Montezemolo helped turn around not once, but twice, a company with a brand name as famous as Coca Cola or Rolls Royce and that breathes Passion, Excellence and Italy.
Red Cars, Red Ink, the preoccupations of the Emperor of Passion.