---
It's Magic!
---
By Karl Ludvigsen, England
Atlas F1 Senior Writer
Formula One, and especially in the 2001 season, has become an increasingly hard, sleek and opaque sport to outsiders. David Coulthard might not agree, but Karl Ludvigsen believes there is a still magic around

I was struck by David Coulthard's comment before Hungary. "There's no magic," he said. "You just have to get on and do your job." Of course, I know what he meant; a winning Formula One performance is a mosaic of Things Done Right by every member of a team that is hundreds strong. That's hard graft, not magic. And we saw at Hungary the kind of result that hard graft can bring with a dominant performance by the Ferrari team.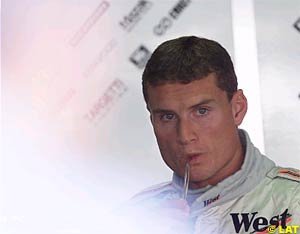 Nevertheless, a Formula One without magic would be a pretty sorry sport. DC is among those who emphasize the work that goes into this Grand Prix racing and downplay any element of fantasy or romance. Tellingly, I think, he did remark that "occasionally it does cross my mind that had I been able to perform at this level when the car was clearly the class of the field, I could be sitting here with 'WC' after my name." Coulthard is saying that the best results come when both driver and car are at their peak. How is that to be achieved if not by fate - even by magic?
Drivers like Coulthard leave a lot of the work to be done by the writers who cover the sport. He likes to tweak them, saying at Hungary that after his "off" during practice he "had a nice lunch, saw what all you [press] guys do during the sessions, which appears to be not a lot." Now that the drivers are all cautioned against giving up the slightest morsel of information, the writers are pressed to dream up the stories on their own in order to bring some warmth and emotion to a sport that is increasingly hard, sleek and opaque to outsiders - to fans like you and me.
I think that there is magic in Formula One, and I'll tell you exactly where. It's to do with that eternal mystery: how would one driver do in another's car? If Hakkinen were racing this year's Ferrari, would he be romping away from the field? Could Michael Schumacher have driven to the Championship in a McLaren? Finding that just-right combination of driver and car - and at the right time, as DC suggested - is the closest thing to magic that the sport has to offer. No wonder the real racers, men like Frank Williams and Enzo Ferrari, have always gained great pleasure and satisfaction - as well as frustration - from this aspect of Formula One.
This year we've had some amazing examples of just this phenomenon. Late-season team-jumping has been epidemic. No sooner did I suggest in one of my columns that Heinz-Harald Frentzen had passed his sell-by date than he was given his walking papers by Eddie Jordan. Another driver who received bad news before the big race at Hockenheim was Jean Alesi.
Last year, after both Prosts crashed out of Austria, I suggested that Jean had outlived his usefulness to Alain's team. This year, Alesi has managed to bring beleaguered Prost some vital points, but before the German GP he was put on notice by Prost that the team wasn't happy with his way of working and with his open criticism of the Prost operation - nothing new as we all recall. Even worse, the letter he received before Hockenheim proposed a "drastic" reduction in his pay.
As far as Alesi was concerned it was the end. "At the time I was really down," he said, "and I understood my career in Formula One was finished. I received a letter and I did not like it, so I decided to quit. I had no feeling to work any more with this kind of relationship. In the end the lawyers found an agreement with Alain." And what was the result? Alesi and Frentzen switched places!
For Jordan, the availability of an experienced driver was a boon. "We're under enormous pressure," he said of his team. "We have to be sure to finish fourth in the Constructors' Championship." Jordan is currently sixth. "Naturally Jean's not getting any younger, but we're impatient. Jean's contract lasts to the end of the season and after that we'll see how we get along."
With so little time in the car there was no chance for Alesi to produce points for Jordan at Hungary, but the makings of a good performance are there. Placing tenth is not such a disgrace in a race in which the four leading teams - Ferrari, McLaren, Williams and Sauber - all brought both their cars to the finish to occupy the first eight places. Frentzen had the same problem of acclimation to the car and, like teammate Luciano Burti, couldn't get a balance that would let him keep his Prost on the track. Of the two drivers, Alesi clearly has the most to prove and a car that should let him do it. If he fails to get into the points in the season's last races, it will indeed be the end of his Formula One career.
David Coulthard paid tribute to Alesi's still-strong enthusiasm after 196 Grand Prix races: "I love doing what I do, and when I hear Jean talking about his enjoyment after all these years I think I'll be in that same category. There's no feeling like being in a race car. Even when it's not quite working, it's great freedom. I wish that everyone could get the opportunity to feel what it's like to be in a Grand Prix car." Sorry, David, but that sounds like magic to me!
---
© 2007 autosport.com . This service is provided under the Atlas F1
terms and conditions
.
Please
Contact Us
for permission to republish this or any other material from Atlas F1.