---
The Weekly Grapevine
---
This week's Grapevine brings you
information fresh from the paddock on:

A Champion on the ropes
Pushing the boat out

A Champion on the ropes
With Mika Hakkinen still negotiating his contract with McLaren, the media have given up waiting for the team to announce his signing, and are speculating on his potential replacement – with Jarno Trulli the name on most lips for the Hungarian weekend.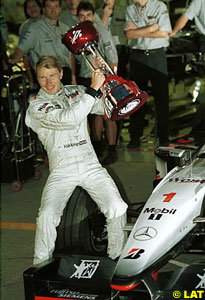 Of course, the speculation is not entirely media driven: we are led to believe the rumour originated in the McLaren camp, via a careful comment that said nothing, but implied everything. When a senior member of staff says that McLaren always consider their options carefully, and look for the strongest possible driver pairing, people soon put two and two together. If the Hakkinen was the driver they wanted, then McLaren would already have signed him – as they haven't, they must be considering someone else.
Indeed, they are, though not because they do not want Hakkinen. Rather, they do not want to pay him a World Champion's wage, when he is not bringing home the bacon. And given the form he has been in this year, they have a strong argument that his lack of motivation has been unworthy of his pay packet... Of course, Hakkinen sees things very differently. He has had an excellent contract for the last two years, with estimated earnings well in excess of the ten million dollars per year mark. However, under the terms of his renewal, things are not looking so good. The prospect of going to only thirty percent of his current rate is a blow to his pride, as well as his pocket. Especially as there are other teams who have offered to pay twice as much as the proffered renewal rate.
Of course, it's not that simple. Ron Dennis has always been a crafty operator, and he sees the new contract as a way of getting Hakkinen's motivation back up to scratch. By putting him back on to the same type of contract he ran when netting two World Championships – that's to say, lower basic, with a solid bonus for race wins – there is every incentive to drive each race flat out. Besides which, given the Williams return to form, there are likely to be slimmer pickings in 2002, which would let him save considerably on the wage bill.
Things have been at something of an impasse for a couple of months now. Hakkinen says he's as good as ever, the car's been a nightmare, so he should not be punished. And Dennis sticks to his guns that Hakkinen would be earning better than last year, if he can manage half a dozen wins. Potential solutions have been mooted, and rejected. Requests to pay up the win bonus regardless of position if the car fails: it's too easy for the drivers to damage them. A multi-year contract: too limiting, given recent form. Higher basic and smaller win bonus: not on the table. And so it goes on, leaving the happy mid-ground yet to be reached.
From the outside at least, it seems as though the Trulli rumour is McLaren's opportunity to replace an aging, and slowing, ex-World Champion. But from here, it seems more likely that it's just Dennis's way of telling Hakkinen to hurry up and do it his way. Which, of course, he probably will.

Pushing the boat out
Although the Championships were always looking likely to be decided at this race, the pressure to perform showed no signs of abating in Hungary, and is unlikely to for the rest of the season: Williams and McLaren are fighting for second place in both drivers' and constructors' Championships, whilst Jordan and BAR are desperate to overhaul Sauber for fourth.
Despite being the last genuinely full downforce circuit on this year's calendar, all the teams bar Ferrari had newly revised aerodynamics on offer in their search for maximum grip. It's no surprise to learn that a lot of the concepts from the Ferrari approach to controlling air flow are now being tried out by most of the teams.
BAR, Benetton and Arrows have all taken a close look at the scooped Ferrari front wing, and produced their own version of it for this race. Other teams – including Sauber and McLaren – made the move earlier in the season. Ferrari themselves ran with a triple element version which provides sufficient downforce at the front of the car that they do not need the high level "biplane" version they tried in Malaysia (and that Prost have copied since). Although that version gave more front-end grip, it produced far more dirty air that had to be controlled on its way past the wheels and sidepods (increasing drag), and under the car (reducing diffuser efficiency), affecting its balance.
With only one exception, front wings demonstrated only that the teams had been keeping a good eye on each other, and were attempting to utilise the best ideas their rivals had tried. The exception was on the Jordan: they did something no other team this year has done by introducing a "rib" running from the front to the back of the upper surface of the front wing, on the flaps. Normally, such items are full blown fins, which slice or partition the air, guiding it in a clear direction; however, after a lot of digging, it seems that Jordan are looking for something subtle: the rib generates a venturi effect, apparently cleaning up the air flowing through the front suspension. And it apparently does so with significant increase in drag...
Moving back down the cars, sidepod flip-ups and extra wings on air boxes, gearboxes and taillights were much in evidence, particularly in qualifying. Anticipating troubled cooling, some teams reverted to the "chimneys" in order to extract air from the side-pods more efficiently, whilst others had big holes at the back of the side-pods. Sauber, in fact, had a combination of both. Following a similar vein, the teams who have moved towards Ferrari's enclosed front brakes, which are notoriously hard to cool properly, used more traditional variants for the race: the drag penalty is almost irrelevant at Hungary!
Not being an engine circuit, there were few upgrades around, though Renault provided Benetton with qualifying engines for the first time this year, whilst Ferrari had a revised, higher revving version of their qualifying engine available.
Having said which, not content with simply taking the Championships, Ferrari anticipate another engine revision for Monza – looking to reprise the Hungary result in front of the tifosi.
---
© 2007 autosport.com . This service is provided under the Atlas F1
terms and conditions
.
Please
Contact Us
for permission to republish this or any other material from Atlas F1.