To say the Benetton team is under pressure is like saying Everest is a high mountain; it's true, but stating it is pretty superfluous. In the mid nineties they were riding high as the Champion team, then Michael Schumacher took with him to Ferrari his trusted allies Ross Brawn and Rory Byrne and the decline started. They last tasted the winner's champagne when Gerhard Berger drove to victory in the German Grand Prix at Hockenheim back in 1997.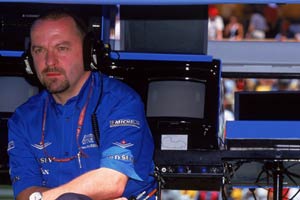 So last year, a new technical director Mike Gascoyne was recruited from Jordan with the brief to turn the team around. Renault, who bought the team in early 2000, wisely decided to delay racing under their own name until a whole new technical package was put in place to arrest the years of decline. 'Doing a Jaguar' - as it's known in the paddock - was a fate to be avoided at all cost.
But, midway through their rebuilding year the team has been pretty much a fixture at the rear of the grid, and the former super team has been engaged in race-long battles with the likes of Minardi and Arrows. No disrespect to those last two outfits, but this is Benetton after all, with some of the best facilities in the business and an engine built by one of the contemporary legends of the sport.
Not surprisingly, in the light of these recent results, paddock gossip is swirling around the team almost constantly. At Magny Cours, there was speculation about major changes at the very top of the team. A routine meeting of the factory workforce called for next Monday to discuss some new compensation matters became the time these rumoured changes would take effect. "Someone put two and two together and made it twenty," one insider told Atlas F1 on race morning. It has to be said, however, that there is so much smoke around the Benetton team that there surely must be a fire burning there somewhere.
Potentially, the team has one of the strongest drivers lineup in the pitlane, but Jenson Button's driving has looked pretty average at best this year, and almost everyone is wondering why. There is growing speculation that the young British driver is enjoying the life of just being a Grand Prix driver rather too much, and even his old bosses at Williams have expressed their concerns on more than a few occasions.
Over the French Grand Prix weekend, Mike Gascoyne talked to Atlas F1. The race at Magny Cours was supposed, according to the team, to bring some major advances, with new aerodynamic parts and a new engine brought for the race. However, the result was all the same: Fisichella and Button qualified 16th and 17th respectively, and the two finished 11th and 16th respectively, with Button spinning out of the race with two laps to go.
"It was a little less than we expected," Gascoyne said after qualifying. "We were looking for 14th or 15th positions, and another couple of tenths and we would have achieved that. I think ultimately the car was capable of more. I mean, you get new aero bits that have never been on the car, we have never tested the new engine, so you have to get the revs and the ratios right and all of that, so we struggled a little to get the best out of it, but it was least a little bit of progress. To make the second step, you have to take the first step."
Q: So why did you leave it to the last minute to fit the new aero bits and install the new engine?
Gascoyne: Because the aero bits were only finished on Friday, and I flew in with them on Friday evening! The engine they have been developing over the last two months and these were the first engines of this specification that we have had. Obviously you like to get the best out of them straight away, but especially at a Grand Prix weekend, you've got two 45 minute sessions (on Saturday morning), the track is changing hugely, you are working to see that you have the right tyres on for qualifying. I mean, usually you do controlled back-to-back tests - which we will do in Barcelona - so these things are a factor of being behind, it's always a struggle to catch up.
But on the positive side, we are getting a lot more engines coming through now, we will be doing a lot more testing in this second half of the year, running two car tests and that sort of thing, so all of this will start to make a difference.
Q: Was the decision, to debut the new Renault engine here at their home race, at all political?
Gascoyne: No, they kicked off the development program some two months ago, targeted at Magny Cours, but we were hoping to use them at Nurburgring a week ago. They had quite a lot of work that was interrelated and they wanted the engines to run on the dyno to do all of that work. The trouble is that if you do a bit of the work, it isn't worth running that engine at a race. Also you don't order 30 development bits, you order five that might be all different, see what works, and then order a whole bunch of these, and all this takes time.
So when you are working on a development program you have to set targets of when new bits are going to be on the car. In the case of the new rear wing, that's pretty straightforward, but that then is a new crash structure, and that means a new crash test. We have new aero bits for Hockenheim, and a large update for Hungary; I would love to put them on the car next week, but even a team of our size just can't do it.
But when you are behind, the pressure is always on you to do it always quicker and quicker, but it's not always possible. When you are ahead it's much easier; you can plan it rationally, you don't have to shout about it, you put it on, you test it, you back-to-back it. When you are behind and not able to test (through lack of engines), it's more difficult.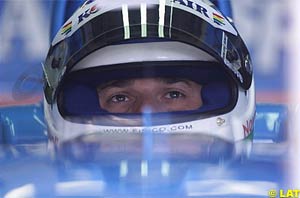 Q: How much of your own personal influence is behind these new developments that are now on the car?
Gascoyne: Well, it's not really my influence; it's the sixty men who work for me designing bits for the car. I don't design aero bits myself anymore. The technical director directs technically, it's my job to ensure the right people are in the right jobs, the resources are the in the right area, and we are making the progress we should be making.
Q: None of the problems in the old car could be attributed to you, could they? Does that lessen the pressure on you personally?
Gascoyne: Well I joined whenever I joined (in August 2000) and the car was already being designed. It's a bit like ministerial responsibility, isn't it, when you are technical director. You are technical director, so yes I am responsible for where the team is technically. I didn't join that late in the design process and I think that there are a lot of good things on the car; you can't qualify tenth at Monaco unless you have good mechanical grip and good mechanical characteristics. Obviously it is in the aero and engine departments where we are behind and we have the programs in place to catch up.
The key is to put the right people in place to improve the car at a greater rate than was happening, and there is a lot going on that means in six months, or in a year's time, this team won't be here (at the back of the grid), but unless you put those programs in place now, you will never get out of the hole (we are in). Short-term fixes don't work.
So whereas you might want to continue in the wind tunnel with the models you have already got, that is never going to get you to the top. What you have got to do is say, let's stop the program, let's get the right people and resources in place, change the way you do some things and then you can get out of the rut and start making some progress. We are going to be Renault in 2002, not now, but you have to make the changes now, not in a year's time, and that has been my role within the team.
Q: Do the characteristics of this new car suit Button's driving style better?
Gascoyne: Well he looked for much of the weekend to have the edge over Fisichella, but another part of the learning curve in qualifying was that the big boys pull it out when they have to and next time he should be prepared for that. I think that Jenson made a little bit of progress for the race in the Nurburgring, he was happier with the car on Sunday there. He is happier with the car here as well, and he has applied himself much better over the last couple of race weekends, as we have asked him to. I think here he really did a good job and he pushed Giancarlo to get the last couple of tenths. I mean, it was a good lesson for Jenson to learn; Giancarlo went out on his last run and found four tenths. If Jenson had done that he would have jumped Pedro de la Rosa and Luciano Burti and he would have been 14th on the grid. Then he would have looked good.
Q: Is he under a lot of pressure, with all this speculation over his future?
Gascoyne: He is, much like myself and Renault. There is a lot of expectation on him, but I hope that this weekend has taken some of that away because he has performed pretty well.
Q: On two of his qualifying runs he failed to make an adjustment to the car he was required to do.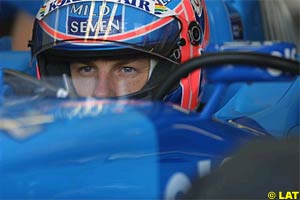 Gascoyne: Yes. Basically we change the differential settings going down the straight because you have the two very quick corners, which are very atypical from the rest of the circuit, and we were asking him after those two corners to switch to a different setting that would suit the hairpin and the following corners. He didn't do it on his third run, his race engineer reminded him, he actually did it on his final run and got it wrong, but it's a minor thing.
I would never lay all the blame on the driver's door because had we done all the testing miles, these sort of things would be routine and you wouldn't need a couple of tenths.
Q: During the race, with a couple of laps to go, you were running eleventh and twelfth. What is your verdict on your race?
Gascoyne: Well looking back on it, we had a bad start, dropped a couple of places, Giancarlo touched someone, and then basically we were caught behind slower cars as the race settled down. We did the right strategy, brought them in early, got them past the slower cars. On the second stop, it was the same with Burti; we managed to get Giancarlo past him.
But in the end you race where you qualify, and we should have qualified a few places further up, we were quicker than where we were racing, so what we have to do is go away and have a good test with all the new bits and get the lap time we should have got and qualify twelfth and thirteenth and race from there. Then build on that and make it eleventh, tenth and so on.
So there was some progress, but if you are a racer, unless you get a point you're disappointed. Ultimately we wanted to get two cars to the finish, so it's a shame we didn't do that, but Jenson had an engine problem right at the end.
Q: During the early stages Button was ahead of Fisichella, but during the pitstops their order was reversed. What happened?
Gascoyne: It was down to the pitstop. Jenson was complaining about a lot of oversteer, so his race engineer made the call to drop some front wing off it, and that cost him an extra second, and that was all it needed.