---
The Formula One Insider
---
By Mitchell McCann, U.S.A.
Atlas F1 Columnist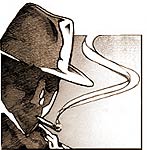 Strange as it may seem, Sunday's Belgian GP was decided without any assistance from the elements. Nevertheless, the circuit still managed to produce an above average race, assuming for the moment that we discount Michael Schumacher's runaway win.

A SPA WITHOUT WATER
Strange as it may seem, Sunday's Belgian GP was decided without any assistance from the elements. Nevertheless, the circuit still managed to produce an above average race, assuming for the moment that we discount Michael Schumacher's runaway win. Apart from that, we had plenty of passing, incidents, close racing and, most importantly, no significant injuries.
I guess that thing with the blankets is becoming the modus operandi whenever there is a potentially serious injury but seeing half the marshals more concerned about blocking the view than doing anything constructive left me feeling decidedly pessimistic about the fate of Luciano Burti. Maybe in future they could use specially prepared blankets with helpful messages printed on them like "Don't worry. He's OK really" or "Tell Mumm not to uncork the champagne."
Seriously, it was a great relief to hear that Burti was not seriously injured and credit should be given to all those involved in improving the safety of Formula One. Especially, the Director of Putting Tyres in All the Right Places at the Spa circuit.
(Oh. One more thing. My wife really liked the third blanket from the left as it matches the curtains in the nook without clashing with the throw pillows. If somebody could tell me where to get one like it I'd be really grateful).
WILLIAMS JUST SPINNING THEIR WHEELS
It'll be a long, long time until the Williams team lives this one down. After a perfect Saturday, the team managed to do just about everything wrong on Sunday. Montoya stalled on the grid before eventually blowing up and Ralf! Poor Ralf!
Seems somebody made a mistake in the set up of his car and set the ride height too high. About a foot too high!

But then this is the pinnacle of motorsport and this is where the rubber meets the road. Unless you're Williams in which case it doesn't.

Somebody really should have gone and put another 25 cents in Ralf's machine so that he could have had another ride.

Ralf was heard to be yelling something to his mechanics about "jack" and "off" but it wasn't clear whether he was offering helpful advice or casting aspersions.

At least this confirmed certain rumours that the BMW engine is the highest revving engine in Formula One.

Williams should consider themselves lucky that this happened in a nice part of town. Normally when you see a car up on blocks, the only things left are the fuzzy dice.

Pick one.

THE RACE

I don't think David Coulthard was joking when he suggested that Michael Schumacher take the rest of the season off. I don't think he was wrong either. After the first blast up the Kemmel straight, the outcome of this race was never in doubt. But there were a lot of good races further down the field and, as somebody suggested, maybe they should just have all seventeen races here.

Fisichella was clearly the surprise of the day and once again those of us that own rose-tinted glasses are putting them on and succumbing to 'next season syndrome'. Next season, with Renault back full force, we'll have four teams and eight drivers (OK, seven if Jenson Button can't get over the fact that he's Jenson Button) that can challenge for the championship. Glasses off; Schumacher by Easter with one hand tied behind his back.

And while we're on the subject of Button, both he and Rubens Barrichello had their noses put out of joint by the bollards they added to the bus-stop chicane. Both drivers hit the bollards during the race and lost their front wings. I know those bollards weren't there on Friday but they were there on Saturday and you would have thought that after thirty or so race laps they would have noticed them.

Frentzen and Prost wasted a great qualifying result by buying their launch control system at a McLaren yard sale. Thereafter, their race was ruined by "a heavy fuel load which resulted in a lack of balance" and not by the fact that the car is a dog.

Montoya and Williams went round the back of the garages to pick up the pieces that Prost had thrown out and that was their race over before it was run. Montoya struggled manfully from the back of the grid and picked up places just as quickly as people retired but in the end his day was ended by either: (a) typical Montoya luck (if it wasn't for bad luck he wouldn't have any at all) or; (b) the BMW's fairly predictable tendency to go boom. (No doubt Ralf thought that Montoya was driving too quickly i.e. quicker than him, which was the cause of his mechanical failure).

Eddie Irvine once again finished his race going backwards. I hear that Jaguar are going to turn his seat around in order to provide for better visibility for the majority of Irvine's track time. (Although Niki Lauda also said that Rahal would not be fired so I wouldn't place too much faith in anything that comes out of Jaguar if I were you).

A valiant point for Alesi who, with every interview, is starting to sound more and more like the saviour of Jordan. I think Jean should consider that it will take more than a point and a DNF for him to claim sole credit for Jordan's stunning fifth place. Hell, Frentzen got six times as many points and he was fired.

And spare a thought for poor Michael. So far out in front that not even Bernie could make the Belgian TV director cover him. Number 52 and a spot in the record books that will stand for years. Obviously not an interesting enough topic to ask him a question about so I think we can safely ignore it.
---
© 2007 autosport.com . This service is provided under the Atlas F1
terms and conditions
.
Please
Contact Us
for permission to republish this or any other material from Atlas F1.