---
Bobby's Bad Joke: How Irvine
and Lauda Got the Last Laugh
---
By Biranit Goren, Israel
Atlas F1 Editor in Chief
Jaguar Racing have made the headlines all year long, all too often for the wrong reasons. Bobby Rahal's departure is the latest in line of these affairs, which has more to do with egos than with racing. Biranit Goren talks to the Men in Green and sheds some light on the latest events

When the ink has dried on all the inevitable reviews and summaries to come of the 2001 season, there will still be one question to ponder about: who was the most influential man in Formula One this year. Was it Michael Schumacher, with his record-breaking achievements? Or perhaps Bernie Ecclestone, the Man Who Makes it Happen every other Sunday?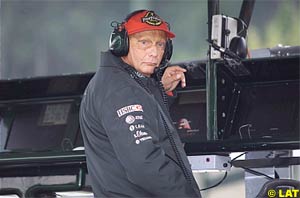 As a matter of fact, it would be neither of these men. No, the most influential man this year has to be Eddie Jordan. After all, he's already got three teams completely reshuffled.
One month ago, when the F1 paddock was full of whispers and wonders about the reasons why Heinz-Harald Frentzen was fired from Jordan, and who will be the driver to replace him in the Silverstone-based team, Jaguar Racing's CEO Bobby Rahal approached Jordan with an offer: why don't you buy Eddie Irvine's contract from Jaguar?
In later days, Rahal would say the offer was a joke. Perhaps it was, but it didn't seem to make anyone laugh, not least of all Irvine himself. "Some two weeks ago I got a call from Enrico, Irvine's manager," Niki Lauda recalls, "and he told me they are going to get their lawyers involved, to get an injunction forbidding Jaguar Racing from selling Eddie to another team. I didn't know what he was talking about. Then, he told me they got a call from Jordan Grand Prix saying, 'let's meet urgently to negotiate this move.' I didn't see that coming at all!"
You can be sure that if Jean Todt offered Jordan to buy Michael Schumacher's contract, everyone would have been laughing off their feet. 'Good one, Jean,' would be the likely response, even if Todt was completely serious. The fact that Rahal's light-humour was misunderstood doesn't mean Jordan's humour is stale - it means there was enough reason to believe the offer was made in earnest.
Rahal and Irvine didn't get along. That was made obvious right from the start of this season, and the reasons can be plainly attributed to human chemistry. This was not a case of love lost, it was more a case of one never found. In fact, less than two months after Rahal stepped into his role as Jaguar Racing's CEO, rumours already began flying that he was looking to replace Eddie Irvine, and the two exchanged words through the media, with Irvine slamming the team's progress and Rahal slamming Irvine's open criticism.
Those who were close to Rahal quote Irvine's lack of commitment as the reason for Rahal's disinterest in Irvine. The Ulsterman's admittance that he didn't wish to test much or take part in sponsorship events allthemore fuelled Rahal's belief that Irvine was simply lazy, and that the team needed a driver with more determination and motivation. Funnily enough, 'determination' and 'motivation' - or lack of these - are also the reasons now mentioned as to why Rahal was let go.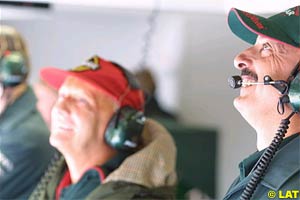 "Formula One needs much more commitment than Bobby was able to give," Lauda said in Spa. "Bobby was running on both sides of the ocean, doing two jobs effectively. That is not the way to go." Adds Irvine: "you can't just do Formula One on a part-time basis. It's much more than a full-time job. I know the approach Jean Todt had when I was in Ferrari - he was there from eight o'clock in the morning until nine, ten at night, every night. And weekends as well. That's what you need. Because if you're not doing it - the other guys are."
From the sound of these two, one could get the impression that Rahal was commuting across the ocean rather than spending time on the European side. That's a gross inaccuracy, and somewhat unfair to Rahal himself, who relocated his family to England as well as relinquished the running of his CART team since joining Jaguar. Only days before leaving the team, Rahal told reporters: "I don't party or go to St Tropez. I am in Milton Keynes and probably don't have the social relationship with Eddie [Irvine] that Niki has. But that is because I am working and I don't have the time to do that."
In other words, Rahal thought his driver and boss were not as committed as he was, while at the same time they were thinking the exact same about him. In such cases, the truth becomes irrelevant. Ford had to make a decision on who should stay and who should go. Rahal was an outsider, so he was easier to let go.
Irvine's relationship with Lauda is indeed a close one. They have much in common: both are ex-Ferraristas, both have a close affection for speaking their mind openly on any and all subjects, both love to party, love women and are very deeply rooted in the Formula One scene, albeit coming from different generations. "There are not that many people here who are as clever as Niki Lauda, that's for sure," Irvine told Atlas F1 this weekend.
"I'm much more hopeful than I've ever been since I joined the team," he continues. "I think Niki wants to learn and he wants to get the job done, and he listens to input and he makes decisions and that's good. I think Niki has got a lot more application, much more 'hands on' approach, and I think for me it's better - he's got much more attention to details. We definitely upped the team's targets in the last week, because I think the targets were initially too low."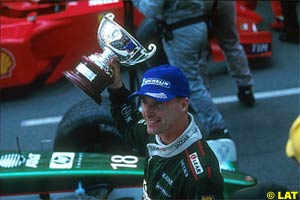 Lauda's targets are indeed quite high. "I'm not aiming to be 3rd, 4th or 5th best in, say, five years," Lauda says. "No, I target to be the best. Our real competition is Ferrari - they are now the benchmark. But our problem is that they are so far ahead of everybody, winning almost every race. They are a step ahead - not of Jaguar Racing, but of Mr. Ron Dennis and Mr. Frank Williams and other people who certainly do know what they are doing, they even have the same budget as Ferrari and they still can't get to them.
"I have a bigger problem, because I'm in a different league at the moment and this means I have a long, difficult way to go. We need a group of better people, more motivated people than Ferrari's, and better drivers than Michael. This is really what I am pushing for, and this is a tough task."
Some in the paddock believe this is what Rahal was brought in for: to bait Formula One's best. The plan, rumours suggest, was to have Rahal lure in his good friend Adrian Newey to join Jaguar and, once signed, Newey will become the team's ticket to signing the best drivers and the best mechanics this business has to offer. After all, the logic states, who wouldn't want to work in a team with the legendary designer.
When Rahal brought the signed contract with Newey to Ford, he was the hero of the day. If that coup had ended up successfully, Rahal would have secured his seat at the top-end of Jaguar Racing for as long as he liked. But Newey changed his mind, and in quite an embarrassing manner elected to announce his stay with McLaren after the Jaguar deal was already announced. That left Rahal, pundits suggest, in a vulnerable position within Ford and with his days as Jaguar CEO quickly numbered. Asked about this, however, Lauda rejects the theory altogether.
"The Newey affair wasn't Bobby's failure," he says. "Adrian signed a contract, so what more anybody on this side could have asked for? No, from our side it was no failure at all. It was perfectly done in a normal way. And, it wasn't Bobby's fault that Newey changed his mind."
Either way, Rahal is now out. He is back to running his team in CART as well as running a Jaguar dealership in the USA. Financially, he should be a content man: Ford will pay him for the remainder of his contract, several million dollars in fact, while his business in the USA will see his bank account grow bigger. And, those who know Rahal say he's also quite relieved to have left Formula One, albeit not the way he'd have wanted to. "There is too much bullshit in F1," says a friend of Rahal. "He is just happy to go back to CART - which he considers to be much more real racing and much less B.S. nowadays."
Lauda, therefore, is left to deal with the day-to-day glamour and dust of running a Formula One team. Having recently resigned from running his own airline company, Lauda Air, after it went into financial problems, it begs the question of how exactly he thinks he could fare in running a racing team.
"The difference is that I had to worry about 2,800 airline employees which were union organised - and that gave them a lot of power," Lauda says. "The fortunate thing is that in Jaguar Racing there are only 300 people and thank god they are not unionised. Also, this is a very competitive business so the general attitude is very different, so it's easier to demand and motivate the people."
Someone reminds Lauda that at the start of this season, he repeatedly said that the building of Jaguar's competitiveness is a lengthy process and begged the press for patience. But with a couple of drivers' change since the beginning of the season, the Newey affair and now the Rahal one, do Ford really have the patience Lauda is asking for?
"I am the only one who is kicking me and the rest of the team," Lauda says firmly. "[Jaguar's Chairman Dr. Wolfgang] Reitzle, who is my immediate boss, is a very technical-detailed man. So he knows exactly how long it takes to get a new car on the road - he knows it takes time to make a good car. So from this side I have no problem. I am really the one who is telling myself and everybody else that we must push harder, that we must get the speed and aim for the wins."
Q: It's a heavy responsibility running the team on a daily basis, I suspect that by the end this season, you will want someone to take over from you.
Lauda: "No, not really. My position is that I will stay the team principal. For sure, I need somebody on the technical side of it, by assisting me of running the details in the factory. This is what in the long run I am going to look for. But not now, because now I'm busy with finishing the season and when it's over I will try to reorganise for the next season."
Q: Do you expect to make personnel changes in the team?
Lauda: "I don't think so, because we have a good group of people there so we must give them the best possibilities and the best equipment to work properly. Our biggest handicap right now is the wind tunnel issue. Ferrari and McLaren spend 350 days in two wind tunnels - for every stupid piece they try, try, try, and in the end they find the one which is better and put it in the car. We don't do this. So we need to fix this wind tunnel issue first, and in February we'll have our own wind tunnel running in England, but that will take two years to work smoothly. So we have to take all these things in order first, and this is our immediate problem."
Q: You mention that it will take two years. How long are you committed to stay in the team and how long will Ford continue to stream in so much money with no results?
Lauda: "Ford's program is a 5-year one, and I am committed to three years - two more seasons. From Ford's side I am 100% certain that they will keep the commitment to the team throughout the program. They give us a very good budget right now, and while other teams may have higher budgets, I also know that if we bring in the performance and the results, we can get sponsors and get more money. As for myself, I will see out my current contract fully. After that, we'll see."
If anyone has a chance to survive in the piranha-infested pool of Formula One management, it's Niki Lauda. But will he also come out the big winner and succeed where others have failed? We'll see about that, indeed.
---
© 2007 autosport.com . This service is provided under the Atlas F1
terms and conditions
.
Please
Contact Us
for permission to republish this or any other material from Atlas F1.