If it wasn't clear after the first five races of the year, David Coulthard officially became McLaren's World Championship contender for the 2001 season following his win at Sunday's Austrian Grand Prix, thus continuing with his impressive run of consecutive finishes in the points.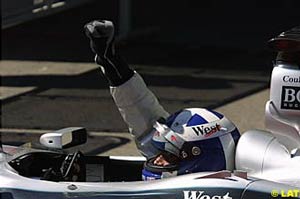 Coulthard might not have been the fastest or the most spectacular driver in the six events that have gone by this season, and perhaps many observers think that he has won races that other drivers deserved to win until problems struck them. But the McLaren driver, like always in motor racing, has taken full advantage of his rivals' misfortunes and, as things stand in this year's championship, his chances look better than ever before.
The Austrian race highlighted what the 2001 season looks set to be like in the remaining events: a very close battle where every single point will be important, especially if the two-team battle that we were so accustomed to seeing in previous years becomes the three-team fight witnessed earlier this season and confirmed at the A1-Ring.
In the most unspectacular way, Coulthard recovered from an awful qualifying session to move up the field, pushing hard when he needed to, and making good use of his team's strategy to put himself in the lead, keeping both Ferraris at bay during the final part of the race.
Coulthard now lies only four points behind Championship leader Michael Schumacher and, perhaps most importantly, a massive 34 ahead of teammate Mika Hakkinen, who is now well and truly out of the title race unless a miracle - in the form of Coulthard and Schumacher taking each other out a few times - happens.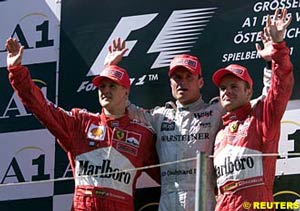 An optimistic fan could see that happening, but a team who, like McLaren, aim to win the Formula One World Championship should know by now that their only chance this year is Coulthard, and every point is going to count.
Of course, nobody likes team orders because, as Adrian Newey stated after the race, they go "against the ethics of the sport," let alone that the second driver will always struggle to find the motivation to be really helpful to his team leader. But if McLaren, or any other team, lose the championship by one point at the end of the year, saying that at least they acted according to the ethics of the sport will be very little consolation. Sad as it may sound, Formula One ceased to be a gentlemen's sport running under ethical codes long ago.
Ferrari know that very well and they had no second thoughts when asking Rubens Barrichello to let Schumacher through when the German was behind his Brazilian team mate. Nobody liked that, not even Schumacher himself, but there was little doubt that the Italian team would do it, even in the sixth round of the championship. Now that Williams have joined the fray for good with both their drivers, the fight for every race win will be tighter than ever, and since it's pretty obvious now that the title will be won by either Coulthard or Schumacher, Ferrari's decision was not that hard to understand.
It was understandable too to see Rubens Barrichello furious after having to let his teammate pass him for second, especially at a Grand Prix where the Brazilian finally seemed to be a good match for Schumacher's speed. However, it's nothing but surprising to see that Rubens doesn't know the drill yet, especially after a whole season at Ferrari. Of course, the Maranello-based team will only have themselves to blame if Barrichello is now a second off Schumacher's pace in every race, because he knows what is going to happen if he is front.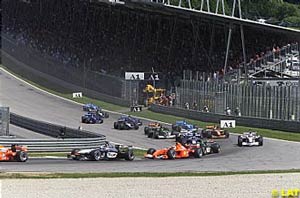 But, despite all the controversy that has become part and parcel of modern Formula One, there was also a race in Austria, and a good one it was. Rookie Juan Pablo Montoya and the Williams team were again one of the stars of the show, with the Colombian leading a race for the second time in six events. If someone had any doubts before, Montoya demonstrated again that he is a very hard racer and that he is not set to give an inch away to any of his rivals, whether they are named Schumacher or not.
Montoya is in Formula One to win at any cost, and if the Williams team are able to add reliability to their speed, the spectacular Colombian could end the season well up in the standings, and with as many "enemies" as the number of drivers who try and pass him during the remaining races. As Michael Schumacher found out, Montoya prefers to overshoot a corner than to let a driver overtake him. He will have to change that if he's to fight for the title in the future, but right now it's a refreshing view to see him living up to his reputation.
But Montoya was not the only driver who put on a spectacular performance at the A1-Ring, as several drivers proved that, at last, the FIA seems to have got it right when it comes to improving the overtaking opportunities. The reduced amount of downforce has allowed the cars to run closer to each other, and that is paying off in every race. Jos Verstappen's magnificent charge from sixteenth to second place was one of the examples, and there were many others.
As for the re-introduction of traction control, the governing body also seems to have scored another point in its favour, and the massive amount of spins during the weekend clearly demonstrated that skill is still vital when it comes to putting 800hp to the ground.
Qualifying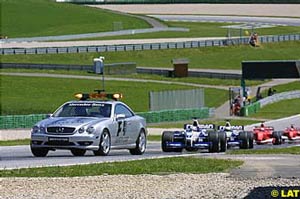 A staggering performance in the final sector of the A1-Ring allowed Michael Schumacher to clinch his fifth pole position out of six races in what looks set to be a record-breaking season for the German when it comes to starting from the top spot of the grid. The German's cause was also aided by the changing winds at the Austrian circuit, where they can have such a big influence on the drivers' speed.
By setting his second consecutive pole after the Spanish Grand Prix, the Ferrari driver also ended a disappointing series of performances at the Austrian track, where he has qualified no better than fourth in his previous appearances. However, his top position was not the best news for Schumacher, as his McLaren rivals "screwed up" - in the words of their own team boss Ron Dennis - and had to settle with the fourth row of the grid.
Schumacher was instead surrounded by the two Williamses of Juan Pablo Montoya and Ralf Schumacher, the Colombian outqualifying his German teammate for the first time in his rookie season. As their performance showed during the hour-long session, the BMW-powered FW23 was unaffected by the changes the team was forced to introduce on the rear diffuser, following complaints from other teams at Spain.
The perfect weather conditions at the very slippery Austrian circuit saw the crowd having to wait a massive 21 minutes before the hills were brought alive with the sound of a Formula One engine. Once Enrique Bernoldi with the Arrows decided to open the proceedings, the rest of the drivers crowded the circuit.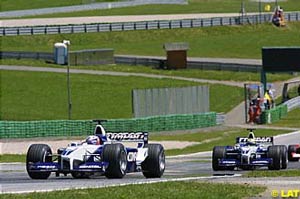 A committed Jacques Villeneuve was the first one to fall victim of the slippery surface, spinning his BAR while he was starting his first attempt. It wasn't to be the only incident for the Canadian, who was clearly trying too hard, even for himself.
Twenty six minutes into the session, Montoya would set the ball rolling in the first of the four three-lap attempts that the Michelin-shod teams went for, lapping only two tenths slower than last year's pole position time. David Coulthard was the next big hitter to come out, but the Scot lost his first run and returned to the pits without having set a time. It was the beginning of a very tough session for the McLaren team.
Ralf Schumacher, Jarno Trulli and Rubens Barrichello would top the timesheets before Michael Schumacher came out to make his first of three four-lap attempts, breaking into the 1:09s bracket on his second lap, after running wide at the end of the straight on the first one. The German's time was already a second quicker than Mika Hakkinen's pole from last year, and more than six tenths faster than anybody else.
The order remained unchanged until the two Michelin-shod Williamses returned to the track. Ralf made it an all-Schumacher front row in his second run, only some two tenths slower than his brother, but Montoya would immediately break the German dominance as he completed his second attempt being slightly faster than his teammate.
While Mika Hakkinen set the fifth fastest time in his first run, Coulthard was unable to post a competitive time on his second and was only eighth quickest 40 minutes into the session, the Scot looking more affected by the headwind problem than other drivers.
Schumacher, whose Ferrari was running with new rear and old front tyres, jumped onto the track for the second time with some 20 minutes remaining, but it was starting to become evident that the wind conditions would make it very difficult from drivers to improve, and he, as well as Hakkinen, Barrichello, Montoya and Ralf stayed where they were after their second run.
Though most of the top contenders were close to Schumacher's time in the first and second sectors, they were unable to equal the Ferrari driver's pace in the third, all of them losing more than two tenths. Not even Hakkinen and Coulthard could improve over their poor positions, though the Scot was able to jump in front of the Finn to place himself in seventh position.
"The balance had changed and we were affected by oversteer, and in the time we had available, we were unable to rectify the situation," said Coulthard after qualifying. "I had to abort a couple of runs because of traffic and eventually you just don't have any more time."
The final minutes of the session saw the field completing their final attempts in vain, as most of them were unable to improve. Schumacher wasn't even able to completed his final lap after Jos Verstappen spun right in front of him, forcing him to go off track. Nevertheless, the German was happy with the 37th pole of his career, but more so to see the McLarens on the fourth row. However, he refused to write them off for the race and as it turned out, rightly so.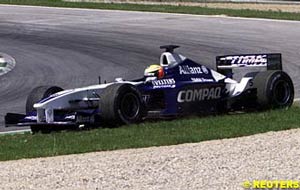 "I am not discounting McLaren," Schumacher said. "If they make a good start they could be fourth or fifth and then it will depend if they can move up from there."
Montoya, who finally was able to endure a trouble-free first practice on Friday, took full advantage of his past experience at the A1-Ring and clinched second place alongside Schumacher, anticipating fireworks at the start. "We had a good Friday, as we did in Spain, and the second weekend with no problems on the first day makes a huge difference," admitted Montoya. "We have made a lot of improvements on the car recently and they have paid off. The reason we couldn't improve our time after the second run was because the wind changed direction during the session to a head wind."
Teammate Ralf Schumacher was third, while Barrichello was fourth, in front of Jarno Trulli and a brilliant Nick Heidfeld in the first of the Saubers.

Pos. Driver        Team                    Times                 
 1.  M.Schumacher  Ferrari            (B)  1:09.562  223.881 km/h
 2.  Montoya       Williams BMW       (M)  1:09.686    +    0.124
 3.  R.Schumacher  Williams BMW       (M)  1:09.769    +    0.207
 4.  Barrichello   Ferrari            (B)  1:09.786    +    0.224
 5.  Trulli        Jordan Honda       (B)  1:10.202    +    0.640
 6.  Heidfeld      Sauber Petronas    (B)  1:10.211    +    0.649
 7.  Coulthard     Mclaren Mercedes   (B)  1:10.331    +    0.769
 8.  Hakkinen      Mclaren Mercedes   (B)  1:10.342    +    0.780
 9.  Raikkonen     Sauber Petronas    (B)  1:10.396    +    0.834
10.  Panis         BAR Honda          (B)  1:10.435    +    0.873
11.  Frentzen      Jordan Honda       (B)  1:10.923    +    1.361
12.  Villeneuve    BAR Honda          (B)  1:11.058    +    1.496
13.  Irvine        Jaguar Cosworth    (M)  1:11.632    +    2.070
14.  de la Rosa    Jaguar Cosworth    (M)  1:11.752    +    2.190
15.  Bernoldi      Arrows Asiatech    (B)  1:11.823    +    2.261
16.  Verstappen    Arrows Asiatech    (B)  1:12.187    +    2.625
17.  Burti         Prost Acer         (M)  1:12.206    +    2.644
18.  Alonso        Minardi European   (M)  1:12.640    +    3.078
19.  Fisichella    Benetton Renault   (M)  1:12.644    +    3.082
20.  Alesi         Prost Acer         (M)  1:12.910    +    3.348
21.  Button        Benetton Renault   (M)  1:13.459    +    3.897
22.  Marques       Minardi European   (M)  1:13.585    +    4.023

The Race
If traction control had not been a real concern for the majority of the teams, the same couldn't be said about their launch control systems which, as witnessed in Spain two weeks earlier, still need some work before it becomes reliable. In Spain, David Coulthard and Heinz-Harald Frentzen fell victims to their electronic gizmos. In Austria, four car were left stranded once the red lights went off - a worrying amount.
Frentzen again was unable to move, though this time he wasn't as lucky as in Spain, and after his gearbox broke he was forced to retire, continuing with his less than brilliant season so far. Nick Heidfeld, Jarno Trulli and Mika Hakkinen paid the price for the lack of development of their launch control system, and though the German and the Italian were able to rejoin the race a lap down, Hakkinen had to retire and wave goodbye to his championship chances.
"It doesn't look too promising, does it?", admitted Hakkinen. "I must admit that I'm extremely disappointed. We are still not sure exactly what the problem was – it could be technical or it could be me." After the race, McLaren's technical director confirmed it was Hakkinen's fault. "It was related to the launch control," said Adrian Newey. "I think it's basically a human systems interface problem, not an engineering error but I think, how can I put it, that it comes down to the fact that the system was not operated properly."
Miraculously, the rest of the field was capable of avoiding contact with the four cars, but if this repeats itself in two weeks' time in the tight streets of Monaco, drivers will not be so lucky.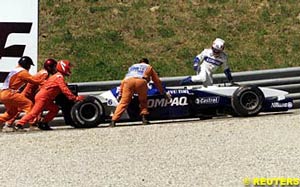 Pole-sitter Michael Schumacher also experienced some problems with his launch control and was blown away by both Juan Pablo Montoya and Ralf Schumacher, who made it first and second to the first corner. Schumacher was third, Rubens Barrichello fourth and David Coulthard was already up to fifth when the safety car was deployed due to Hakkinen's car being still standing on the grid.
The race was restarted two laps later, with all the leaders maintaining their positions. Further back, Arrows's Jos Verstappen was the man on the move. Having started 16th, the Dutchman was flying, already running fifth four laps into the race. Verstappen then challenged Barrichello, but he was unable to pass him.
Montoya continued to lead over Ralf, slowly increasing the gap over his teammate until the German came into the pits on lap nine, to retire with brake problems on his FW23. Only one lap later the other Williams began to show evident signs of struggling with its tyres, and Montoya was soon put under huge pressure from Michael Schumacher. The Colombian kept the German at bay, as a train of cars began to form behind them, an image not often seen these days.
After trying on several occasions without success, Schumacher went around the outside of Montoya at the Remus corner on lap 15, but Montoya was determined not to be passed and left his braking too late, locking his wheel and being forced to do opposite lock not to spin. That sent his car against Schumacher's, who had to go off the track to avoid contact, dropping down to sixth place while Montoya was seventh.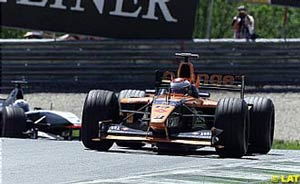 "With Montoya, the fight had been fair until the incident," said Schumacher after the race. "Then he tried to take me out at the corner and I had to go on the grass, because I could not turn in on him. He was not looking where he was going, he was looking where I was going." But Montoya, who would retire on lap 42 with a hydraulics problem, saw things differently: "What happened with Michael was just a racing incident, he braked quite late, I braked late as well, I locked the rear tyres and ran wide." The battle between him and Schumacher will be certainly interesting to watch.
Barrichello inherited the lead in front of Verstappen, who made his first of the two scheduled pitstops on lap 23, elevating Coulthard to second and a brilliant Kimi Raikkonen in third. Schumacher, meanwhile, overtook Olivier Panis to move up to fourth. Five laps later, the German would pass Raikkonen and would set his sights on Coulthard.
Though the order remained unchanged for several laps, Coulthard began to close down on Barrichello, while Schumacher was closing on the Scot. After 40 laps, Barrichello was over one second in front of Coulthard. With Schumacher some seven tenths behind, is was clear that the race would be won or lost in the pits.
The current World Champion was the first one to come in for his scheduled stop on lap 46, standing still for 8.7 seconds. While Schumacher was losing time by running wide on his first lap out of the pits, Barrichello made his stop and rejoined the race clearly in front of his teammate, despite a longer stop.
At the same time, Coulthard set the fastest lap of the race and after an 8-second pitstop on lap 50, the Scot rejoined in front of Barrichello. Initially, the Brazilian looked capable of getting close enough to try and pass the McLaren, but Coulthard was able to stay ahead of the Ferrari. Behind these two, Schumacher was driving like a madman in order to close the gap, but some uncommon errors as well as traffic were slowing down the German, whose time was running out.
The final laps ticked away as both Ferraris were unable to do anything to stop Coulthard, and with three laps remaining, the Italian team asked Barrichello to let Schumacher through to take second place. The Brazilian ignored the request at first, but he obeyed eventually, slowing down just a few meters before the checkered flag, allowing Schumacher to finish behind Coulthard, who took his 11th career win, continuing with his impressive run of nine consecutive finishes in the points.
After the race, the Scot, who decided not to celebrate his victory on the podium following the death of the co-founder of Ilmor Engineering Paul Morgan, made clear what he expected from McLaren for the remainder of the season: "Please don't get (team orders) banned before I, once in my career, get the benefit of this," he said. "I've never benefitted from someone moving over for me."
Schumacher's second place allowed him to keep a four-point lead over Coulthard, and the German exclaimed after the race his team had nothing to be ashamed of. "I was very happy that Rubens moved over for me," admitted Schumacher. "With Hakkinen not finishing, it is clear that McLaren will try and set David up for the championship. Ferrari might have a different philosophy to McLaren, who have also called this strategy in the past. I feel that as long as we are not breaking the rules, then it is fair."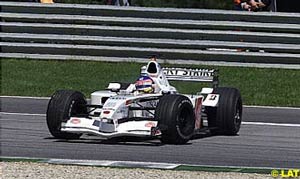 Barrichello was finally third, and his disappointment was more than obvious as his body language reflected when Jean Todt tried to talk to him in Parc Ferme. Raikkonen was a magnificent fourth, as he continued to impress in his rookie season in Formula One. Panis was fifth and Verstappen got a deserved first point this year.
But the talk of day was the controversy arisen by Ferrari's team orders so early in the season. Whatever your opinion, the issue highlighted the tension within Ferrari and showed one of the darkest aspect of the sport, though as Todt summarised after the race, "Time will tell if we were right or wrong."

CLASSIFIED

Pos  Driver        Team                       Time        
 1.  Coulthard     Mclaren Mercedes   (B) 1h 27:45.927
 2.  M.Schumacher  Ferrari            (B) +      2.191
 3.  Barrichello   Ferrari            (B) +      2.528
 4.  Raikkonen     Sauber Petronas    (B) +     41.594
 5.  Panis         BAR Honda          (B) +     53.776
 6.  Verstappen    Arrows Asiatech    (B) +     1 Lap 
 7.  Irvine        Jaguar Cosworth    (M) +     1 Lap 
 8.  Villeneuve    BAR Honda          (B) +     1 Lap 
 9.  Heidfeld      Sauber Petronas    (B) +     2 Laps
10.  Alesi         Prost Acer         (M) +     2 Laps
11.  Burti         Prost Acer         (M) +     2 Laps

Fastest Lap: D.Coulthard, 1:10.843, lap 48

NOT CLASSIFIED / RETIREMENTS                                
                                                              
     Button        Benetton Renault   (M)  60 
     de la Rosa    Jaguar Cosworth    (M)  48 
     Montoya       Williams BMW       (M)  41 
     Alonso        Minardi European   (M)  38 
     Marques       Minardi European   (M)  25 
     Bernoldi      Arrows Asiatech    (B)  17 
     Trulli        Jordan Honda       (B)  15 
     R.Schumacher  Williams BMW       (M)  10 
     Fisichella    Benetton Renault   (M)   3 
     Hakkinen      Mclaren Mercedes   (B)   1 
     Frentzen      Jordan Honda       (B)   0 

WORLD CHAMPIONSHIP STANDING, ROUND 6:                

Drivers:                    Constructors:   
 1.  M.Schumacher  42        1.  Ferrari   60
 2.  Coulthard     38        2.  McLaren   42
 3   Barrichello   18        3.  Williams  18
 4.  R.Schumacher  12        4.  Jordan    13
 5.  Heidfeld       8        5.  Sauber    12
 6.  Trulli         7        6.  BAR        9
 7.  Montoya        6        7.  Benetton   1
 =   Frentzen       6        =   Arrows     1
 9.  Panis          5                        
10.  Raikkonen      4                        
 =   Hakkinen       4                        
 =   Villeneuve     4                        
13.  Fisichella     1                        
 =   Verstappen     1                        


Pos  Driver        Team                  Lap  Time           
 1.  Coulthard     McLaren-Mercedes  (B)  70  1:10.843          
 2.  Barrichello   Ferrari           (B)  70  1:11.009  +  0.166
 3.  M.Schumacher  Ferrari           (B)  70  1:11.030  +  0.187
 4.  Montoya       Williams-BMW      (M)  42  1:11.140  +  0.297
 5.  Raikkonen     Sauber-Petronas   (B)  70  1:11.284  +  0.441
 6.  Heidfeld      Sauber-Petronas   (B)  67  1:11.388  +  0.545
 7.  Villeneuve    BAR-Honda         (B)  68  1:11.718  +  0.875
 8.  Irvine        Jaguar-Cosworth   (M)  69  1:12.088  +  1.245
 9.  Panis         BAR-Honda         (B)  70  1:12.204  +  1.361
10.  Verstappen    Arrows-Asiatech   (B)  68  1:12.423  +  1.580
11.  Burti         Prost-Acer        (M)  68  1:12.642  +  1.799
12.  Alesi         Prost-Acer        (M)  68  1:13.130  +  2.287
13.  Button        Benetton-Renault  (M)  60  1:13.498  +  2.655
14.  Bernoldi      Arrows-Asiatech   (B)  17  1:13.587  +  2.744
15.  R.Schumacher  Williams-BMW      (M)  10  1:13.888  +  3.045
16.  de la Rosa    Jaguar-Cosworth   (M)  48  1:13.978  +  3.135
17.  Trulli        Jordan-Honda      (B)  14  1:14.082  +  3.239
18.  Alonso        Minardi-European  (M)  38  1:14.432  +  3.589
19.  Marques       Minardi-European  (M)  26  1:15.212  +  4.369
20.  Fisichella    Benetton-Renault  (M)   3  1:26.897  + 16.054
21.  Hakkinen      McLaren-Mercedes  (B)   1  1:47.237  + 36.394


Pos  Driver        Team                   Time  Lap
 1.  Coulthard     McLaren-Mercedes  (B)  30.7  50 
 2.  M.Schumacher  Ferrari           (B)  31.6  46 
 3.  Barrichello   Ferrari           (B)  32.1  47 
 4.  Irvine        Jaguar-Cosworth   (M)  32.3  48 
 5.  Verstappen    Arrows-Asiatech   (B)  32.3  23 
 6.  Verstappen    Arrows-Asiatech   (B)  32.8  45 
 7.  Villeneuve    BAR-Honda         (B)  33.0  47 
 8.  Heidfeld      Sauber-Petronas   (B)  33.0  47 
 9.  Burti         Jaguar-Cosworth   (M)  33.4  44 
10.  Alesi         Prost-Acer        (M)  33.5  43 
11.  Panis         BAR-Honda         (B)  33.7  44 
12.  Villeneuve    BAR-Honda         (B)  34.0  51 
13.  Button        Benetton-Renault  (M)  34.7  39 
14.  de la Rosa    Jaguar-Cosworth   (M)  35.0  36 
15.  Raikkonen     Sauber-Petronas   (B)  41.4  46 


The Austrian Grand Prix, Lap by Lap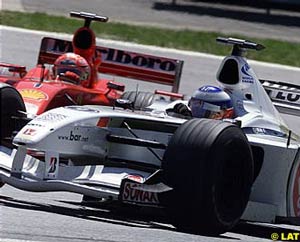 Lap 1: At the start the two Williams-BMWs get away fastest and Juan-Pablo Montoya gets into the first corner ahead of Ralf Schumacher. Michael Schumacher is third with Rubens Barrichello behind him. Further back there is much excitement as four cars are left standing on the grid: Jarno Trulli, Nick Heidfeld, Mika Hakkinen and Heinz-Harald Frentzen. This means that David Coulthard is fifth and Eddie Irvine sixth from 13th on the grid. Hakkinen's car refuses to move and so a Safety Car is sent out.
Lap 4: The race restarts with Montoya keeping advantage over Ralf Schumacher. Further back Jos Verstappen passes Eddie Irvine and Kimi Raikkonen to move to sixth place, indicating that the Arrows is running with a light fuel load as usual. At the back of the field Giancarlo Fisichella retires with a mechanical problem. Hakkinen also retires after one exploratory lap.
Lap 5: Verstappen overtakes Coulthard to move to fifth. In the course of the lap Trulli goes off across a sandtrap and is overtaken by Heidfeld, both men a long way behind the rest of the field.
Lap 6: Verstappen challenges Barrichello but cannot overtake him.
Lap 7: At the front Montoya has increased his lead to 1.5 seconds and Ralf Schumacher is just over a second ahead of his brother. Olivier Panis overtakes Irvine to move to eighth position.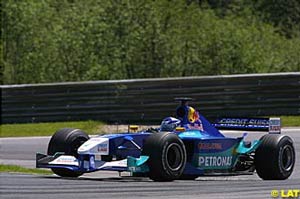 Lap 9: Ralf Schumacher clearly has a problem and drops back and is struggling to hold back the two Ferraris and Verstappen. Enrique Bernoldi overtakes both Jacques Villeneuve and Irvine to move up to ninth.
Lap 10: Ralf Schumacher goes into the pits to retire with a mechanical problem. Jacques Villeneuve spins while trying to hold off Pedro de la Rosa's Jaguar for 11th place.
Lap 11: Montoya's gap disappears and the Colombian is clearly struggling to stay ahead.
Lap 14: Jacques Villeneuve repasses de la Rosa for 10th place. At the tail of the field Trulli is blackflagged for having ignored the red light at the exit of the pitlane.
Lap 16: Michael Schumacher challenges Montoya on the run up to the second corner. The two men both slide off. This puts Barrichello into the lead with Verstappen second, Coulthard third, Kimi Raikkonen fourth, Panis fifth and the recovering Schumacher sixth and Montoya seventh.
Lap 17: Eighth-placed Bernoldi retires with a mechanical problem. Further back Jean Alesi overtakes his team mate Luciano Burti for 12th.
Lap 23: After a period of stability during which Verstappen drops away from Barrichello. Verstappen then stops and drops from second to seventh. This promotes Raikkonen to third with Panis fourth, Schumacher fifth and Montoya sixth.
Lap 25: Schumacher overtakes Panis to move to fourth.
Lap 26: Tarso Marques retires from 15th place with a mechanical problem.
Lap 28: Schumacher overtakes Raikkonen to move to third. Alesi overtakes de la Rosa for 10th place.
Lap 29: Jenson Button overtakes Luciano Burti for 12th place.
Lap 36: Pedro de la Rosa pits and drops to the tail of the field.
Lap 38: Montoya overtakes Panis for fifth place. Fernando Alonso retires from 13th position.
Lap 39: Button pits and drops from 11th to 13th.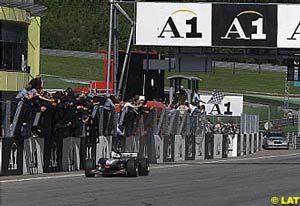 Lap 41: Barrichello's lead has been cut back to a second and Schumacher is right behind Coulthard. There is then a big gap back to Raikkonen.
Lap 42: Montoya retires with a mechanical problem.
Lap 44: As the mid-race pit stops begin the top three are running nose-to-tail. Panis is the first of the frontrunners to stop, dropping from fifth to sixth.
Lap 45: Verstappen stops for a second time and drops back from fifth to eighth.
Lap 46: Schumacher pits and is followed into the pitlane by Raikkonen. The Finn has a longer than normal pit stop both both men retain their positions.
Lap 47: Barrichello pits and Coulthard takes the lead. Jacques Villeneuve also stops and is later given a 10-second stop-go penalty for speeding in the pitlane.
Lap 48: Coulthard sets the fastest lap of the race as he tries to build a cushion to stay ahead of the Ferraris. Sixth-placed Irvine pits and drops to seventh.
Lap 50: Coulthard finaally stops and emerges ahead of Barrichello and Schumacher.
Lap 51: Villeneuve comes into the pits for his stop-go penalty. He stays in eighth place.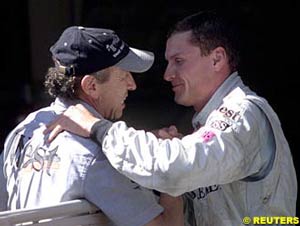 Lap 55: The order is now set at the front but Coulthard is under threat from Barrichello and Schumacher is closing in. At the tail of the field Heidfeld catches and passes Button to take take 11th place.
Lap 62: Heidfeld overtakes Burti to take 10th. Button disappears with a mechanical problem which sets the rear of his car on fire.
Lap 68: The order is unchanged at the front while Heidfeld makes up another place by passing Alesi for ninth.
Lap 71: David Coulthard wins the Austrian GP. At the last corner Barrichello lifts off and lets Schumacher take second after receiving an order from the Ferrari team. Raikkonen is fourth ahead of Panis while Verstappen finishes sixth a lap behind butt still four seconds clear of Irvine's Jaguar. Villeneuve is eighth.